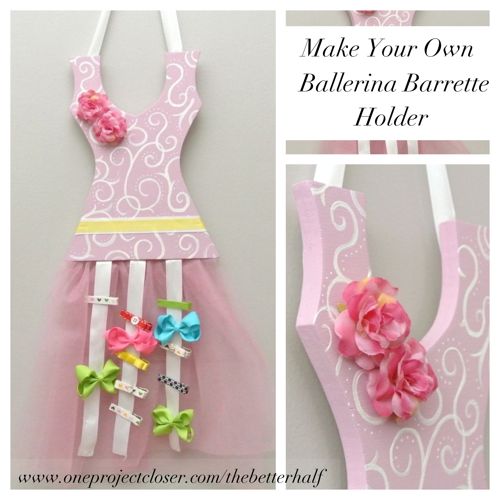 I was looking around online and saw some beautiful, but not handmade, barrette holders, and thought that I could do it myself and for much less cost!  I made one for Izzie (although she only now has enough hair to really use barrettes) and have made couple more as gifts.  I really love them and by changing the color paint, tulle, and ribbon, it is completely customizable. For this project, we needed 1/2″ plywood (1/4″ would work too), paint, ribbon and tulle.
I started by drawing a template for the bodices and then tracing it onto the plywood. Literally, all Ethan did was cut them all out using his sweet Bosch Jigsaw. He said they were pretty easy cuts and quick.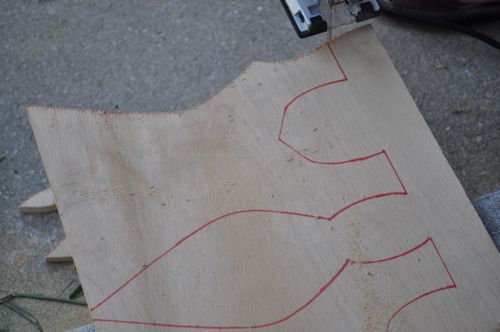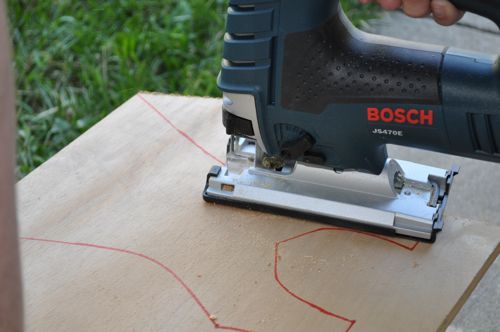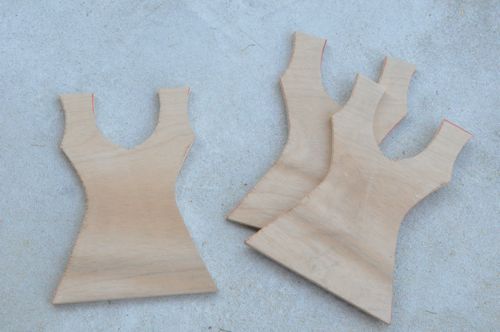 The plywood surface was a little rough and the jigsaw left some rough edges. We used some coarse sandpaper followed up with some fine grit sandpaper. It smoothed out all the edges and removed any lingering marker.
Here's a look at the rough edge.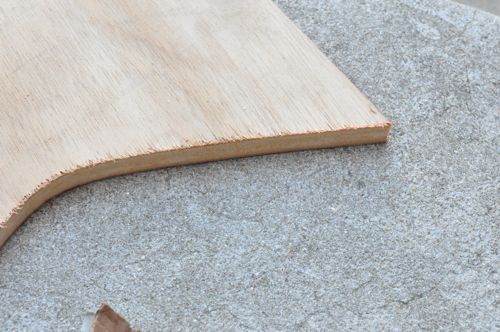 And after some sanding.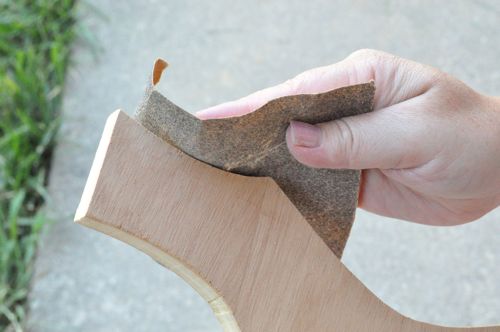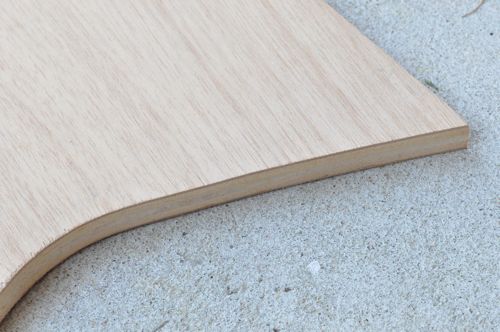 Izzie (dressed in her own ballerina gear) got in on the fun, and helped paint the bodices an off-white color to act as a base. We had to keep a close eye on her, otherwise she'd have painted to whole porch.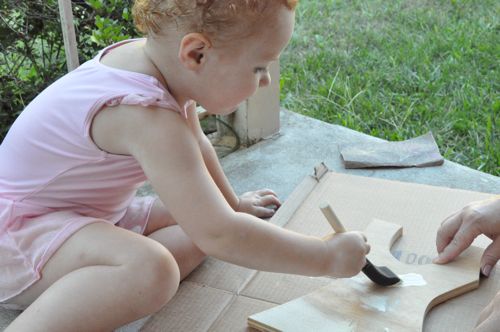 I painted two purple and one pink.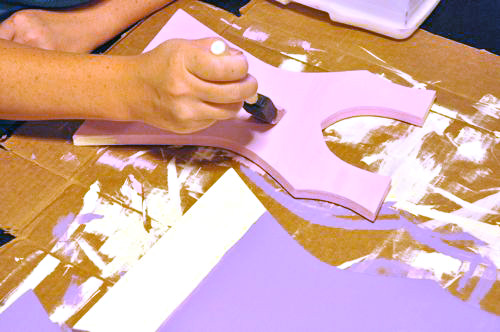 As you may have seen in my DIY His and Her artwork, I'm really into swirls now now.  So I free-hand  painted some swirls, adding little accent dots to make it less grown-up and more playful. If you're not into swirls, some easy alternatives would be flowers, polka dots, or stripes.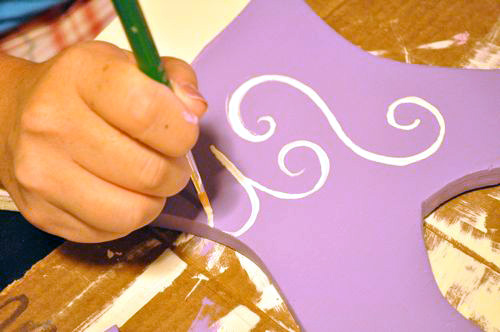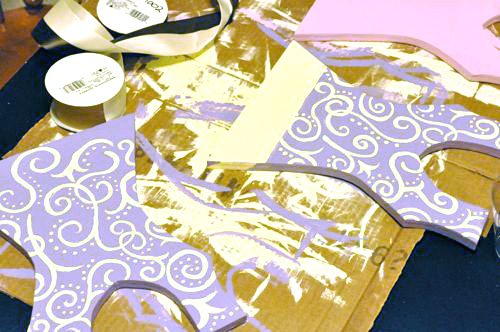 Here's where 1/2″ plywood comes in handy, but I'm sure you could manage with 1/4″. We put some heavy-duty staples on the bottom edge to secure the toule.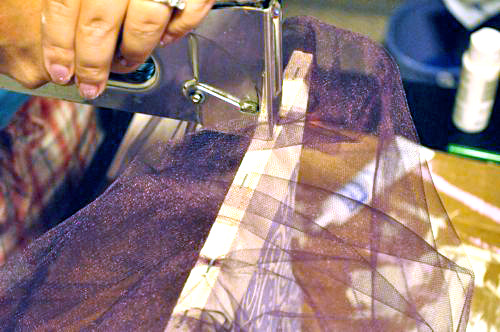 The ribbon not only adds some style, but also conceals rough and unsightly edges. The vertical strips are for clipping barrettes, and I decided to glue them in place. In later "models," I added a bow to the bottom of these ribbons to keep the bows from sliding down the bottom.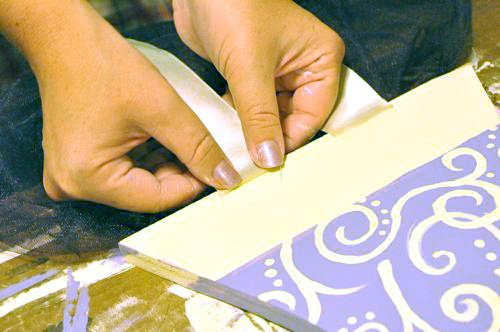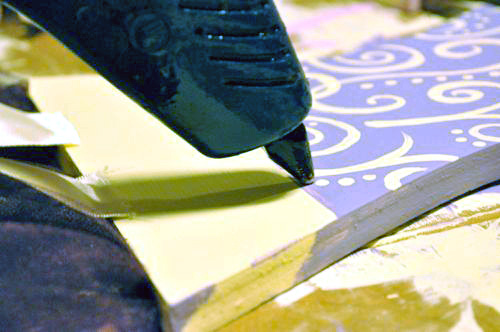 And more ribbon across the body.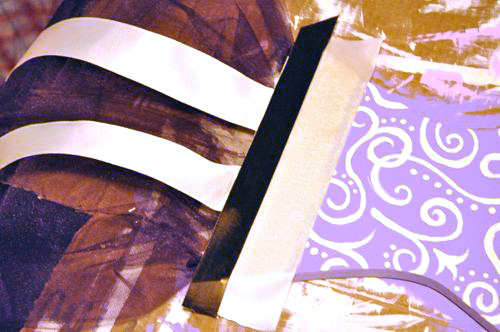 The finishing touch was a silk flower on the bodice shoulder.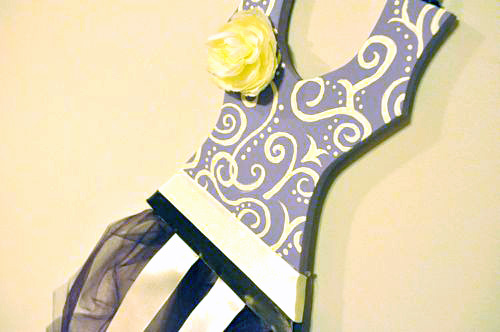 Lastly, I tied some ribbon in a bow for hanging the barrette holder.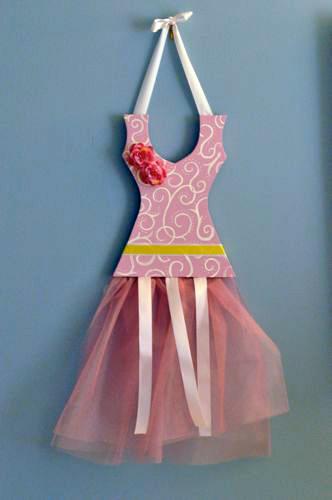 The other cool thing about this project was that each barrette holder costs about $10 to make. They make for great, low-cost gifts and room decor. Shortly after I made these, I saw them at Hobby Lobby!  But you'll also be able to find all the supplies at craft stores and the local home improvement centers too.  Happy crafting!
As Always, thanks for reading!

We already shared this project over at Remodelaholic, but Cassity said I could publish another version here too. She's cool like that.
Also, don't forget to follow us on Facebook for all the latest fun projects we're doing!