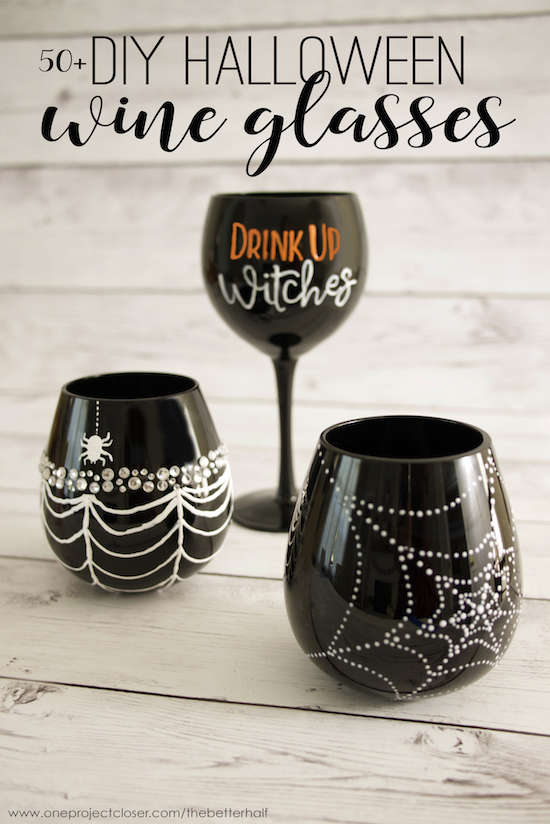 This past weekend, I had a few girls over for a craft night and you guessed it – DIY Halloween Wine Glasses! It actually started a month or two back, when my good friend Jeanine was shopping and saw the cutest wine glass in a store and messaged me saying "Let's make this!" In the store, it was over $20 and we made them for about $7 each (maybe a little more if you use rhinestones).
I will say, this craft night I wasn't as prepared as usual. I wasn't sure if we would have enough wine glasses (because of some shipping problems) so I didn't do a sample ahead of time. MISTAKE! Always do a sample ahead of time. Because I didn't we sorta had to wing it and most of the girls pulled up Pinterest for a little inspiration.
That being said, they all turned out super cute and will be lots of fun to take trick-or-treating! These DIY Halloween Wine Glasses would also make a super cute gift idea.
Tips and Tricks for Wine Glass Painting
First off, you need the right materials. I found the cheapest black wine glasses on Target.com, but I will tell you do not order the ones with stems! I LOVE TARGET but they kept sending me only one wine glass (even though it clearly said set of six) and it was broken the first time. I ended up getting 12 stemless glasses and one lonely goblet. If you're shopping at Target, be sure to check out our amazing Target coupons, updated weekly!
I also used DecoArt's Gloss Enamels for the glasses, with a fine tip applicator. This worked great (better than a brush in my opinion), but make sure you are using Opaque paint with the black glasses – transparent will not show once dry. DecoArt was nice enough to send me some paint for the project but it didn't arrive in time so I bought all the supplies, including the rhinestones at Michaels.
For the glass paint, be sure to follow the directions on the bottle for setting the paint. We allowed it to cure and then cooked them, applying rhinestones after they cooled. We also prepped the surface with link-free cloth and Rubbing Alcohol.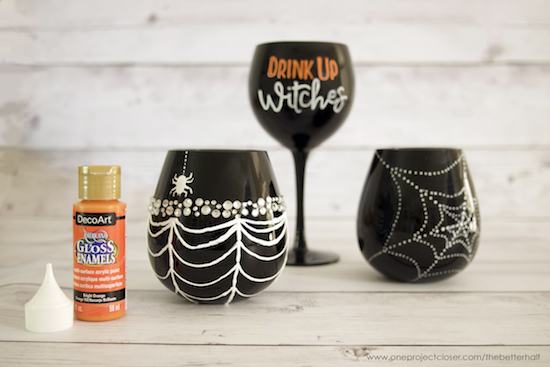 As for the rhinestones, I love the look but I was kinda going out on a ledge with this. They aren't meant to be permanent so I will be washing the glasses by hand and very gently!
All my glasses I free-handed and the dots were y far the easiest! It's hard to get the paint smooth and even, so the dots end up looking pretty and don't require as much skill.
Finally, have a glass of wine and enjoy yourself! Don't expect perfection – just enjoy the process. 🙂
More DIY Halloween Wine Glasses Ideas!
Three isn't enough for you? Yeah, me neither. Check out my DIY Halloween Glasses Pinterest Board for over 50+ ideas!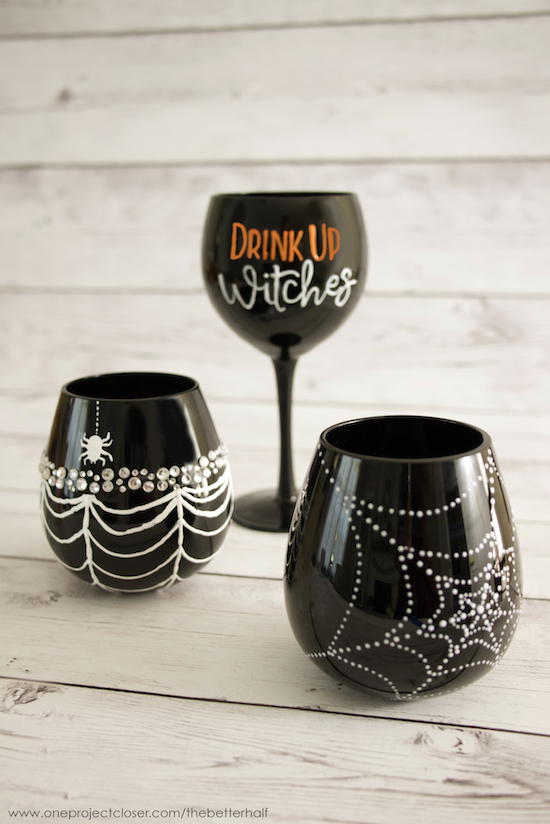 What do you these DIY Halloween Wine Glasses? Do have any other fun Halloween Wine glass ideas??
As Always, thanks for reading!

Don't forget to check us out on Facebook , Instagram, & Pinterest!