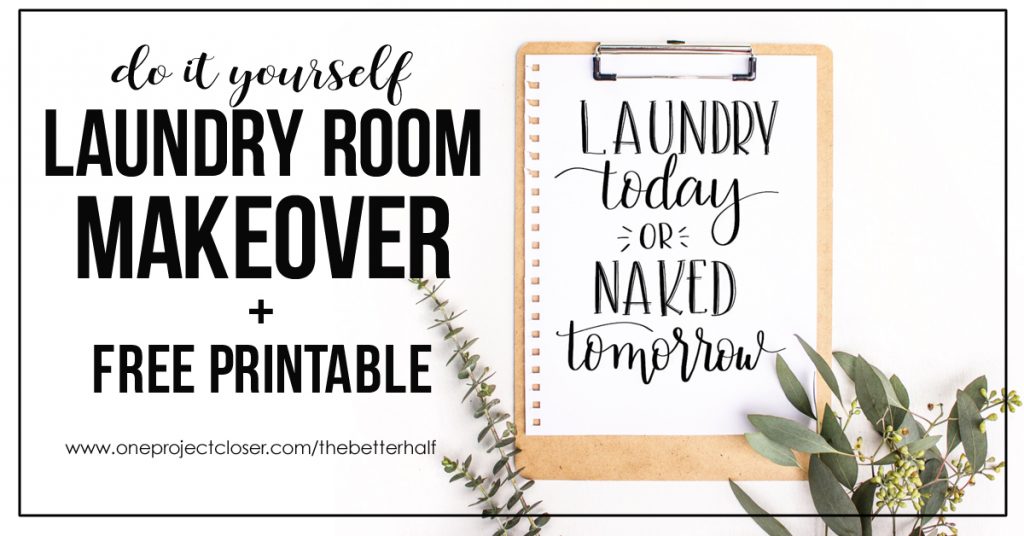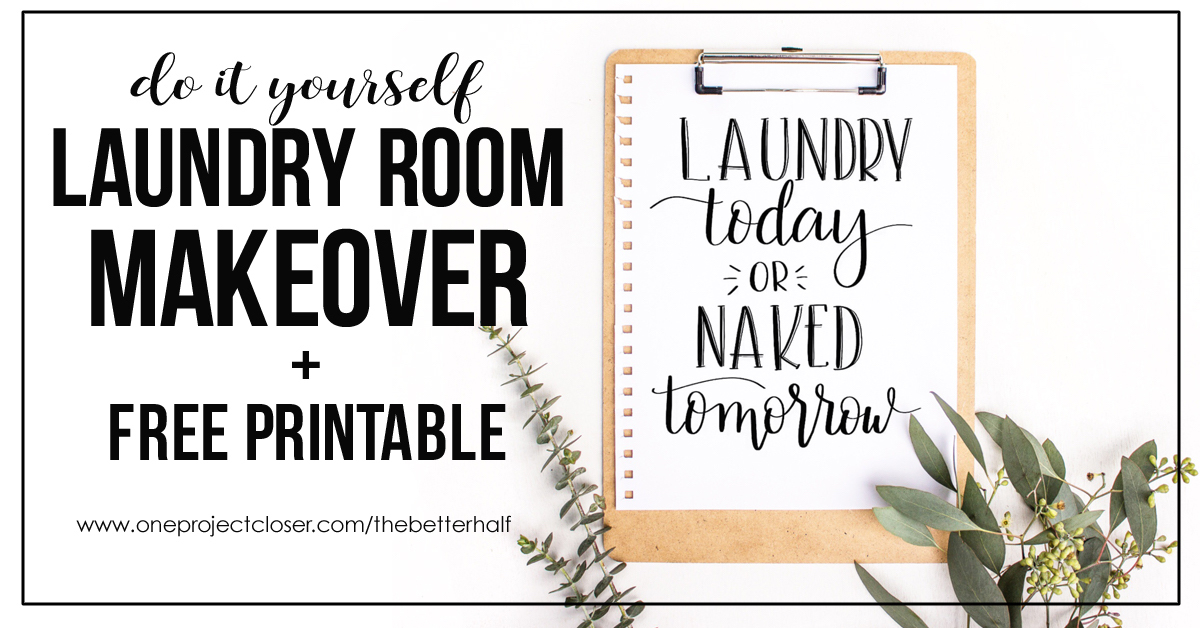 This post is sponsored by AJ Madison. They provided the product in exchange for this post, but 100% of opinions are my own! Thanks so much for reading along about this DIY Laundry Room Makeover – we're glad you're here and hope you will stick around!
Laundry rooms have never been very glamorous to me. In our old house, our washer and dryer was in the unfinished portion of our basement and never saw the light of day, let alone was it seen by company. But now, in our new home, the laundry room in right inside the garage and next to the powder room that guests use. To say the least, it was not pretty. I mean, I guess a laundry room doesn't need to be fancy, but when guests come, I pray they quickly pass the laundry room without looking too closely.
Here's the before. Check out the "awesome" original cabinet that were sagging and nasty, you know, from that time my Costco mega-size detergent leaked for a month before I realized it. oops. Also take note of the Builder Beige walls, boob light, peg board cabinet doors, and functional (but not pretty) washer and dryer.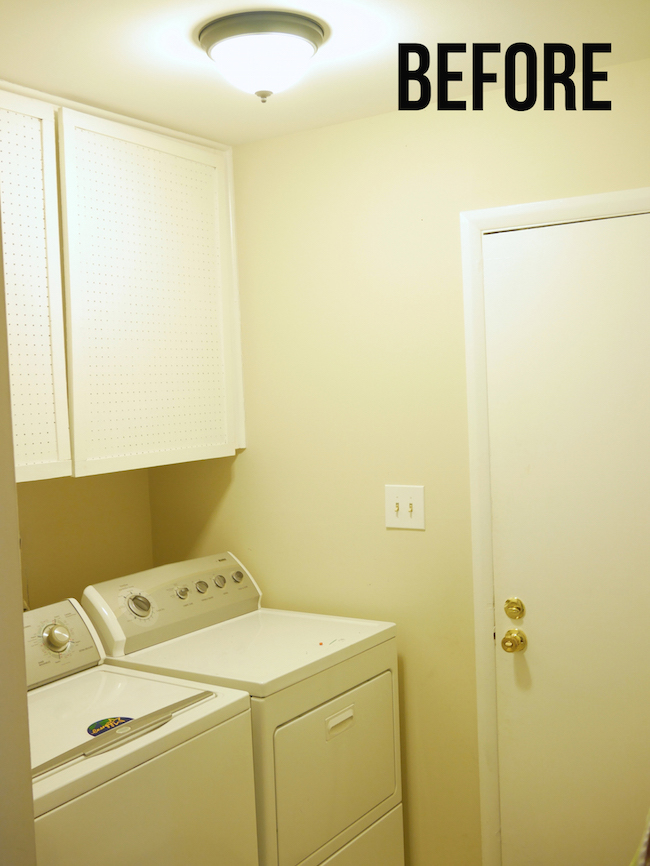 Since we couldn't live long without a washer and dryer (those darn needy kids, lol), we tried to do as much before removing the old washer and dryer. We demo-ed the old cabinets and painted the walls Ben Moore Revere Pewter, my favorite greige neutral. Meanwhile, Ethan build cabinets from scratch! He is amazing!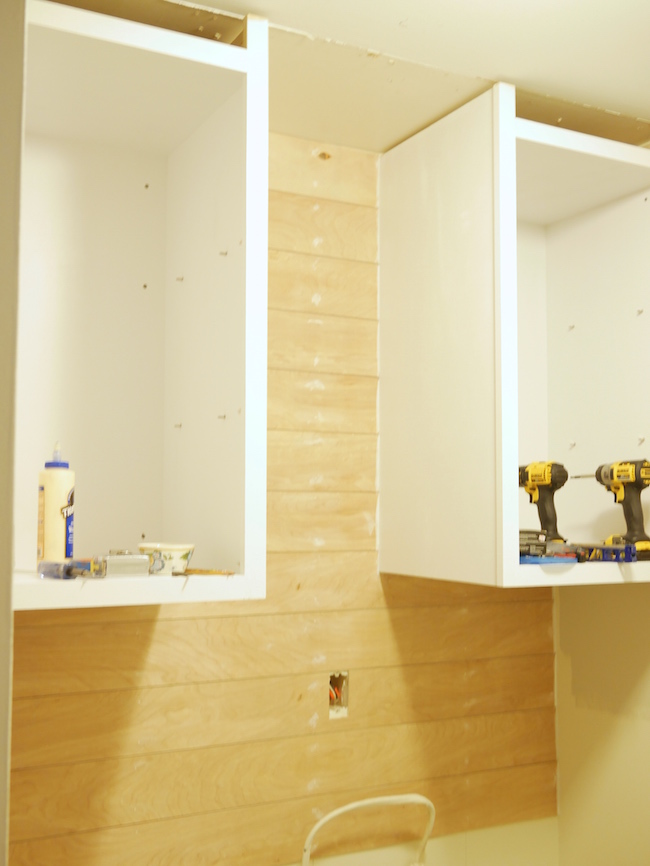 After Ethan installed the cabinets (a truly frustrating job for a perfectionist with perfectly straight cabinets and extremely not-straight walls), we used 5mm underlayment to ship lap the walls. Ethan loved that we were purposefully putting gaps in the wood! LOL We used two pennies to create the gap. Then, we filled the holes and painted it white.
Ethan filled any unwanted gaps, put up crown molding, and installed the new Samsung front load washer
and electric dryer with steam technology
! I am IN LOVE! They are both beautiful and work so much faster and more efficiently than our old ones.
This is when I plug our wonderful sponsor, AJ Madison
! Have you heard of them? They sell all the big name appliances online at a much better price and they ship FAST! We have used them bunches in the past and love them. We like to go to our local appliance store, find what we like, and then go home and order it at the cheaper price, that way, we know exactly what we're getting. Be sure to check them out and use one of our amazing appliance coupons.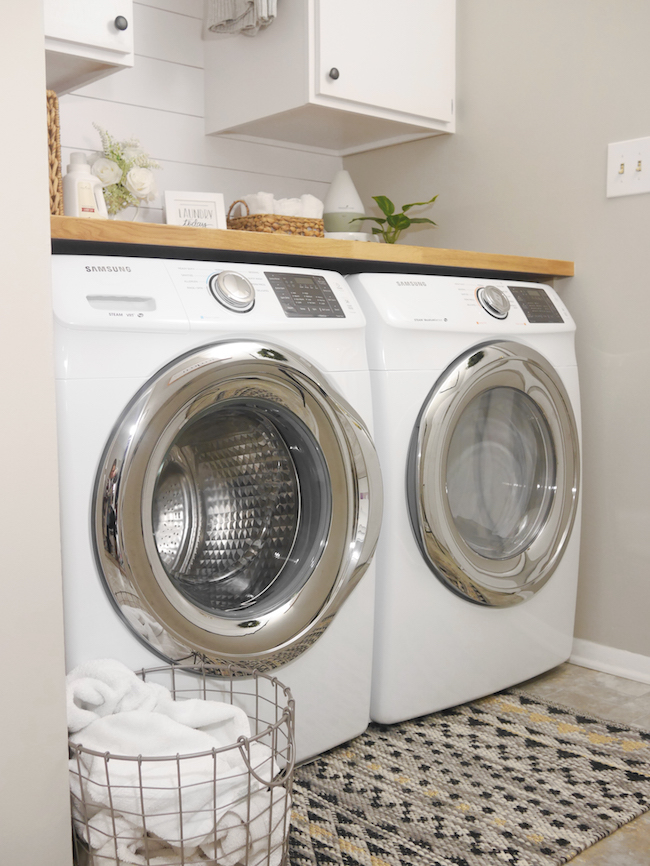 After we installed the washer and dryer, we installed the countertop. Ethan was going to build one, but I found a beautiful island countertop at Ikea that was deep enough, so all Ethan had to do was cut it to our desired dimensions. Ethan was so precise I wasn't sure the countertop would go in because of our crooked walls. It did but there were several moments of panic in the process. haha
Just when Ethan thought we was done, I asked him to build a "quick little sign" for me to paint and hand letter. He likes to call this "scope creep." I like to call it "woo-ing your wife." The laundry room in really tight, but the sign is hung directly across from the washer and dryer.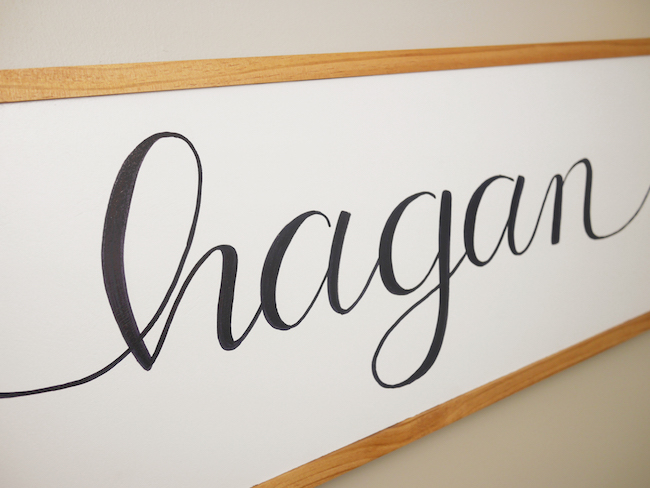 Finally, I added all the little touches, like the basket on the left covering up all the plumbing. Of course, I placed an Essential Oil Diffuser in the new laundry room, because let's be honest, being next to the bathroom its sometimes a bit stinky.
I also LOVE the bar Ethan added between the two cabinets! Before, I hung clothes on chairs all over the first floor. I'm loving this!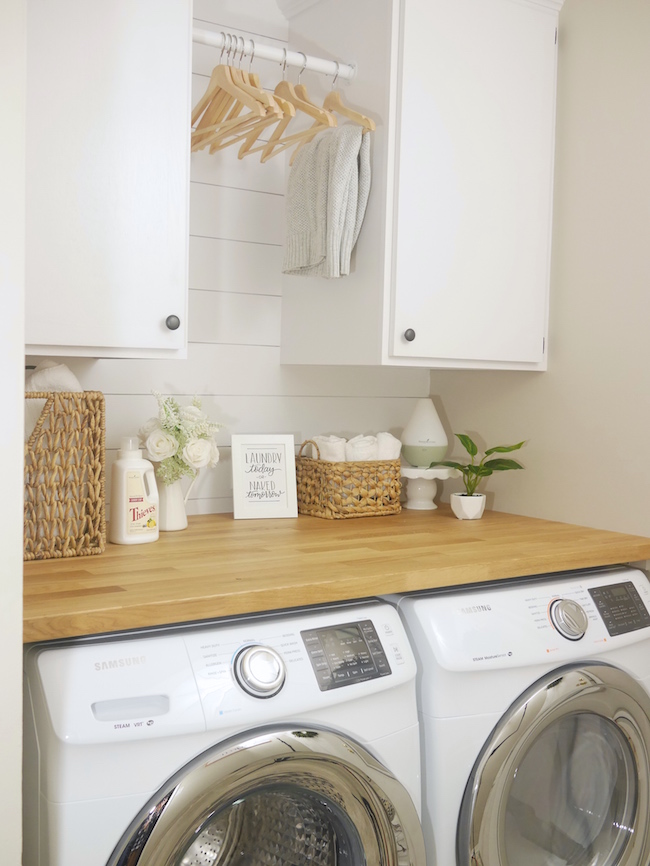 In addition to my wall art, I added some quick hand lettered art on the counter top and wanted to share it with you all!
Download Your Free Printable Here!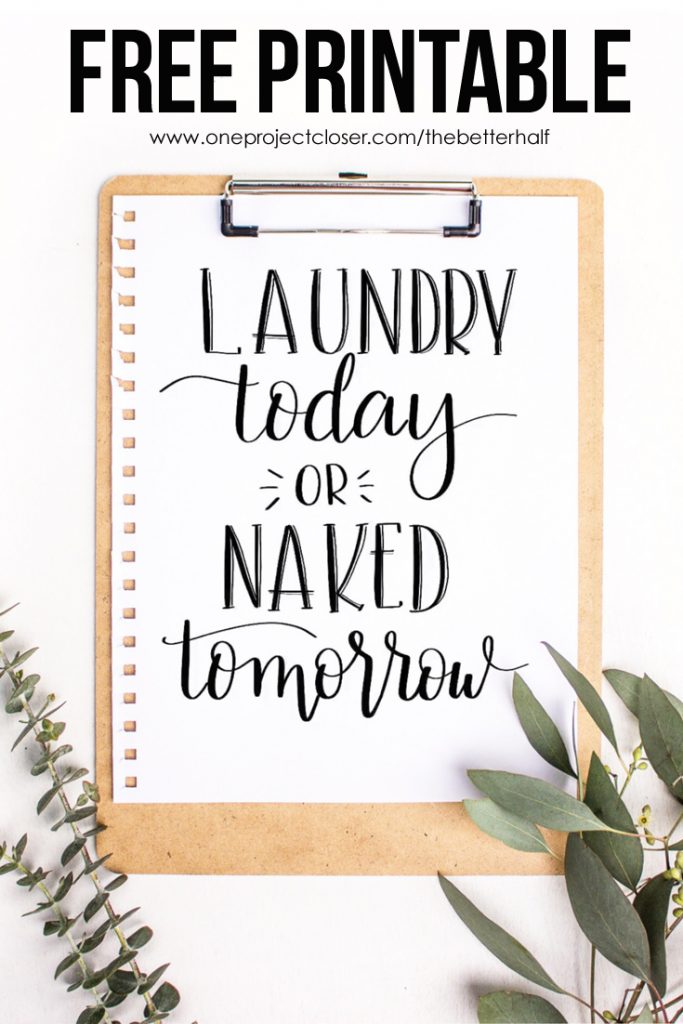 Okay, back to the DIY laundry room makeover with a few money shots!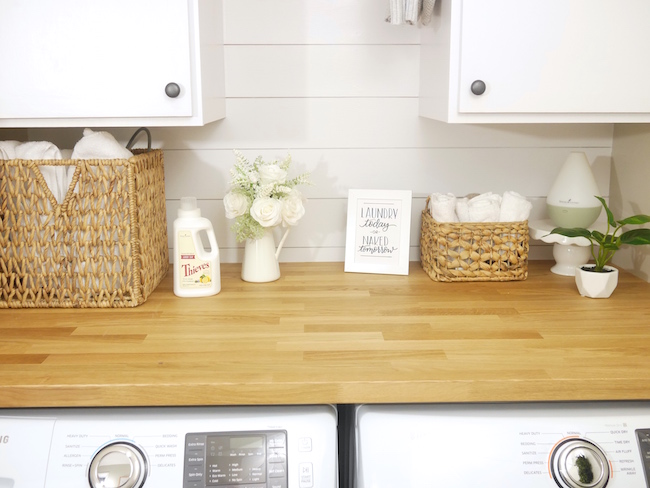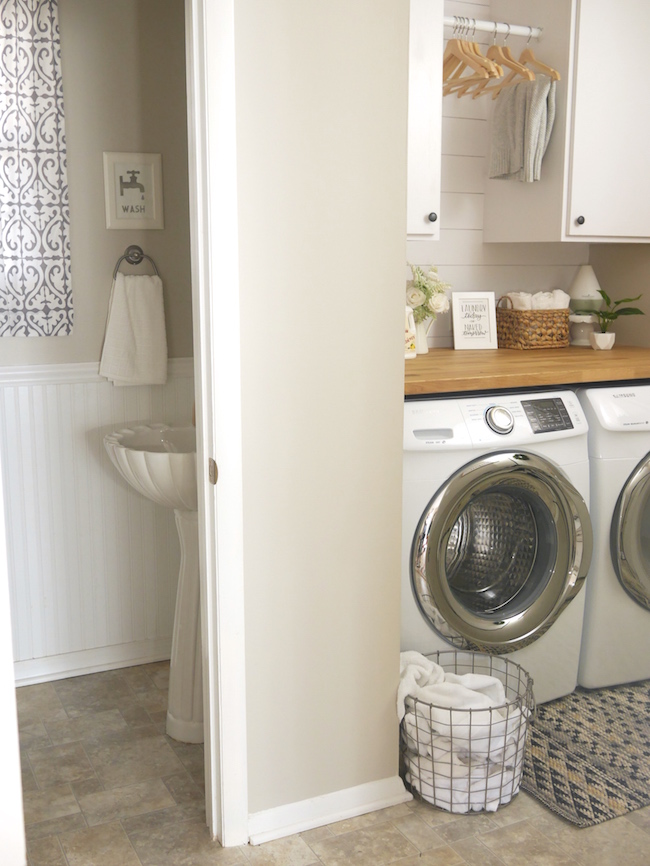 We still have a few more finished touches, like hooks under the "Hagan" sign and replacing that ugly boob light, but for the most part we're finished with our DIY laundry room makeover and could not be happier!
What do you think? What is your favorite part of this DIY laundry room makeover?
As Always, thanks for reading!

Don't forget to check us out on Facebook, Instagram, & Pinterest!