This week is our very last Before & After, and I'm pleased to share a fun poem from Lauren over at Meet My Ugly Baby. If you've never seen her site, it's all about her hideous offspring. And by hideous I mean awesome, and by offspring I mean Vancouver renovation. Enjoy!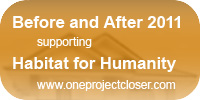 After this week, I'll share a quick recap of all the B/A stories we've featured and open up the voting for about a week. After the votes are tallied, we'll share the grand prize winner who will receive a $150 gift card to the home improvement store of their choice!
The Ugly Baby Poem
There once was a girl named Lauren,
To whom "dirty DIY" was totally foreign.

They live in Vancouver, it's stupid expensive,
So they bought an apartment and launched an offensive.

To renovate and attack, in just over a year,
"House with a view" the goal was clear.

"Flip an apartment?" Where to begin?
First the wallpaper: original sin.

The popcorn ceiling put up a fight,
As did the shag carpet – not a delight.

Our bedroom was dirty, dark and dreary,
Yellow with white! Much more cheery.

Next up, the kitchen, and Harvest Gold,
We repainted the cabinets, lo and behold.

We hope you like our year-in-review
Up next: our bathroom, DIYed with kung fu.
Thanks Lauren
This is a terrific recap showing a lot of hard work, and I think it's first-rate!
Habitat for Humanity Factoid
I found an interesting article on OregonLive.com about how the tanking economy isn't bad for all business. With builders looking to unload lots fast, Habitat for Humanity Portland branch was able to purchase enough land for 150 houses! That'll keep them busy for up to 5 years. Read the article to learn more about how Habitat was able to seize a great opportunity.
Where's Your Before and After Story?
We hope you'll consider submitting a Before & After story. Email your pictures and a "how to" description to beforeandafter@oneprojectcloser.com to join in.
Help Us Spread the Word
Are you a blogger? If you'd like to support us, please write an article on your blog about the contest, and consider adding one of our buttons to your sidebar. You can find the buttons and more information on our main Before and After article.