Thank you so much for joining us at One Project Closer for this tutorial on How to Make a DIY Track Saw Straight Edge. This post is sponsored by the Home Depot Prospective Campaign. Post may also contain affiliate links. Opinions (and typos) are 100% our own, and we appreciate you supporting our site in order to continue to provide free content to our readers.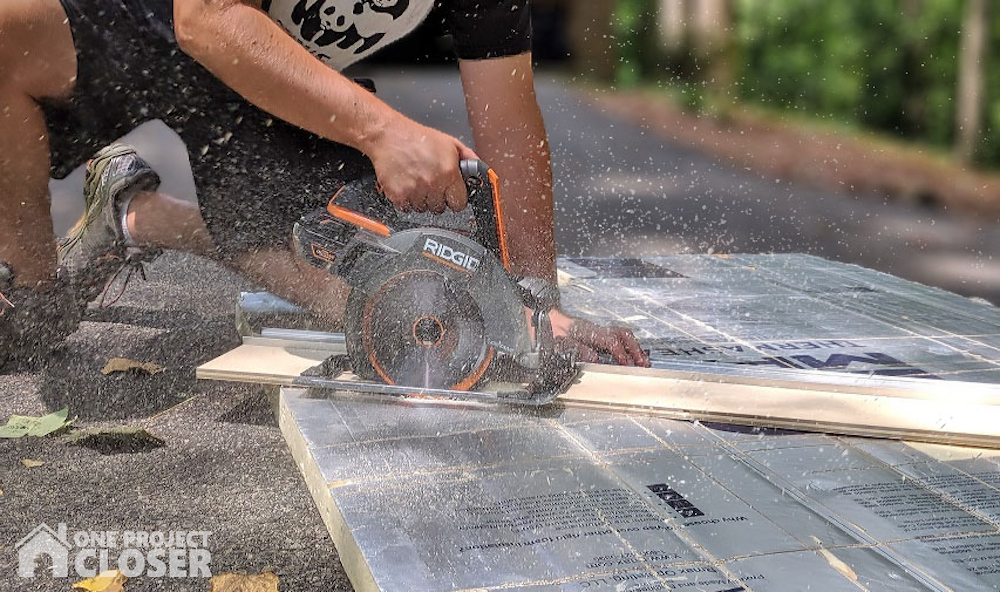 One of the tools on my top 10 wishlist that still eludes me is a nice track saw. If you are the type of DIYer who loves using sheet goods to build things, it should be on your list too. Why don't I have one yet? The simple answer is cost. The price point for nice track saws ranges anywhere from $500-$1000. However, in less than an hour and with minimal materials, you can make a DIY Track Saw Straight Edge that utilizes the circular saw you likely already have in your collection. Ridgid recently sent us their new Octane Brushless Circular Saw, so this is the perfect chance to test it out.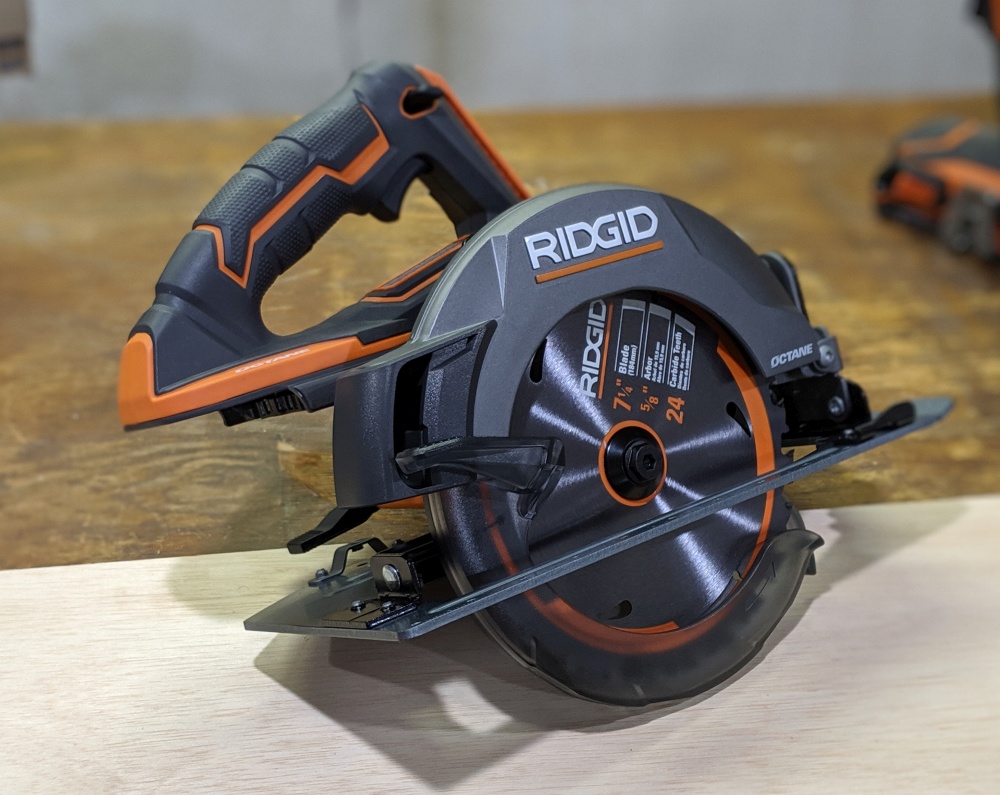 Tools and Materials:
1/2″ Sanded Plywood 49″ x 12″
Screws or other fasteners
Tape Measure
Pencil or Pen
Step 1: Sizing Materials

You'll need to cut two pieces of plywood to create the parts which make up the "track saw." Begin by measuring the distance from the blade of your circular saw to the edge of the baseplate. Add together this measurement, the width you want your straightedge to be, and another 1/2″ or so. This is the width of your base. For example, I already have 3″ wide aluminum straight edges that I've been using with my old corded circular saw and the distance from the blade of the Ridgid Octane saw to the edge of the baseplate is roughly 5″. This means I need a base a little more than 8″ wide. I chose to make my base 49″ long so that it can be used to cut sheet goods up to 48″ wide.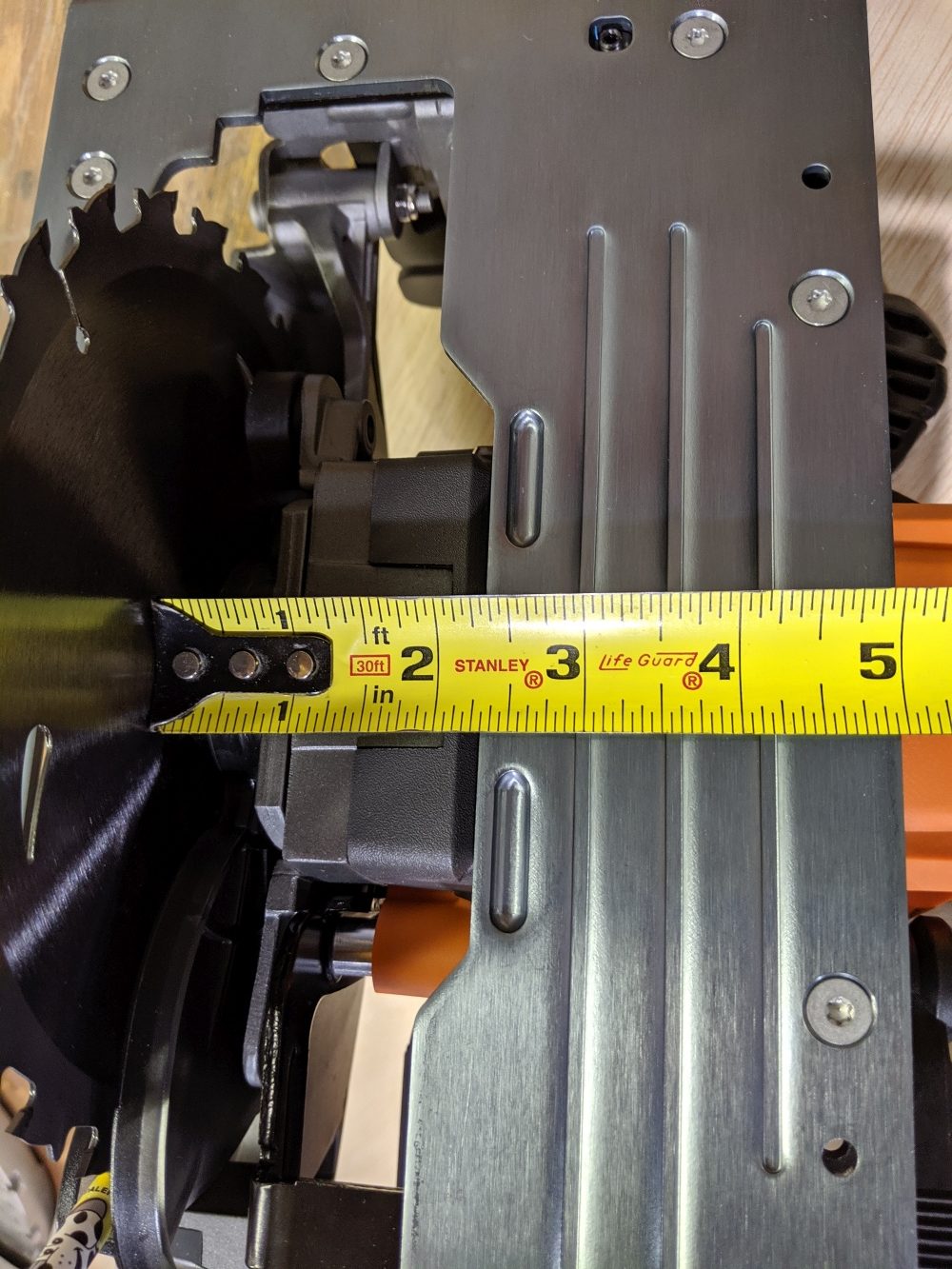 *Note: If you use plywood for your straight edge, make sure to use a factory edge as it will be nice and straight if you don't have a table saw. I used a table saw to rip the plywood because I have one, but it is not necessary and can be ripped with your circular saw.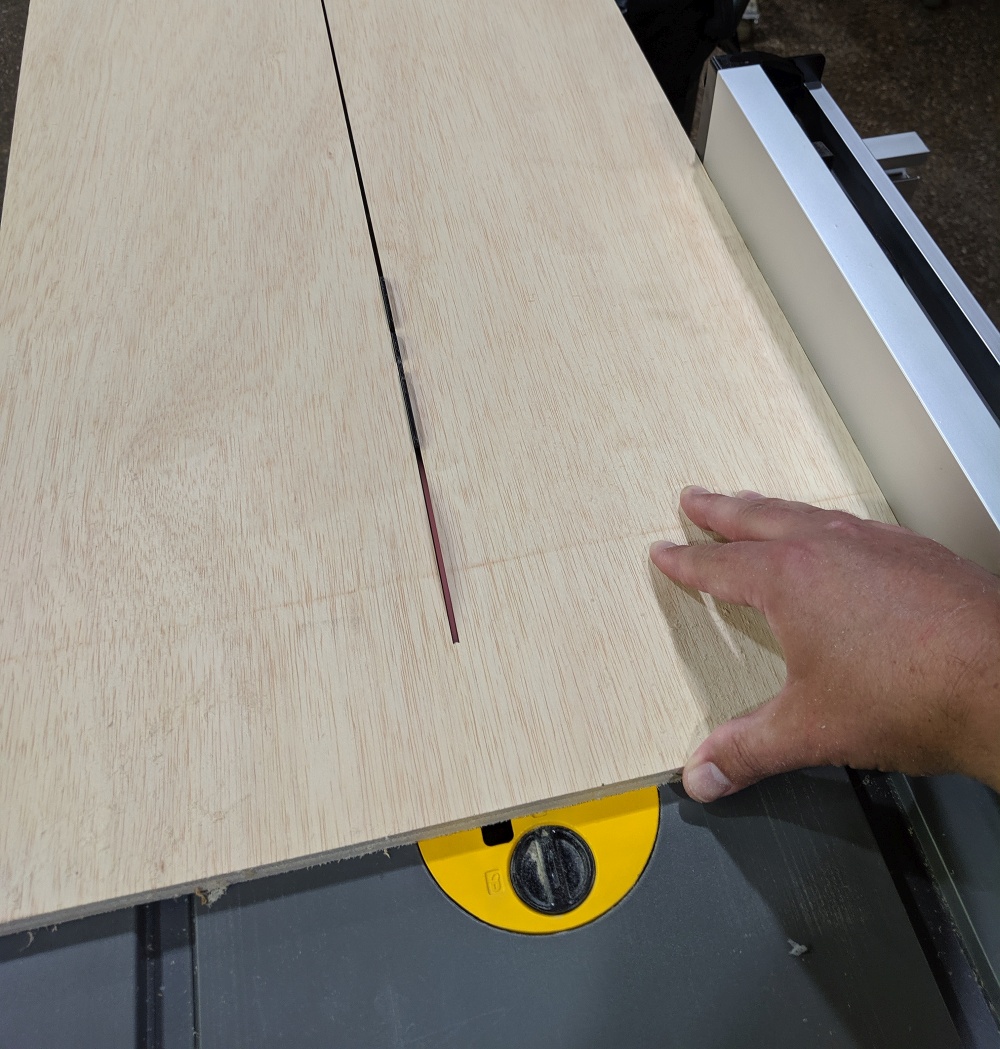 Step 2: Assembly
Line up your straight edge piece flush with the back of the base and fasten it securely in place using screws or even some wood glue and clamps. If you are using plywood, remember to have the factory straight edge facing where the saw will glide against it.

Step 3: Dial It In
Now you're almost ready to use your new "track saw" guide. The third and final step is to run the saw along the straightedge with the blade lowered such that the teeth just clear the bottom. I like to use an old piece of foam board so I can cut comfortably on the ground. The foam board offers ample support and the teeth of the saw are not hindered by it. Eventually, it will get too many saw marks in it and need replacing, but I've had this one for two years now and it has lots of life left in it.

Why Did I Make This Again?
Now, here's the cool part. Whenever you want to break down some plywood you can simply make two marks on either side of where your cut line would be. Then place your "track saw" such that the edge lines up on both of those marks. Set your saw to the proper depth, and make your cut.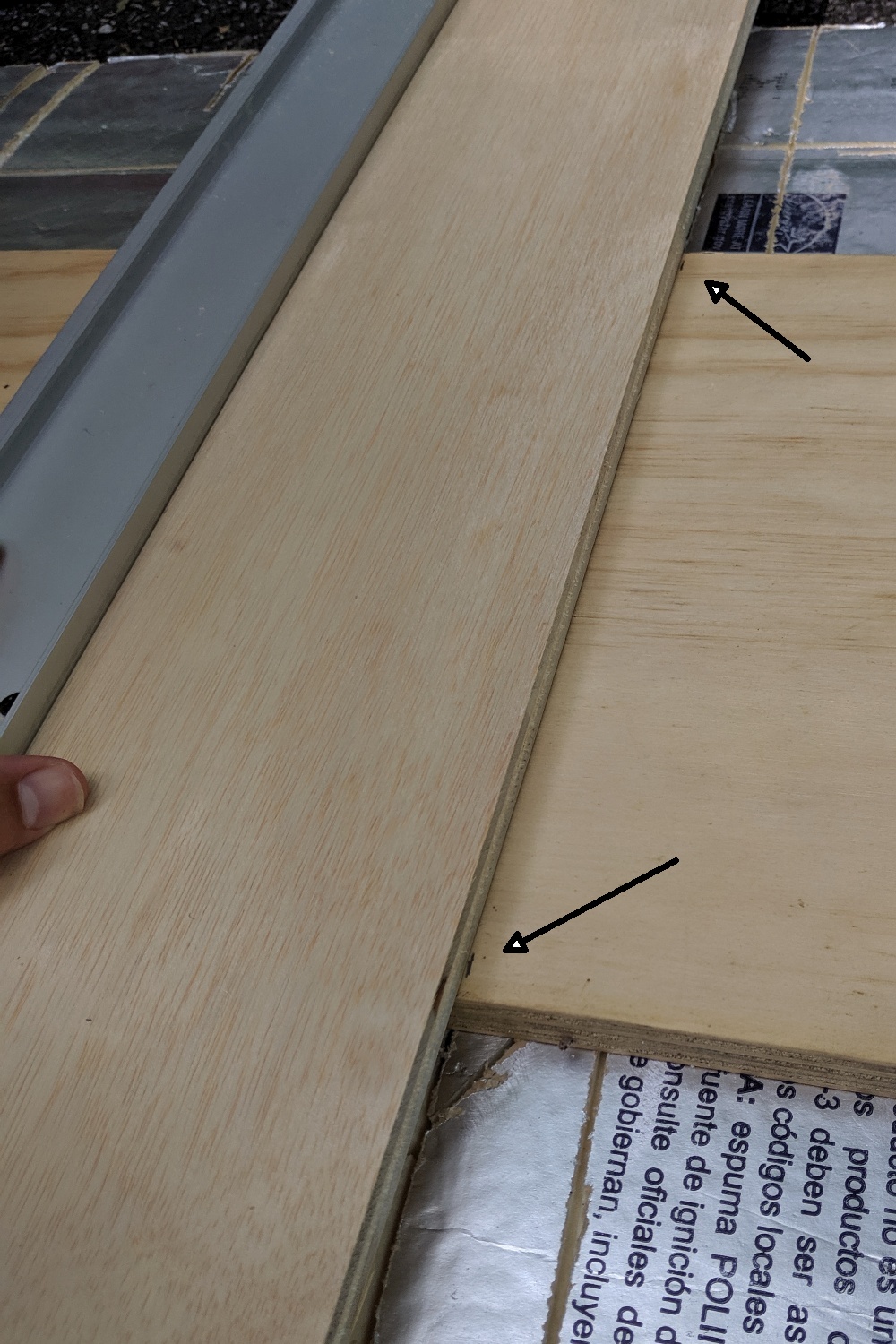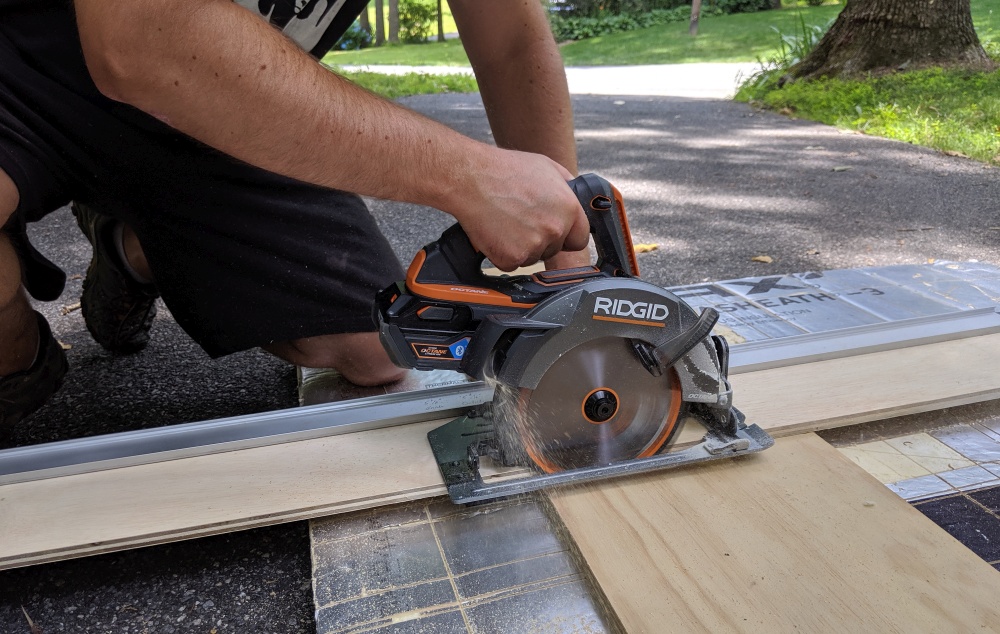 Tell Us More About the Saw
I'm glad you asked. I am pleasantly surprised at how powerful this saw is. If you're a cordless skeptic like I was, these Octane tools will make you a believer. The bevel and blade height adjustments are a breeze utilizing quick-locking levers. The blade height adjustment even has detents so the saw doesn't slip down before you have a chance to tighten the lever. This saw is smart too. I tried to start making a cut once with the teeth sunk into the foam board just a little bit and that tiny bit of resistance was enough that it wouldn't start. The older and hopefully wiser I get, the more I appreciate well-designed safety features that protect against dangerous kick-back.
As with all Ridgid tools, it's available exclusively at the Home Depot and comes as a bare tool for $149 or can be purchased via a number of combo deals that include Octane batteries and chargers. Be sure to check out our amazing Home Depot Coupons before you buy to save yourself some money!
Watch Ethan and Fred review this new Ridgid Circular Saw: