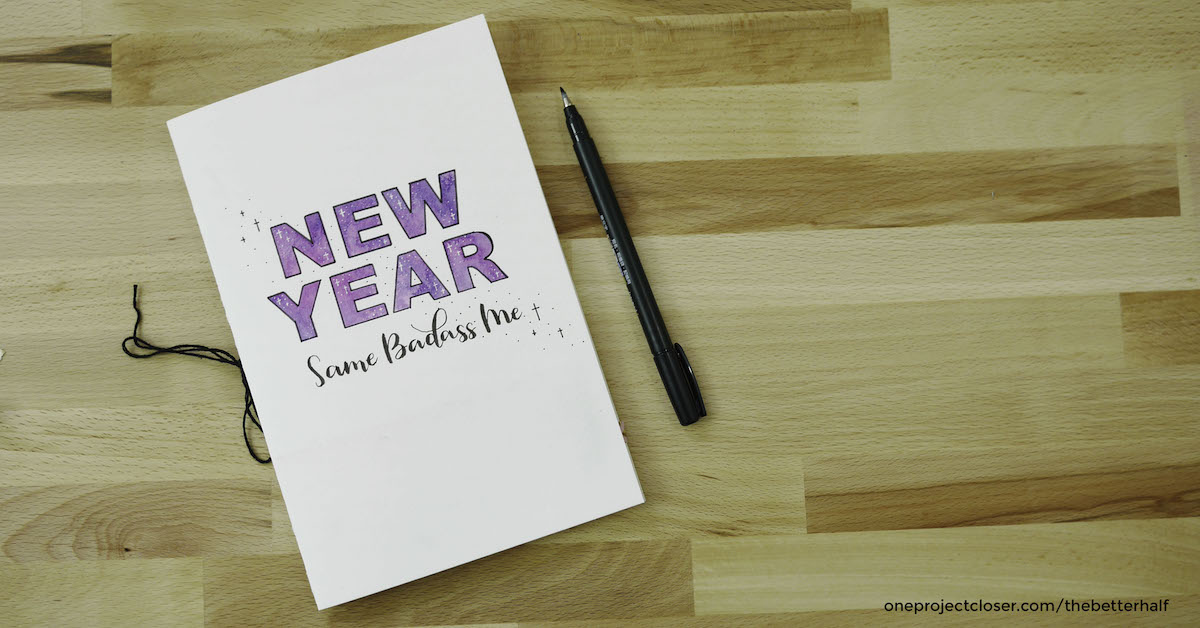 Happy New Year! Its been a busy few weeks for us as the kids have gone back to school, I've been working on redecorating and painting our living room and continuing work on my office. While these big projects are fun, I feel like I haven't been around the blog much to say "hi!" Well, wait no longer! I'm excited to team up with some AMAZING bloggers to bring you inspiration New Year hand lettering projects and tutorials! First, I'll be sharing how to make your own DIY Watercolor Journal! Its fabulous, easy, and makes for wonderful gifts or lettering practice sheets on the go.
DIY Journal
First up, here's a list of materials you will need. I've linked them up on Amazon, so you can easily order them for yourselves. (These are affiliate links, which means I will receive a very small portion of your purchase. Thank you so much for supporting us!)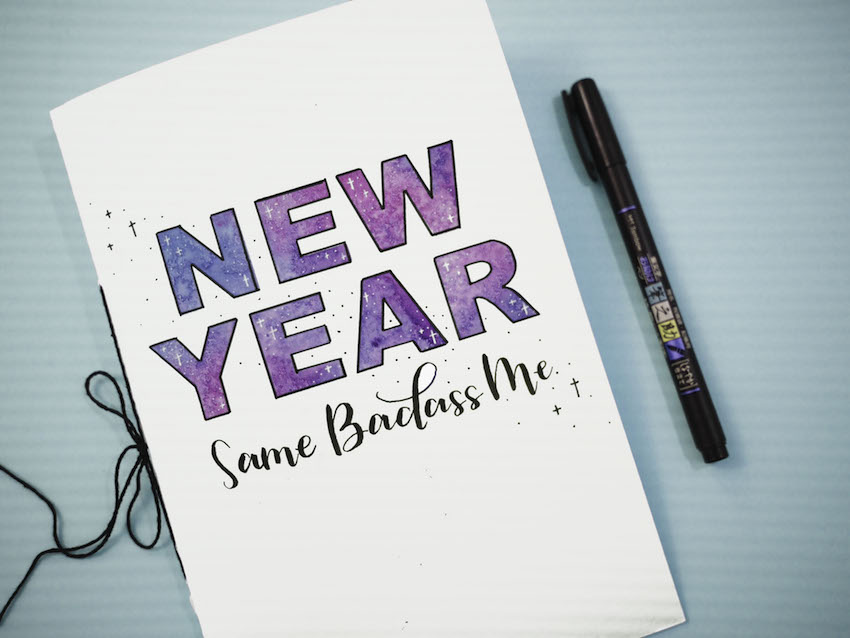 Materials Needed: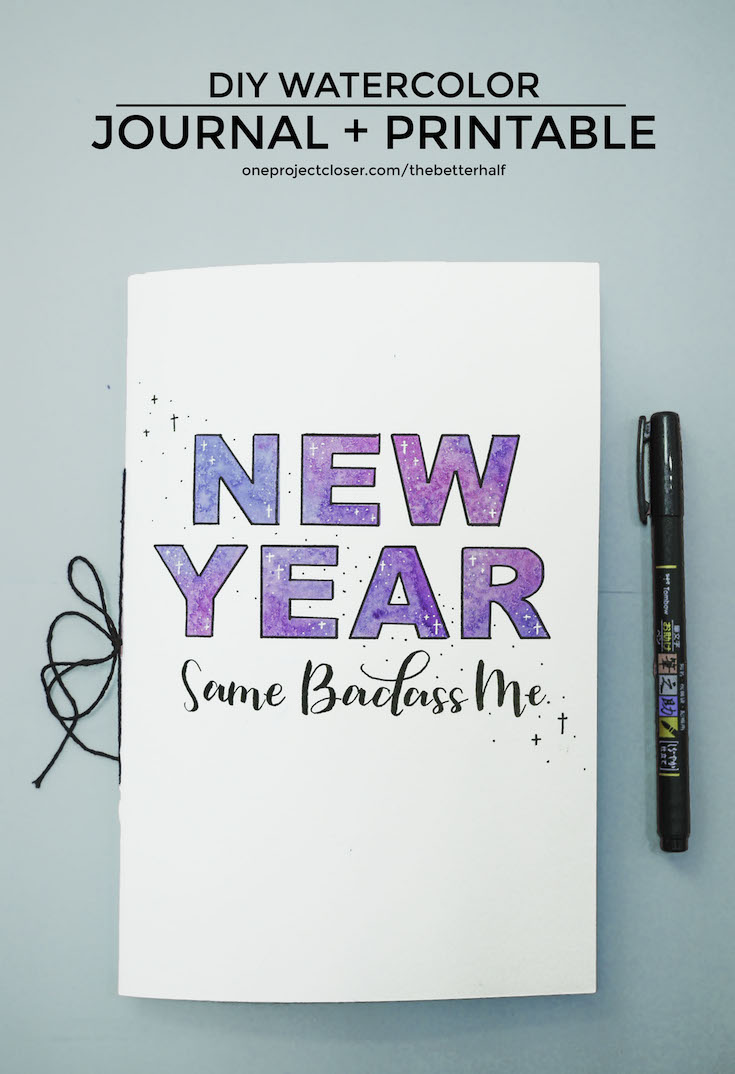 Making the Journal
Below is a video showing each of the steps, but here's the how-to, along with a few tips.
Fold 5 – 7 sheets of paper in half. More than that and its really hard to thread.
Rub a hard edge, like a ruler or the side of a pair of scissors, around the edge of the crease to flatten it.
Then fold a piece of 9×12 watercolor paper in half. Make sure it is nice and thick so it holds its shape and presents as a better quality journal.
Again, Rub the edge to flatten it, as in step 2.
Measure 1/3 and 2/3 down the page and use a compass or to prime the holes. Be sure to place a self healing mat or protective surface underneath. I used the back of the watercolor pad, lol.
Thread embroidery floss or bakers twine through the holes and tie a knot, then bow, on the outside of the journal.
Creating the Watercolor Design
Use your Silhouette or Circuit to design your words and print them on non-permanent adhesive vinyl or .
If using adhesive vinyl, use transfer paper to transfer the design onto the journal. With adhesive stencil, it will maintain its shape as you transfer it. Be sure to press the edges of the letters/design firmly to the paper to remove air bubbles and prevent color bleeding.
Use scrap paper to cover journal and workspace from overspray.
Spray lightly with water.
Using glass spray bottle filled with a few drops of liquid watercolor and the rest with water, spray design.
Allow to dry 30 minutes.
Carefully and slowly remove stencil.
Hand letter your design using Tombow Fudenosuke, hard tip.
Outline Watercolor design with black Tombow Dual Brush Marker, fine tip. Use ruler to keep edges sharp and straight.
Add accents to watercolor design using white Jelly Roll pen. In the top left corner and bottom right corner of each letter, I added small plus signs and crosses and dots.
Then add accents on the outside of design, add accents using the fine tip of a Black Tombow Dual Brush Marker. I made the same plus signs and crosses in the top left and bottom right of the design and drew dots between them to give a galaxy look.
DIY Watercolor Journal tutorial here:

Free Badass Printable
Love the journal but don't want the hassle of painting and hand lettering? I've got your free printable here, so all you have to do is print it off (format it to fit on one half of the paper, or you can print it and put it on your mantel). ENJOY!

New Year Hand Lettering Hop
Make sure to hop around and check out all the posts in this series! These ladies are totally talented and I know I'll be printing off some of these to practice up.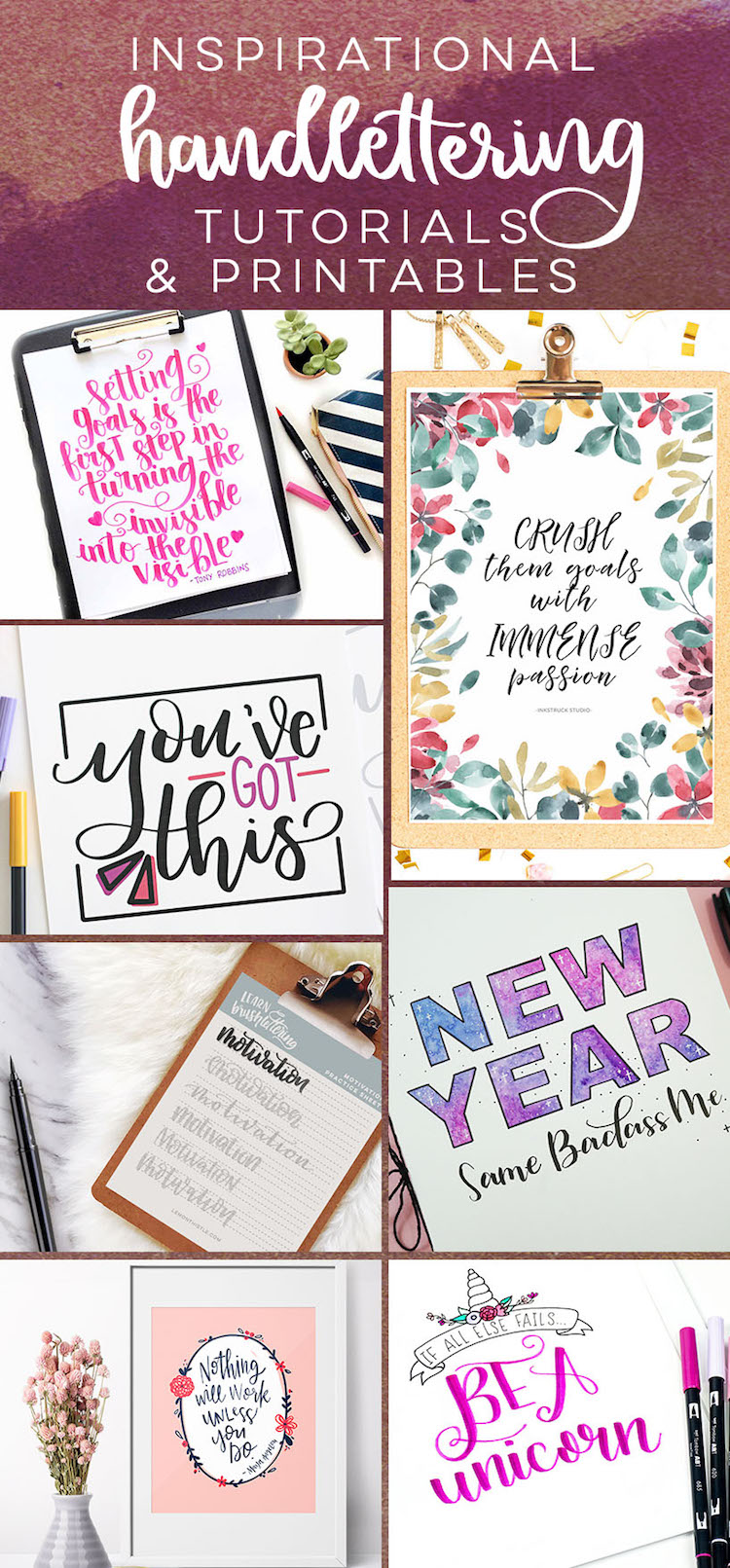 Left to Right, Top to Bottom:
Setting Goals Brush Lettering Tutorial- Smiling Colors
Crush Them Goals Watercolor Printable- Inkstruck Studio
You've Got This Practice Sheet- Liz on Call
Motivation Printable Practice Sheet- Lemon Thistle
New Year Watercolor Journal- One Project Closer
Nothing Will Work Motivational Printables- Persia Lou
Be a Unicorn Printable Worksheet- Printable Crush
What do you think? What will you be writing in this fabulous DIY watercolor journal?
As Always, thanks for reading!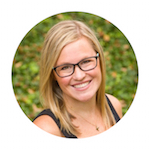 Jocie Hagan
One Project Closer