You may have seen the post about my most recent tool addition-the Dremel Multi-Max. I'm really pleased with it so far and hope to use it for a big bathroom project coming up. It's called the Multi-Max because it's a multifunction tool. You can sand, scrape, cut, remove grout, and grind a variety of materials. Dremel was able to create this tool by providing about 14 different accessories. This post will walk you through the accessories available for your Multi-Max.
Where to Purchase Multi-Max Accessories
The price of a Multi-Max accessory ranges from about $5- $35. That means you can quickly spend a fair amount of money before you even get started. If you're looking to purchase Multi-Max accessories and save money, you're first stop should be a quick look online. After that, Home Depot beats out Lowes on most prices.
Here's a quick comparison:
| Accessory | Amazon | Lowes | Home Depot |
| --- | --- | --- | --- |
| 3/4″ Wood/Metal Blade (MM422) | $10.63 | $10.97 | $13.97 |
| 1/16″ Carbide Grout Removal Blade (MM501) | $24.35 | $24.97 | $36.97 |
| Flexible Scraper (MM610) | $9.51 | $9.97 | $9.98 |
The real savings occur when you purchase accessories as a pack. Online, Home Depot and Lowes don't feature any accessory packs but Amazon has tons of them. There's a variety of other places if you just Google for it.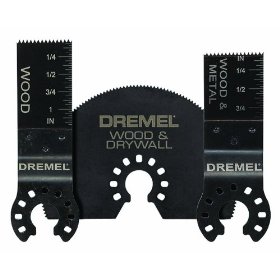 Multi-Max Accessory Guide
Sanding
For sanding, you need to first attach the Hook & Look pad attachment. All the sanding pads attach to it. There's sanding paper for wood featuring 60, 120, and 240 grit pads. There's also sanding paper for removing paint and varnish. These pads come in 80, 120 and 240 grits.
Item numbers: Hook & Look- MM11, Wood sanding- MM70W, Paint sanding- MM70P
Cutting
There are 6 different cutting accessories. Depending on the blade, you can cut wood, metal, plastic and other soft materials. The longest blades can cut to 1-1/4″ depths. There is one saw blade style (semi-circle) while the rest are flush cut style. These blades are ideal for cutting dowels, door jambs, copper pipe, drywall cutouts and more.
Item numbers: 3/8″ wood- MM411, 3/4″ wood & metal- MM422, 3/4″ wood- MM440, 3″ saw blade- MM450, 1-1/8″ wood & metal- MM462, 1-1/8″wood- MM63
Grout Removal
There are two different carbide grout removal blades- 1/8″ and 1/16″. Pick up the blade appropriate for the width of your grout joints. These make it easy to work on floor tile, wall tile and kitchen back-splashes.
Item numbers: 1/8″ blade- MM500, 1/16″ blade- MM501
Scraping
There are two scraper attachments. The rigid scraper (1-9/16″ wide) is ideal for vinyl, varnish, paint and carpet. The flexible scraper is 1-3/16″ wide and great for removing caulk, peeling paint and adhesive.
Item numbers: Rigid scraper- MM600, Flexible scraper- MM610
Grinding
The diamond paper is 60 grit and also requires the hook & look pad attachment. It can be used for removing thinset, cement and mortar. The carbide rasp is a stand-alone attachment. It's a 24 grit and can be used on thinset, cement, plaster and wood.
Item numbers: Diamond paper- MM900, Carbide rasp- MM920