Dremel was kind enough to sponsor our latest giveaway for a brand new Trio, and they also offered to ship us the same tool for review. This tool boasts the ability to cut, sand and rout with various accessories. I feel like multi-tools can be really hit-or-miss. I've enjoyed the Dremel MultiMax, and so was excited to give this a try. Read on for the full review.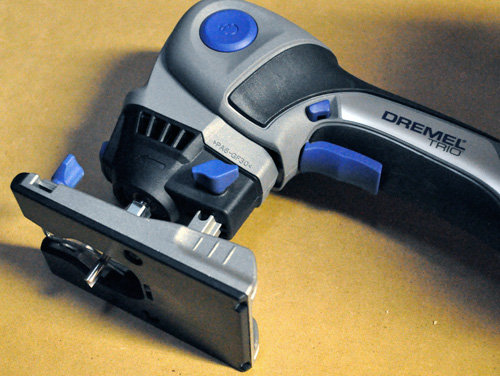 Dremel Trio Product Review
The Good: Versatile; variable speed; pivoting handle; great for tight access.
The Bad: Awkward depth adjustment; kludgy accessory changes.
Overall: A fair addition for a hobbyist woodworker or DIYer.
Trio Performance Review
Dremel markets this tool for its ability to handle cutting, sanding and routing, but not as a replacement for the individual tools that do those jobs as their primary function. We tested each aspect and here's how it stacks up.
Cutting
The Trio utilizes a spiral cutting bit, very similar to the classic Dremel rotary tools. It's designed to cut drywall, wood, plastic and sheet metal up to 1/2″ thick. Spiral cutting bits often result in a cleaner edge and easier plunge cuts. This benefit enables you to start a cut anywhere in the workpiece. The plunge cuts are not very precise as the base is locked in place and it's up to the user to slowly lower the bit.
If you've ever used a spiral cutting bit, you know that it excels in materials like drywall but can struggle in denser materials like wood. Even a soft piece of pine was somewhat challenging. And because of the rotating action, the tool can pull away so I'd suggest using the included straight edge guide or pivot pin as you are able.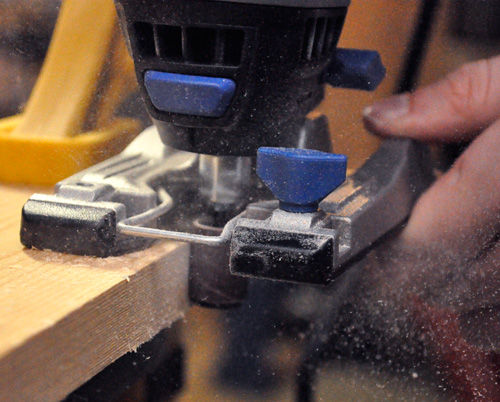 Sanding
Sanding is really where the Trio stands out, acting as a micro-drum sander. Each of the sanding bands fit on a mandrel, a shank with a screw head, meaning you only have to replace the band. Use the sanding accessories to shape wood or fiberglass in tight access applications. The sanding bands can slide up but for the most part stay securely in place.
Routing
Dremel includes a straight router bit and the Trio is capable of some fine routing operations. It has good control but is only designed for small scale use. It's also only equipped with a 2 Amp motor so don't overdo it.
Additional Features
The pivoting handle on the Dremel Trio can be positioned in-line or at a 90° angle for better control and comfort.
The variable speed setting is great for fine tuning. For example, the guide suggest a switch setting of 6 for sanding plastics.
A lock-on button allows for continuos operation.
There is a dust extraction port but the adapter is not included.
You can adjust the depth by loosening the thumb screw and sliding the base. Unfortunately, it's not a smooth motion and making adjustments is tedious.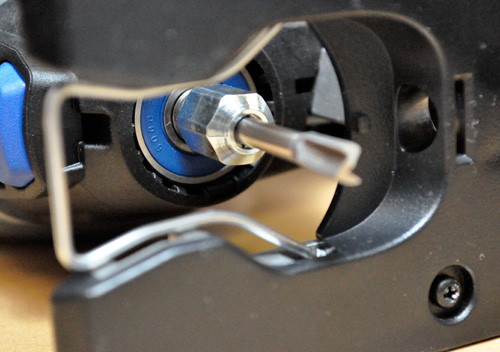 Accessories
It's important to know that the Dremel Trio uses only Trio accessories. Dremel rotary tool accessories are not compatible with the Trio tool. Currently, the Dremel site features four cutting bits for steel, hardwood, tile, and drywall. Sanding band grits range from 60 to 240. There's a few router accessories including straight, rounding corner, and chamfer bits.
Changing accessories involves pressing the lock shaft button, loosening the collet nut with a wrench, and inserting the appropriate bit. Make sure to tighten the collet nut securely.
Specifications
Amperage 2.0 Amps
Collet Capacity 3/16″
Speed Variable (10,000 – 20,000 RPM)
Voltage 120 AC, 50-60 Hz
Warranty 2 years
Weight (lbs.) 2.8 lbs (1,27 kg)
Price & Where to Buy
This product is available as a part of the 6800-01 Trio Tool Kit. It includes the Trio Rotary Tool, 1/2″ Sanding Mandrel, Hardwood / Sheet Metal Bit, Straight Routing Bit, Circle / Straight Edge Guide, Wrench, Collet, and Hard Case.
What do you think? What's your experience with the Trio?