Ever since we were little, one of the most desired desserts in our family has been my mom's graham cracker treats. Yes, that is their official name! It's probably the easiest thing my mom makes, but it is considered a special treat when mom makes them. You also have to grab 'em quick because they don't last long.
I made them this week for my friend, Colleen's Holiday Treat party but these nuggets of awesomeness are good year-round!
Graham Cracker Treats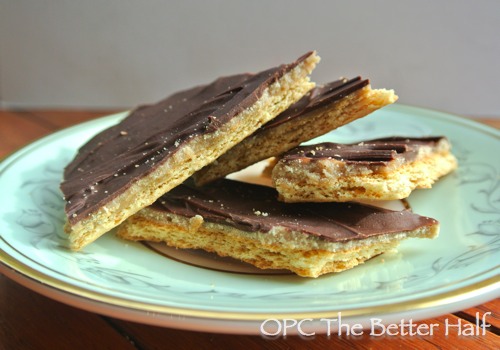 My mom actually suggested I share this recipe with you and I was shocked. I was also unsure whether or not I wanted to share this family secret…but that's how much I love you. So here's the recipe, along with my mom's tips for toffee success.
Ingredients:
3/4 cup Brown Sugar
1 stick of butter or margarine
13 graham Crackers
6 – 8 oz Semi Sweet Chocolate Chips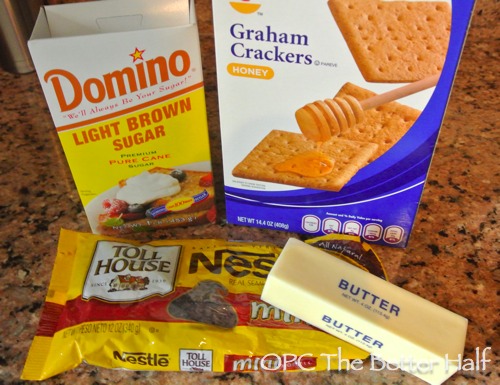 Directions:
First, I measured out all my ingredients, including the chocolate chips. This was important because once the toffee was made, I had to work quick!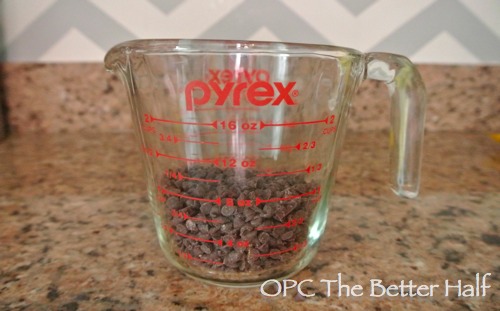 Then, my little assistant, Izzie put a layer of graham crackers on the bottom of a jelly roll pan. My mom uses a 10×15 cake pan but the jelly roll pan held about the same amount of graham crackers.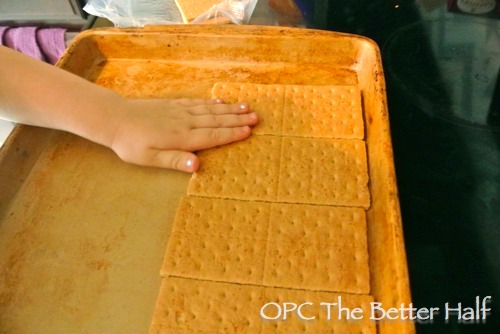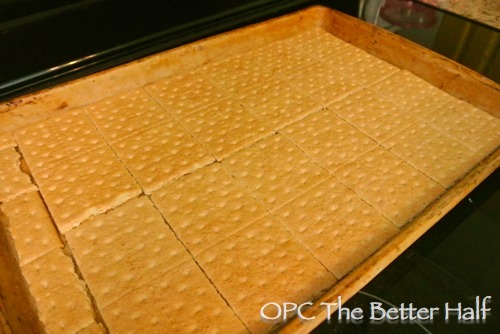 After the graham crackers were in place (leaving a few extras for the girls to munch on), I melted the butter over medium heat and added the brown sugar, stirring constantly.
After the toffee mixture turned frothy (bubbly and light in color), I continued to cook and stir it for a couple more minutes.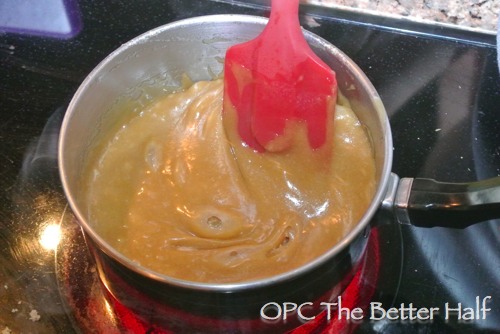 I have made graham cracker treats many times and often I stop cooking the toffee too soon and the toffee turns out semi-soft, not crunchy. Mom says you gotta keep cooking and stirring the toffee almost until you think its gonna burn.
Once I cooked the toffee long enough, I quickly poured the mixture over the graham crackers and spread it evenly using a knife. It cooled fast so I had to work fast!
After the toffee was spread, I immediately sprinkled the chocolate chips over the graham crackers and toffee. I used mini chips because that was all I had, but Mom uses the regular kind.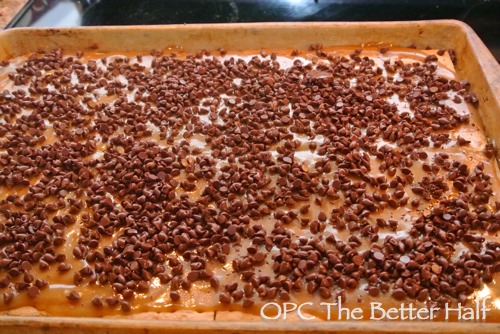 I then popped the graham cracker treats in the oven on low broil for a minute to help the chocolate chips melt. Once the chocolate chips looked a little shiny, I spread the melted chocolate evenly over the graham crackers and toffee using a knife.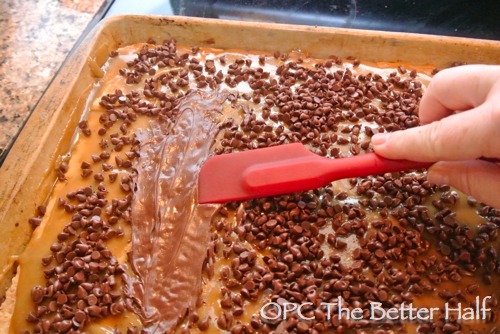 I put the graham crackers treats in the freezer for an hour or two because I have an extra freezer in the basement. My mom puts hers in the fridge.
After they were frozen through, I broke them apart with my hands, perhaps taste testing along to way…you know, to make sure they were safe for others.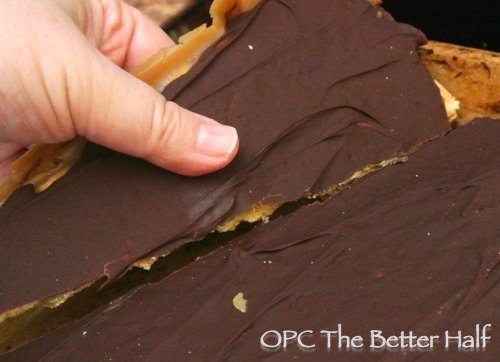 Finally, I put them in the freezer, out of sight so I would stop eating them.
They really are best right out of the freezer, but you can really eat them at any temperature!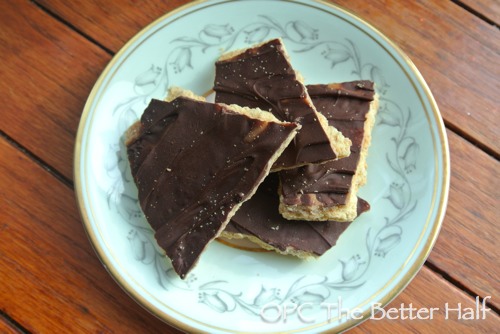 What do you think? What are your family's treasured desserts?
As Always, thanks for reading!