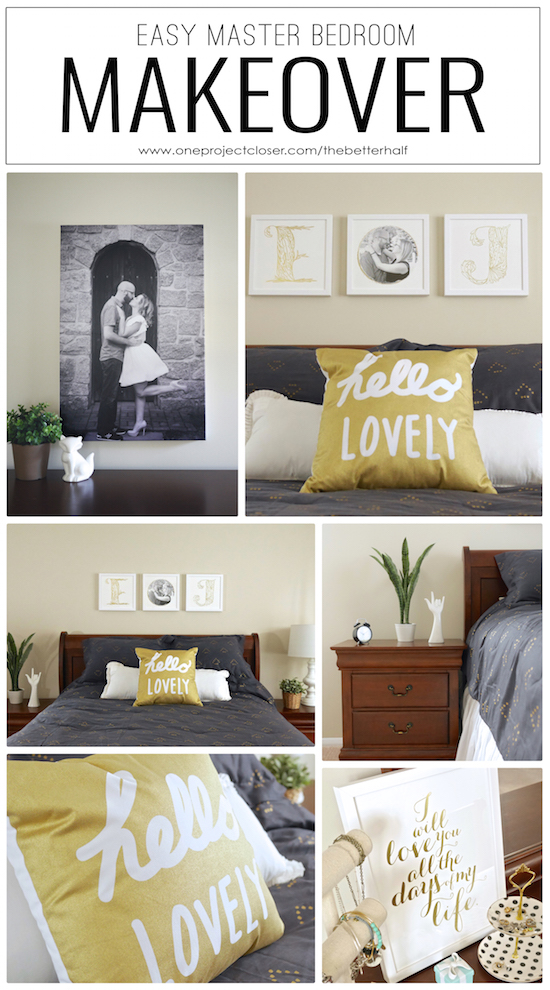 This amazingly easy Master Bedroom Makeover was sponsored by Minted.com and Canvas Discount.com. They provided the art featured in the room. All opinions are 100% mine.
"Hello, its me. I was wondering if after all these years you'd like to meet…" my master bedroom! heehee Since we moved last year, I haven't shared with you our bedroom, mainly because I wasn't really happy with it. For a couple reasons, but mostly, I had been there done that and was ready for a change. Here is the "before."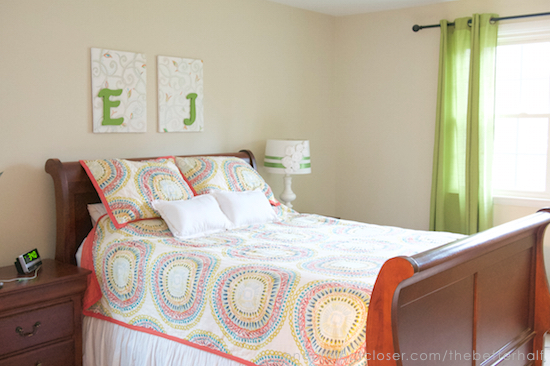 My easy master bedroom makeover started with this beautiful art from Minted.com. They were kind enough to let me pick a few of my favorite things on the site in order to help promote our December Minted Giveaways at The Creativity Unleashed Link Party. This weekend is our final giveaway, so be sure to stop by and enter (starting tonight, December 31 at 7pm EST)! Well, you know how it goes, once you change one thing, it snowballs into changing the whole room! haha
My old art, which I made years ago, had our initials, and I kinda liked that. So I fell in love with these gold foil pressed giftable art pieces with our initials (Botanical E + Botanical J) and a pic of Ethan and me (called Lightly Gilded) Special thanks to my Dad at Chris Paulis Photography for taking this picture especially for this piece of art!.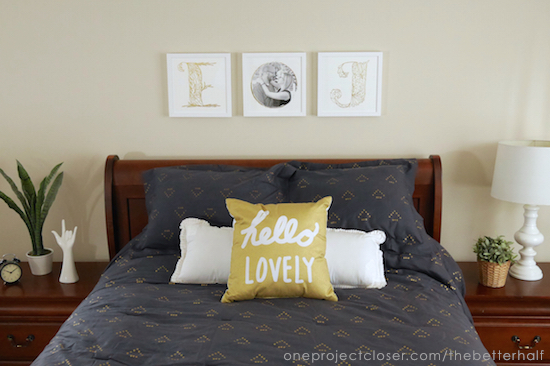 Like I said, once I picked out the art, it sorta snowballed. The gold foil just didn't go with the green and coral. So when I saw this Nate Berkus™ Dotted Triangle Comforter Set and Hello Lovely Pillow, I had to buy them! But in my defense, I did have Christmas money from my grandmother and 10% coupon.
Also, you may have noticed I started my post with a little Adele. Well, the pillow is certainly a nod to that, but as I was photographing the pillow Adele's "Hello" came on the radio. haha So I felt like she deserved a little shout out.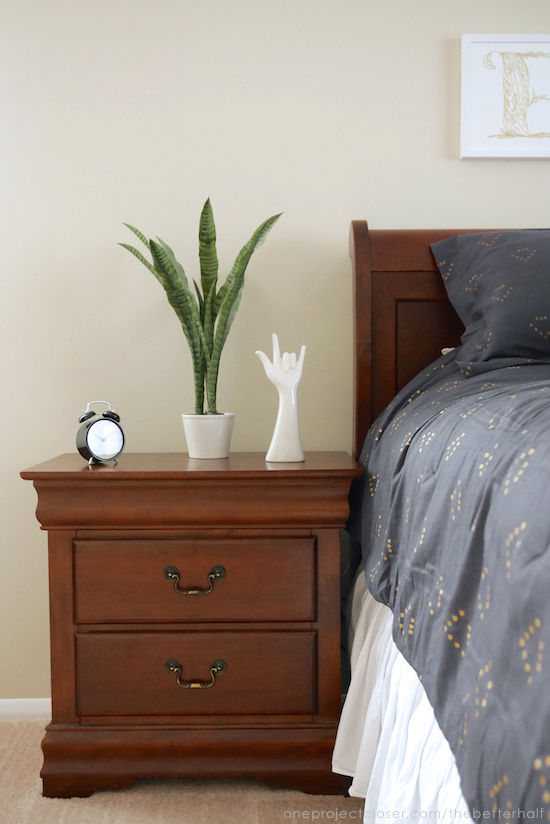 As I proceeded with my easy master bedroom makeover, I realized what a disaster my dresser was. Honestly, it was awful. Jewelry, glasses and dust everywhere. So I picked up these cute jewelry holders at Michael's for 60% off! woot! Plus it really picks up the gold in this All My Days foil pressed art.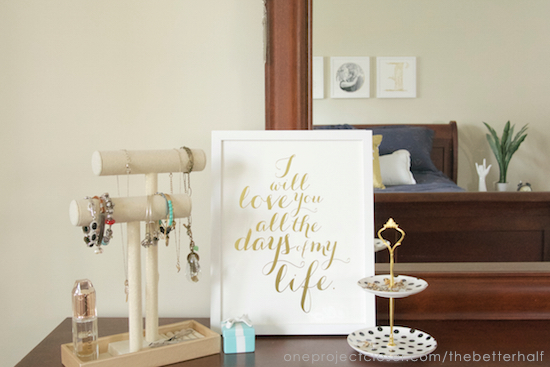 And a couple more shots, just because I love it so much! By the way, tonight when Ethan is sleeping, I'm going to start singing "Hello from the other side" as creepy as I can. haha Thanks, Adele. 😉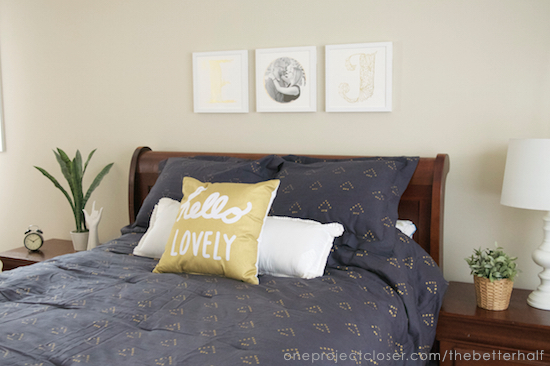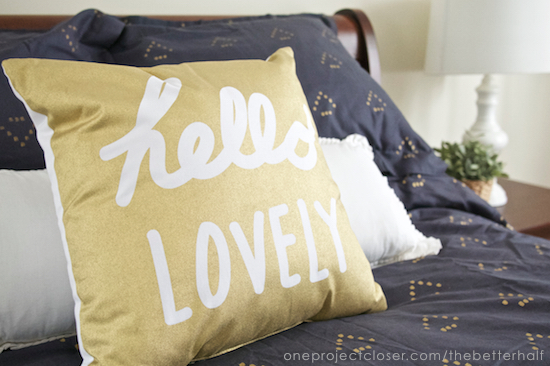 The icing on the cake in this room was another beautiful photo thanks to my Dad at Chris Paulis Photography! Ethan and I had our ten year wedding anniversary this past year and our wedding photos were absolute junk. So, I told my dad that all I wanted for our anniversary was a few beautiful photos – and boy did he deliver. I dragged my feet in printing them because large prints are soooo expensive. But a month or so ago, CanvasDiscount.com contacted me and offered to send me a canvas to review and I jumped on it. The great part is, that even without coupons or special blogger connections, this 20×30 canvas would have only cost me around $50! What a steal!! Be sure to check out all their amazing canvas prints and other photo gifts! I really can't tell you just how absolutely stunning this looks in person, and I can't wait to order more canvases for other areas of the house!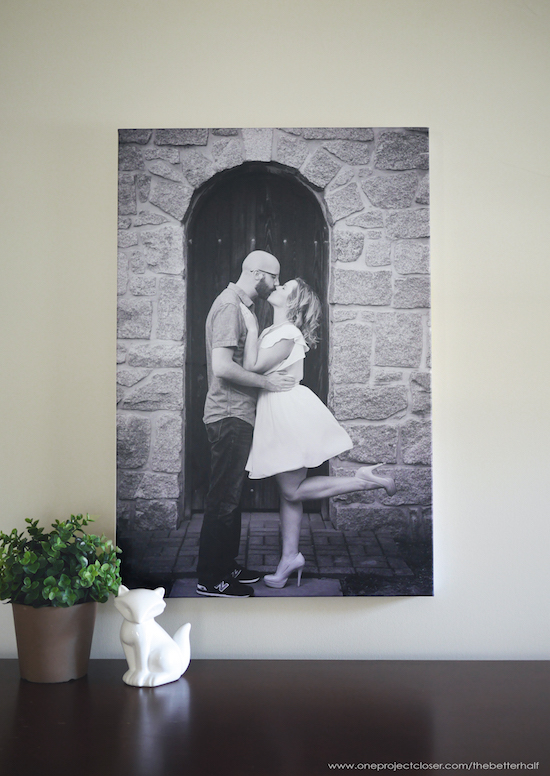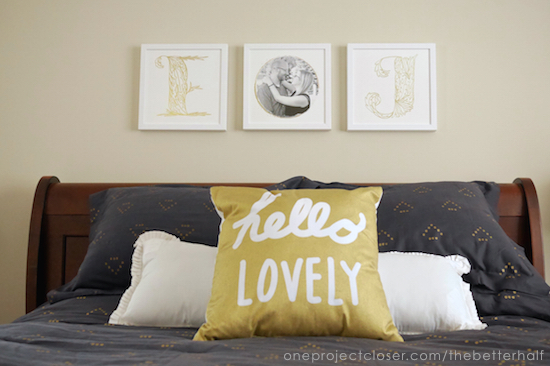 What do you think? What are your tips for an easy Master Bedroom makeover?
As Always, thanks for reading!

Don't forget to check us out on Facebook , Instagram, & Pinterest!