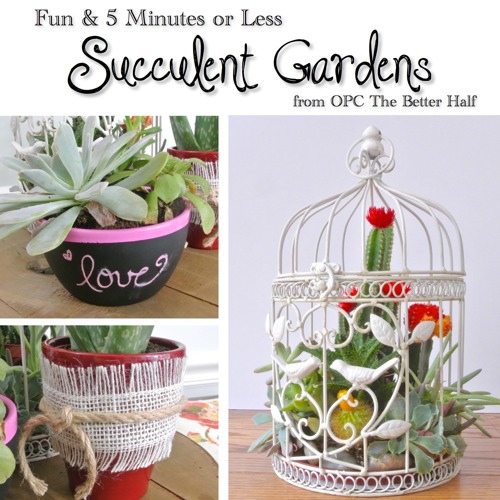 I guess I've gone a bit crazy with succulent garden ideas since Home Depot asked me to participate in their Pinterest Inspired Succulent Garden DIH workshop! On Tuesday, you may have seen my fabulous succulent terrarium I made using poplar wood and a mason jar. I had some succulents left over and just couldn't stop myself, so I made three more easy succulent gardens that each only took 5 minutes or less to make! Let me know which is your favorite. 🙂
Birdcage Succulent Garden
I had this idea in the back of my mind for a while now and was SUPER excited to make a succulent garden inside a birdcage! It is so cute and really my kinda garden.
I found this fab birdcage at Michael's for $10 (it was 50%) and I love it! They had bunches of other birdcages, but this was the biggest white cage they had. I would have preferred it to be larger, but I didn't wan to spend the money or put in the time to paint a larger one.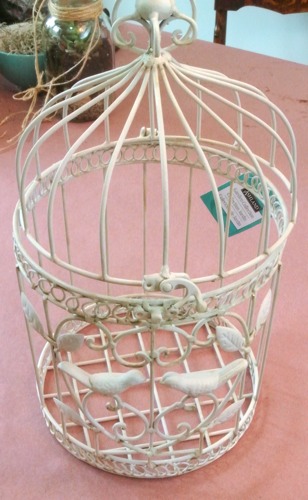 Once home from Michael's, I grabbed some white card stock and cut it to the size of the bottom of the birdcage. The bottom was all wire, so I was worried that rocks would fall through.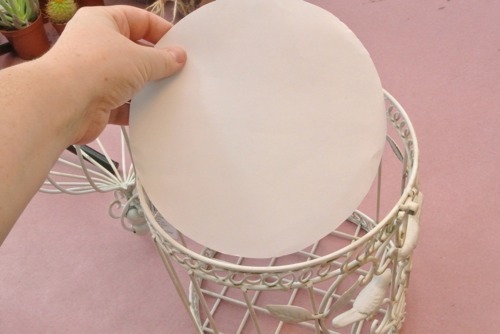 Then, I put rocks around the edges of the bottom of the birdcage and placed a plastic planter liner in the bottom. I used a rounded liner but a flat liner would have been better.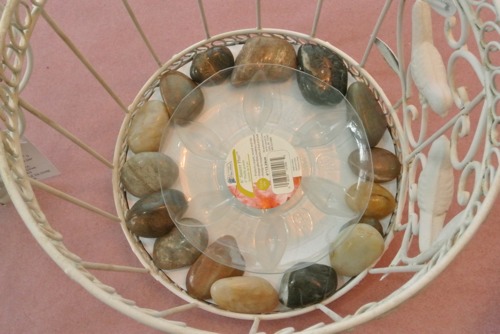 I then added a little bit of loose soil. Succulents need very little water, so the soil needs to be loose so that the water can drain. This is why I love succulent gardens – so hardy and low maintenance!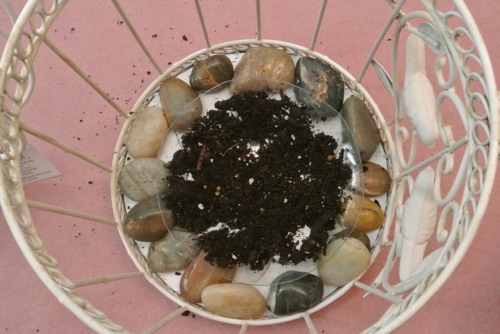 Finally, I added the succulents, plus two cacti and small aloe plant to give a little variation and color. I kept the cacti in their containers because they were so heavy and kept tipping over.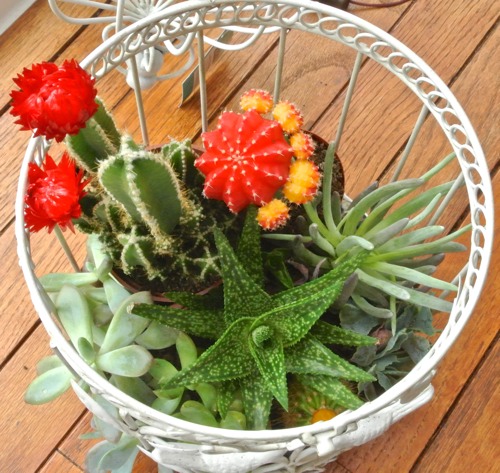 And now she sits on my window seat as my very first indoor plants that have lived past two weeks! woo hoo!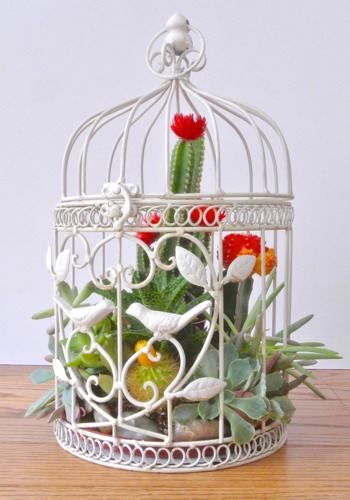 Chalkboard Succulent Planter
Who doesn't love a good chalkboard project? I sure love 'em!
When buying way too many succulents, I purchased a planter filled with them because it was cheaper than buying them individually. I didn't love the planter and didn't need it, but bought it anyway. So I had the ceramic bowl planter left over, plus a few succulents, but the bright pink bowl didn't really match the decor of my dining room.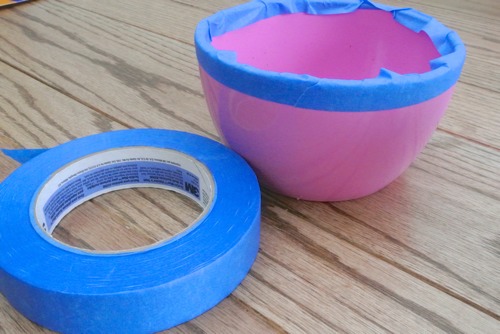 I grabbed some leftover chalkboard spray paint and blue painter's tape and got to work taping off the top ring of the bowl. Then, I took it outside and did some spraying. This impulsive girl was fortunate enough to have a mild, sunny day. yay!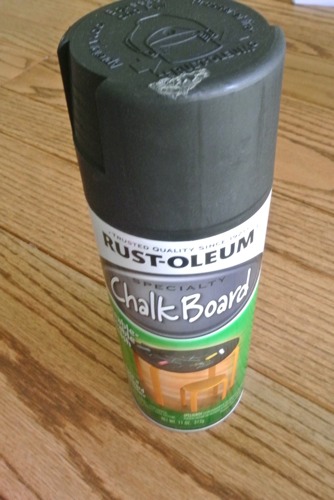 I added a little chalk art, put the plants back in, and DONE! Easiest plant ever!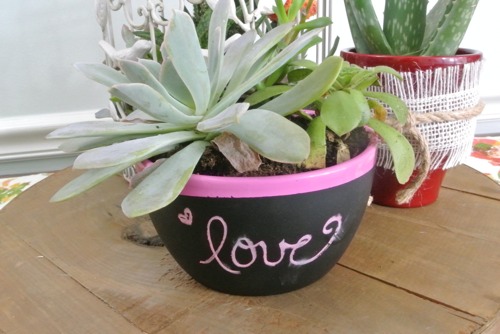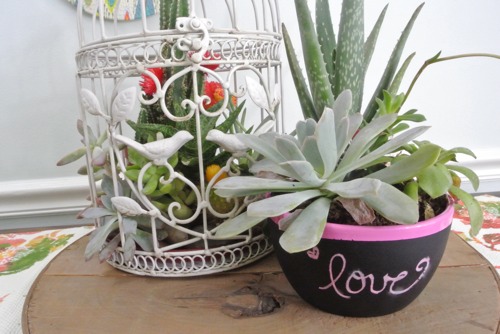 Burlap and Rope Planter
Again, I had a left over red ceramic planter and an extra aloe plant, but the red just wasn't my style. So I rummaged through my craft stash (aka hoard) and pulled out some burlap ribbon and rope.
Not too much to tell – I just wrapped the burlap and rope around the planter and used hot glue to hold it in place. This didn't even take 5 minutes!
And now all together!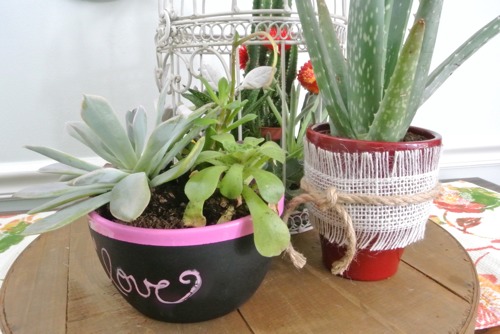 Okay, one more of the birdcage because I love it so much. 🙂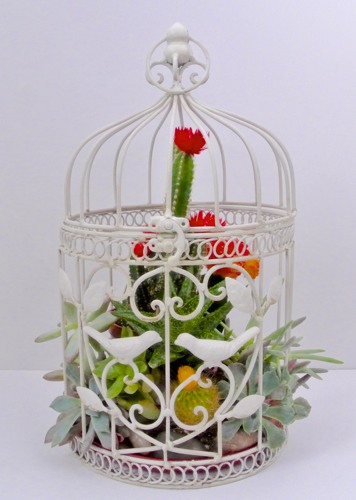 And in case you missed my succulent terrarium in a mason jar aka succulent garden wall hanging (as this non-gardener would say).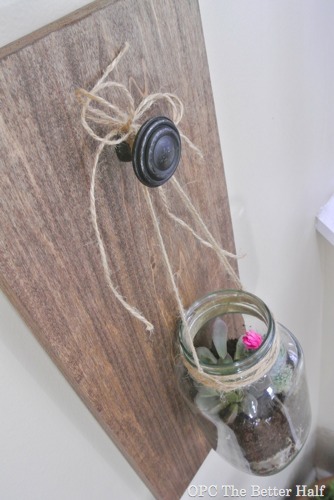 Oh, and don't forget to join me and The Home Depot for a Twitter Party tonight at 8pm EST #DIHworkshop.
What do you think? What tips do you have for easy planters?
Thanks so much for sharing in my recent love of succulent gardens,