For years my sister, Erin has hated her cabinets. They are old, ugly, and really nasty – covered in years of funk but also had some extra vanishes and waxes to give them extra shine. In all, it wasn't a pretty picture. The only thing her cabinets had going was that they are solid wood. She's lived in the house for now 14 years but updating the cabinets is an expensive and time-consuming venture. With four kids, three dogs, one husband, and a partridge in  pear tree, the cabinets have not been a top priority.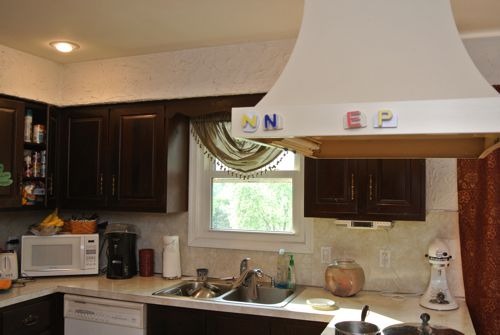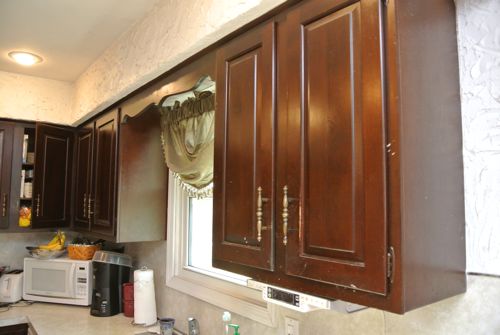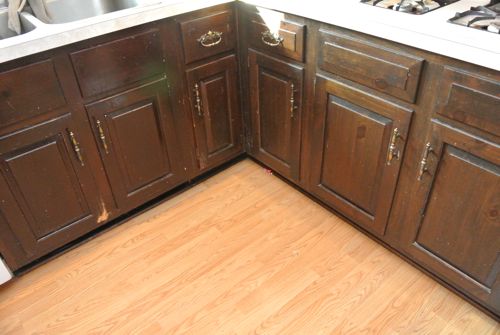 About a month ago, Rust-Oleum contacted us and asked if we would be interested in trying out their new Cabinet Transformations. While my cabinets are not in style with the white trend, they are a beautiful dark wood, in great condition, so I'm not ready to paint them. But I did immediately think of my sister who desperately needed a cabinet transformation.
Ethan, Izzie, Lucy, and I spent this past weekend at Erin's working on the cabinets. It was a TON of work! Erin and her hubby, Chris had done most of the cabinet prep before hand. As I mentioned, there were lots of layers of junk and added wax for shine that they had to scrub off. Erin used Simple Green first, which worked best to remove the yuck, and then used the Rust-Oleum De-glosser to remove anything left and the film that Simple Green left.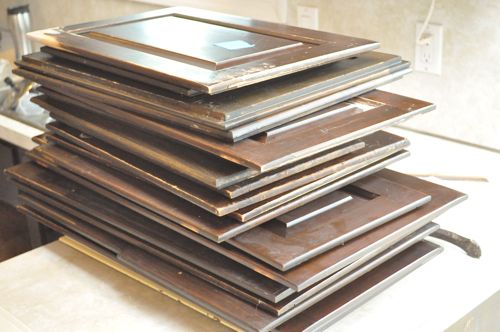 First we taped off all the countertops and walls so we wouldn't get paint where we shouldn't. Here I am, all bright and chipper, early Saturday morning. Check out my new OPC The Better Half shirt!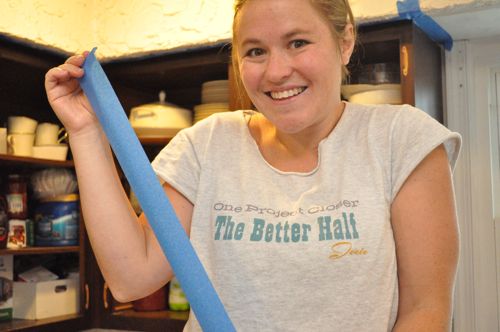 We then followed the steps on the Rust-Oleum video, including painting 2 -3 coats of paint then one thin layer of protective top coat. What a dramatic difference! Check out Ethan's post over at OPC, our main site, for the step-by-step process of transforming the cabinets.
Here's my pretty sister starting off the day with the first strokes of paint!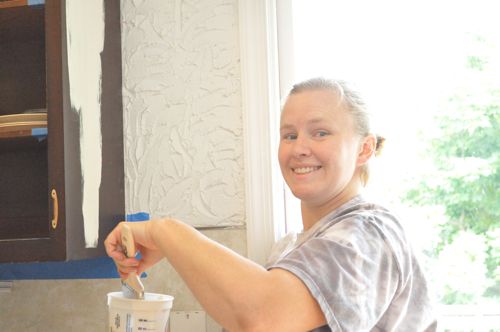 Ethan, hard at work!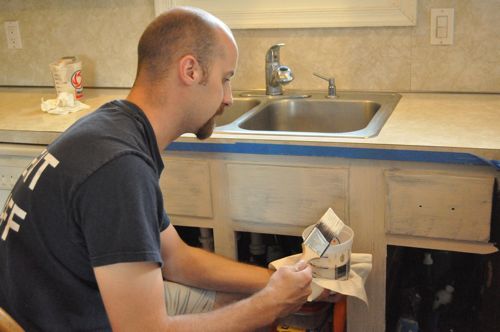 Another great aspect of painting these cabinets, over refinishing, was that Erin was able to repair the cabinets with wood putty before painting. After 14 years of hard use (plus lots of years before that with previous home owners), there were lots of dings and dents that were easily covered.
I really liked the kit. I think what really makes the Rust-Oleum kit unique, over regular furniture paint, is that they offer glazes to go over the paint to make the cabinets appear more like wood and the protective top coat. We did not use the glaze because Erin liked the antique white look.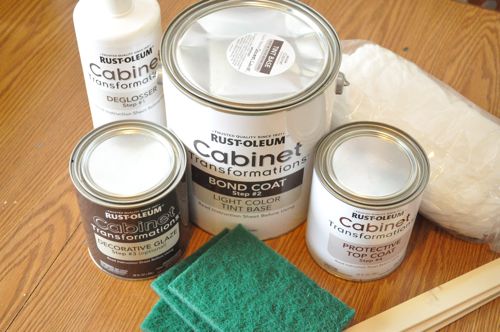 The next day, after the cabinets were painted and dry, we went to put the new hinges on and realized that they didn't fit! Oops! We were left with putting the old hinges back on, but when a previous home owner had applied a varnish and then wax, they didn't bother to take off the old hinges or cabinet pulls.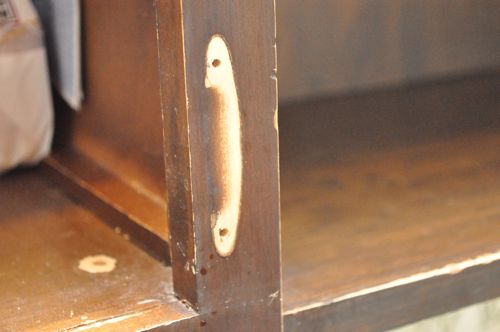 Suffice to say, the hinges and pulls were in very bad condition. Erin came up with the great idea of cleaning them with acetone. It was a stinky, long job but the hinges and pulls cleaned up very well!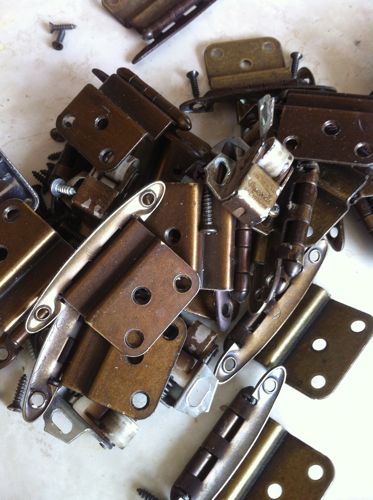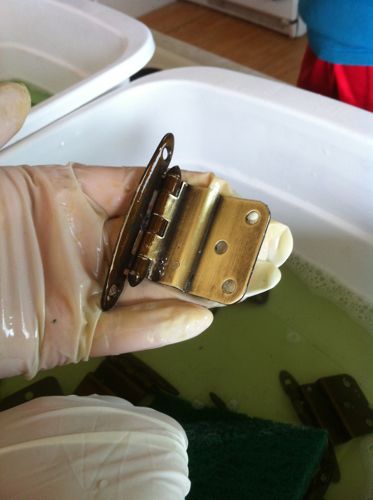 At the end of the weekend, we left Erin to enjoy her "new" kitchen…and finish cleaning up the mess we left! haha! We'll be heading back there in a few weeks to transform her countertops too. Stay tuned!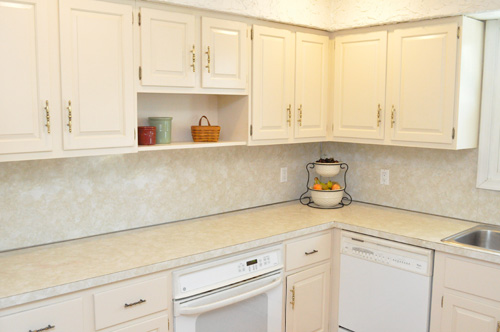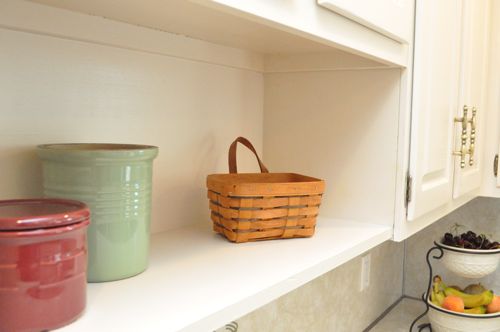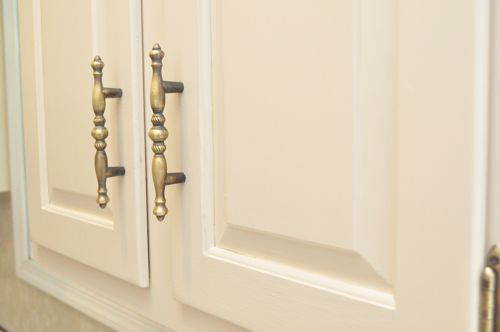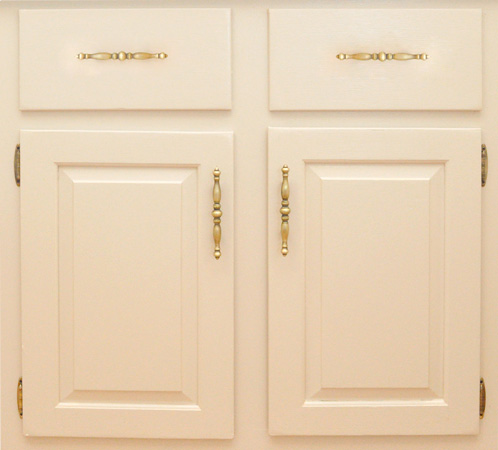 How do you like Erin's new kitchen? Have you used Rust-Oleum Cabinet Transformations?
As Always, thanks for reading!