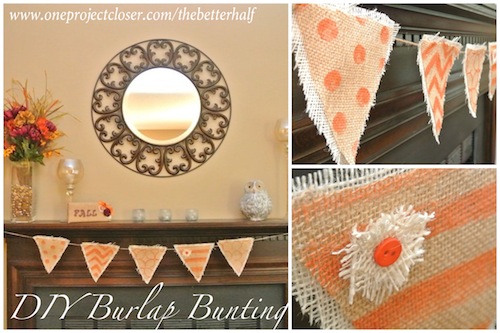 Growing up, my mom and grandmother always changed their mantle decor for every season or holiday. In addition to changing the mantle, they both changed up the flags or wind socks, wreaths for the door, and knick knacks for the bathrooms and entry table. Sometimes they would even exchange decor between the house to spruce things up. Not a bad idea.
Since buying our home 6 years ago, I occasionally change up the wreath on my door, but usually I just forget until someone asks why I have a wreath of robin eggs on my door at Halloween. (that seriously happened)
This year, I decided to woman-up and decorate my mantle for the fall – after all, it is my favorite season and definitely has the best color scheme. So after 31 years, I began my first take at a seasonal mantle!
I headed to Hobby Lobby with my 40% off coupon in search inspiration. I came home with several re-useable bags full of stuff and a lot of energy to accomplish! Check back over the coming week to see the different elements of the mantle and then the final reveal!
Here is the "Before" mantle….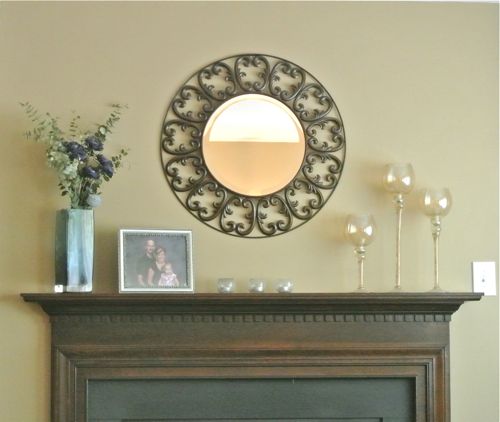 I know, not real exciting. But I figure by keeping it semi-bare, things look clean and it is universal to all seasons.  lol!
My Burlap Bunting
Before going to Hobby Lobby, I decided I wanted to be like the cool kids and do something with burlap. So I made my first burlap purchase and decided to use it to make a fall "banner," at least thats what I thought it was called…
After making it, I was trolling some of my favorite blogs and came across a burlap and lace banner made by Myra at My Blessed Life, but she didn't call it a banner, she called it bunting. Obviously, I was confused and googled it, because I totally thought bunting was exclusive to baseball! lol! Thank you, Myra for teaching me something new!
My new burlap bunting is hanging on our mantle and looks so festive! It was a quick and easy project too.
Materials:
Burlap, two colors
Twine
Hot Glue
Acrylic Paint
Step 1: Cut Triangles
First, I cut triangles using the light brown burlap approximately __ high and ____ wide. They don't need to be perfect. I cut ___ triangles because I didn't want the bunting to go all the way across the mantle, but you can really make any number you want.
Then, I cut slightly larger triangles using a contrasting burlap. Hobby Lobby had all sorts of fall colors – green, maroon, and others that I can't remember. I chose an off-white burlap since my mantle is so dark.
Step 2: Paint
Using acrylic paint, I painted different designs on the smaller burlap triangles. I free-handed some and then tried some different techniques I've seen around recently on pinterest. You could also paint letters, words, numbers, stencils, or stamps. You can't go wrong.
Here's me painting with just a plain old paint brush. I then switched to sponge brushes because it looked more uniform.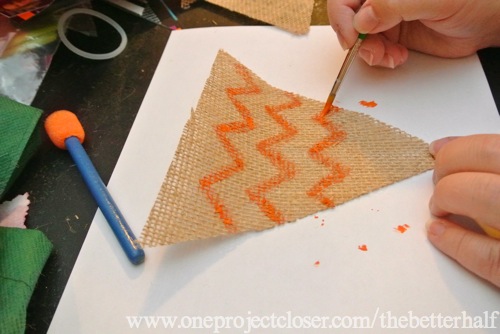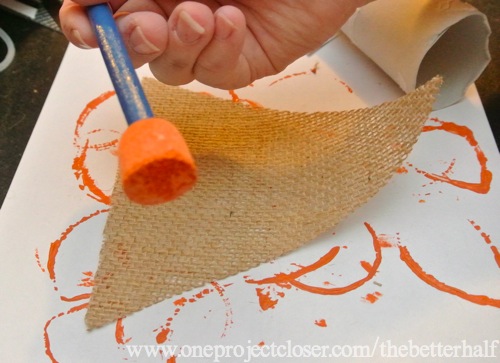 I then grabbed an empty toilet paper roll and covered the end in paint, using it like a stamp to make circles on the burlap.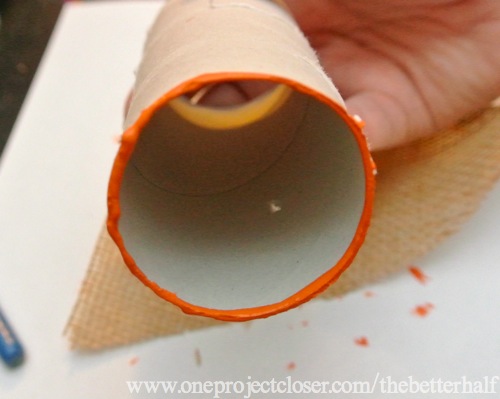 Then, I creased the toilet paper roll in half to make a flower-type pattern on a different burlap triangle. (this was my favorite one).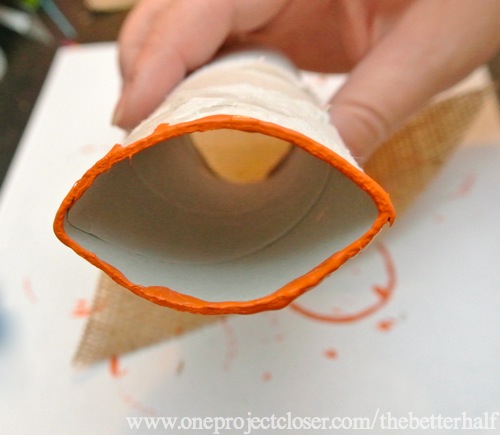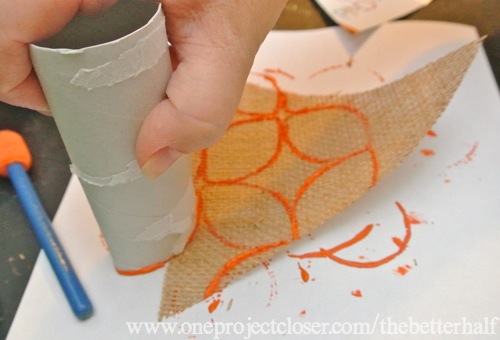 Step 3: Accessorize (Optional)
I added a small burlap flower with a button to one of the triangle flags. You could really add any sort of accessories – flowers, buttons, extra burlap, anything! Check out my fabric flower tutorial to make your own flowers!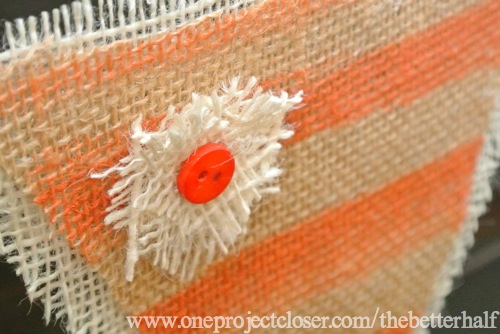 Step 4: Glue
Once the paint is dry, glue the smaller burlap triangles to the larger contrasting burlap triangles using hot glue. I accidentally burned myself on the glue a few times since the glue seeps through the burlap pretty easily. oops.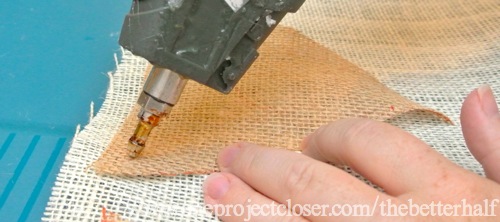 Then glue two small tabs of burlap on the top, outer edges of the back of the triangles. Only glue the top and bottom edges of the tabs so that the twine can thread through the tabs.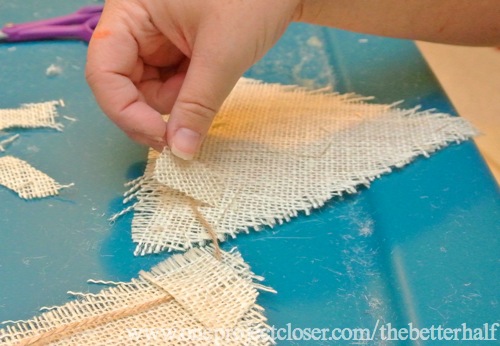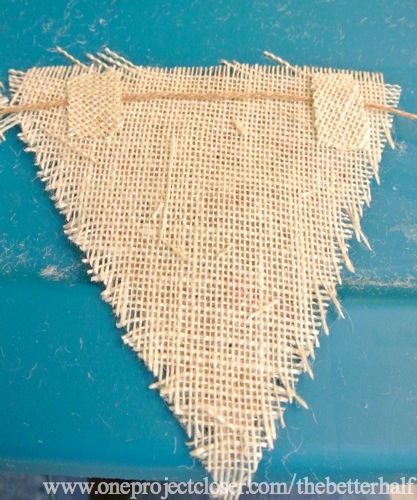 Step 5: Hang
Thread a long piece of twine through the tabs, stringing the triangles onto the twine.
Then HANG! I used tape to hold mine up at first but it fell about fifty times, so I caved and used thumb tacks (don't tell Ethan).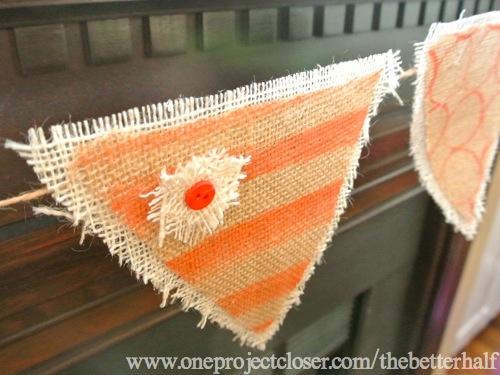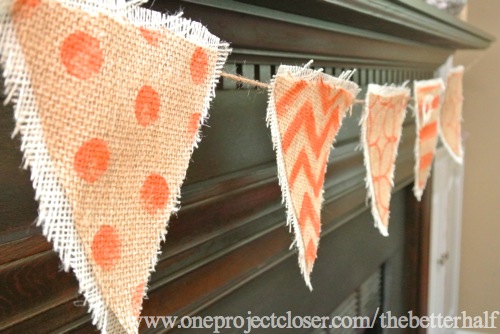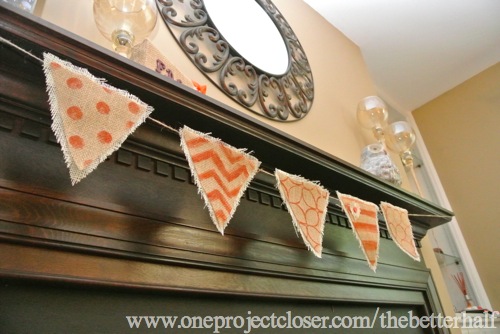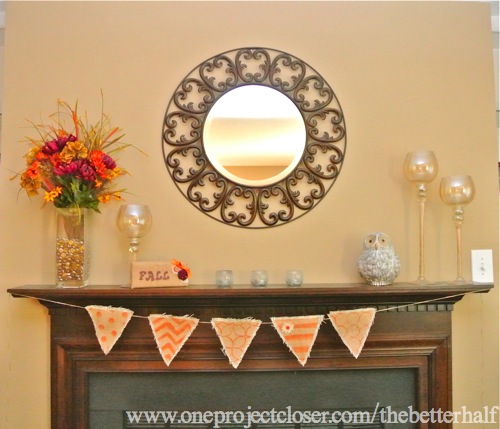 What do you think? What have you done for mantle bunting?
As Always, thanks for reading!