About a week ago, we awoke to a horrible grinding sound coming from our outside compressor unit for our heating system.  We immediately turned our electric heat pump system to emergency heat (which powers down the outside compressor) and then went outside to discover this: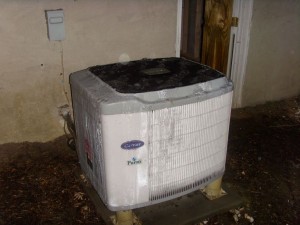 Our compressor was completely frozen over.  We'd had a rainstorm overnight, and while the temperature outside was just above freezing, the fan chilled the air just enough that the rain froze to the unit and then built up overnight.  The sound we heard was the fan blades chipping against the accumulated ice chunks on the inside of the unit.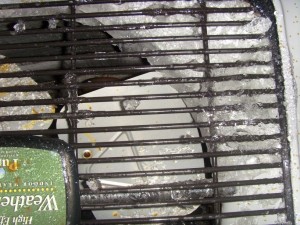 I called Mike, our HVAC mechanic, and he recommended removing all the ice, then turning the unit back on for a minute to check for the noise.  If the fan ran smoothly, all was well.  If it continued to make the rattling sound, that meant that the blades had been bent by the ice, and we would have a somewhat costly repair on our hands.  So I headed out into the rain with my hairdryer and a scraper and de-iced the unit.
I turned the system back on, prepared to cut it back off immediately if necessary.  Fortunately for us, clearing the ice did the trick, and we had no further damage.
To be safe, I left the heat on the emergency setting until the rain stopped mid-day, so it would not freeze back over while we were out.  And in the future we will pay more attention to freezing-rain forecasts.  Running emergency heat over night may be an expensive proposition – but NOT as expensive as a compressor-parts replacement!
Getting Help with Your Heat Pump or Air Conditioner
If you'd like to get help with your heat pump or HVAC technician from a professional, we partner with ServiceMagic to help people find contractors in their area who can help. There's a few short questions to diagnose your problem and then they match you up. Here's the link (the service is 100% free for the consumer):
What do you think? Have you run across similar problems with this extra-cold winter?