Thank you so much for joining us at One Project Closer for this Snow Blower Help trouble-shooting guide on How to fix a snowblower that won't start. This post is sponsored by the Home Depot Prospective Campaign. Post may also contain affiliate links. Opinions (and typos) are 100% our own, and we appreciate you supporting our site in order to continue to provide free content to our readers.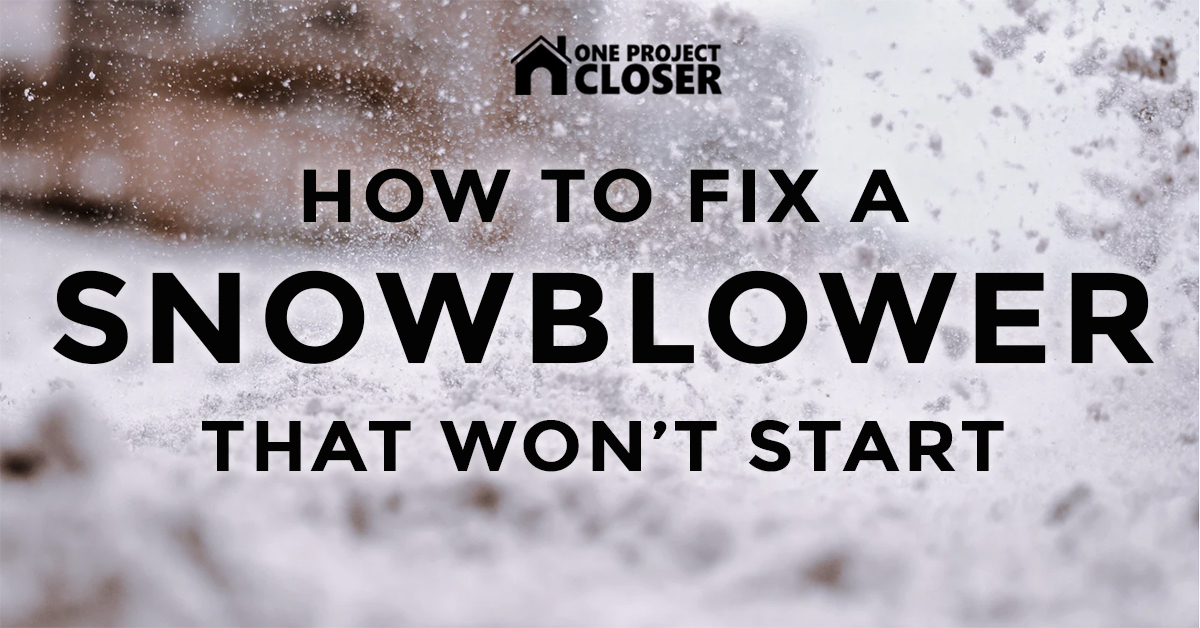 It's a frustrating thing… to have a snowblower and not be able to use it. If you're in this situation, there is hope… Here's some things to check.
Snowblower Start-up Maintenance

Check for Bad Gas – Many people don't add stabilizer at the end of the season and the gas goes stale / collects moisture. If you're in this situation, the solution is to drain the gas tank, and refill it with new gas. Manufacturers recommend filling the tank with new fuel and adding stabilizer prior to storage. This will maintain freshness for about 9 – 12 months. It used to be the case that draining the tank was the best method for storage. However, due to the ethanol fuel blends, this has changed.
Check that the Gas/Oil Mixture is Correct – If you have a two-stroke snow blower, you need to be sure the gas/oil mixture is correct. Our Toro snowblower takes a 50:1 mixture. Other blowers will take 40:1 or 30:1. Check the owner's manual. Most 2-stroke oil cans will give you instructions to get the proper mix.
Make Sure You're Using the Electric Start Option – Most mid-to-high end snow blowers come with an electric starter and a pull starter. The only time you should use the pull starter is if the snow blower has already been running and you've turned it off briefly to clean it or add gas.
Check the Choke – Just like a riding lawn mower or gas string trimmer, you may need to choke the engine increasing the fuel to air ratio. There's usually a slide lever somewhere on the blower used to control the choke level.
Prime the Engine – Most snow blowers have a primer button on them to prime the engine. This is very important, particularly if you previously ran the lawnmower out of gas. Priming the engine moves fuel through the fuel lines and into the carburetor. Our Toro snowblower recommends pressing the primer button twice. We've found it actually requires more like 8-10 pumps to get going. Be careful not to over-prime, however, since it can flood the engine. Prime the least number of times required to get it started.
Check the Throttle – For starting, the throttle should be set to full-open to get the most amount of fuel flowing to the engine. Some snowblowers have throttle control, and will usually indicate the 'start' position on the throttle selection lever.
Check the Blades for Lock-up – Ensure that the blades can move freely. Make sure the snow blower is off and disconnected from power, then check whether the blades can be moved by hand. When in neutral, locked blades shouldn't prevent a lawn mower from starting, so this is rare.
While you've outside fixing your snowblower in the cold, be sure to bring your Ridgid 18V Heated Jacket with removable hood. I love this jacket for working in the snow. It has three heat settings and three different zones, so as you get working and warmed up, you can reduce the heat or target where you are still cold. might be a great holiday gift for that special person in your life (or yourself)!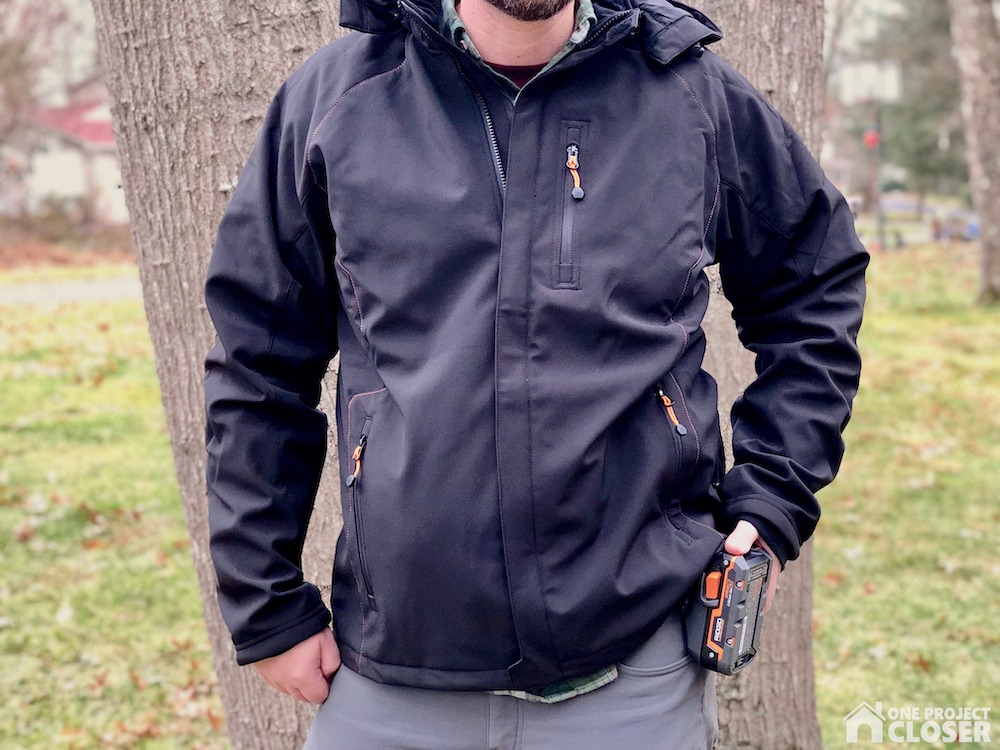 Snowblower Engine Checks
If you've made it this far in the list and you still aren't getting it started, it could be something a little more complex. Consult the owner's manual for assistance with these.
Check/Replace the Spark Plug – You should be able to find a replacement spark plug at the local big box.
Check/Replace the Fuel Filter – Some snow blowers will have a small fuel filter on the fuel line. This can become clogged over time and constrict fuel flow to such a great extent that it won't run.
Check/Replace the Engine Air Filter – If the snow blower has a dirty engine air filter, it can degrade performance. We've never seen an air filter prevent a snow blower from starting, but it's still something to check.
Check/Clean the Carburetor – If you let untreated fuel sit in the snowblower from last season, there's a chance the carburetor needs to be cleaned. The carburetor may be gummed up or rusted due to moisture. The number one problem for small engines (like on a snowblower) is problems with a restricted carburetor.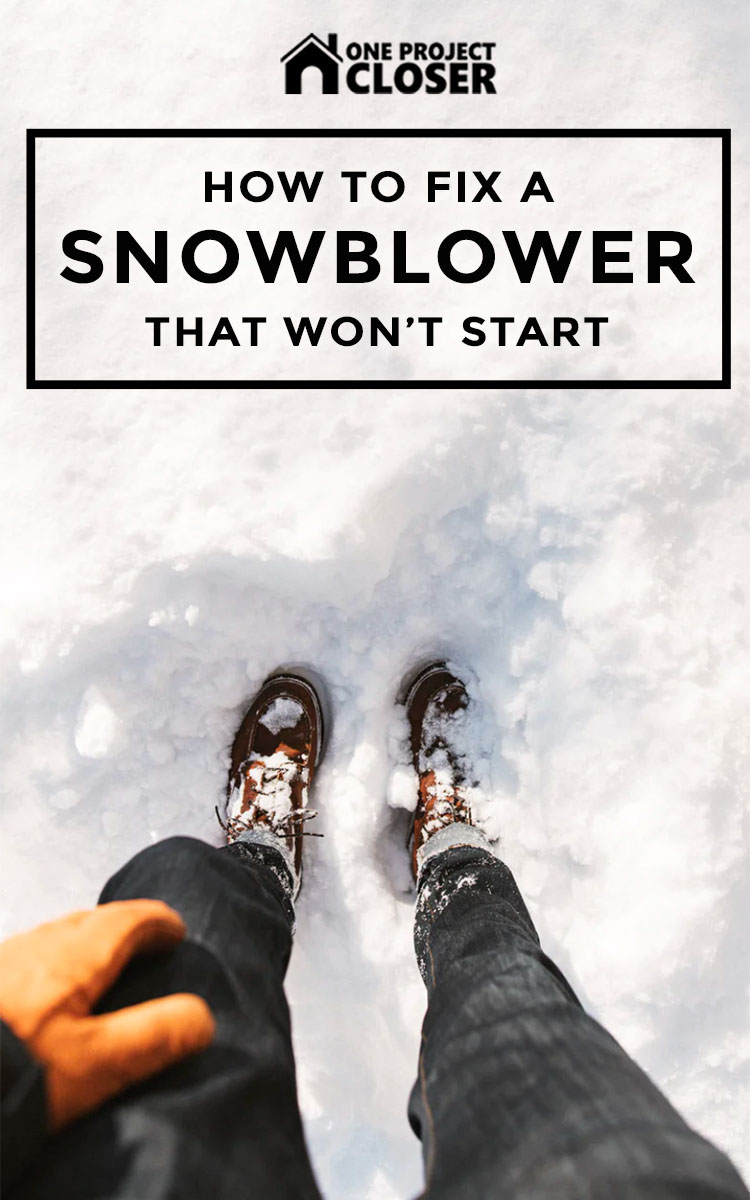 (photo: joebeone)
P.S. Our friends over at Charles and Hudson give us some more Blizzard Preparation Tips … worth a read on a cold Winter day.