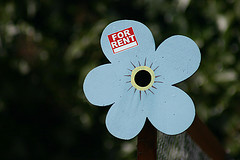 Our tenants recently informed us that they don't plan to renew with us for another year, and we're planning to sell the property.   When we first started renting the place, I was in the midst of a law course as part of my MBA program.  I developed the lease agreement that follows on my own based on information from that class, conversations with other landlords, and some general themes from other leases I had seen.
Please note that I am not an attorney.  If you use this agreement in whole/part, you do so at your own risk.  Realize that states, counties, and communities have differing laws governing rental real estate.  These laws frequently include limitations on:
The amount you can require for a security deposit.
How you handle security deposits (may be required to be in a separate interest-bearing account).
What you use security deposits for (types of qualified repairs).
The amount of rent  you can charge up front (frequently limited to two months rent).
The amount of any lease-break fees you charge (frequently limited to two months rent, or the amount you actually lose.  e.g. if you find new renters, you cannot double-charge for the property)
The amount you charge for late fees.
Restrictions you can make in terms of the types of tenants you would rent to (e.g. you probably cannot include age / marital status restrictions.  Many other classes are also protected).
Auto-renewal clauses.
How/when/why you enter the property after it is occupied.

Many many more things.
Your state housing authority should have all the information you need.  Many housing authorities are now available online.  You can use Google Search at the top of this page to find the authority you need (just search for "rental regulations [state name]" or something like that).
Please feel free to leave feedback on anything you would add/remove from this agreement.  I've been polishing it for 4 years, but I'm sure I didn't think of everything.
The fun picture above is a birdhouse "for rent." Courtesy of tifotter.
Fixed Term Lease Agreement (Continuing Occupancy)
(1) Agreement: This lease agreement is being entered into on Date between Landlord(s) Name(s) (hereinafter Owner(s), Landlord(s), or Lessor(s)) and Tenant(s) Names (hereinafter Tenant(s), Resident(s) or Lessee(s)), each being competent and capable under the laws of the County of County and the state of State to enter into legally binding agreements related to real property, and the renting and occupying thereof.
(2) Premises:  Landlord leases to Tenant the premises located at Property Address (hereinafter Premises) in the county of County Name. In general, the premises include the property, house, and yard associated with this property.
(3) Conditions:  Tenant agrees that in taking/retaining possession of the Premises from Landlord, Tenant has read, is, and intends to remain in compliance with the terms of this rental agreement and any attachments thereto, or updates thereof, so long as they are made in compliance with the provisions of this agreement and the laws governing the county of County in the state of State. Tenant understands that any change in the conditions of this agreement will be communicated via the guidelines set forth in this agreement, in the timeframe established by this agreement, and will be effectual according to timeline set forth herein.
(4) Term: The term of this lease agreement is for Term (e.g. 12 Months), beginning on Start Date and ending on End Date.
(5) Rent:  Tenant agrees that in consideration for continuing to occupy the Premises, Tenant will pay a total sum of Total Sum in $, paid in an initial amount of First Payment Amount, and X equal period, e.g. monthly installments of subsequent payment amount, payable in advance and due on or before the first day of every period.  Rent payments shall be made to Landlord(s) or Company Name, or their assignee and delivered to Payment Location Address, by First Class U.S. Postal Mail or hand carried, to be received no later than the first day of the month, or by any other method agreed to by Tenant and Owner in advance.  Rent shall be paid in the form of a certified/cashier's check, personal check, or money order.  Cash will not be accepted.
(6) Holding Deposit: Not applicable.  Tenant is continuing a prior lease.
(7) Security Deposit: Tenant has already paid a security deposit of Security Deposit. Said deposit may be applied by Landlord, at Landlord's option, to repair or replace any part of the property, furnishing, fixture, appliance, structure or structural component damaged by any occupant or authorized guest in the interior or exterior of the premises, or to any damage to the land or other area or item associated with the Premises and leased according to this agreement, or applied to any unpaid Rent or other Deposits described in this agreement.  The security deposit shall not be applied to upgrade fixtures, furnishings, or appliances, or to repair or maintain the same for normal wear and tear.  In the event the security deposit is used by Landlord pursuant to this agreement, Tenant agrees to replenish the security deposit to the full amount within 14 days, upon written notice from Landlord.  The security deposit shall not be construed as a maximum limit of liability, and in the event that damages to any aforementioned item(s) or structure(s) exceed the total amount of the security deposit, Tenant agrees to pay all amounts over and above the deposit immediately.  Upon termination of this lease agreement, Landlord agrees to return any unused portion of the security deposit, pending successful inspection of the property, within 45 days.  As tenants in State, you do or do not have the right to be present at any post-occupancy inspection. If you intend to be present, notify the Landlord when you provide notice of non-renewal of the lease.  If you choose to be present, you will be notified in person or by certified mail of the time and date of the inspection.  If, for any reason, Landlord uses a portion of the security deposit, he shall, within 30 days of such use, provide tenant an itemized list of the items that were repaired or replaced at the tenant's request.
(8) Late Fees: In the event Tenant shall not have paid Rent by the fifth day of the period e.g. month in any period, or is more than five (5) business days late (excluding holidays) on the replenishing of any Deposit required pursuant to this agreement, Tenant agrees to pay a late fee in the amount of Late Fee, which shall be paid in addition to any Rent or Deposit outstanding.
(9) Use:  The Premises are leased to Tenant for residential purposes only.  Neither Tenant, nor any person on the premises with Tenant's permission, shall operate any business of any kind on Premises.  Tenant shall not assign or sublet the whole or any part of the premises described herein.  Tenant shall perform no material redecoration of premises, including but not limited to the destruction or creation of any interior or exterior permanent fixture or structure, the repainting of cabinets, fixtures, or furnishings, or the removal or replacement of any appliance, without prior written consent from the Landlord.  Tenant may repaint walls, at his option, so long as all walls and trim are repainted in a professional manner to their original color, unless Landlord agrees that repainting is not necessary.
(10) Occupancy Limit:  The maximum number of permanent occupants on the Premises shall not exceed number persons.
(11) Condition of Premises: Landlord has furnished premises in a clean, safe and sanitary condition.  Tenant has inspected the Premises, including all appliances, fixtures, and furnishings therein, and agrees that the same are in good working order, except as noted on an addendum to this agreement.  Upon termination of this agreement, Tenant will return the Premises in the same condition in which they were provided, less normal wear and tear.  Burns, holes, rips, tears, dents, scratches, marring, or soiling of any walls, curtains, carpets, floors, appliances, furnishings or fixtures does not constitute normal wear and tear.  Tenant is responsible for the repair or replacement of any items damaged at the then-current cost of replacement of the damaged item.  Tenant agrees that the Premises are delivered in their current condition, with no promise of upgrade, improvement, or alteration to any appliances, cabinets, fixtures or furnishings, except as necessary to maintain the present condition of the Premises according to the maintenance provisions outlined in this agreement, or as may be required by law.
(12) Maintenance & Repair:  For the duration of this agreement, Landlord agrees to repair or replace, at Landlord's option, any defective or worn out appliance, structure, furnishing, or fixture at no cost to the Tenant within a reasonable amount of time, after notification is received from the Tenant that the same is defective or broken, so long as the Tenant did not cause material damage to the item in question.
(13) Utilities: Tenant shall be responsible for ALL utilities except utilities excluded, which will be billed to Landlord directly.  Tenant is responsible to contact all utility providers to arrange connection of utilities on the Date of Commencement.
UNDER NO CIRCUMSTANCES WILL TENANT DISCONTINUE SERVICE OF ELECTRIC FOR ANY REASON.  TENANT AGREES TO HEAT THE PREMISES AT 55 DEGREES, REGARDLESS OF OCCUPANCY, SO LONG AS TENANT RETAINS POSSESSION OF THE PREMISES. Tenant understands that heating is essential to proper maintenance of the premises, and that lack of heating could cause serious damage to the premises, and further agrees to take responsibility for any willful termination of electrical or heating service to the premises.  Tenant understands that if utilities are not connected in Tenant's name, the Landlord will bill the Tenant for any utility charges incurred beyond the Date of Commencement, at the rate charged by the utility company, assuming that the utility was consumed equally on all days within the utility company's billing period.
(14) Termination & Auto-renewal:  Upon the expiration of this lease agreement by lapse of time, Tenant shall automatically thereafter become a resident on a month-to-month basis, at a rate of monthly rate per month, or another amount determined by Owner after written notice to the Tenant at least number of days days prior to the effective date of the new rate.  If Tenant intends to vacate Premises by the termination date stated in this lease, Tenant shall provide at least number of days days written notice to Landlord of intent not to renew.  Failure to notify Landlord within number of days days shall constitute an extension of this lease on a month-to-month basis, for a period of at least number of days days after a notification has taken place.  Tenant's retention of the Premises after the termination date shall constitute an agreement to a lease extension at the then-current rate described above.  Any significant personal property left by Tenant on premises shall indicate that premises have not been vacated, and Tenant shall be considered in possession of the premises while significant personal property remains.  Personal property shall be forfeited if Tenant fails to arrange pick-up of any property after number of days days.
Owner retains the option not to extend lease agreement, and will provide Tenant at least number of days days notice of such decision, to afford Tenant time to make arrangements to move. 
***Tenant's Initials for Termination & Auto-Renewal: _____________________
(15) Lease break:  In the event Tenant terminates this lease agreement prior to the stated termination date, Tenant shall pay the sum of lease break fee or two-month's rent, whichever is greater, prior to vacating the Premises.  In the event of early termination, no part of any retained deposits shall be considered any part of the amount due, and shall be returned according to the schedules set forth in this agreement.  Landlord will make every reasonable attempt to rent the property to a new, qualified lessee.  Only the portion of the payment that represents realized damages to Landlord shall be retained (i.e. additional advertising costs, and whatever lost rent is incurred due to the property sitting vacant).  All amounts that do not represent actual losses under this or any other provision shall be returned.
(16) Community Association:  The premises is located within a controlled community with a Community Association.  The Community Association can and does make extensive regulations regarding a variety of housing-related concerns, including but not limited to the use of common areas, parking, maintenance of property, garbage & waste disposal, noise, etc.  By signing this agreement, Tenant agrees to abide by all regulations set forth by the Community Association pursuant to their guidelines.  While in possession of the premises, Tenant will enjoy the benefits of the Community Association, including the use of certain facilities maintained by the Association (e.g. Swimming Pool and Tennis Courts).  Tenant understands that these facilities are provided by the Owner and Community Association at will and can, at any time, be shut down or removed, in whole or part, without recourse.  Landlord shall not be liable for any decision by the Community Association that limits or otherwise impairs Tenant from enjoying any prior or expected privilege, right, or benefit.  At tenant's request, Landlord will supply Tenant with a current manual of community regulations, and will provide, within a reasonable time, notice of any changes to those regulations made by the Association prior to their effective dates.
(17) Lawn, Snow: Tenant agrees to take responsibility for all regular maintenance of the front and back lawn of the premises.  Tenant understands that Community Association regulations mandate the regular care of Lawn and Garden areas, and Tenant agrees to comply with the rules set forth by the Association regarding lawn-cutting frequency.  In the event Tenant fails to care for the premises lawn in compliance with the Community Association guidelines, Landlord will arrange for lawn care, as necessary, at a rate of price per hour, with a 1-hour minimum charge.  Landlord will retain responsibility for trimming the front hedges and bushes in accordance with Community Association guidelines.  Tenant further agrees to undertake all snow removal activities required on the property, including the clearing of the front sidewalk and the front porch.  Snow removal must be performed within 24 hours after snowfall.
(18) Parking:  Tenant understands that there is no assigned parking within the community; however, certain community regulations may exist regarding the number of spots that can be used at any given time.  Under no circumstances shall Tenant keep any non-running or unserviceable vehicle in the community, or violate any provision or regulation concerning the parking of any vehicle within the community.  Further, Tenant agrees to abide by any changes in the parking regulations set forth by the Community Association.
(19) Noise: Tenant understands that the premises are located within a townhouse complex and a controlled community.  Tenant agrees to abide by any restrictions placed by any jurisdiction or the Community Association regarding noise levels.  The Community Association can and does make provisions regarding noise to ensure the enjoyment of all members of the Community, and violations are taken seriously.
(20) Extra-Heavy Items: Tenant shall notify Landlord at least two (2) weeks prior to placing any EXTRA-HEAVY items on first and second floors of the premises (basement excluded).  Tenant understands that the placement of Extra-Heavy objects may not be supported by the structure of the house, and therefore may not be able to be placed in a desired location within the premises.  In the event that an object cannot be placed in the premises, or in a desirable location within the premises, Landlord shall not be responsible in any way for damages, including non-returnable, or non-refundable items purchased by Tenant.  EXTRA-HEAVY objects include, but are not limited to, waterbeds, aquariums of 30 gallons or more and weightlifting devices that include more than 100 lbs. of weight.  Tenant takes full responsibility for damages to the premises that arise from the placement of EXTRA-HEAVY items on the first or second floors without the prior written consent of the Landlord.
(21) Outdoor water: Between Start Date and End Date, Landlord will turn off outside water connections.  Tenant shall not turn outdoor water on during this time.  Landlord will make reasonable effort to contact Tenants prior to entering the Premises to turn water on or off on these days.
(22) Drug Policy: Owner has a zero-tolerance drug policy.  In the event that Tenant, or any person authorized by Tenant to occupy the property has been arrested and charged, Owner, at his option, may immediately terminate this Lease, upon reasonable investigation, regardless of whether or not Tenant has been convicted of a crime.
(23) Pets:  No pets, except animals that cannot live outside of water, shall be brought on to the premises without Landlord's prior written consent.
(24) Landlord Entry:  Landlord may enter the premises for any purpose permitted by law, upon notice, or without notice, in the case of Emergency.  Upon proper notice, such entry may occur between 8:00am and 9:00pm, unless other arrangements are agreed to by Tenant and Landlord.  Landlord may authorize certain agents, employees, or contractors to enter Premises with or without Tenant present, in accordance with state laws and proper notification.  Tenant shall not add, remove, or change any locks on any interior or exterior doors, or any fence or other furnishing, without Landlord's prior written consent.  If any changes are made with consent, Tenant shall immediately provide Landlord with key(s).
(25) Insurance: Landlord will not insure tenant against any personal injury, loss of property, or for any other thing.  It is Tenant's sole responsibility to obtain insurance to cover such items at Tenant's own cost.  LANDLORD REQUIRES PURCHASING RENTERS INSURANCE TO COVER THE LOSS OF PERSONAL PROPERTY IN THE EVENT OF ANY DISASTER.
(26) Property Risk: Any personal property brought onto the premises by Tenant or authorized to be brought onto the Premises by Tenant may be subject to certain risks, including fire, flood, or any other unforeseen natural or unnatural disaster or accident.  Tenant agrees to release Landlord and any agents, employees, or contractors from any damage caused by such events, and further acknowledges that Tenant can, at his option, purchase rental insurance to reimburse tenant for such disasters and accidents.  This shall not be construed as a waiver of Landlord's responsibility in cases of intentional harm or gross negligence.  LANDLORD DOES NOT PROVIDE ANY INSURANCE OF ANY TYPE TO COVER TENTANT'S PERSONAL PROPERTY.
(27) Notices: Notices provided to one or more of the Tenants shall constitute the issuance of those notices to all Tenants, regardless of whether or not an individual Tenant was aware of the notice.
(28) Credit: Tenant has authorized Owner to order a Consumer Credit Report from a Consumer Reporting Agency to be used in connection with the execution of this lease.  Owner may report your credit/payment history to credit reporting agencies in accordance with applicable law.
(29) Attorney Fees: In the event of the institution of any proceedings to enforce this agreement or any part thereof, each party shall be responsible for their own attorney's fees.
(30) Severability:  If any part of this agreement is found to be unenforceable or invalid according to the laws of County, State, all remaining portions shall remain in full effect.  If any Rent, Deposit or Fee described in this agreement is found to be higher than the legal limit at any time, the fee shall be reduced to the full amount allowed by law in such circumstances.  Whenever the law limits the applicability of any regulation or clause in this agreement, the regulation or clause shall be restated in accordance with the law, with prejudice to the Landlord's concern.
(31) Waiver:  If, at any time, Landlord waives one or more rights described in this agreement, that shall not be deemed a waiver of the same right at any later date.
SIGNATURE OF TENANT ________________________________________  DATE _______________
SIGNATURE OF TENANT ________________________________________  DATE _______________
SIGNATURE OF LANDLORD _____________________________________  DATE _______________
SIGNATURE OF LANDLORD _____________________________________  DATE _______________