We're a little over half way through this year's Before & After event, and if you haven't sent in your project, now is the time to do it. The competition is only getting tighter, and time is starting to run out. For your chance to win up to $200 in gift cards, check out the link above and submit your story! If that's not enough motivation for you, consider that this series benefits Habitat for Humanity.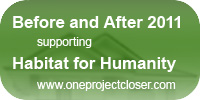 I'm excited to share today's Before and After by Shannon from Burlap and Lace. You'll see that Shannon was able to create a light, fresh dining room on a very limited budget. It's amazing what a little paint and some inexpensive decor can achieve! As always, we're happy to reward Shannon with a $50 gift card, and we'll make a $100 donation to Habitat for Humanity in her honor.
Dining Room Refresh
Here are some before pictures…nothing wrong with the room (I actually really liked the brown color), but it was a tad too dark, and not really my style. So, I changed the paint AGAIN, and ended up with a color that I really liked!

Take a look at some "befores":


Too dark.

Aaaaaannnndddd…..

AFTER!

See how much brighter it is?! I got the table and the buffet for a GREAT price!

I found the buffet on Craigslist (of course), and talked the man down to $65. I sanded it an painted it a gray/ blue color that I mixed myself (I'll share the before pics in another post).

I have always wanted one, and after getting a shorter table and rearranging the layout of the room, I realized that I could fit one! So, I hunted for MONTHS until I found one that I could afford (I've only found them for around $300+).

I made this cheese dome cloche just like Alison at House of Hepworths. I found the marble base and the cloche at a thrift store for $3, and the candle stick was a .69 cent Goodwill find that I sprayed with some Heirloom White!

Husband brought home these peonies (my favorite!) for me from work last night, so I just HAD to stick them in a mason jar, duh.

Drawing a little inspiration from good 'ol Martha!

I found this mini pitcher at Ross for $1.99, and the finial is a Goodwill find from this post.

I have ALWAYS wanted to do a plate wall, so I've been gathering white plates from yard sales and Goodwills. I found most of these from Goodwill; the platter in the middle was a wedding gift, and the two matching scalloped chargers on either side of it were a Z Gallerie clearance find.

The hanging of the plates went a little something like this:

It was a dark and stormy night. The young blonde girl stared at the blank wall in despair. The clock clicked over to midnight. Where was this DIY-er going to find plate hangers at this hour?! "Aha!" she exclaimed, as she pulled out the glue gun. With twine cut to its appropriate length, the young girl then proceeded to glue, and glue, and glue until she could glue no more (literally, she ran out of glue sticks). Finally, all of the plates looked like this from the back:

The girl then (ever so gently, so as not to wake the neighbors or the sleeping husband) hammered finishing nails into the wall, eyeballing as she went. "This is going to be a hot mess!" she exclaimed, but stupidly continued hammering anyway.

After the last nail was hammered and the last plate was hung, the young girl held her breath…

…and is still holding it, two weeks later.

THE END.

Ok, so that was a bit dramatic, but it's exactly sort of how it happened.

I spotted this tree at someone's curb, and after screaming "PULL OVER!" and nearly yanking the steering wheel out of husband's hands while he was driving, we loaded it up in our car and didn't look back.

I added fresh moss to the bottom, some dollar store christmas lights to the top, and spray painted the basket ORB.

My painted mason jars from this post!

The plate stand was a Goodwill find for one dollar, and the Jade plates were from a thrift store.

My .30 cent gold tray from Hob Lob, and my dollar store vase turned hurricane glass!

I Mod Podge'd the eggs with strips of pages from a book, and filled the vase with moss.

The runner was a Goodwill find in the linens sections. It's about 10 feet long, and I have no idea what it is, I just liked it. I shortened it to the length of the table, and it looks great!

This lonely corner got a glass vase and some sticks. I'm still on the hunt for a small half-moon occasional table for that wall.

So, there ya have it! Lighter and brighter!

Here's the cost breakdown:

Table and four chairs: $25 (husband bought it at an auction for me!)
Buffet: $65
Paint for walls: already had
Paint for table: $12
Stain and Poly for table: $10
Drop Cloth for recovering chairs: $11
Decor: already had lying around
Curtains: $3.99 a panel in the Ikea "As-Is" section ($8 total)
Rug: switched from the living room
Total: $131 for the makeover!

I'm planning on selling the other furniture that was in this room the re-coup (or make more than) the money I spent in this room.

Dontcha love a good deal?!

Thanks Shannon!
This is a great B/A, and I really liked the mason jars. That seems like a uber-simple, quick project. Maybe I'll look for some at my local Goodwill store.
Habitat for Humanity Factoid
If you want to read a true Habitat success story, check out this article about Jed Hefner and family. In 1990, when Jed was 7 years old, he and his family moved into a Habitat house. They mark that moment as a turning point in their lives, pulling Jed, his sister and mother out of a desperate situation. But the story doesn't stop there. In 2008, Jed's mother passed away, and he and his sister decided to donate the house back to Habitat! That house has since been re-dedicated to a new family, and hopefully it has the same amazing impact that Jed and his family experienced.
Where's Your Before and After Story?
We hope you'll consider submitting a Before & After story. Email your pictures and a "how to" description to beforeandafter@oneprojectcloser.com to join in.
Help Us Spread the Word
Are you a blogger? If you'd like to support us, please write an article on your blog about the contest, and consider adding one of our buttons to your sidebar. You can find the buttons and more information on our main Before and After article.