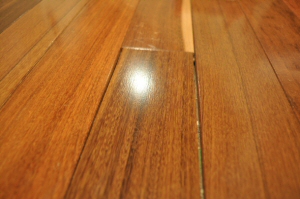 Gaps in hardwood floors can be a huge visual annoyance. Not only are they an eyesore, they can also collect dirt and dust. Hardwood gaps are generally caused by one of a few installation errors:
improperly acclimating the hardwoods prior to installation;
failing to install the first board perfectly straight in a hardwood flooring installation;
failing to keep boards straight when working around an outside corner; or,
installing boards that are not uniform.
Generally speaking, for #2, #3, and #4, you know the gaps are there immediately after installing the board and you can pull the offensive board out and correct the problem. If you don't correct the problem during installation, it's going to be there forever. In best case scenarios, these types of gaps are isolated to a single area, and hopefully are out of sight. Unfortunately, some types of misalignment errors can propagate across a floor, creating gaps that alternate from side-to-side going from one board to the next. If you've done a number of hardwood flooring installations, you know what I'm talking about — it can be very annoying to try to correct this type of alternating error during installation, and you may have to decide of a judicious location to leave a countering gap.
For #1 — the most common reason people get gaps in their floors — the problem is much more insidious. It has to do with moisture content of the hardwoods during installation and the change in relative humidity throughout the year.  Most people first notice gaps in their hardwood boards the first winter after installation.
What Causes Hardwood Gaps in Winter?
Gaps first occur in winter because this is the first time humidity is very low, which draws all excess moisture out of the wood. During installation, the moisture content on the surface hardwood wood is usually higher than the subfloor, which has been through many seasonal cycles.
If you properly acclimated your hardwoods during installation (by letting them sit in a conditioned space for at least 10 days), the likelihood of large gaps is greatly reduced. You may still see small gaps open up between boards, but these will likely close during the next spring and summer when humidity levels rise.
If you did not properly acclimate the woods, the winter may have pulled a very large amount of moisture out of the boards – an amount that will never fully return to the wood in the spring and summer. In this case, gaps may become smaller in spring and summer, but they will persist, and may get even larger in the following year. After two full seasonal cycles, the hardwood will reach an equilibrium with the subfloor and environment and the gaps in the wood will be minimized.
It is useful to note at this point that some web sites will suggest that if you have perfectly matched subfloor and hardwood moisture levels at installation, you will not get any gaps. This is not entirely true. Not all wood types respond the same way to moisture, and it is possible that when moisture levels drop, your subfloor could contract at a slower rate than the surface hardwoods, leaving gaps.
Fix Gaps between Boards in a Hardwood Floor
You generally have three options for fixing gaps in a floor:
To avoid seasonal gaps, you can limit the variation in humidity in the house. In the winter, this can be achieved with a whole house humidifier that connects to the furnace. Note that these systems can have drawbacks if they put too much humidity in the air, including promoting mold growth in vents. You will want to make sure your ductwork is very clean before installing a whole house humidifier, but once installed, they can work wonders. During the summer, make sure to run your air conditioner system to draw humidity out of the air, keeping the hardwoods at a relative constant point all year. A good target humidity level is 40-50%.
For non-seasonal gaps, the only non-rip-out solution is to sand down the floor and fill the gaps with matching wood putty, and then refinish the floor. If you have a lot of gaps, wood putty can become an eyesore if not done well. For a systemic issue (across the whole floor), we recommend calling in a professional for this type of work. Once you've reached this point, it's a tough call whether it would be better just to tear out and replace the floor. Which leads us to option 3:
Tear up and re-install the floor (ugh!). You might consider installing engineered flooring, which is much more dimensionally-stable than solid wood.
How to Avoid Gaps in Hardwood Installation
Properly acclimate the floors. See this article for some help on that.
Install hardwoods in the fall and spring when humidity is moderate, rather than in the summer or winter, when it is extreme.
Make sure to lay the first board straight. When laying boards in the center of a room, make sure to keep a consistent, tight pattern.
Consider engineered flooring, which is more dimensionally-stable than solid hardwoods.