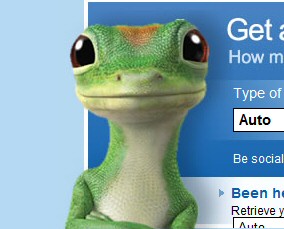 We just saved a bunch of money by switching our car insurance to Geico!
I've always wanted to say that 🙂
But seriously, we did just switch all of our policies over to Geico from Allstate.
We've been in the "good hands" for about 6 years. Turns out that those hands are also expensive.
And they're not as good as they used to be…
I wrote last year about Allstate's new tropical cyclone deductible, which would make a homeowner pay a 3% deductible before covering any damages caused by a named storm. And by 3%, I mean 3% of the value of the house, not 3% of the damages. That would make our deductible more than $10,000 before Allstate chipped in a dime for a disaster like that.
So I've been meaning to switch our coverage since that notice came out, but like so many things it slipped by. Since all of our policies renew on April 15, I decided it was a good time to look around and see if we could do better.
I'll bet every one of our American readers has heard at least a dozen Geico insurance commercials. They're everywhere; they're catchy, and they make bold claims… 15 minutes could save us 15% or more on our car insurance by switching. I'll be honest, I didn't really buy it.
But, when I Googled for "home insurance quotes", I discovered Geico offers homeowners and landlord insurance. I figured I'd give the 15 minute claim a test. (I learned later that Geico Homeowner's insurance and Landlord's insurance is underwritten by Travelers).
The phone call took a lot more than 15 minutes… It actually took about an hour to get everything squared away.
I won't bore you with all the details, but here's how the numbers panned out…
Auto Insurance Comparison
We have a 2003 Toyota Corolla and a 2006 Dodge Grand Caravan. We live in a busy suburb of Maryland.
Allstate: $978 / 6 months
Geico: $567 / 6 months
–> Geico is $822 cheaper for 12 months.
Homeowner's Insurance Comparison
For $400,000 of coverage on the structure with good coverages for other aspects.
Allstate: $1216 / 12 months
Geico: $1176 / 12 months
–> Geico is $40 cheaper for 12 months.
Landlord Insurance Comparison
For $175,000 coverage on the structure with good coverages for other aspects.
Allstate: $482 / 12 months
Geico: $605 / 12 months
–> Geico is $123 more expensive for 12 months.
Umbrella Insurance Comparison
For $1,000,000 in additional liability protection.
Allstate: $355 / 12 months
Geico: $182 / 12 months
–> Geico is $173 cheaper for 12 months.
Total Savings Switching to Geico
All told, Geico came out $912 less than Allstate for identical coverage, or about 25% less. We actually reduced some of our structure coverages because Geico advised us that we simply didn't need as much as we were carrying, for an additional savings of about $200.
Of course, Geico doesn't have the tropical cyclone deductible–at least not in Maryland–which is a huge plus.
Now, we're not wed to Geico. If another reputable company can best their offer, we're game. In fact, companies like 2Insure4Less will send you quotes from multiple insurance companies by e-mail.
But we will stick with them for the next 6 months at least, since we spent their time getting signed up. And I will ride the 'savings high' for a little while…
Goodbye good hands. Hello, gecko!