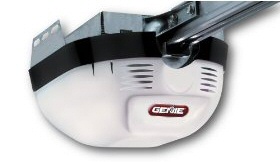 On Tuesday, we described the basic steps to install a garage door.
Here's our take on the Genie Excelerator DC Screw Drive Garage Door Opener we installed in one half of our two-car garage.
Garage Door Opener Buying Criteria
Let's start off with the basics.  Here's what we were looking for in a garage door opener in the order of importance:
Safety*
Reliability (e.g., backed by a warranty)*
Good reputation*
Car remote & keyless entry pad*
Light*
DIY Installation*
Quiet operation
Fast up /down speed
Low maintenace
Ultimately, the items marked with an asterisk were all must haves.  That said, we figured that many different garage door openers would meet these requirements, meaning that quiet operation, fast speed, and low maintenance would likely dictate our choice.
Why We Picked the Genie Excelerator
In a nutshell, it met all of our criteria and raised the bar by adding several others we hadn't thought of.  Here's the rundown of the features Genie boasts (in bold), and our experience with the product (the text that follows):
Infrared beam and variable open/close force prevent crushing children/pets. We tested out all of the Genie's safety features and were very satisfied with their performance.  The variable open/close force setting is nice since the force required to open and close doors will be different in each installation.
Direct current (DC) motor is gentle on the door. The opener starts gently and then quickly ramps up to full speed.  On close, the door is gently set down on the garage slab.  We had to adjust the open and close markers several times to get this perfect.  A/C motors will not feature this variable drive speed, nor the different open and close speeds (see next bullet).
Excelerator technology boasts 2x door open speeds. Even we were surprised, but we ran a side-by-side comparison against our 1/2″ Craftsman chain drive system (which is essentially an older version of this model from Sears) and the Genie beats it by a factor of two!  Note that the 2x speed is only when opening the door.  Close speeds are slower, which is a nice safety feature.
Polymer rail liner reduces noise associated with screw drive system. So far, this has proven true.  The system is very quiet.  We don't have the tool needed to measure decibels, but our guess is that it's at least 10 db lower than the Craftsman chain drive.
Two light sockets offer more light in the garage. While true, there was one minor nit here:  the lights disproportionately light up one side of the garage.  The difference is subtle, and due to the fact that the light sockets are sideways.  We plugged in two 100W equivalent (38watt) CFLs and the light is more than enough.  Genie gets extra kudos for including a light button on the opener control independent of the raise/lower button so you can use the light without opening the door.
Easy Installation. Genie's installation was relatively easy.  They include color-coded parts bags that eliminate the need to open all the parts at once.  Allocate 2-3 hours for this job.  If you're installing two systems, the second can probably be accomplished in 1.5 hours.  Invite a friend.  This is a two-person installation.
Other features we liked:
Two car remotes and a secure keypad for the front of the garage.
Ability for the remotes and keypad to control more than one opener.
Lifetime warranty on the motor; 5 years on parts.
Drawbacks of the Genie DC Screw Drive System
Screw drive systems shouldn't be installed in areas that see temperatures below -25 degrees F. We're not in that climate here in central MD, but some northern states may see these extreme temperatures.
Re-greasing the screw drive may be required each year. That said, folks we've talked to have avoided this for more than three years so far, and when required, greasing takes only ten minutes to perform.
Stay Tuned!
We've got a video in the works showing the Genie DC Screw Drive system in action. If you're not already a subscriber, consider subscribing to receive updates by e-mail. Not only will you get great home improvement articles every weekday (including the Genie video), you'll also be automatically entered in nearly every One Project Closer giveaway!
What do you think? Do you have experience with the Genie DC Screw Drive system or a comparable product? Let us know in the comments section.