You know you're in Amish country when you start seeing more horse-drawn buggies than cars and beautiful handmade furniture is available everywhere you look. I took a trip to Mt. Hope, Ohio, and, after recovering from the culture shock, I really enjoyed the wide open country and some of the best Blackberry pie I've ever tasted. The Genie garage door opener HQ and Baltic manufacturing plant is nestled right in the middle of all this, and they had me out to tour their facilities and learn more about Genie garage door openers (also called operators).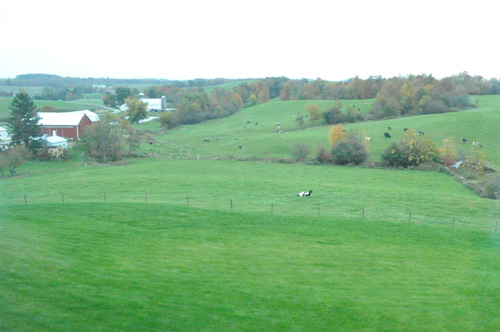 I know what you're thinking. Amish country? Garage door openers? It doesn't sound very interesting, but if you spend five minutes talking to Mike Kridel, President of Genie, his enthusiasm is palpable. Here's what Genie has been up to and why they're so excited.
Genie Plant
Genie has four manufacturing facilities in America, and all their garage door operators are assembled here in the U.S. with parts from all over the globe. We toured the Baltic plant, and it was impressive to see the birth of a garage door operator from the very beginning all the way through being boxed up and ready to ship. Everything is QA checked in detail (like verifying how tight the screws are), and 100% of the units are tested to ensure functionality.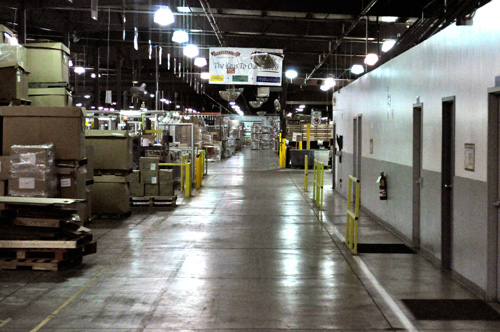 In addition, Genie does what is called ¼ life testing where they run a small subset of garage door operators until they reach 5,000 cycles to look for any problems that might not occur right away. In case you were wondering, they expect their operators to perform at least 20,000 cycles and that translates into about 20 years. Genie also runs tests in extreme temperatures as low as -40° F and as high as 158° F to make sure your opener works no matter if you live in Canada or Arizona.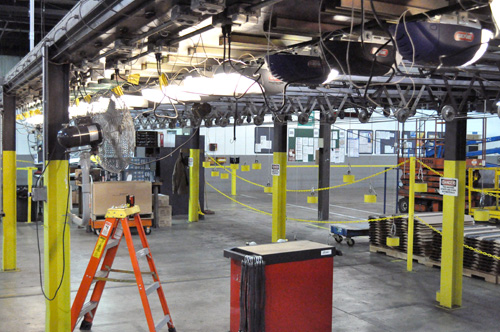 Why Genie?
Like a lot of other competitive industries, Genie is striving to make their products quieter, faster, safer and more powerful. What sets them apart is how they're achieving that goal. Most of the Genie line features a powerful 140V DC motor. This is noteworthy because DC motors are much lighter (easier to install) and the power can be stepped up or down depending on what is needed, something AC motors can't do. This results in a much smoother door opening motion. The DC motors also have a Soft Start, Soft Stop feature that slows the door just before it's all the way open or closed.
Genie also holds a patent on the direct drive technology that you'll find in screw-drive style openers. If you look closely, you'll see a long threaded rod much like a screw. The DC motor rotates that screw and the garage door opens (or closes). This type of opener is very powerful and very reliable. Competitors who offer screw-drive openers work around the patent by adding some sort of intermediate mechanism which reduces efficiency and creates a new possible point of failure.
Another way that Genie demonstrates a commitment to customers is by providing a lifetime warranty on the gearbox and motor to the original purchaser. They are that confident in their product. In addition, they promise a minimum of 7 years of support for legacy models after they have been discontinued.
Photo Beams
In 1993 UL started requiring openers to include photo beams as a safety precaution, and it turns out that misaligned photo beams are the #1 problem for homeowners. To address this problem, Genie has introduced cylindrical photo beams to better avoid being caught by hoses, power cords, etc. I'd love to see some creative innovation that achieved the same level of safety without needing something so close to the ground. Maybe Genie can works something out for me (even though I don't actually have a garage right now). Sunlight can also interfere with photo beams and if you find yourself with that problem, consider choosing a photo-beam with a hood structure.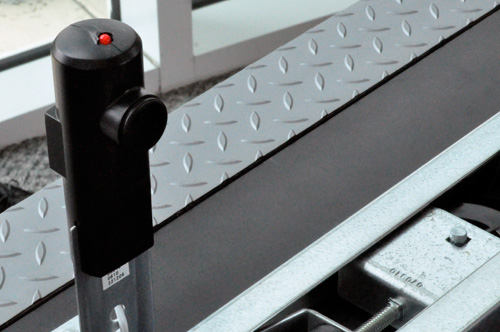 Intelligent Wall Console
Something I was excited to learn was that Genie is incorporating something called Intelligent Wall Console that will monitor the photo beam status, provide a log of any fault codes, record the number of cycles and even setup a service schedule. I'd argue that most homeowners don't want to think about their garage door opener, and Intelligent Wall Console makes that a possibility.
Genie is the most popular brand of garage door opener out there. Anyone have feedback, questions or complaints they'd like corporate to hear?