This morning we're featuring a guest post by William, one of our regular readers. William bought a scratch-and-dent Gladiator tool chest on the cheap, restored it, and reviews it below. If you'd like to share your DIY story, we'd love to hear it. Check out How to Get Featured on OPC.
…
I recently purchased this Gladiator Garageworks Modular GearDrawer from a discount tool shop. The shop gets truckloads of random tools and equipment from major retailers like Sears, Home Depot, Lowe's, etc. The merchandise is usually overstock, returns, open-package items, and occasionally items that were damaged during shipping. My purchase definitely fit into that last category. Alas, I didn't have the forethought to take pictures before my DIY project commenced, but I've got plenty of after shots below.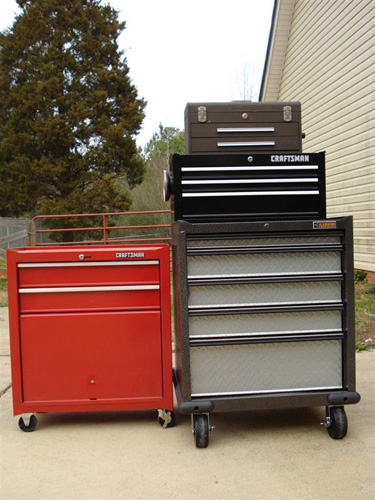 Background on this Gladiator Purchase & Repair Summary
I had been shopping for a top chest for my Craftsman bottom and middle chests. I needed something with wider, deeper, and more drawers than my previous top chest had. I had seen the Gladiator line of tool storage and garage organization at Sears, but paid it little attention, mostly due to cost. When I wandered into the discount tool store and saw a big, 5-drawer bottom chest that had obviously been dropped or had something dropped on it (the drawers didn't even fit into the slides), I paid even less attention to it than I had the stuff at Sears. The store owner then offered to sell me this big ol' mess for $50 just to make room on the floor. Not one to be intimidated by a project, I snatched up this monstrosity and threw it into my truck bed before he could change his mind.
Okay, so, "snatched," and, "threw," are exaggerations. This tool chest is actually large enough and heavy enough to require a second person to get it up into the bed of a truck with all five drawers in. I don't know what the actual weight is, but even without the drawers in it, it's hefty. I got it home and took a good look at the cabinet without the drawers installed. The left front side was bowed out by about a half inch in the middle, leaving the drawer slides about a half inch too far from the drawers to properly install them. It appeared that the chest had been dropped or crushed on that corner, but the only damage was this one slight curvature of the sheet metal.
Long story short, and since I've have no pictures of the original damage, I took a smooth-faced claw hammer, a rubber mallet, and a scrap piece of wood to the metal. This tool chest is made of a thick gauge of sheet metal, and all sheet metal joints are welded. Despite the significant impact it probably sustained, no welds broke, and no sheet metal tore. It took quite a bit of smacking and smashing to get the edges straightened out again. I've never done any sheet metal work before, so I was guessing at how the skin would react every time I struck it. In the end, I got things back within the original specs, and mounted up the slides and drawers. Let me tell you, though–a rubber mallet is a therapeutic instrument, no matter on what you're pounding.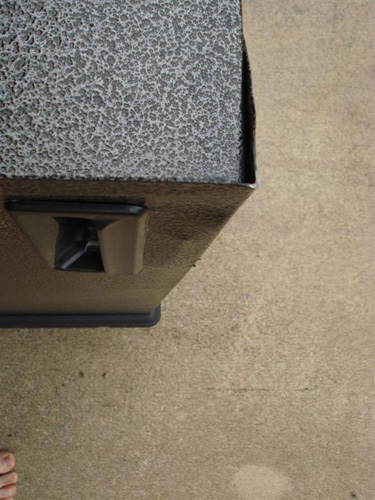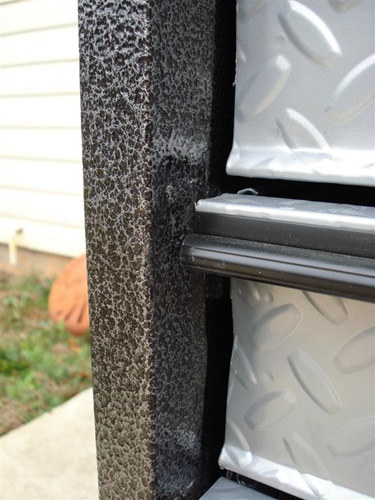 You can see the sheet metal wrinkling in these pictures, but no damage to the powdercoat.
Finishing up the Repair & Complete Review
The next step was installing the casters. I left them off while wailing on the cabinet, but I should've followed the directions and installed them before the drawers. To install the casters, the cabinet needs to be upside down. Flipping the whole cabinet over and then righting it is much easier without the weight of 5 heavy-duty drawers. The casters are, like the rest of this tool box, monstrous. 5″ x 2″, they roll more easily and smoothly than the smaller casters on my Craftsman bottom cabinet. They have serious locks that very solidly lock the front casters down tightly. The rear casters swivel, but I had a hard time with changing direction and maneuvering this large cabinet in tight places. I also expected the casters to roll easily over small objects, given their size. However, a small Allen wrench laying on my garage floor brought the whole cabinet to a stop until I picked it up.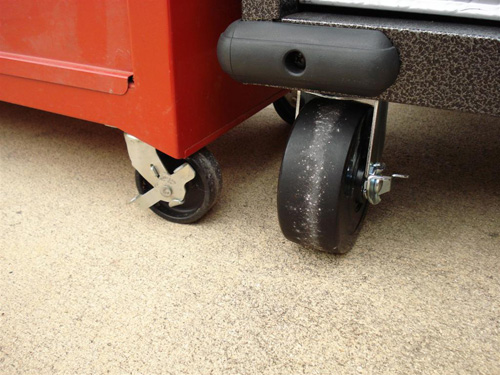 The drawers are very easy to install and remove, as are the drawer slides. The slides are solidly built, and each drawer is rated for 65 lbs. With weight in the drawers, the slides roll in and out smoothly and easily. No scratchy, sloppy feeling like my Craftsman tool boxes. The drawers also come almost all the way out. Cheaper alternatives to the Gladiator line sometimes have drawers that don't roll all the way out, leaving a large chunk of storage effectively unusable.
Something else the Gladiator drawers have is a friction closure. When you push the drawer all the way in, there's a slightly firm stop at the end. This is a friction mechanism of some sort that keeps the drawers closed until you actually mean to open them. It in no way impedes opening or closing the drawers, but if you don't push solidly at the end, it's easy to not engage the friction stop. And if the casters aren't locked, you'll find yourself pushing the whole tool box away every time you try to close a drawer all the way.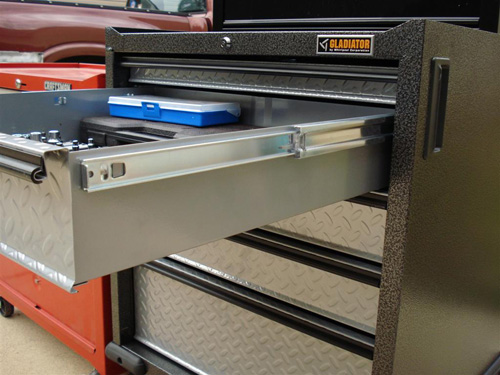 Honestly, the first thing I figured out when I got this chest home next to my existing tool storage is that it's huge. I knew it was big when I loaded it up, but it dwarfs my Craftsman bottom chest. The Gladiator GearDrawer is 26.5″ wide and 25″ deep. The actual useable drawer space is 23″ x 22″. My Craftsman bottom cabinet is narrower, shallower, and shorter. The Craftsman drawers are only 18″ deep. The Gladiator chest is large enough to hold just about anything you want to put in it. Seriously. The Modular GearDrawer has one 2″ tall drawer, three 4″ tall drawers, and one monster 9″ tall drawer. The 9″ drawer is also reinforced on the bottom, as it's likely that you'll put larger, heavier items in it like power tools that don't distribute the weight across the drawer like you would with smaller hand tools. Speaking of weight, the whole cabinet is rated to hold 1,400 lbs. total. You can pile the tools in, and stack the tool boxes on top without fear of buckling sheet metal or breaking a caster. Gladiator and Craftsman tool boxes also stack on each other just like a matching set would, so you can mix and match like I have. This is great for someone who wants to upgrade or add to their tool storage one piece at a time, and still have the new stuff compatible with the old stuff.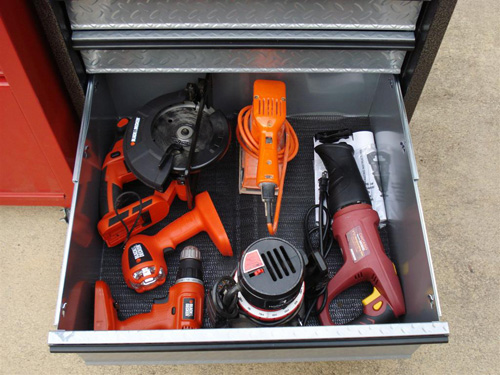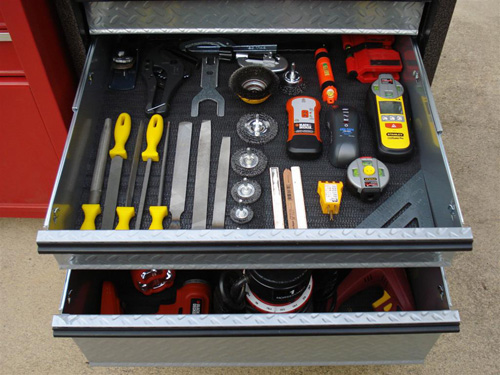 The 9″ drawer is deep enough to hold a router and still have clearance to spare.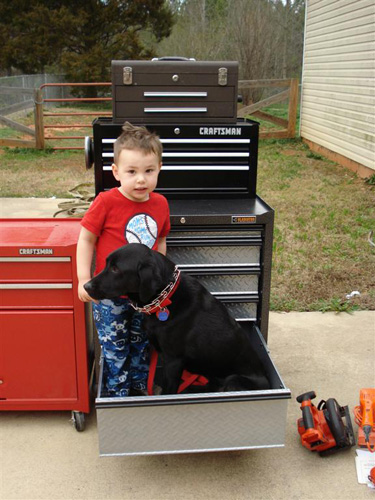 Did my own weight testing with a 55 lb. lab and a 36 lb. 2 year old. Total weight of 91 lbs. without any problems. What looks like the drawer tilting is because of the wide angle picture and driveway slope.
All in all, I've been very pleasantly surprised by the Gladiator GearDrawer. It's built sturdier than other tool boxes I've seen, and it's bigger than most of the other offerings in its class. The powdercoat finish stood up to the original damage, as well as direct impact from a claw hammer and rubber mallet, without chipping, cracking, or flaking. While I originally wanted a top chest, I've found that the extra storage will be quickly used in the future. Rather than being limited by space, I've got room to grow. Given the retail price of the Gladiator line of tool storage, it's easy to just walk past it in favor of cheaper alternatives from other companies. I'd suggest giving it a second chance based upon the construction and size. Instead of buying smaller and/or cheaper tool boxes that you'll end up replacing or adding to down the road, it might be worth the money to buy once, cry once. Gladiator Garageworks makes a whole bunch of tool storage and garage organization. If it's all built to this standard, I'll be looking hard at it next time I need to expand my storage, even if I have to pay retail price instead of discount tool store price.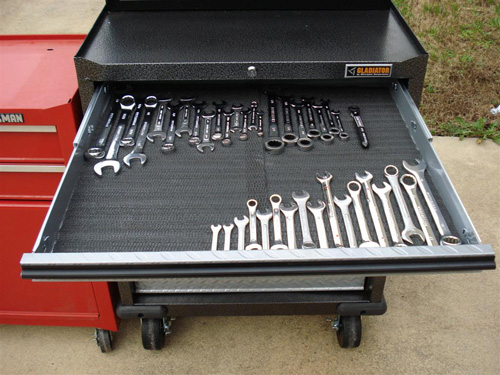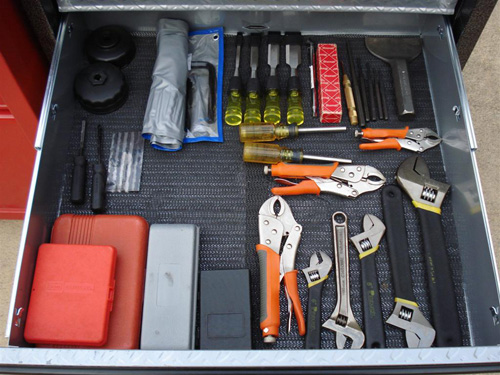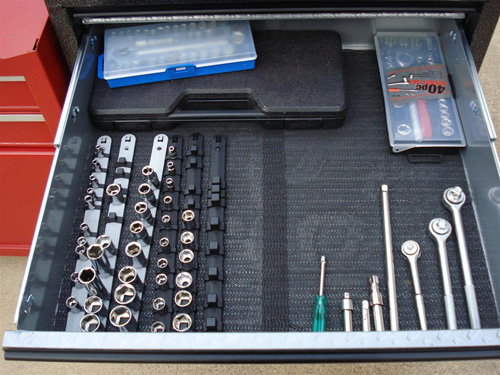 What I think could be improved:
There are no options for side cabinets from Gladiator. Nearly every other tool box manufacturer offers a variety of side cabinets that can mount to either side of a bottom cabinet to expand storage. These range from small drawers to large, open bulk storage cabinets. At least make the Gladiator stuff compatible with other manufacturers' products, so that you could add on even if Gladiator never makes side cabinets.
Power cable holes in the rear of the bottom drawer. If the drawer is intended to store large power tools like the manufacturer's information advises, make it possible to also store battery chargers WHILE they're plugged in. This puts chargers and cordless tools in the same location, instead of two different places in a workshop. If you put one hole on each side of the drawer, that's two less chargers to clutter up a shelf or workbench.
Drawer Liners
The second part of my DIY project was drawer liners for my new and old tool chests. I went to the dollar store and got a bunch of rolls of black shelf liner for $1 each. The rolls were 12″ x 6′, which was enough to do several Craftsman drawers, or one of the giant Gladiator drawers. Simply lay the drawer liner in a drawer, make sure it's pushed into all the corners, and cut with a utility knife along the edges of the drawers. In my case, rather than make additional cuts, I let the 12″-wide drawer liners overlap in the 22″-wide drawers. The stuff I bought from the dollar store is grippier than the Craftsman drawer liners I already had. The dollar store stuff is also thinner, allowing slightly more room in the drawer. So I replaced my old stuff with the dollar store special. I find that tools roll/slide less when opening drawers. The drawer liner also stays put better than the expensive brand-name liner.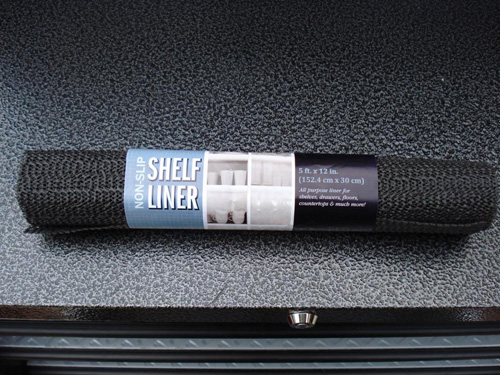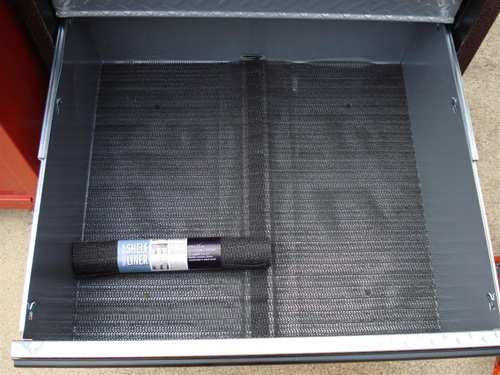 …
Thanks, William, for the awesome article! I'm glad you were able to "smash" the tool chest back into working order, and it looks great! I need to find a discount tool shop around here.
If the rest of you have a story to share, we'd love to feature it! Read here for how to submit the article to us.