If you follow us on FB, Twitter, or Instagram you know that I was traveling with the GMC Hidden treasure Adventure along with 5 other fabulous bloggers, all with the goal of furnishing and decorating a Habitat for Humanity home. It was amazing!!
If you love supporting Habitat for Humanity, be sure to check out our Before and After DIY contest supporting Habitat for Humanity!
We started in Detroit, where the bloggers paired up and were given GMC Acadia Denalis to drive all the way to Atlanta! What a sweet ride – leather heated and cooled seats, 3 rows, and my personal favorite, an alert light in your side view mirror when someone is in your blond spot. AMAZING! Here are all us bloggers with the Acadia Denali right before we set out on our quest. (left to right) Liz from LizMarie Blog, Courtney from French Country Cottage, Christine from The DIY Dreamer, Carissa from Good n Crazy, ME (Jocie),and Kirsten from Simply Grove!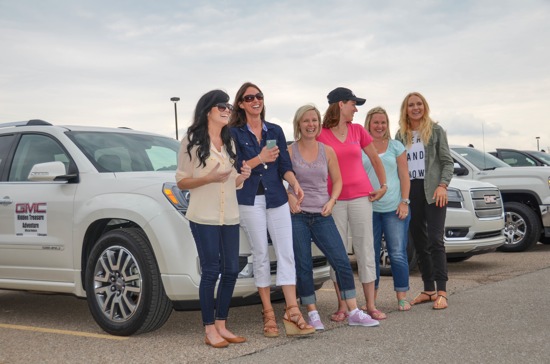 Before we left Detroit, we were given $250 budget to spend on furniture and decor. Then we chose our room out of a hat – I chose the living room. By far the biggest room, but very fitting my personality and DIY bend! 🙂
Our first stop was at the Habitat ReStore outside of Detroit where we found some amazing stuff, including my couch and globe! woot woot.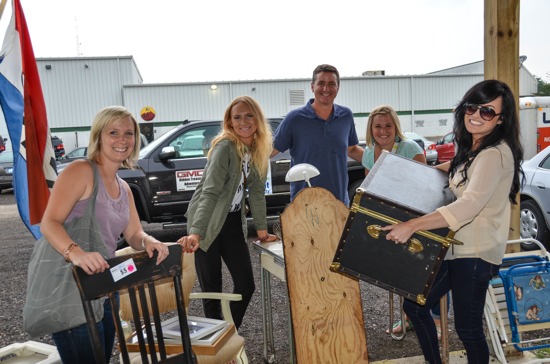 From there we drove to Hudson, MI, spent the night and then started off the next morning on the World's longest yard sale, which runs 4 states along interstate 127.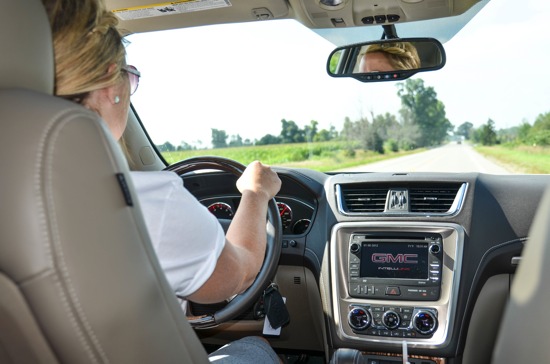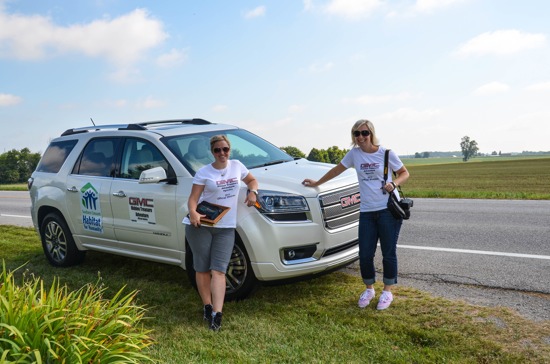 Christine, the DIY Dreamer and the coolest partner possible, and I decided to ask anyone who gave us a good deal on the yard sale to sign our shirts. My haggling, along with the kind nature of people wanting to help a Habitat family, meant there were lots of good deals to be had! This was our very first purchase and signature on the GMC Hidden Treasure Adventure.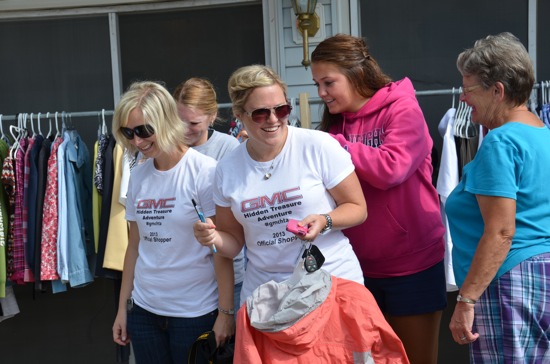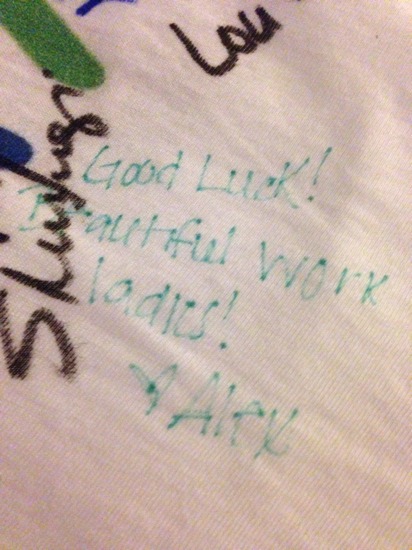 I love to bargain and haggle. My goal was always to offer a ridiculously low price and work up from there. I got a ton of amazing steals and had so much fun talking and haggling along the way.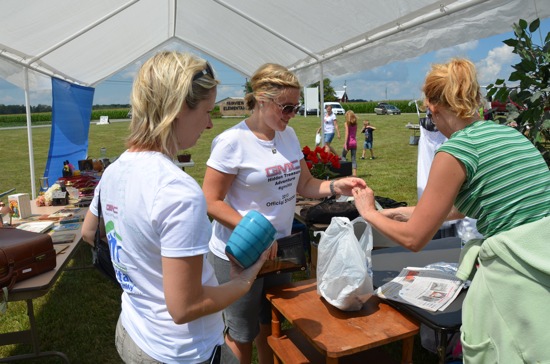 Here is my new friend Jimmy in Kentucky who I enjoyed bargaining with. He also made these license plate dust pans – a DIY kindred spirit.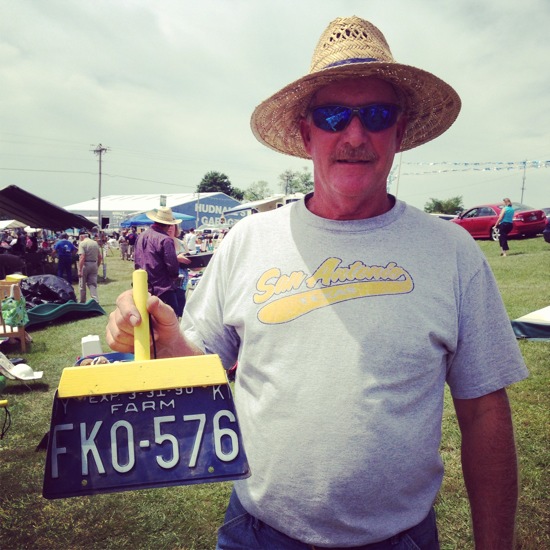 While the bloggers were split amongst three Acadia Denalis, we saw a lot of each other along the 127 sale and became good friends. We often even got to eat together. Us along with our fab photographer and GMC social media guru, Clare!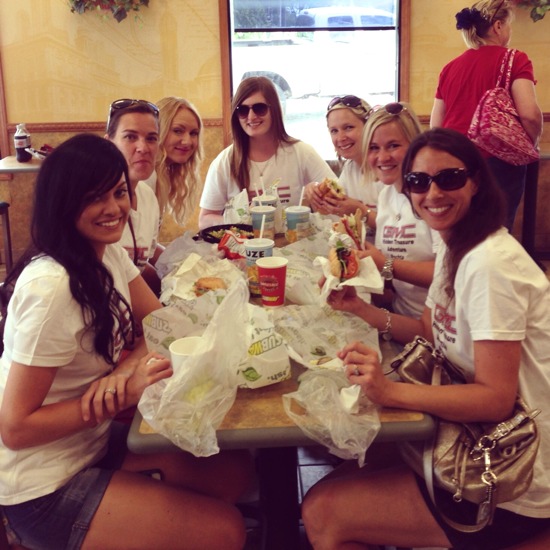 Being a DIY girl myself, after we arrived to our hotel in the evenings and had dinner, I stayed up each night painting end tables and frames. I spend $2 each on the end tables and some of the frames I got for a quarter and others were free.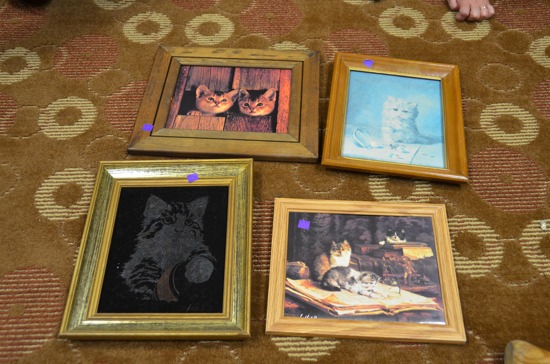 One night in Tennessee, it was so humid the paint would not dry on my pieces and I had so much I needed to get done. So out of frustration and sheer genius, I turned on the AC in the Acadia Denali, lined with trunk with plastic, and rotated the wet pieces in and out of the truck as they dried and I painted more. It worked so well! Plus I didn't have to carry them back to my room and sleep in paint fumes.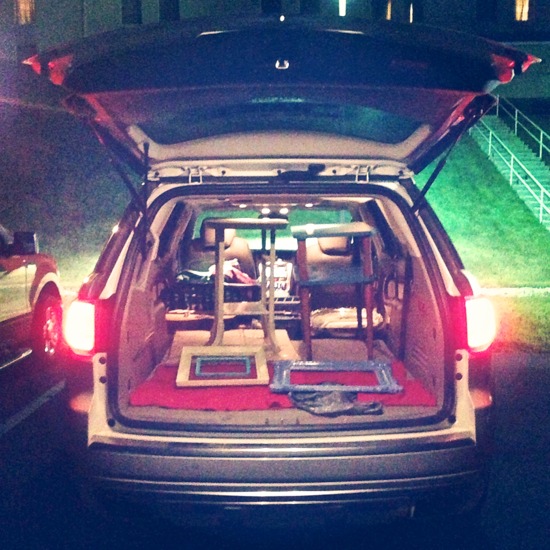 We yard saled and shopped Wednesday through Saturday, finally ending in Atlanta, where we put in all in the house on Sunday morning and then revealed it to Leetoya and her family, the proud Habitat for Humanity homeowners.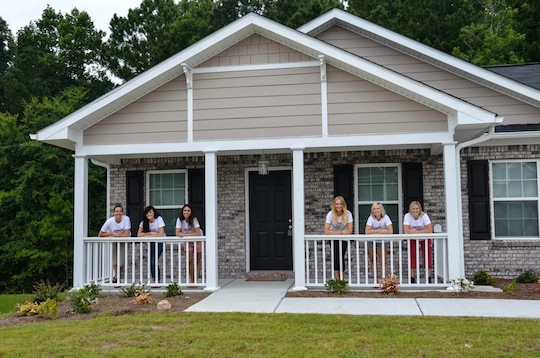 I know this is a bit of a teaser, but next week I will reveal the house in all its glory, so stay tuned. For more pix and Hidden Treasure Adventure story, find us on Twitter using the hashtag #GMChta.
As Always, thanks for reading!