If you've been following along in the last week, you know that I have been a bit obsessed with redesigning our dining room to better organize and display our kid crafts and learning materials. What started as a simple idea got a bit out of hand, but it's looking pretty fabulous!
It started with sprucing up a 9 cube ClosetMaid organizer using scrapbook paper.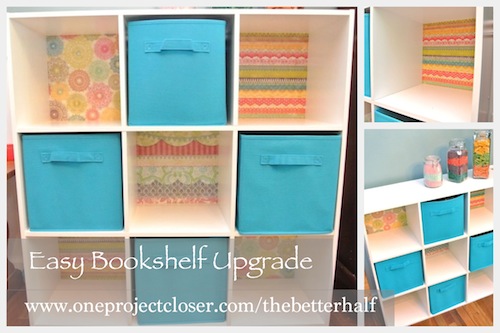 Then Izzie and I created a 16×20 canvas using painter's tape and acrylics.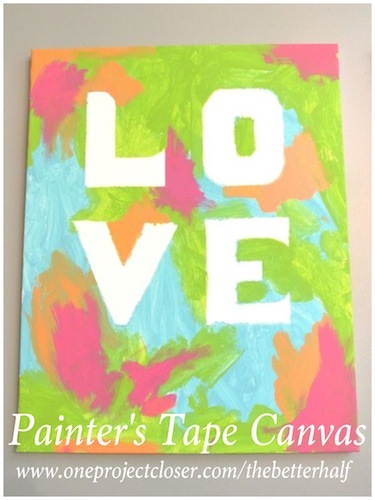 And now I present to you the second of the three canvases – a tree! Okay, so maybe it's not exactly a "green" project but it is a tree and does have green in it, in addition to turquoise, pink, and orange!  hahaha
Again, another project so simple, it seems silly to share, but it is really beautiful. Not only is it great for a kid canvas, but its a thoughtful keepsake for weddings and showers. I used this idea for an adoption shower for my cousin (post sometime coming in the future), and had all the shower guests leave their fingerprint.
I first painted a brown tree. I styled it with curls at the end of the branches to make it softer and more feminine.
I then had Izzie put lots and lots of finger prints. I tried to get Lucy to help too, but she didn't like getting her fingers dirty (she's so lady-like). 🙂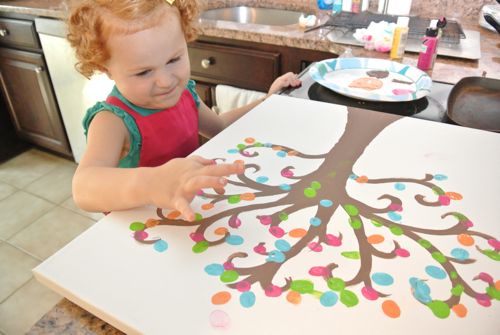 Izzie got a little over-zealous at times and put prints where they didn't belong or worse, smudges really where they didn't belong. I found myself a little frustrated and overwhelmed. But after I adjusted my expectations – that she is only three and very excited – and took a deep breath, we had a great time. Not to worry, if you also have an over-zealous child – the smudges and poorly placed finger prints were covered easily with white acrylic paint.
I ended up not covering all the imperfections because I also wanted the tree to look personal and as though Izzie had a big part in it – which she did.
After all the tree dried, I painted the word "Family" over the trunk. You could paint any words you liked, but I wanted the letters to be large and prominent, so I chose a shorter phrase. Had I thought ahead, I may have bought paint pens for this part – way easier!
All done!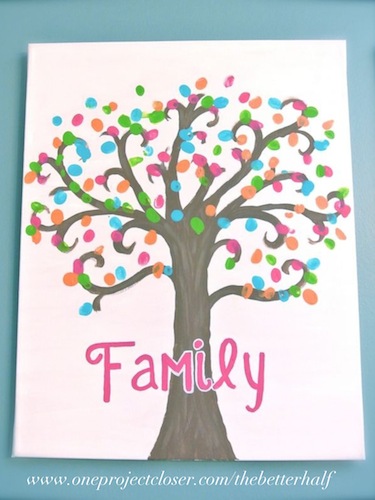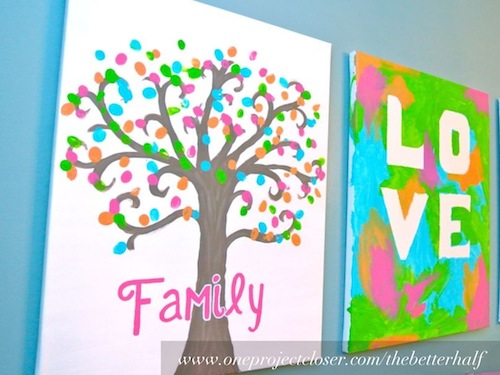 Here is another canvas art variation I have done with handprints, and I'm sure many, many more out there. I also made a hand-print Christmas tree last year, but forgot to get a picture. 🙁
What do you think? What projects have you done using handprints and fingerprints?
Stay tuned, tomorrow will be another hand print canvas, the third in the set!
As Always, thanks for reading!