Fall is the best time to grow new grass. By September, the hottest months have past but the temperature hasn't plummeted. The soil still contains a fair amount of moisture and there are plenty of good growing days. An easy easy way to plant grass seed is with a seed blanket. Seed blankets, also called erosion control mats or seed mats, offer several unique advantages compared to simply spreading grass seed.
I'm writing this post so late in the season because I wanted to show how effective these seed blankets are and share a time-line of when your grass will really take hold.
Benefits of Erosion Control Blankets
Planting grass seed with a seed blanket is a simple project. Most DIY stores carry all the necessary materials and it shouldn't take too much time. By using a seed blanket you gain several advantages:
Too many seeds can prevent grass from growing well because there is not enough moisture and nutrients. Seed blankets have a uniform seed density preventing seed clumps from forming.
Seed mats lock in the proper amount of water, protecting the seed from sun and heat damage.
These blankets also hold the seed in place, preventing it from being washed away. The same is true for the soil. Rain can erode the soil but these blankets help hold everything in place.
Some mats are made from natural fibers that degrade over time meaning there is no clean-up.
Seed blankets also help prevent weeds from taking hold.
Do Seed Blankets Work?
The big question is how well these blankets work – how long before the grass is really growing. Check out this time-lapse photography showing how the grass progresses.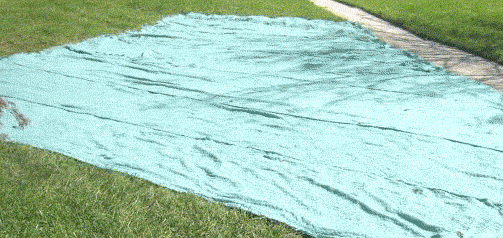 These pictures are taken over a period of 30 days, starting in early October. The big jump occurs when the mat really starts to disintegrate caused by some heavy rain. You can see for yourself that the grass is growing well but still has a few bare spots.
What do you think? Have you used a seed blanket? How do you plant grass seed?