We are one week away from Christmas and I fear I have been enjoying the season too much too actually prepare! lol. I have done almost all of my Christmas shopping but have not wrapped a single present. But I have done some decorating, took Izzie to see her first play ("Annie" which was very fitting since Izzie is also a curly red-head), and gone to a couple Christmas parties! It's really been wonderful.
I am super excited to introduce you to my friend, Carol from Weeknight Dish. She actually started as my real-life friend – we go to the same church and Izzie is in the same Sunday School class as Carol's oldest daughter.
Carol and her hubby have been followers and supporters of OPC and The Better Half for a long time now and when Carol said she would be willing to share their first major home project as new home owners, I was thrilled!
I hope you enjoy hearing her story of how she transformed a nasty and outdated room into something wonderful. Also, make sure and pop over to her site to check out some of her amazing recipes!
Hi!  I'm Carol from Weeknight Dish. I am a stay-at-home mother of two beautiful girls, ages 6 months and 4 years. I love dishing about food (get it?) and blogging about my most recent food adventures. Here's a picture of me from my sister's wedding this past October!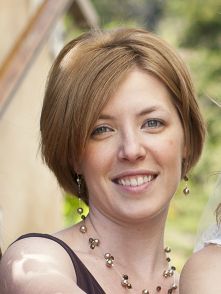 I've been blogging off and on for 2 years and love every opportunity to share my recipes like these pretty Coconut-topped Cupcakes and Homemade Hot Chocolate!
Though food is my #1 love, I do love to design and decorate, as well! My hubby and I just bought our first home and I'm so excited that One Project Closer and The Better Half have allowed me to share some of our first-time homeowner discoveries and our first real design project!
Soon after moving into our home we realized we needed to make some major repairs to the family room.  We had water leaking in through a badly installed patio door and the carpet desperately needed to be replaced.  The room had panelling around the perimeter of the walls – it was not a structural problem but definitely an eye-sore! YUCK! So we started our demo there by removing it first.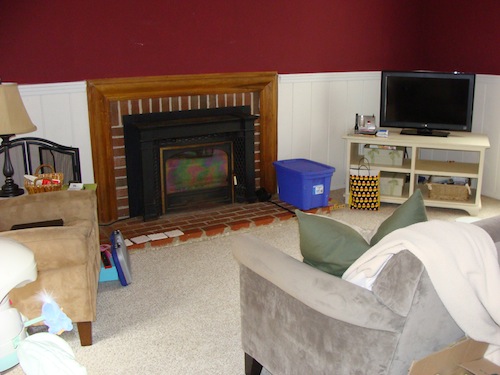 After removing the panelling, we made our first fun "discovery" – termite damage.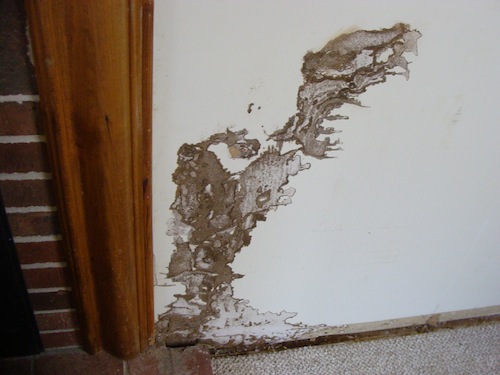 We were already making plans to build a mantel shelf that connected to the old surround, but after finding the termite damage and consulting with my dad about fire codes, we decided to rip out the old surround and build an entirely new mantel.
Thus began our first building project!
First we removed the original surround, repaired the termite damaged wall with drywall compound, and replaced one small section of the drywall at the entry point for the termites.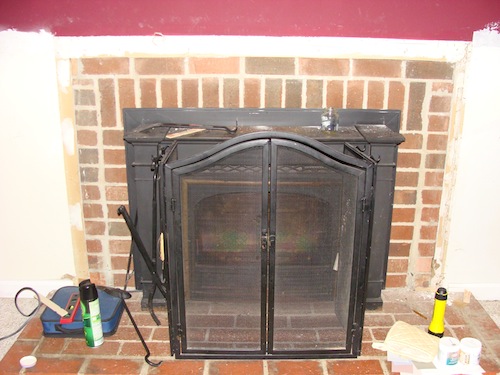 While we were at work, our daughter made some drywall art –  she drew herself and little sister, and she is dreaming about a cat!  Like her thought bubble?  Haha. I have no idea how she came up with that…totally on her own!  Sometimes she really cracks me up!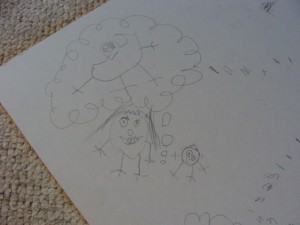 We primed the maroon painted portion of the walls and any spackled areas to avoid any dull spots (there were a lot of spackled areas due to removing the panelling).  The room was already starting to look better!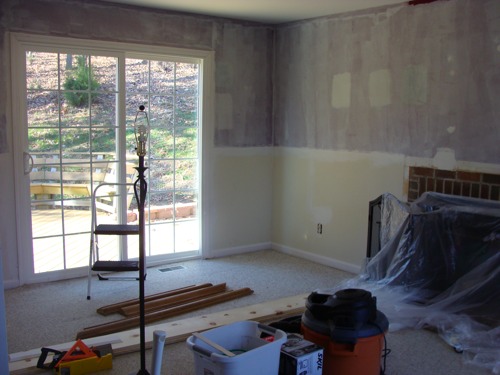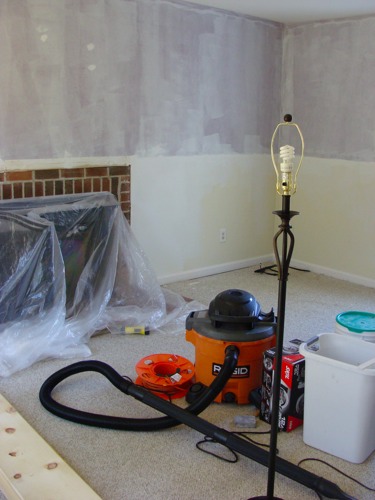 The next steps we had nothing to do with.  We hired a professional to remove the old patio door and replace it with a new sliding door adding more useable space.  He also added new baseboard which updated the room tremendously.
Then new carpet was installed by Carpets 2 U.  Great company!  We definitely recommend them for any carpeting or laminate flooring projects.
I wish I had better pictures of the mantel building process, but once we got started, I completely forgot to take photos (oops!).
We followed these basic steps from Walnut and Main, building two "boxes" for the side pieces connecting them with a center board or frieze.  We added some 1 x 2″ boards for trim, a small moulding piece under the mantel shelf and white paint to complete the look we wanted!
Before the shelf was installed and painted: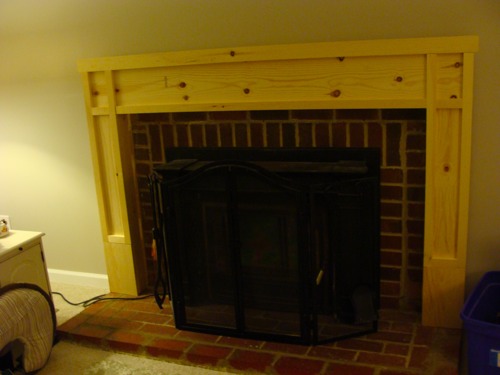 After: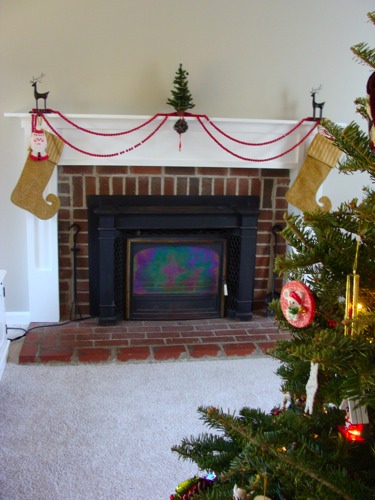 I am so glad it's Christmastime so I had a real chance to decorate the mantel!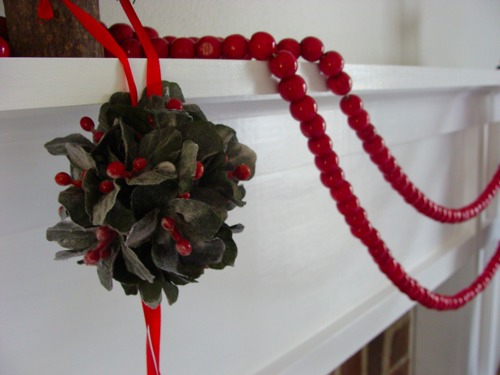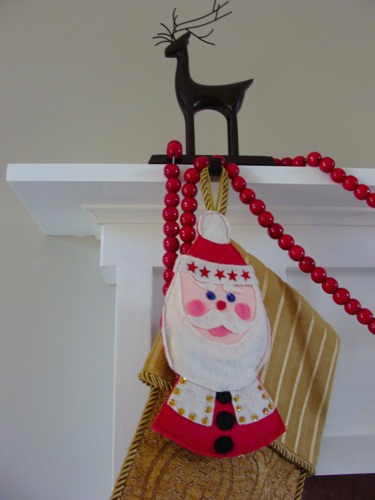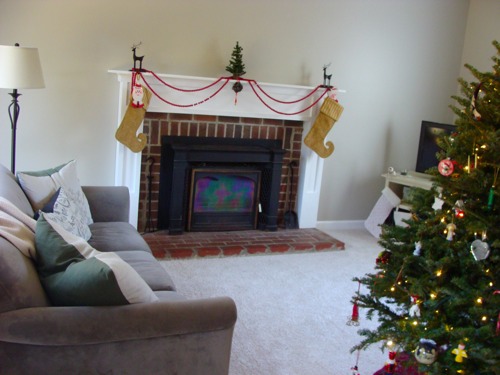 The room has a completely new and fresh look and I am in love with the new mantel!  We chose Sharkey Gray (Martha Stewart for Home Depot) for the walls.  It's a great neutral shade with gray and brown undertones so it compliments a lot of colors.  All I need to complete the room is artwork/pictures for the walls and curtains.
What do you think? What are some of your favorite things to use when decorating your mantel?
For some great recipes and hopefully more decorating and remodelling projects, visit me at Weeknight Dish or follow me on Facebook.  Hope to see you soon!