The official OPC workshop is coming along albeit rather slowly. To give you some perspective, we had Fred & Kim's garage insulated back in May. Then, almost a month later we poured the concrete foundation for a new shed to clear out the garage. That shed was delivered in late July. We are mid-way through August and just completed hanging drywall. Hopefully I can step up the pace and be in there before winter. It's good to have goals right?
I'm one of those guys that looks at a project and thinks, "We can finish this up in a couple hours," and eight hours later the job is done. Somehow I forget that corners are not always square, studs are not necessarily 16″ o.c. and old drywall might be out of place. That's how this project went.
We started by cleaning out and organizing the garage.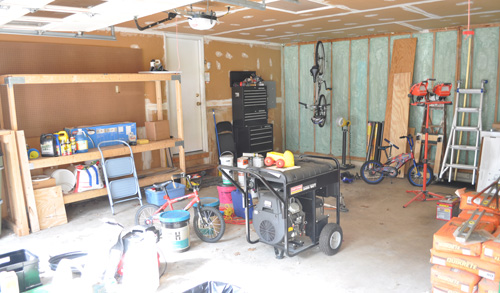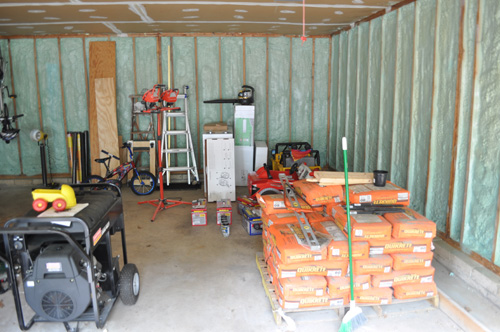 Does anyone remember Hechinger's? Their retails stores closed shop in 1999. 🙂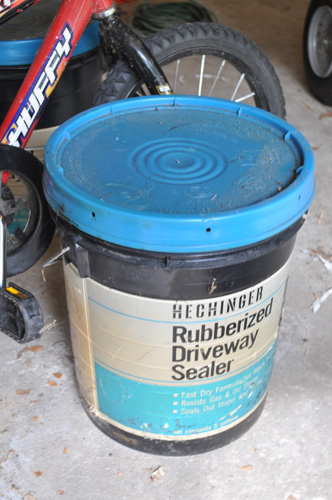 Looks pretty good. Did you know that a leaf blower works great for cleaning out your garage?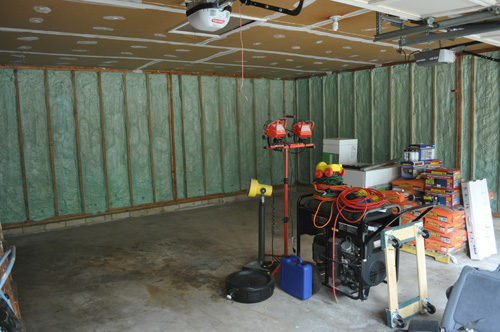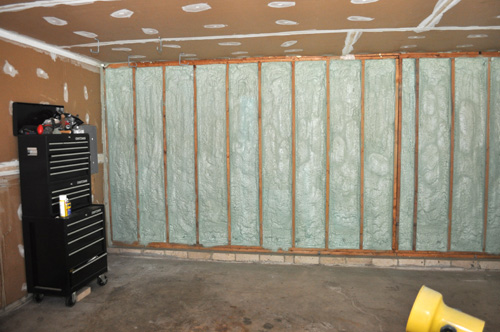 Next, Fred and I picked up some drywall, screws and bits at Home Depot. There's nothing like riding in style in the Caravan. We don't know if it's intentional or not, but 4 x 8 sheets of drywall fit perfectly when you remove / stow the back seats.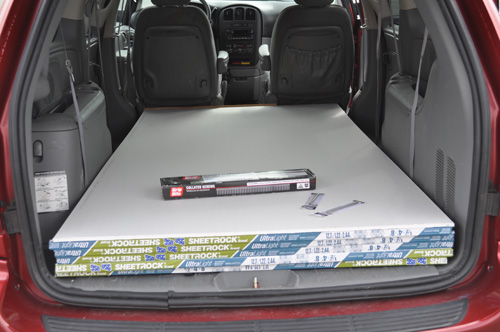 We had to scrape a few studs to removed some over-spray from the insulation,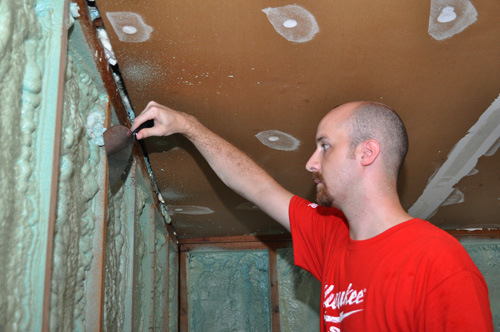 and trim a few carriage bolts. The recip. saw made short work of these.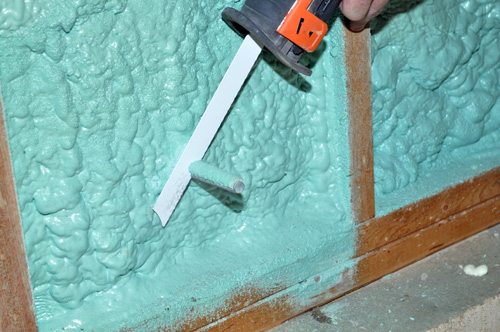 Here's a picture of the Senco screw gun we used. If you're ever installing drywall, a screw gun is extremely useful. Not only does it drive screws super fast, you can set the depth to sink each screw the right amount. Check out this afternoons post for a fun little contest about using this screw gun.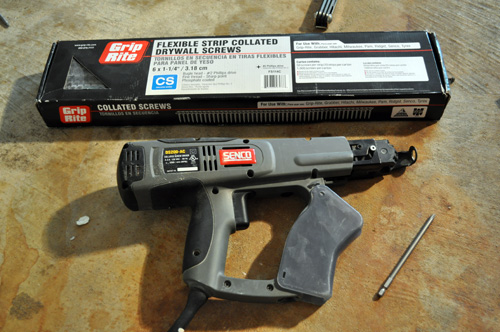 Kim marked the center of each stud so we could easily find it after moving the drywall in place.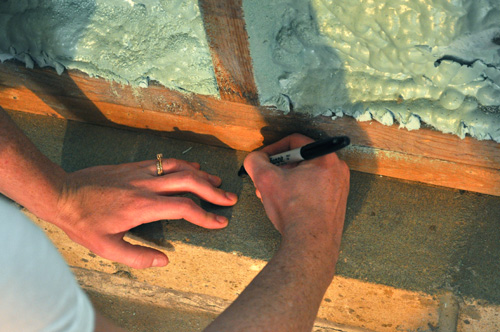 Drywall is manufactured in 8′ x 4′ sheets (among other sizes), and they fit perfectly when studs are place 16″ on center (o.c.). This is a picture of our very first piece of drywall. Did you notice that we had to cut the edge? That's because the corner was out of square by about 1/2″, and without cutting, the other side wouldn't line up with the stud.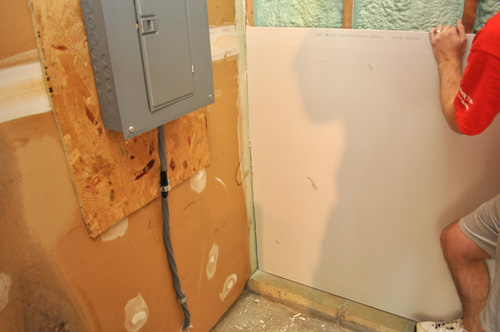 The edge of the drywall should hit the center of the stud unless it's a corner. That leaves enough room for the next piece.
To cut the drywall, use a utility knife to score the front. Put some pressure on the backside, and the drywall will snap along the cut. Then use the utility knife to cut the paper backing. In this picture, Fred is lining up his first cut using a level as a guide.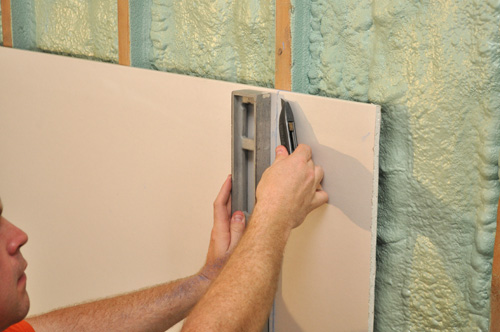 Remember how Kim marked all the studs? We used those marks to snap chalk lines so that we knew where to screw.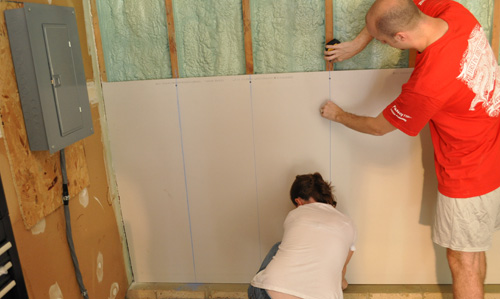 Here's a close up of Fred putting in some screws.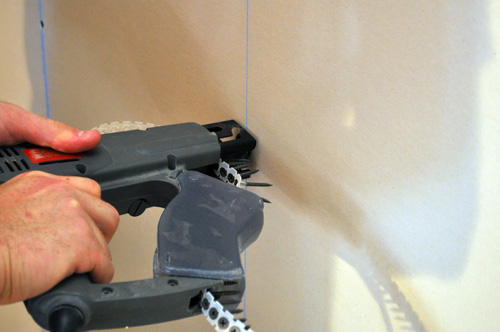 We completed the bottom row before moving on to the top.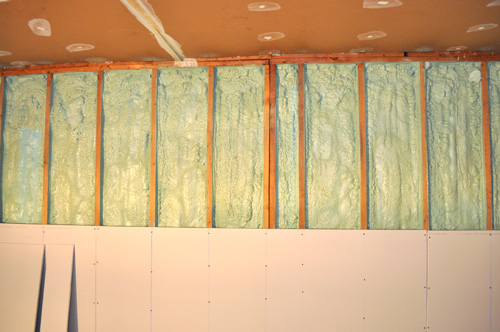 The top row was much more difficult because we had to cut at least 4″ off the top of each piece. To make things even more interesting, the ceiling wasn't straight at all. Some of the drywall on the ceiling had sagged as much as 1.5″ (like where that ceiling joint meets the wall).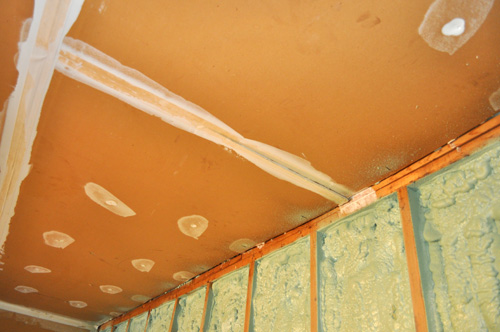 At first we decided to cut out any major problems and patch the ceiling later. We quickly abandoned this idea because the insulation above the ceiling adhered to the drywall, and it was a lot of work to remove even a small piece.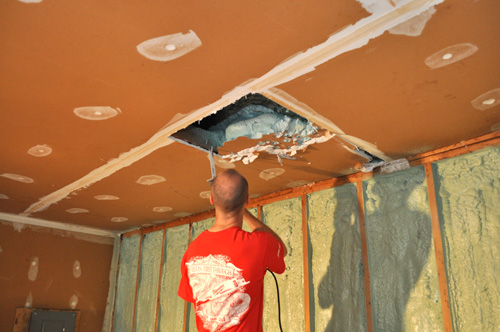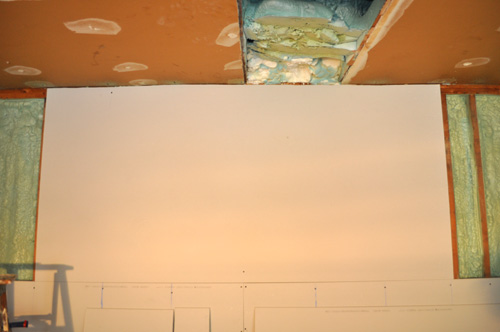 Instead, we measured the distance for each stud and cut our drywall to match. Yeah, it was slow going. You can't really see it in these pictures, but we did remember to stagger the drywall joints.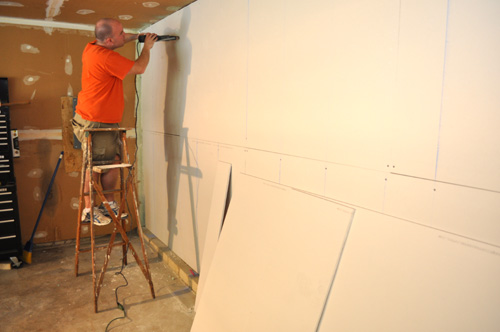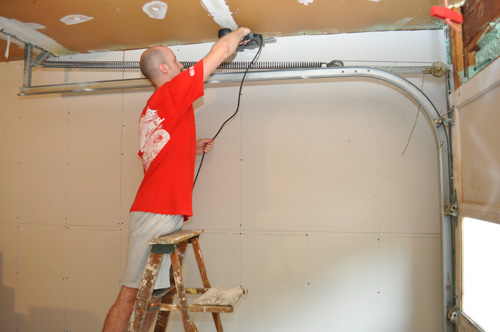 Clean up time! We grabbed some black contractor bags that PlasticPlace.net sent us. This is the first time anyone has sent us trash bags, but I'll admit, a heavy duty trash bag is just what we needed. Goodbye drywall scraps, loose screws and anything else we could fit inside.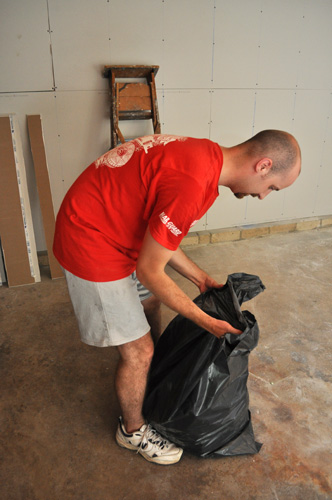 In the end we were rewarded with some good looking drywall. Next, we'll need to mud and tape all the joints.