I love, love, love zucchini bread and always crave after it when my sister makes up a batch. She is the ultimate baker and also has a large garden – she and my mom are the homemakers I aspire to be! This year I decided to make zucchini bread myself since Izzie and Lucy love muffins for breakfast and I thought zucchini bread must be healthier than other alternatives.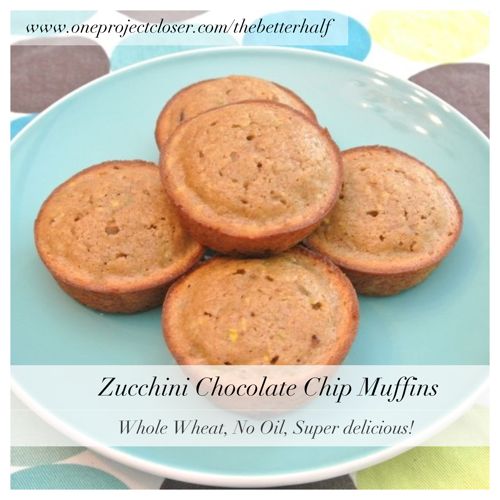 Boy, was I wrong. I looked all over the web for a healthy recipe and was shocked to find that most called for a WHOLE CUP OF OIL! Am I completely naive or do I just not cook enough?!? Okay, maybe both, but I still was determined to make a zucchini bread that I wouldn't feel guilty eating.
I decided to combine some recipes, make some substitutions, and add a few chocolate chips so the girls would eat them. Much to my surprise, they are amazing! Ethan and the girls love them (and so do I, but I tend to like healthier tasting foods).
One of my favorite healthy additions is applesauce instead of oil. You lose the outer crunchy edge, but the insides are extra moist and lots less fat!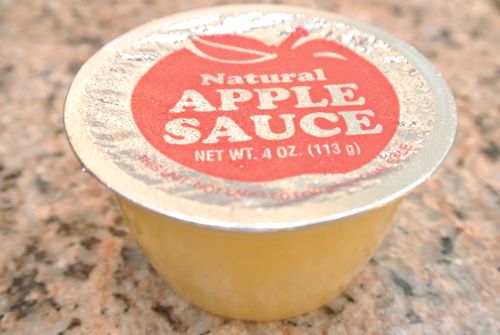 I started with using my little food processor, you know that one that I had meant to get rid of since I don't make baby food anymore. It's crazy that I have used that mini food processor maybe 6 times in the last week – so glad I kept it!! I washed, peeled and cubed two medium zucchinis, then threw them in the food processor until the zucchini was completely shredded with no big hunks – stay back, Ethan!  lol! You can also use a hand grater, which may be just a quick but less fun. hahaha
After you grate the zucchini, drain it use a towel, squeezing out any excess water. Do not skip this or the muffins with be overly dense!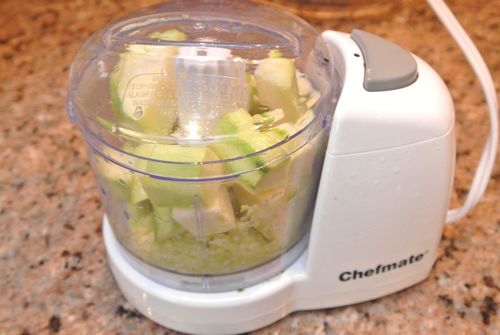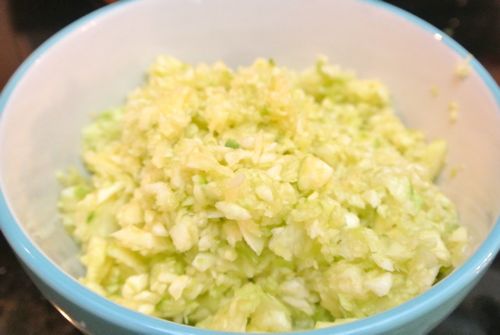 Then I threw all the ingredients into my KichenAid Mixer and turned that sucker on! Some recipes call for whisking the dry ingredients first, then adding the wet ingredients, but I am just too impatient for that. Also, I'm not super exact when I measure any of my ingredients. Feel free to adapt as you like, just let me know if you do something so fabulous I should try it!  🙂 Also, feel free to add extra applesauce to make them super moist and yummy!
Once completely mixed, I filled my greased muffin cups about 3/4 full. I love to use my olive oil spray because it seems healthier than butter or shortening. Also, don't be scared to fill your cups pretty high – the muffins don't raise up a ton, but end up being a very moist and semi dense consistency.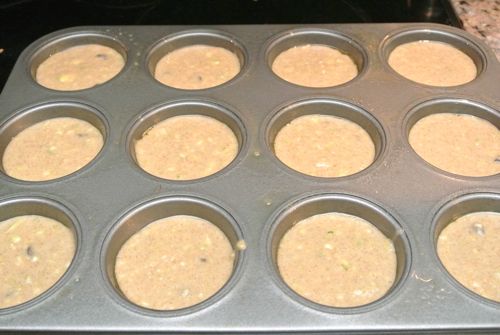 Bake at 350 degrees for about 25 minutes. I warn you, do not accidentally turn off your over mid-way or you will end up with heavy little hockey puck muffins. My Bad. Don't judge me, but I still fed them to the girls and they didn't complain.
Viola! Super delicious and healthy zucchini muffins!
I made several batches for our camping trip to Rocky Gap State Park last week and they were a hit. If not, I will hide in my tent and eat them all!  hahaha. I also made a pretty horrible batch where I accidentally turned off the oven towards the beginning – oops. They looked like little hockey pucks and were super heavy.
Ingredients:
1 1/2 cups Whole Wheat Flour
3/4 cup Raw Sugar
1 1/2 tsp Baking Soda
1 1/2 tsp Baking Powder
1/4 tsp salt
2 tsp Cinnamon
2 eggs
2 1/4 cup Shredded Raw Zucchini (about 2 medium), drained
1/3 cup Applesauce
2 tsp Vanilla
1/2 cup Semi-sweet or Dark Chocolate Chips
Directions:
1. Preheat over to 350 degrees.
2. Wash, peel, and shred two medium zucchinis. It should produce about 2 1/4 cups – it doesn't need to be exact.
3. Combine all ingredients and mix completely.
4. Fill greased muffin tins 3/4 full.
5. Bake at 350 degrees for 25 minutes.
6. Remove from tins to cool and then EAT!
What do you think? If you have healthy, or just delicious recipes, feel free to send them to me, I'd love to try them and maybe even feature you and your recipe!
As Always, thanks for reading!

Do you like free gift cards?!? Our 5th Annual Before and After Series supporting Habitat for Humanity is up and running. Enter your home project now!