While Ethan is out freezing his bum in the cold and documenting the patio remodel, I've been cooking up a storm in the kitchen. Nothing says "Christmas" to me like homemade cookies (who needs jewelry, haha).  Some of my favorite holiday gifts are homemade cookies, breads, and scones.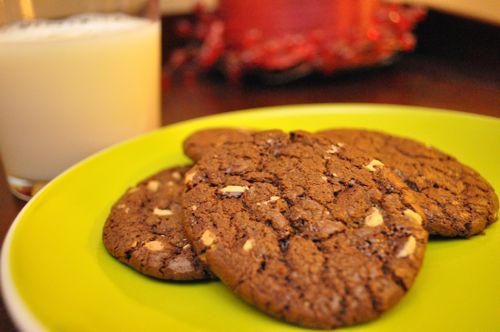 Cookies are a thoughtful gift but I have always struggled to figure out how to give cookies without them breaking, but also have it look pretty.  But this year I found this idea – wrap a Pringle's can with wrapping paper and add a bow to the top to protect the cookies and add a personal touch. Thanks to A Thousand Words via Pinterest for that idea.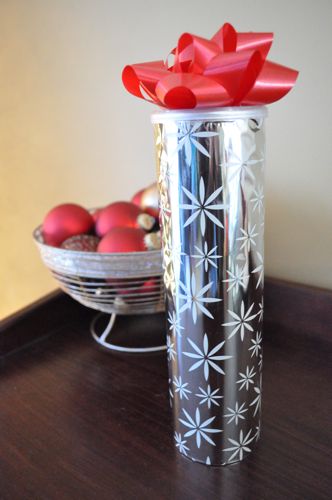 In the spirit of the holidays, I wanted to share my favorite cookie recipe with you.  I know there are lots of great holiday cookies out there but here is my mother's very special Chocolate Mint Cookie recipe that is my absolute favorite, and she has been making them as long as I can remember.  This is one of those family secrets that she was kind enough to let me share with you.  Trust me, if you bring these to a party, people will love you!
MarySue's Chocolate Mint cookies
Ingredients:
3/4 c. butter
1 1/4 t. baking soda
1 1/2 c. dark brown sugar
1/2 tsp. salt
2 Tbsp water
12 oz. semi sweet chocolate chips
2 eggs
2 1/2 c. flour
Andes mints, approx. 54
Directions:
Microwave margarine, sugar, and water 1-2 min. until melted. Add choc. chips, stir, microwave 1 min. if needed. Let cool for 10 min. then mix on high the eggs, one at a time. Add dry ingredients and mix on low. Chill dough an hour. Break mints in 2/3 and 1/3 sections. Roll in 1 " balls. Line cookie sheets with foil. Place them 2 " apart. Bake 12 minutes in preheated 350 oven. Remove from oven and while hot place 2/3 or two 1/3 pieces Andes mint on each, pushing down a little. Go back after a minute and spread the mint over the cookie. Makes around 77.
* Quick tip: If you want to make ahead and freeze dough, or just want to reduce the prep time, instead of putting Andes mints on top after baking, add one package of Andes mint chips to the batter. Do not use mixer, stir in.  They taste just as yummy, but the original recipe creates a crunchy topping that this quick tip is lacking.
This year, while perusing Pinterest (I know, I have a problem), I saw a tip to make your own cookie dough ahead of time, roll in plastic wrap, and freeze.  What a great idea rather than using store bought refrigerated dough!  Also, so easy – all you have to do is divide your dough in half or thirds, depending on how large you want your cookie roll, and place on plastic wrap.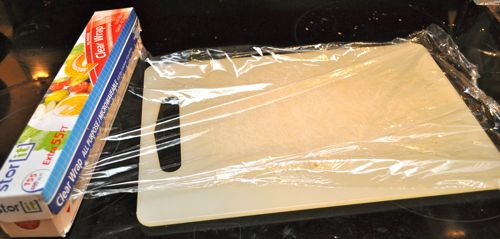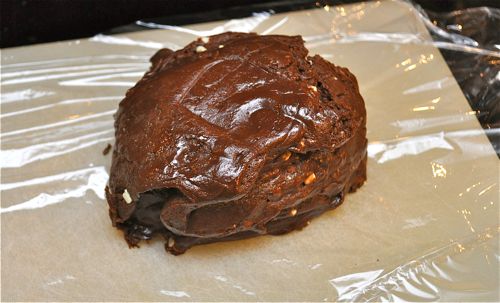 Then, using the plastic wrap as a divide between your hands and cookie dough, roll the ball back and forth to create a cylinder rather than a ball. Once the dough is the desired thickness and length, wrap tightly with plastic wrap and freeze.  Once in the plastic wrap, it may be hard to transfer without bending or damaging your pretty dough roll, so I used a cutting board to transfer the dough.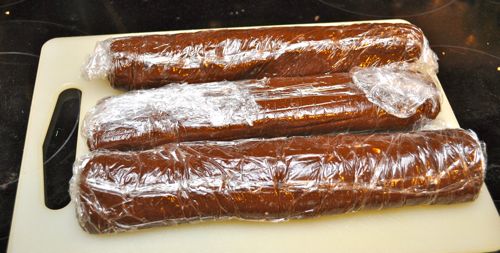 Over the past week, I have made 5 batches of cookies and put them in the freezer.  Each night, Ethan has said he wanted a cookie or two or ten, and all I had to do was pull out a roll of cookie dough, cut off a few slices and bake for 10 minutes.  So quick and easy. This year, I will be giving refrigerated dough to my grandmothers so they can have fresh made cookies with out all the work on their end.