We've been giving away a lot on the blog recently, but here's a goodie that everyone can enjoy – a $100 Home Depot Gift Card giveaway, sponsored by Home Depot!! woot woot. Make sure and scroll to the bottom to enter!
Do-It-Herself Workshop: Succulents!
Last Thursday, Home Depot's across the country taught women (and some men too) how to make your own succulent garden inspired by Pinterest at the Do-It-Herself Workshop. I helped co-lead at our local HD and had a super fun time! We had a great turn-out and got lots of gals (and little gals) excited about succulents inspired by Pinterest!
The Best part of the evening for me….Ethan and I were presented with our own HD aprons! How cool!
Thanks to Chris Paulis Photography for this great pic.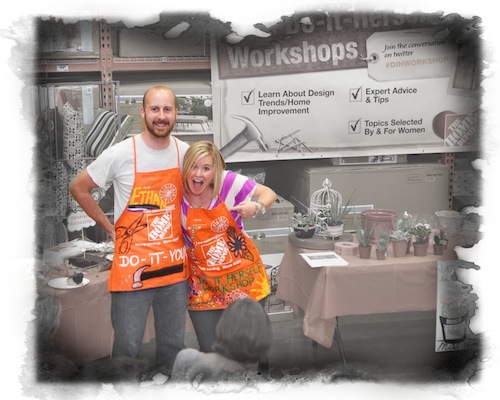 Pinterest & Twitter Succulent Garden Contest
In addition to OPC and The Better Half partnering for the gift card giveaway, Home Depot will also be giving away prizes for sharing your own succulent gardens. And you don't need to be a blogger to do it!
Home Depot would like you to share your own succulent garden on Facebook and/or Twitter using the hashtag #DIHworkshop. It's so easy and they will be choosing winners – so show off what you've made plus get free stuff. It's a win-win!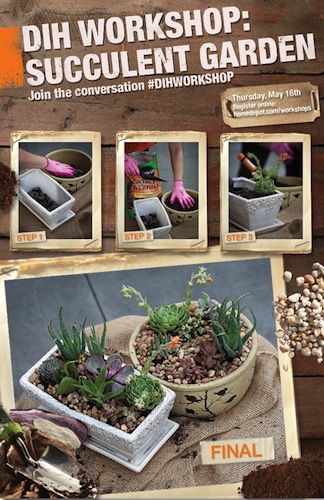 We can't wait to see what you create! At the DIH workshop last week, with the help of three little girls, Madeline, Lydia and Abigail, we created two amazing succulent gardens. So if we can do it, trust me, you can too! (Ethan didn't help, but he sure does look pretty, right?)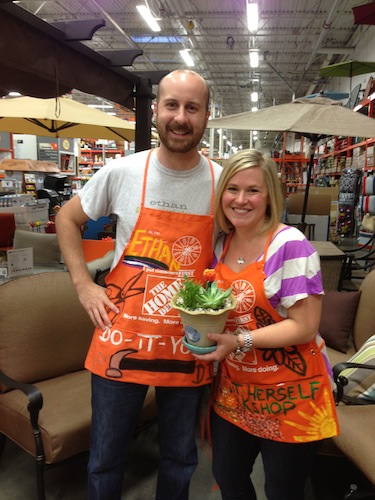 Enter to Win!
There's a few ways you can enter to win this fabulous gift card:
Like OPC and The Better Half on Facebook
Sign up for the Home Depot Garden Club
Follow me on Pinterest
Share this giveaway on FB
If you've already done these things, you still need to click below to enter. 🙂 Good Luck!
Giveaway ends Sunday at midnight. The winner will be contacted and announced Monday morning.
a Rafflecopter giveaway


More Giveaway News
If you didn't see on FB, the winner of the $300 Visa gift card was Cassandra P. She was contacted and already sent the gift card. woot woot!
Last week, we ran a giveaway for a hand-made (by Ethan) boxed wine holder. And the winner is….Jen P for "liking" us on Facebook! YAY!
Lastly, we are also giving away some AMAZING things in our Reader Rewards Center, including some expensive drill driver sets that would make for wonderful Father's Day, so be sure to stop by and check it out.
What do you think? What will you use your Home Depot Gift card for if you win?!?
Thanks so much for entering to win a $100 Home Depot Gift Card and I'm super excited to see  the succulent gardens you create!