In honor of Teacher Appreciation Week, I was reminded of some of my favorite teacher gifts I made a few years back, including this easy wood sign tutorial. We gave these to her teachers at the holidays and it brought me such joy to see them hanging in the classroom the rest of the year!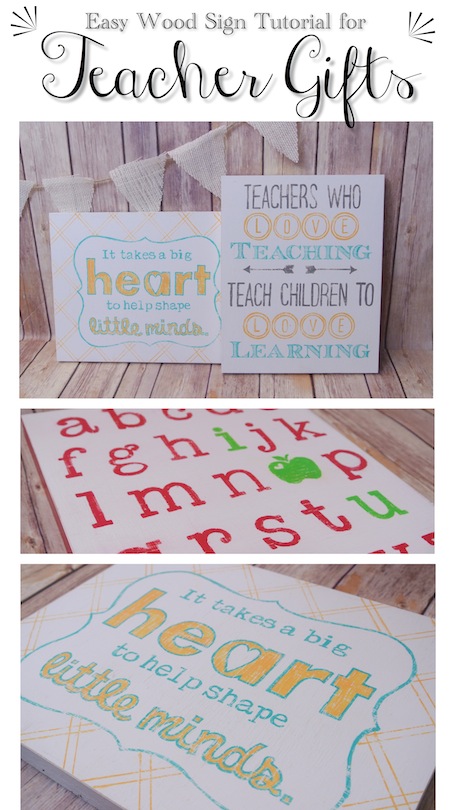 Teachers get tons and tons of gifts through the years, so I was unsure how to make it personal and also not give them just another gift card, soap, or cookie. The morning of craft night, I decided to go with my strengths and paint wooden signs for each of the teachers using printables, carbon paper, and paint pens.
The Teacher Alphabet
I found one great idea from Bloom Designs but the printable was no longer available, so I created my own. Feel free to click on the image and download it!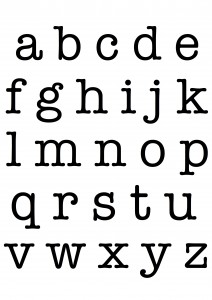 It was the most basic of the three but really adorable. Instead of the "o" I free-handed an apple.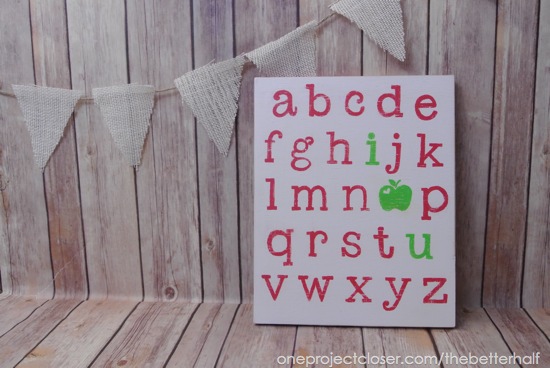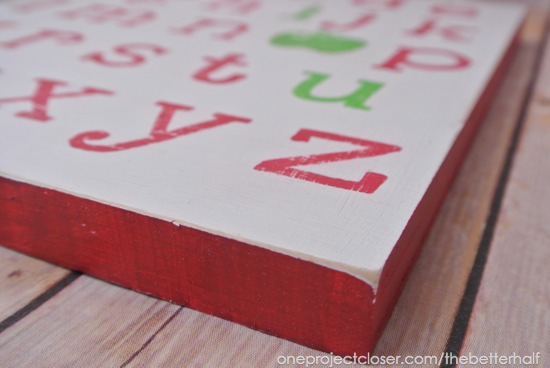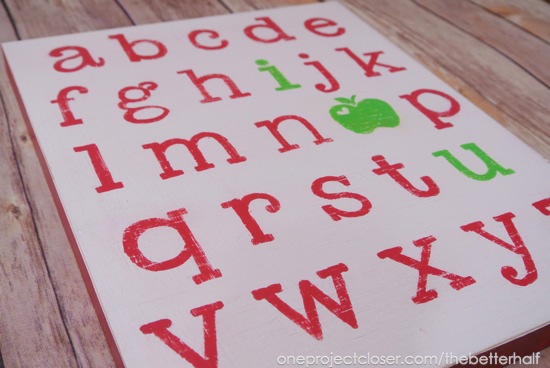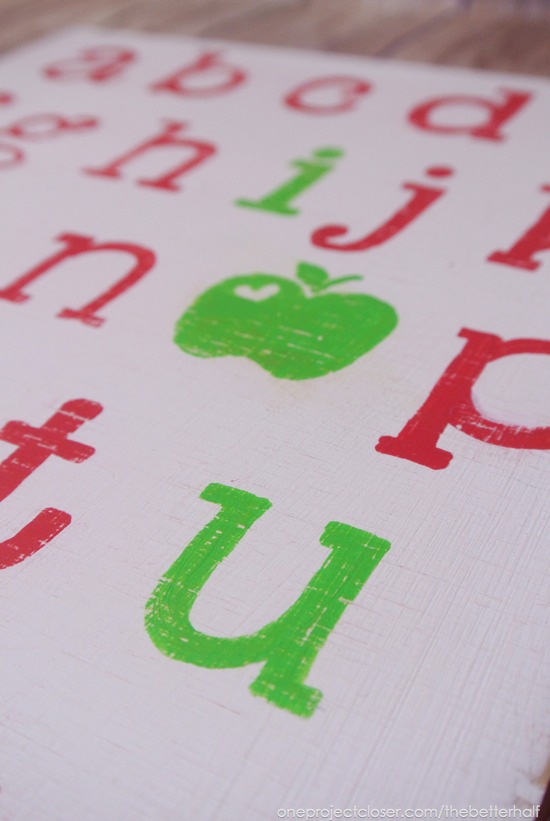 Teaching Kids to Love Learning
This was my favorite printable of the three, from Blissful Roots and available to download from her site!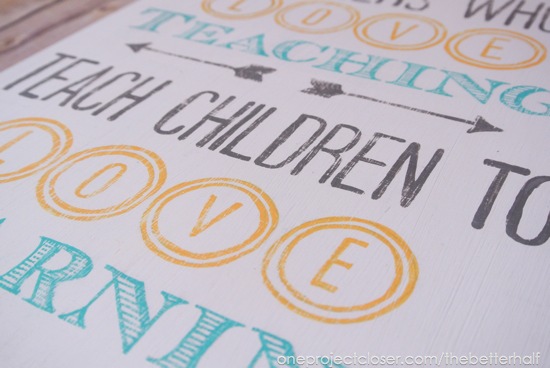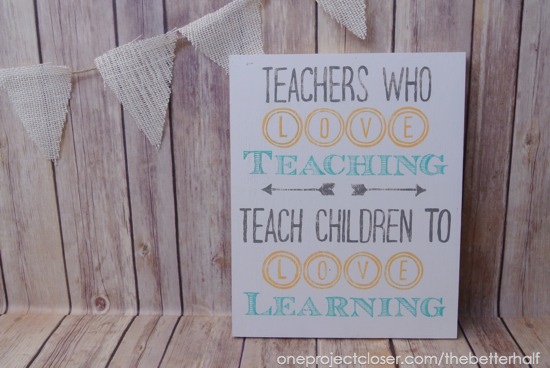 A Big Heart!
I love this printable from Bitsy Creations available to download from her site, and thought it was a nice compliment to the previous printable. Instead of tracing the outside grid, I used a ruler and paint pen after I painted the interior.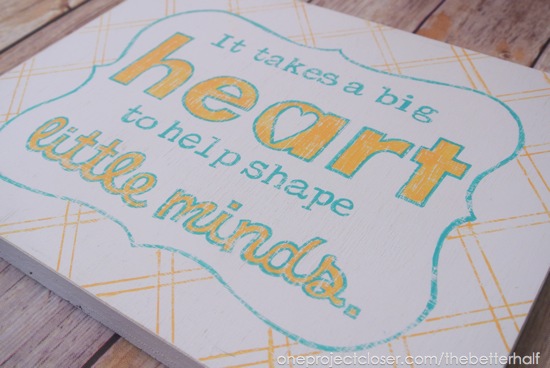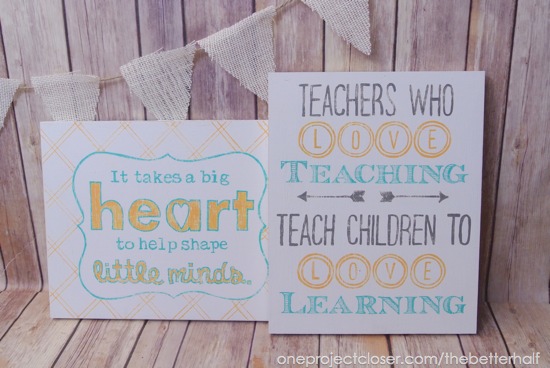 Easy Wooden Sign Tutorial
This was a super simple gift idea that cost next to nothing to make and used all supplies I had on hand. Also, I know it looks hard, but honestly, you can't do it wrong!
Not to toot my own horn, but I'm pretty awesome with a paint brush. But I wanted to give you some tips so that you can make yours just as awesome, with little effort!
Supplies Needed:
Paint pens or small brush and acrylic paint
carbon paper
printed out design
Scrap Plywood cut to 10×13
pencil
Ethan cut out a bunch of 10×13″ wood signs using 1 inch scrap plywood. He said it only took him about 5 minutes!
Once they came home to me (the signs, that is), I painted them all white using acrylic paint, but I've also used chalk paint and leftover wall paint in the past. While they dried, I searched for printables on Pinterest and found a few fabulous and printed them out.
After they were totally dry, I took a piece on carbon paper and placed it dark side down on the painted wood.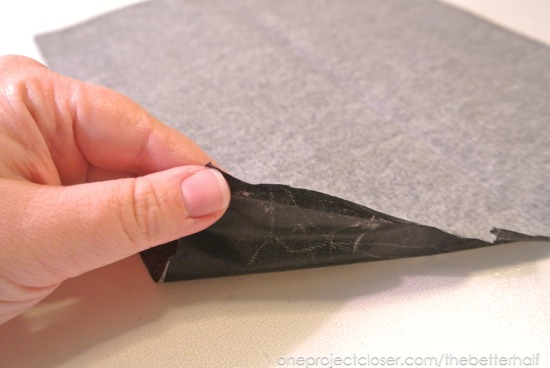 Then, I centered the printable on the wood and taped both the paper and carbon paper to the wood.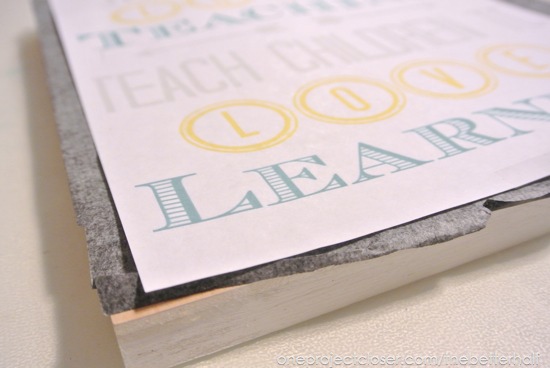 Using my pencil, I traced the design onto the paper. You don't need to press hard at all.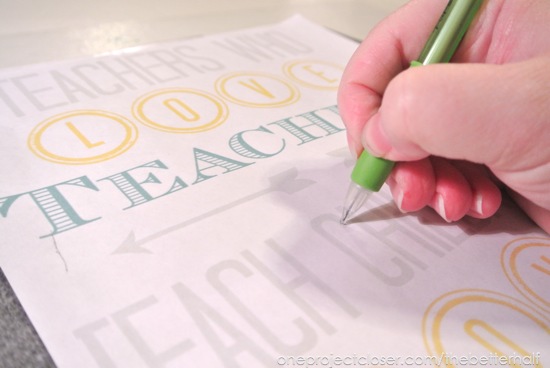 Finally, I used paint pens to trace the carbon copy on the wood. Truthfully, I think a paint brush and acrylic is faster (for me), but paint pens make for very neat work for smaller designs.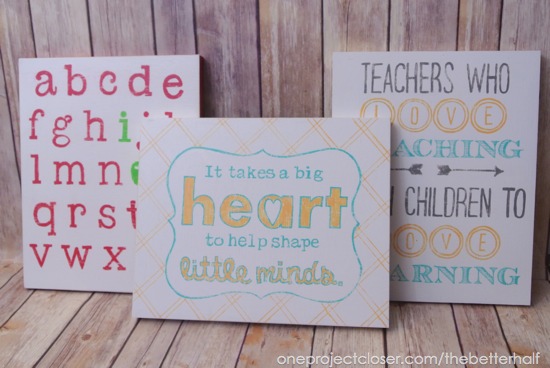 As Always, thanks for reading about these fab homemade teacher gifts!