Honeywell products can be found at a variety of retailers but I'd suggest checking Lowes. The reason being, we've got your Lowes Coupon. Check out this coupon for an easy 10% off any in-store purchase. Isn't it worth your time for an additional $10 off this thermostat?
By now, you are probably familiar with the great benefits of programmable thermostats. They enable you to better regulate the temperature of your home, ultimately saving energy and money. Well, I have found a great thermostat. Honeywell manufacturers this 7-Day Programmable Touchscreen Thermostat ($99 from Home Depot), and it's packed full of great features.
Honeywell RTH7600D Programmable Thermostat Features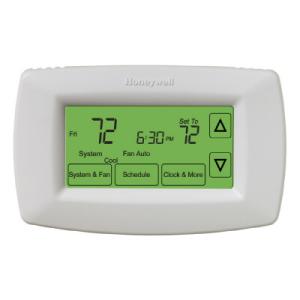 Here are the features that really make this thermostat stand out.
You can program each day independently
Plus, each day has up to 4 different periods
Easy to use touchscreen for simple operation
Large backlit display makes it easy to read even in dim light
+/- 1°F temperature precision
Filter change reminder helps keep HVAC at optimal performance
Automatically adjusts for daylight savings (optional)
ENERGY STAR rated
Compatible with heating and cooling plus heat pump systems
Thermostat Specifications
Assembled Depth : 1.25 In.
Assembled Height : 3.75 In.
Assembled Weight : 0.7 lbs
Assembled Width : 6 In.
Voltage Rating : 24 volts
Additional Features
Auto Change from Heat to Cool – Automatically adjusts the pre-heating/cooling of your home so you are comfortable at your programmed times
Permanent Day and Time – Even if the power goes out
Battery-Free Operation (optional) – This unit can be powered from the HVAC system eliminating the need to change batteries
1 Year Limited Warrant
What do you think? What thermostat do you have?