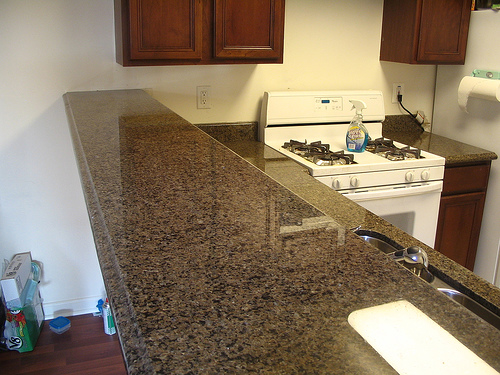 Sealing your granite countertop will protect your countertop and ensure it stays beautiful. Granite is a great kitchen countertop material (comparison review) but it is porous. That means that spills can seep in causing stains and discoloration. It was time to re-seal my countertops so that's a project I tackled the other day. Knowing when to seal / re-seal your granite is an easy matter. Read on for special considerations and a simple way to test your granite seal.
Manufacturers Granite Sealer
Some manufacturers will incorporate a sealant into the production process. The longevity of these sealants varies from 10 to 15 years or even permanently. For example, Home Depot provides a limited 15 year warranty that includes staining. Double check with your manufacturer and pay close attention to any cleaning stipulations. Often, 10-15 year sealants require that you clean up spills immediately with specific cleaning agents.
When to Seal Your Granite Countertop
If your granite is taking in color from spills that is an obvious sign that you are overdue but it's much more ambiguous for other scenarios. Here's a quick test to determine the quality of your seal.
Water Drop Test
Series of water drops
Put down a series of 4 small pools of water. They don't need to be large- maybe 2 mL or so. Place them nearby each other. You'll have to repeat this test for other areas of the countertop.
Start the timer
Once the water is in place start a timer. You'll need about 30 minutes total.
Wipe up the water
Wipe up the water at these time intervals. 

 

Almost immediately
At 5 minutes
At 15 minutes
At 30 minutes

You're looking to see if the granite is darker because water made its way into the stone. Any discoloration will be gone after the water has evaporated.
If your countertop makes it the whole 30 minutes without any darkening, you've got a strong full sealant and have nothing to worry about. If the water darkens your countertop within 5 minutes, you should apply a sealant in the very near future.
How Often Should I Apply Granite Sealer
Many manufacturers suggest applying a sealant about once a year. I've used Stone Care International Sealant (official site) and found that I need to re-apply after about 1.5 years.
What do you think? What sealant do you use?
Image courtesy of Allen Chu