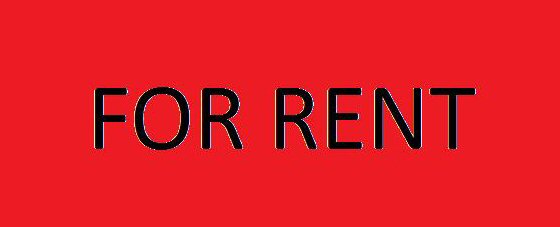 What is the most effective way to advertise a rental property?  Fred and I had to answer that question in late July, after completing two months of renovations on our townhome following our prior tenants' move-out in May.
The Old Way to Advertise
Five and a half years ago, when we found THEM, we went the Pennysaver, two-county's-newspapers, and one major newspaper (for us, The Baltimore Sun) route.  It worked; our renters were great, and they stayed five years!  But it cost us several hundred dollars to run the ads over the course of the 3 months we were looking.  And as Fred mentioned in a prior post, we discovered by trial and error that it's very hard to find good renters in the dead of winter.   So I actually stopped advertising for a while, let the house sit for a few weeks, and then paid for more ads closer to Spring.
And the New Way…
Flash forward to this summer.  NOW we have Craigslist!  It's free, everyone knows about it, we were able to include MUCH more information about what we required of tenants, and we posted pictures!
But we thought we could go one better.  Craigslist only allows space for 4 pictures and we had done a lot of work and wanted prospective tenants to see ALL the great features of the house.  SoFred set up a separate single-page website (he linked here to OPC because we could; but any well-done page would've been just as good).
The fact that I had the hotlink in my Craigslist ad made our property stand out among the many others also out there.  And the details about the property and our expectations weeded out people who weren't the right match.  It's a small townhouse, but not one person walking through made that remark.  They already knew what they were coming to see, so it was just a matter of whether the location, timing, and cost were right for them.
And our new renters signed the lease with me 5 1/2 days after my first post on Craigslist! So, yes, it worked quite well.
Rental Advertising Tips
Price Logically – I perused the existing Craigslist lineup before we ever posted.  I wanted to get as much as was fair in the market while still remaining price-competitive.  At our price point, we had the best rental available.  Most of the rest were condos or condo-townhomes without basements owned by major rental companies.  Not nearly as nicely renovated.
The Cost of an Empty Rental – Might we have been able to eek out a little more rent if we'd advertised a higher rate?  Possibly.  But we had to consider at what cost.  For every month we don't have it rented, we lose that money and we have a house sitting empty.
Include Pictures – I was amazed at how many people don't do this!  If you want your ad to stand out, let people SEE the place!  (And if it's in shameful shape and you're embarrassed to post a pic, that's your cue that it's time to do some work before re-renting.)
Think Like a Tenant – include as much information as you can so you help them make an informed decision before they come out to the property.  There should be no "bad surprises" when they arrive; that's no way to start a landlord-tenant relationship.  Don't forget to list things like laundry facilities, the dishwasher, whether the property has a yard (and a fence), major roads nearby, and any perks that come with renting.  These things take your ad beyond the standard "3 bedrooms/ 2 baths" ads that are all around yours.
List Your Requirements Up-Front – for us, good credit and references were a must.  We also ran a criminal background check just to make sure we weren't bringing violent offenders into the neighborhood.  We do want to maintain a good relationship with the neighbors all around that property, too!  And for the first couple of days, I got a flood of calls about housing vouchers and Section 8 housing – for which we were not approved – so I tacked that note at the end of the ad.  (Another perk to Craigslist – you can edit your post anytime!)
Refresh Your Listing – Craigslist in our area allows you to re-post an ad (thus bringing you back to Page 1 of the search results) every 48 hours.  They just ask that you delete the old ad, which I happily did.   And I didn't have to re-post it a 3rd time; we snagged our renters on the second run!
Consider standing up a temporary web page – for the small time commitment, we got a big pay-off.  The web page is much more attractive than the Craigslist ad and allowed us to load it with pictures.
Include a Cell Phone Number – I had one person email me.  Everyone else called my cell.  Because they had questions, wanted to schedule a showing as soon as possible, or wanted to get a feel for how I'd be as a landlord.  Trying to do all that through email (even though it does give you more anonymity and privacy) takes much longer.
I can't believe how much easier it has gotten to lease a property, just in the last five years!  It was so easy, in fact, that Fred and I were out again this week looking at potential new rentals to buy.  Cooler heads prevailed, fortunately, and we're just sticking with the one for now.  But I'm sure we'll add more in the future.
The Craigslist Ad
Here's the text from my Craigslist ad:
$1375 / 2br – Townhome w/fenced yard, newly renovated

2 Bedroom / 1 1/2 bath Townhouse in Parkview Trails Community. Available immediately, upon approval of application!

All appliances new within the past 4 years, stainless kitchen, laundry room in the basement. Plenty of storage, large closets in both bedrooms, wood flooring on half of the main level, new flooring in the full bath, brand new carpet everywhere else. Central A/C. Freshly painted throughout. Fenced back yard w/brick patio and new landscaping. New roof, windows, patio slider and water heater all added this summer to make this place as energy-efficient as we can get it, so utility bills are low! Home Owners Association fees covered by landlord and include pool, tennis courts, and more.

Pets welcome (some restrictions apply), and kid-friendly home and yard. Also great for working professionals.

Security deposit based on credit score. (Looking for a minimum of 650 from at least one tenant.) $30 application fee covers our cost of tenant screening w/credit check.Non-smoking in the house (back- or front-yard ok).

Convenient to Ellicott City, Catonsville, 695, Rt. 29, I-95, Rt. 40, I-70.

We (landlords) live just a few minutes' drive away, so we guarantee quick responses to maintenance issues or any other items that could arise during your stay. We want you to enjoy living here!

For more information, check our web page: https://www.oneprojectcloser.com/for-rent-2br15ba-townhome-great-neighborhood-1375mo/or call Kim at (XXX) XXX-XXXX.

*not approved for Section 8 or housing vouchers*