Today's article is a guest post by John from Our Home From Scratch. Before I turn things over to John, I wanted to let you all know that Brittany from Pretty Handy Girl hosted last weeks Before & After story. If you're not familiar, every year we run a Before & After series supporting Habitat for Humanity. Show some love, and check out the awesome outdoor kitchen remodel!
Ever since I started doing even basic woodworking, I wanted a router table. Granted, there are a number of higher priced items on my woodworking wish list (cabinet saw anyone?), but the router table has always been a mainstay. Although I primarily rely on my miter saw, table saw and occasionally a jointer for the bulk of my home projects, I still see the potential for a whole host of other projects with a router table. I did try using a friend's small bench top router table just to see how it worked. It was older and metal, and I believe it retailed for around $100. It was terrible. Maybe they're okay for very small projects, but I was left completely unimpressed. I've also seen some of the larger custom units built by more serious woodworkers. They usually have more drawers than my dresser. I like them a lot, but I never have a ton of free time to put into one of those. I've also owned a basic router for years and used it on a handful of projects and I never had the need for an actual table, until now.
My wife and I are currently installing raised panel wainscoting in our dining room, and it's finally time for a router table. A couple of months ago, I built a basic workbench for my basement out of some plywood, melamine, and 2x4s. I thought I would be clever and try to build my own custom router table out of the scraps that were left over. I have to say, it works pretty well. The keyword here is "works." It's not as fancy as some of the larger cabinet units. It's got some mistakes, and I'll share a few "lessons learned". Even so, it gets the job done. The basic structure is very simple, and if you're interested in building something similar, you can make it even more simple if you choose to.
Step 1: Build the Legs
I started the construction with the legs. I used 1/2″ plywood and tried to join the pieces with pocket screws using a Kreg jig. I didn't have much luck with the pocket screws on 1/2″ material, so I just used a lot of wood glue and brad nailed it together. The length of the legs are based upon a total table height of 33″. The best part of building your own router table is you can completely customize the dimensions. If you're a taller person, you can make it a little taller or vice versa. I encourage you to come up with your own dimensions that are tailored for you working comfort.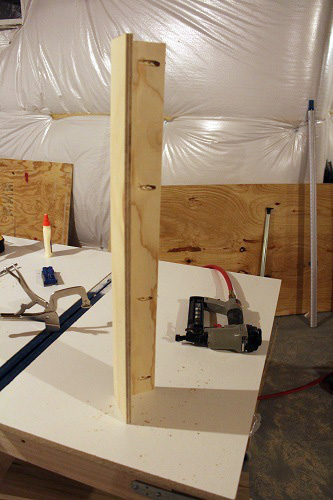 Step 2: Brace Legs
The four legs are exact copies and are joined together with a couple other plywood pieces. Again, here I just used a lot of wood glue and brad nails. A better design would be 3/4″ wood with glue and Kreg pocket screws, in my opinion. The length of those brace pieces depends on how wide or deep you want the table.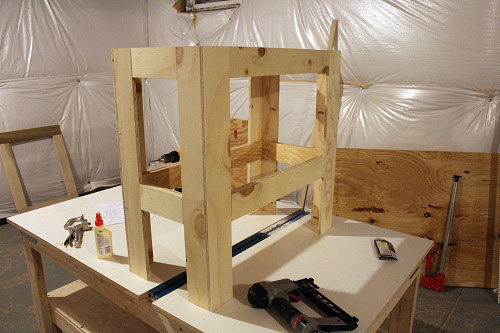 Step 3: Add Casters
Caster wheels make this table much more mobile.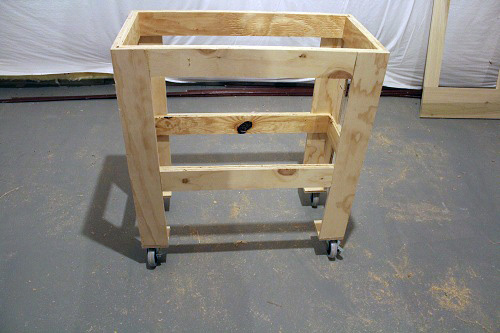 Step 4: Build the Work Surface
With the legs completed, it's time for the top. My table top is 32″ by 18″. It's constructed from a piece of 1/2″ plywood glued and screwed together with a 3/4″ thick piece of melamine. The melamine is the actual work surface and is perfect for a router top since it has a smooth, durable skin. Before I join these two pieces though, I'm adding a slight upgrade. I'm including a few t-track sections that I bought on Amazon that will make the fence easier to adjust and lock in place. It can also accommodate a feather board if I ever make one. Once the melamine top is cut to accommodate those sections, I'll join them permanently. You certainly don't need the t-track. You could always improvise a fence with a couple of piece of wood and some c-clamps. I'm not going to lie though, the t-tracks are nice!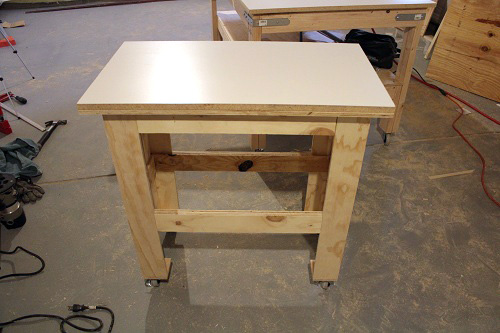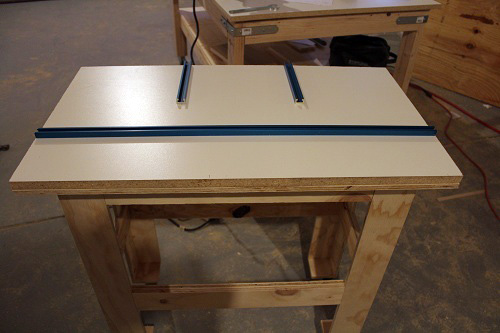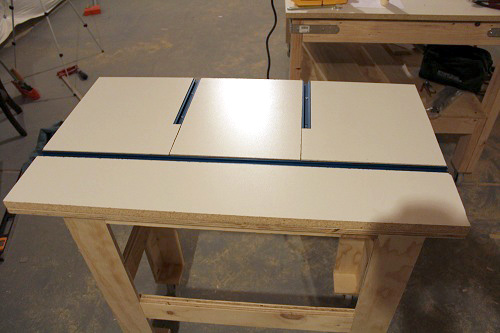 Step 5: Mount the Router
The router is mounted to the middle melamine section, which will remain removable so it will not be glued to the plywood. Most commercial router tables feature an adjustable router mounting plate, but there are some cheaper models. This table's design allows you to swap out that melamine section and replace it with an identically sized piece, but one with a router bit hole to accommodate the bit you're working with. In this case, I'm using a large raised panel bit, so the access hole will be large as well. If I use a smaller bit for a future project, I'll swap that section out for one with a smaller hole. It's not terribly convenient, but still user-friendly. It sure beats paying for those commercial plates!! The router I'm using is the Porter Cable model shown. It will be bolted to the melamine plate and will sit in a hole in the plywood.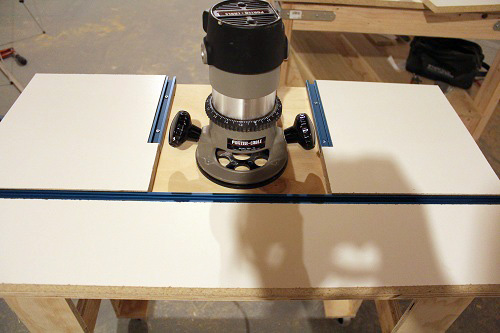 Step 6: Add Paddle Switch and Vac Port
For added safety, I've incorporated a paddle switch for powering the router. It's much safer than reaching under the table and looking for the switch. You do need to reach under the table to adjust the bit height though. Simplicity has its trade offs.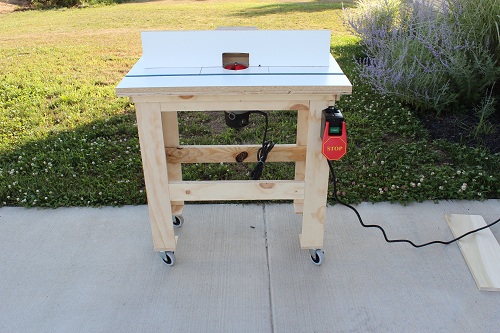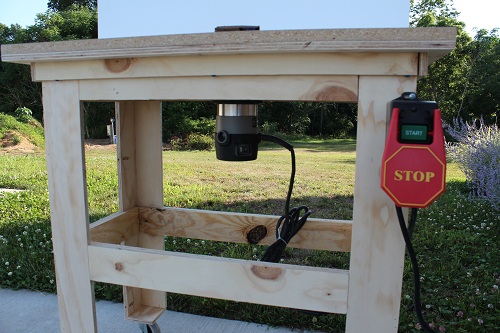 The fence is just two pieces of melamine that are joined together using Kreg pocket screws. The bottom piece had a hole drilled in it on each side to allow for the t-track handles. To adjust the position of the fence, those knobs are just loosened and the fence can be moved and then locked down again into place. The back of the fence also features a dust collection port that was sized for my shop vac. The port is just glued and screwed into a piece of plywood that sits behind the router bit. The front of the fence also needs to have an opening that is a little wider than the router bit you're using.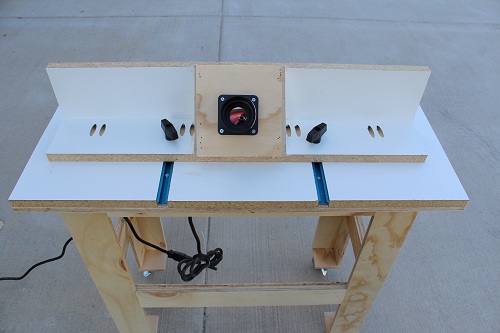 With the router mounted, I wrap the table top in some additional plywood to keep it centered and anchored to the base. I haven't permanently fastened my table top to the base, however. This feature allows me to break the table down to two primary components, the top and the base, for easy transportation in and out of my workshop.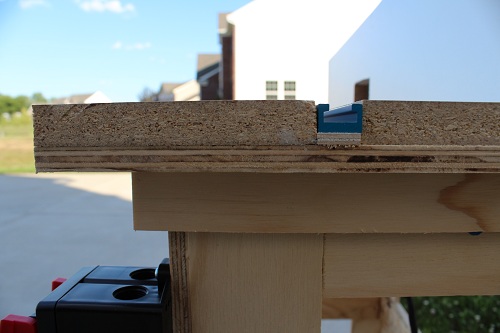 There are a few boo-boo's here that you can learn from. First off, melamine is finicky. It has a tendency to chip when cut unless you're using the right type of saw blade, which is a triple chip blade. It also chips when it's drilled, which made drilling holes in the top a little sloppy. MDF would be a great alternative if you don't want to use melamine. I also didn't make some straight cuts with my jig saw for the opening on the fence. I think it may be time for a new one ;).  I'd like to reiterate that 3/4″ thick stock may be a better option for the base.
All in all, it's a pretty basic design that is totally customizable to your needs. This particular table happens to meet mine. It wasn't terribly challenging to build and I was able to knock it out in a few hours worth of work. I hope this post will encourage you to be creative with your workshop needs and to build your own router table or whatever else you require. Sure beats paying for it!!
John and Lisa are homeowners that blog about their DIY projects at Our Home from Scratch. Some of the projects they've done this year include installing  hardwood floors, sliding cabinet drawers, landscape lighting and drip irrigation.