Editors Note: Today we're featuring a guest post by Chris Long from The Home Depot.
Tired of being left in the dark when the power goes out?  Had enough with throwing spoiled food out and watching the basement sump overflow?  As much as our electric utility companies try and prevent this, power outages happen.  Violent storms, earthquakes, ice storms and even just plain grid overload can mean a power loss for days, even weeks at a time.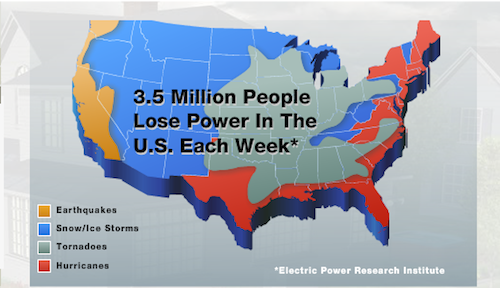 Don't be a victim.  We can prepare for these events by generating our own power until the grid comes back online.
Generate my own power?  That sounds complicated.  Visions of roof-mounted solar panels and a back yard full of windmills aside, we are really only talking about temporary situations where a small engine-powered generator will suffice.  Let's break this down into two major categories: automatic standby generators and portable gasoline generators.
Automatic Standby
Automatic standby generators offer the best (but most expensive) solution to unreliable utility power.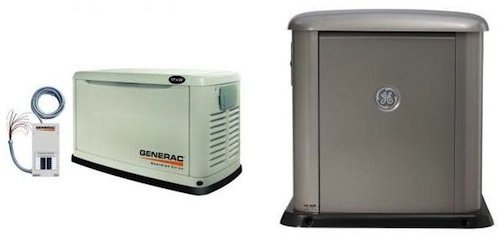 These units mount on a pad near your home, run off natural gas or propane, and are permanently wired to the electrical system.  They monitor utility power and automatically take over whenever grid power fails.  You don't have to be awake, or even at home for these units to operate.  All automatic standby generators use a transfer switch to isolate your home from the grid during operation and reconnect to the grid when utility power returns.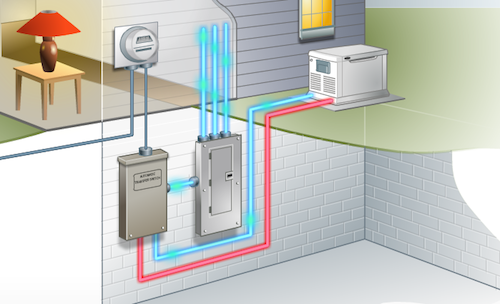 Some of these units include a transfer switch designed to power only select circuits in your main panel.  You get to choose which items are covered when the switch is installed, within the circuit number and amperage limits of the generator.
Another type of automatic standby generator uses a "load shedding" style of transfer switch.  This type supplies power to all circuits in the home and selectively turns off circuits only when more power is demanded than the generator can safely supply.  You choose the circuit priority when the generator is installed.
Due to the plumbing for gas pipe and the installation work at the meter and service panel, these generators are not considered DIY installation projects.  A building permit and inspection will be required for these permanent installations.
Portable
Powered by a small gasoline engine, portable generators offer an inexpensive way to power essential home appliances for short periods of time.

Wheeled out of storage, portables are set up outside where exhaust fumes will harmlessly dissipate.  Extension cables run into the home to power appliances, sump pumps, etc.  Obviously, someone needs to be home to set up, run and refuel portable generators.  Smaller models have manual start recoil pull cords like most lawnmowers.  Larger models will offer electric starting, using a battery much like a lawn tractor.
Will you be powering computers, home electronics or other sensitive equipment?  All automatic standby generators and a few specially built portables provide filtered sine-wave power at low harmonic distortion levels.  The portables with low distortion or "clean power" will definitely mention this in their list of features, as it adds to the cost.
Hardwired loads are not powered by these units, so things like lights, outlets and furnace motors don't work when the grid is down.  One increasingly popular portable generator option is a combination transfer switch and exterior outlet box.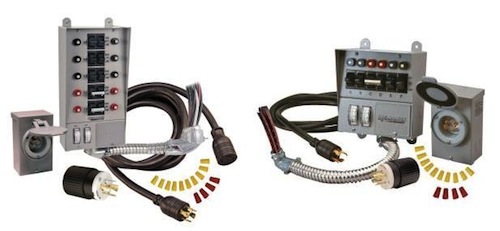 Plug one heavy duty cable from the generator to the outlet, and the manual transfer switch can now power home circuits.  No more extension cords snaked all through the home, and you can use light switches, outlets and that essential furnace motor as well.  A licensed electrician can install these switches for you.
Size Matters
Hopefully by now you have a good idea about which type of generator you want.  The next question becomes – what size generator do I need? Let's look at the chart below for determining portable generator power sizing: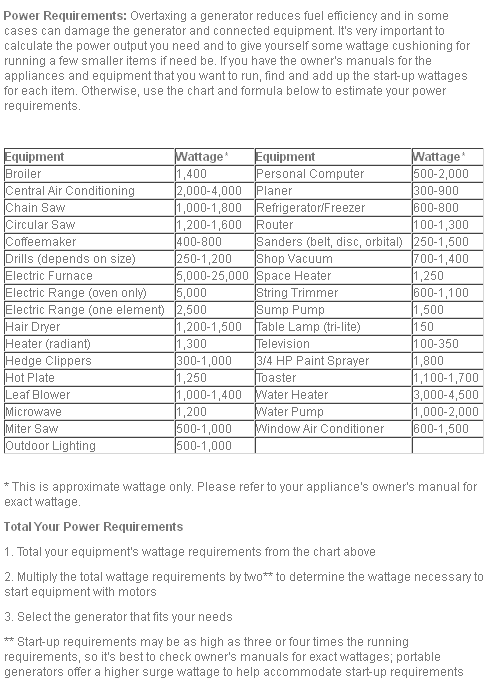 The sizing requirements for automatic standby generators are based on the load capacity of all the circuits to be connected.  Your installer will analyze your power needs and go over generator sizing options with you.
I hope this guide has been helpful.  Let's keep the beer cold and the basement dry!
Chris Long is a store associate at a Home Depot in the Chicago suburbs.  He has been helping customers since 2000, and writes on electrical topics ranging from light bulbs to circuit breakers.