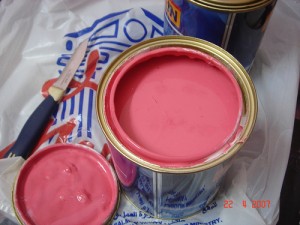 It's good to keep a little extra paint around for touch-ups, but over time it'll start to accumulate. Before you know it, you have tons of paint that isn't even current. Or, perhaps like me, the previous owner left you quite the "treasure trove" of leftover paints. Either way, it's important to know how to dispose of paint properly. This post will layout all the options – donating, recycling, and how to dispose of paint.
Donating Paint
The best way to get rid of paint is giving it to someone that wants it. Lots of places will accept paint donations. Earth911 lists some great options including local drama groups and Habitat for Humanity. I called my local Habitat ReStore and here are their guidelines for paint donations.
Unopened paint is preferred, but they will accept slightly used paint. Basically, there needs to be a significant portion leftover.
It must be latex paint. They do not accept oil based paint.
The paint must be in good condition. That means it's not contaminated and can be stirred to a smooth consistency.
You should also consider posting unwanted paint to sites like Freecycle or The ReUseIt Network. If your paint is in good condition, odds are that someone actually wants it.
Recycled Paint
Paint can also be recycled. This is usually the best option for old or small amounts of paint that cannot be donated. Latex paint can be recycled into new paint or used to make various, non-paint items like concrete and cement. Oil-based paint has fewer options but can be burned as fuel to create energy.
There are two types of recycled latex paint- reprocessed and reblended.
Reprocessed
Reprocessed paint is created from latex paint that is mixed with virgin materials like resins and colorants. These paints are filtered, pH adjusted, tested and then resold. Reprocessed paint contains at least 20% post-consumer content.
Reblended
Reblended paint is a mixture of latex paint with very few materials added. It's typically 80% – 100% post-consumer content and there is minimal testing done.
Paint Disposal
Disposing of paint should be your last option. Each area has different guidelines. For the most accurate information, check with your local Household Hazardous Waste (HHW) collection center.
Begin by checking the label. Paint older than 1978 may contain lead and paint before 1991 may contain mercury. These materials should be listed on the label and, if present, are considered a hazardous waste. Furthermore, all oil-based paint is considered hazardous. All these paints should be disposed of at a HHW facility.
Latex paint is also considered hazardous by a few states -California, Washington, and Minnesota and should be taken to a HHW facility. Other states allow you to dispose of hardened latex paint in the regular trash. Here are some options for hardening paint.
Let the paint air dry. Do it in a well ventilated space as this releases lots of fumes.
Add an absorbant material like sawdust or clay kitty litter.
Purchase a paint hardener. It should be dry in a few hours.
How to Find Paint Recycle / Disposal Centers
Use this handy widget to find facilities near you.






What do you think? What do you do with your paint?
Image courtesy of Ms..G