This post comes to us courtesy of Lindsay at Southern Lovely! We found a great DIY framed mirror on Lindsay's site and asked if we could share the "how-to" here on One Project Closer.
We think this mirror looks fabulous, and the project is a really simple tackle that you can do in just one day at a fairly low cost. If you have a large flat mirror in your bathroom and want to dress it up, this project will do it.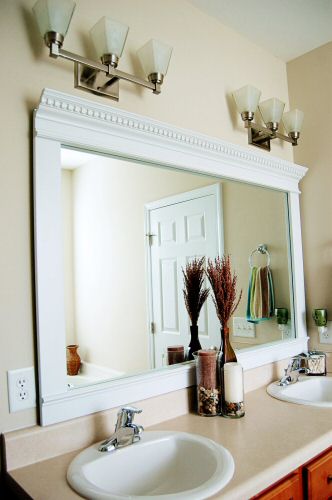 If you're not already a reader of Southern Lovely, Lindsay's a mom of three, and enjoys "taking a break from reality and creating anything and everything." Well, she's certainly succeeding at creating. We think this mirror looks great! (And so do many of Lindsay's other creations, like this refinished yellow dresser and much more at her site!)
Tools & Supplies Needed
Total cost: $25-$50.
MDF trim board  (measure your own mirror to determine how much you need based on the instructions below)
Trim (chose whatever you'd like to add to the MDF board)
Liquid nails
Double-sided tape
Primer
Paint
Miter saw (or another saw to cut your board & trim. A Mitre saw will deliver a nice finish)
Caulk
Step 1: Measure the Mirror and Purchase Materials
In this tutorial, the molding is going to be fastened directly to the outer rim of the mirror (effectively making the mirror space smaller). The top and bottom moldings run the full length of the mirror, and the side trim connects the top and bottom pieces.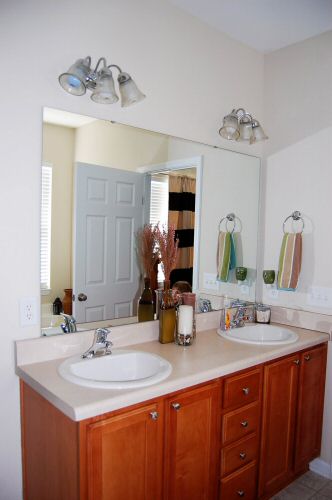 Step 2: Cut the MDF & Trim to Length and Assemble
The picture below shows the top length of MDF with the first piece of trim attached. You can fasten the trim using liquid nails and it will be plenty strong enough. You can also use a pin nailer or high gauge finish nailer to add additional strength.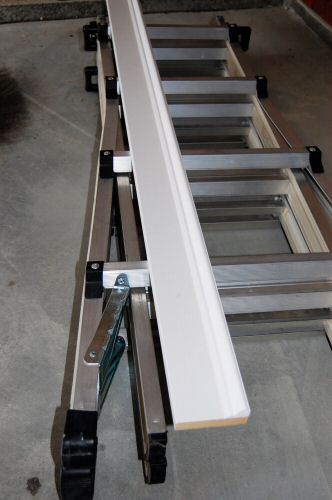 Next, add trim to the top. This can be a decorative crown trim, or really any trim you like best. This should be glued with Liquid Nails and can also be pin nailed or finish nailed.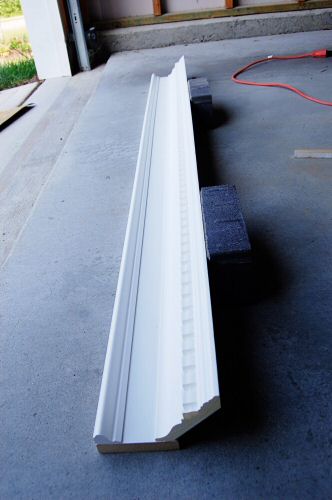 The bottom and sides are completed in a similar fashion. Note that the sides will be butted up against the top and bottom trim, and so very precise cuts are important. With the visual division the trim provides, any slight seem will be basically invisible.
Step 3: Paint the Trim and Molding
After assembling the trim components, we used Rustoleum spray paint (Primer and Ultra Cover 2X).
Step 4: Fasten the Trim to the Mirror
Lindsay found that the best way to fasten the trim to the mirror is with double-stick tape and liquid nails. Make sure to quickly wipe away and clean any glue that leaks out onto the mirror (and use a small bead of glue to minimize this.)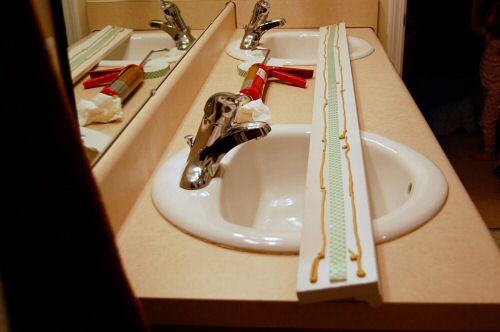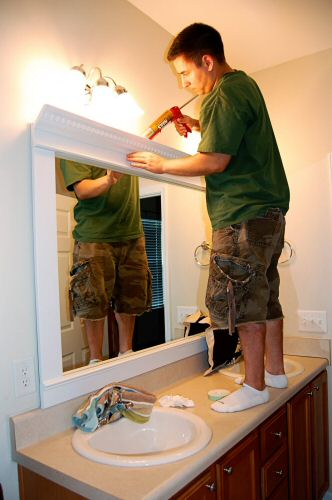 Step 5: Caulk any Seams
You can use simple white, waterproof caulk to hide any small seams, if necessary.
Final Pictures!
With some additional decor and new up-facing lights, the room is transformed!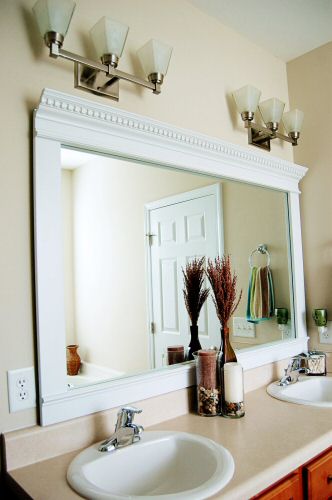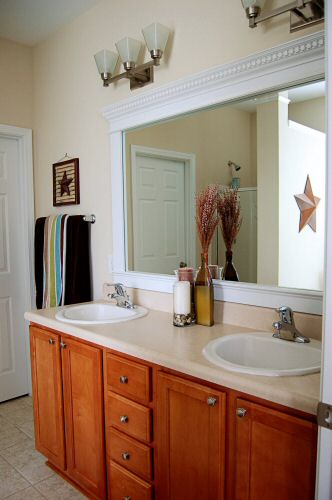 You can follow a similar strategy for smaller baths too. Lindsay did!