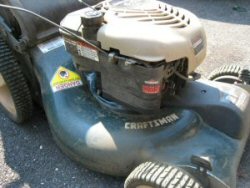 We get a lot of questions regarding lawn mower maintenance, and so we've put together this series of articles to address the most common gas-powered, lawn mower maintenance needs. If you follow these steps, you're sure to increase the longevity and efficiency of your mower. In fact, performing these tasks is a great start to troubleshoot a lawn mower that isn't working. Click through the link in each step to see the full explanation including pictures.
Editors note: This article was originally published in October of 2009. The fall is an excellent time to perform these regular maintenance tasks, but we understand that a lot of people won't make this a priority until the spring. That's why we're re-publishing this article now so it's readily available when you uncover your mower for the first time this year.
Lawnmower Maintenance
With Fall comes an excellent time to maintain your lawnmower. While most would put off this activity for the Spring, by doing it now, you'll be ready to fire up that mower first thing next cutting season… Imagine the feeling of heading out to your garage or shed, adding gas, and starting up a mower that's ready to rock.
Here's the few steps you can take now to get a jump on next Season (with links to articles explaining each step in detail). Maintenance should take you less than an hour after you pick-up the necessary parts (oil, spark plug, and air filter, and potentially a new blade). The only significant tool is a grinder, which you'll either need to purchase or borrow from a friend.
Simple Lawnmower Maintenance Steps

Step 1: Change the Lawnmower's Oil.  During regular use, the oil will get dirty.  By changing the oil at least once per season, you'll prolong the mower's life by years. Total time: 20 minutes.

Step 2:
Change the Lawnmower's Air Filter
.  Perhaps even more important than the oil is the air filter.  Lawnmower air filters can get extremely dirty over time as they are constantly filtering lawn clipping debris.  
Total time: 5 minutes.

Step 3:
Change the Lawn Mower's Spark Plug
.  You may only need to perform this step once every 2-3 years, depending on use.  Check the spark plug for wear.  If needed, replace the plug to keep the engine running in top condition.
Total time: 5 minutes.

Step 4:
Sharpen or Replace the Lawnmower's Blade
. More than any other maintenance task, sharpening your lawnmower's blade will bring new life to the lawnmower. It'll cut faster and more evenly, and make the lawnmower perform like new.
Total time: 20 minutes.
Before you Put the Lawnmower Away…
Before you put the lawnmower away for the Winter, you've got two options for the remaining gas: either run the lawnmower out of gas, or add a gas life extender. Most gasolines break down and aren't usable after 6 months. Even if they do run when you start-up the engine, you run the risk of gumming up the components with poor-performing gas. Our choice each year is to run it out of gas. For life extenders, you can check the local home improvement big box or an auto parts store.
What do you think? Will you maintain your lawnmower this Fall, or put the job off for another 5 months?