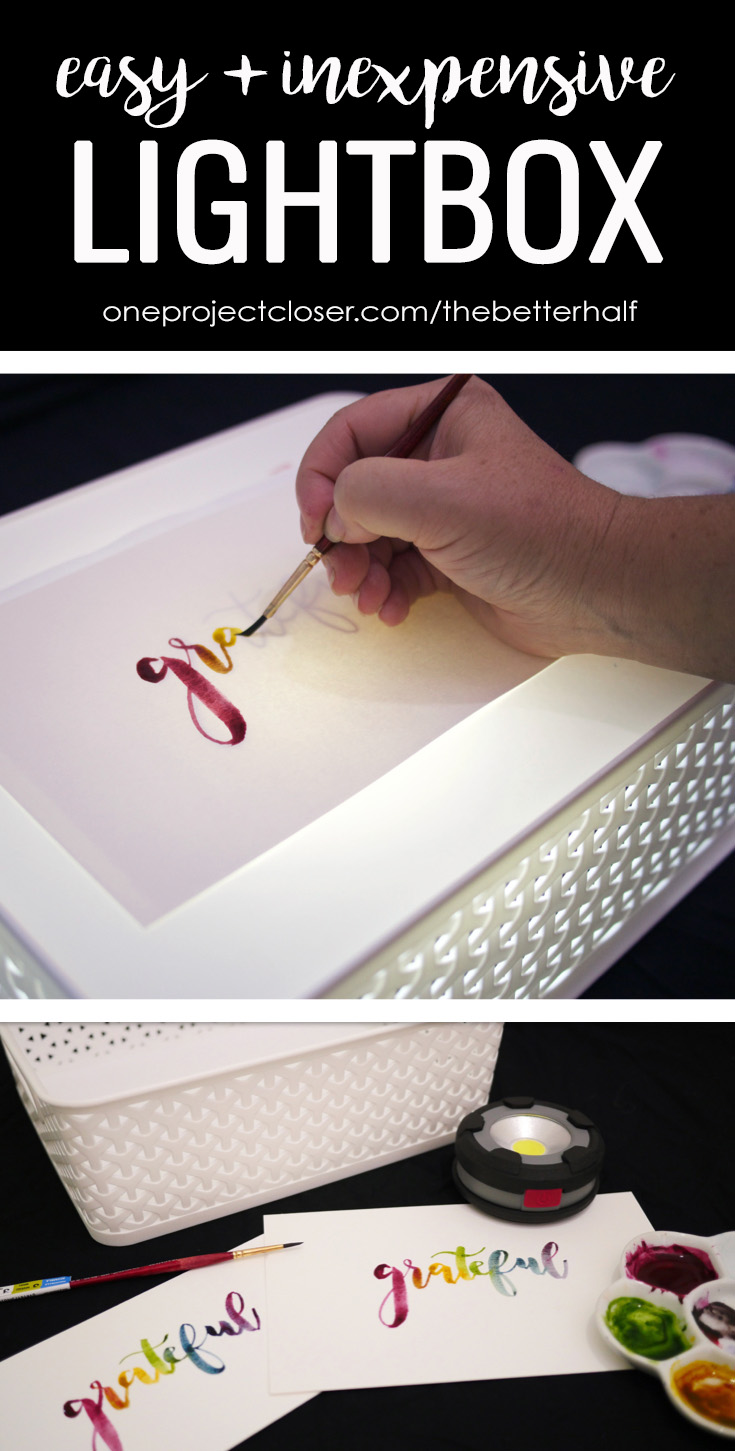 Thank you so much for visiting One Project Closer for this free tutorial on How to Make a DIY Lightbox for Tracing.
This post is sponsored by the Home Depot. Post may contain affiliate links.
I love hand lettering and hand lettering projects, as most of you know. As a part of my handlettering e-course, I teach how to use a light box/light pad for tracing designs, or transferring the designs you create for a final product. You can always buy a light box on amazon for around $30, which I have done. However, I rarely use it because it's buried in a closet and it seems more trouble than its worth. I also enjoy using my iPad Pro as a light box, but I imagine you all aren't going to run out and spend thousand dollars just to transfer your designs. LOL
Then a month or two ago, a friend shared with me a FB video on making your own lightbox using a clear plastic bin and Christmas lights. Cute, right? But in my world, there's nothing I hate more than digging through Christmas decorations and unraveling the tangled maze of lights. Again, just not practical. Also, the clear bin doesn't diffuse the light to equally show your design. But don't worry, I've come up with a solution for you!
DIY Lightbox for Tracing
This DIY Lightbox for tracing uses stuff you likely have on hand already, and if you don't, they are great supplies to own. So it won't take up extra space, won't be hard to store, and won't be a waste of your money.
Make Time: under 1 minute
Cost: $16 (or less with sales + coupons)
Difficulty Level: Easy
Materials Needed:
Husky LED Utility Light – $10
Medium White Storage Bin – $6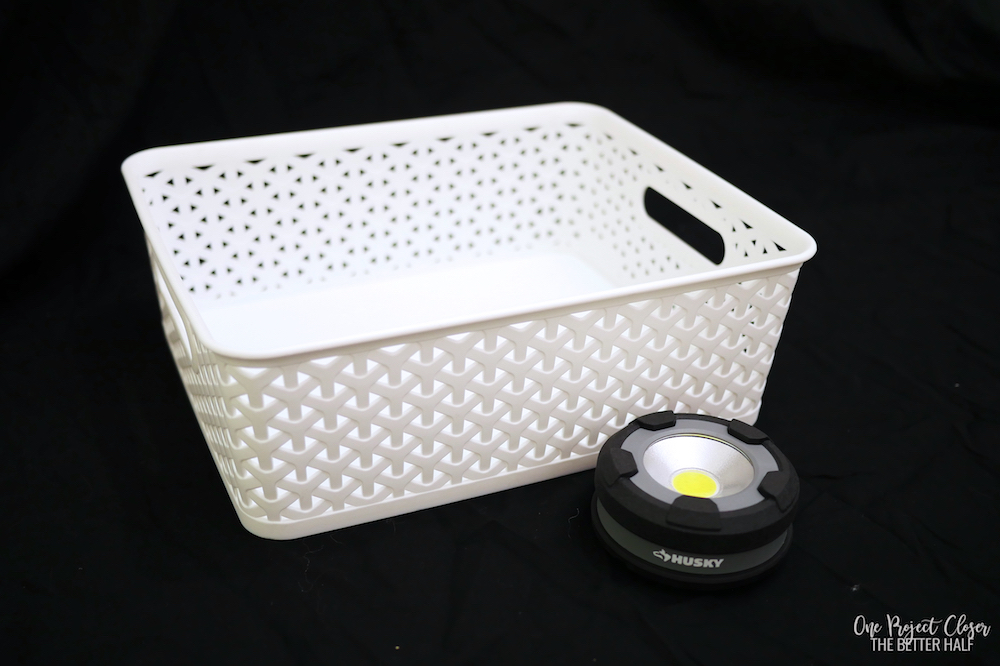 As I said before, I don't love the idea of using Christmas lights. They are a pain to pull out from storage, and you have a cord coming out the bottom, creating an angle on the tracing surface. This Husky 200-Lumen Multi-Use LED Utility Light is PERFECT!!! Ethan keeps it out in the shop, on the underside of a metal cabinet (since its magnetic), and I like to steal it and use it in my craft room. Honestly, it hasn't been back out to the shop in a while. It's more than bright enough for tracing (and has two brightness settings), battery operated, and small enough to store in a drawer hang on the wall. I seriously love it.
Now for the bin….Real talk? I literally own about 10 of these plastic weave baskets from Target. I literally use them for everything – dog toys, craft supplies, stickers, dirty cloth napkins. They are everywhere in my house. Buy let me tell you why they are the perfect bin for a DIY Lightbox – they are flat on the bottom and white! Both may seem like no big deal. But if you look at most storage bins, they are slightly rounded around the edges on the bottom and make tracing a larger design difficult. Having a white bin is great too because it diffuses the light across the surface for even light as your trace.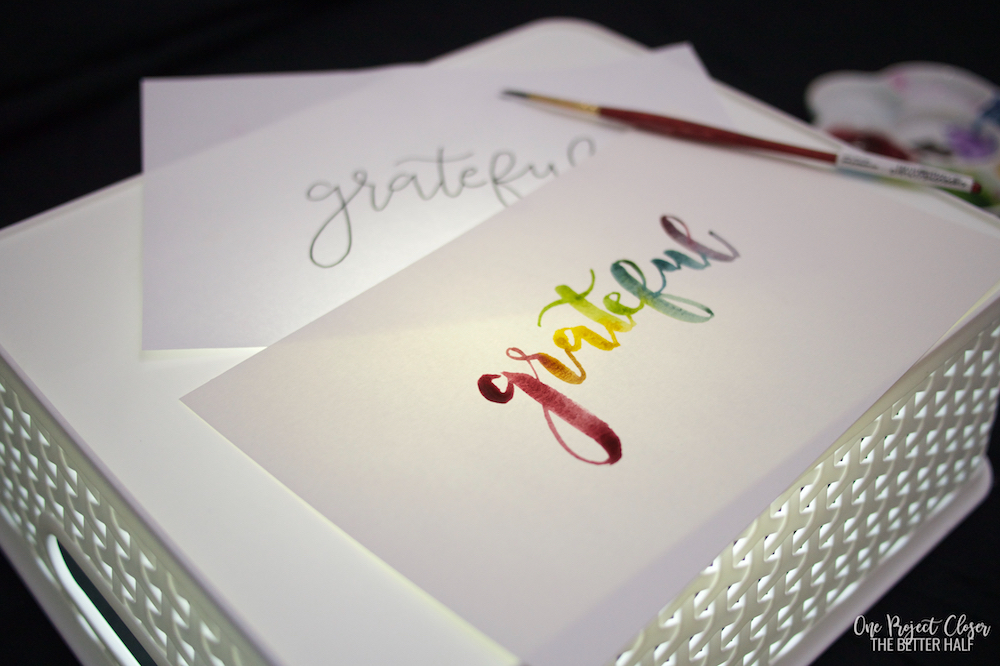 Pretty self-explanatory on how to make the DIY Lightbox for tracing but here's a cute little video showing what you can do! And don't forget to join my special VIP newsletter to get tons of free printables and SVGs to use with your new DIY lightbox for tracing!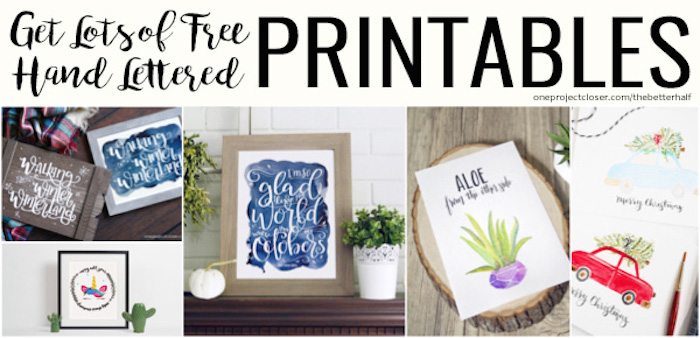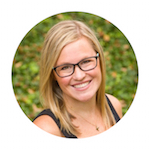 Jocie Hagan
One Project Closer
Come say hi on Facebook, Instagram, & Pinterest!

Save
Want to learn to hand letter and make amazing, personal decor for your home?
Learn now with Busy Girl's Guide to Hand Lettering!
**Use the code HAPPY5OFF to get $5 off the course price**