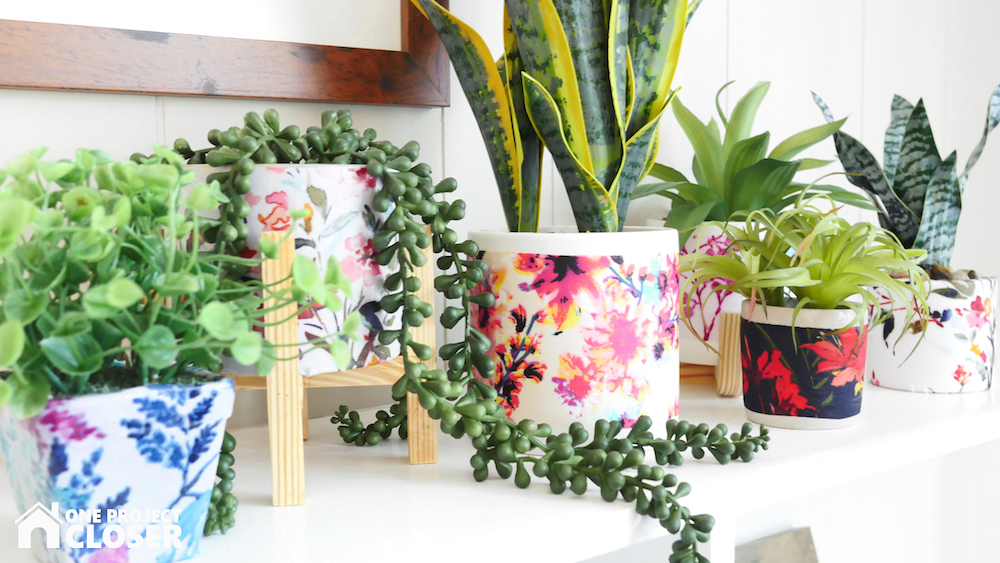 Wow, do I have an awesome project for you today! These super easy Mod Podge Flower Pots with Fabric will add so much color and beauty to a room and in under 15 minutes! The color possibilities are endless, but I really enjoyed picking a variety of colors and patterns to add to the boho feel of our living room.
If you're anything like me, Mod Podge brings a special joy to the heart! Sure, you can create some really cool projects in not a lot of time. But also its like being back in school and playing with Elmer's glue. There's no greater joy than peeling a hand covered in Mod Podge. LOL
DIY Mod Podge Flower Pots with Fabric
Make Time: 15 minutes
Cost: $2-3, depending on the planter
Difficulty Level: Easy
Materials Needed:
Stretchy, thin fabric
Mod Podge
Foam Brush
Scissors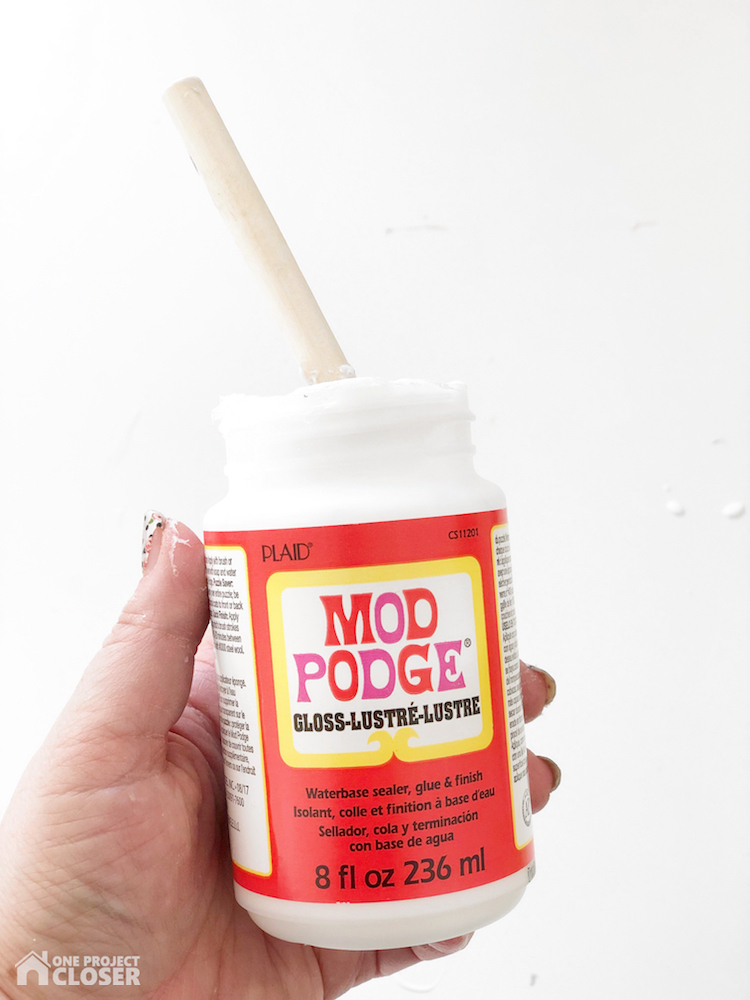 STEP ONE
I usually buy my Mod Podge in local stores with a coupon because its cheaper than Amazon that way. If using real plants and potting soil, be sure to use the waterproof, dishwasher safe Mod Podge.
You can certainly use empty planters for this project, but I like me some fake plants because I kill everything else. I bought these at Target, HomeGoods, and Michaels. The Target Dollar Spot is usually a good place to find cheap ones!
For the fabric, pick a thin fabric with some stretch. I found mine in the "silky" section at Joann's.
STEP TWO
There are two ways to cover these planters. The first approach is to completely cover the planter. This works well if you can remove the fake plant, or are using an empty planter. But if using a fake plant and you can't remove the plant without destroying the foam, you can just cover the middle section of the exterior of the planter. I actually really liked this look and it was sooo much easier and faster.
Once you've picked a fabric, cut it to a manageable size, either just slightly larger than the height of the plant, or a narrow band of fabric 2 -4 inches smaller than the height of the plant, depending on if you want to cover the whole planter or just the center.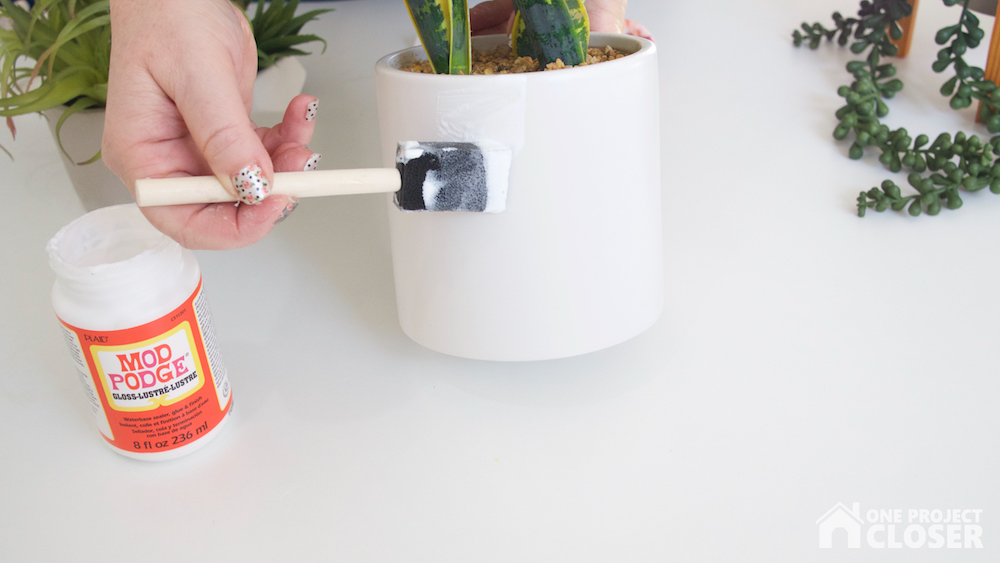 STEP THREE
Begin using a foam brush to apply a thick coat of Mod Podge to one 3-4 inch section of the pot and carefully place the fabric on top. Immediately brush more Mod Podge on top of the fabric.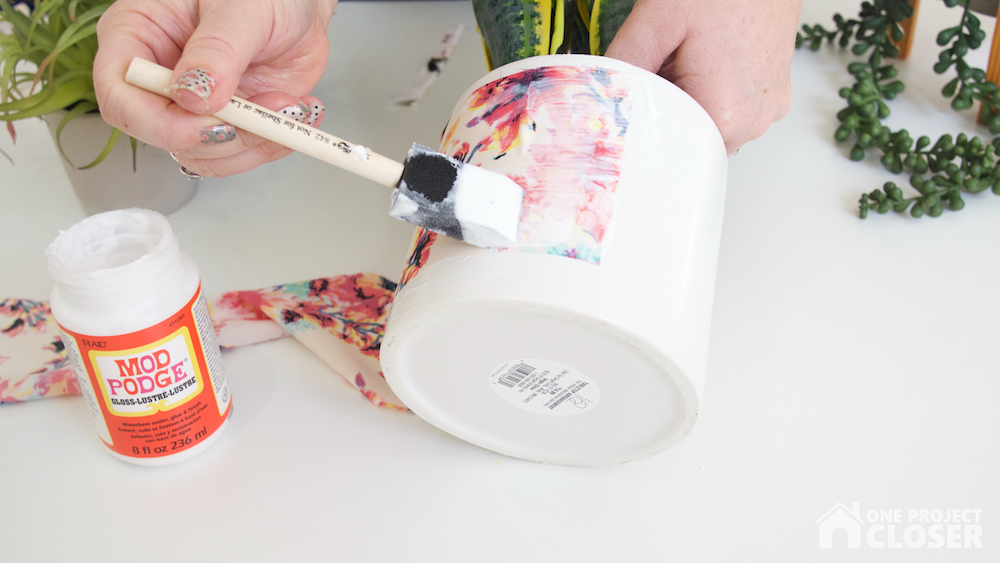 STEP FOUR
Keep repeating the process of brushing Mod podge onto the pot, covering it with fabric, then brushing more Mod Podge on top of the fabric. As you go, smooth out any bubbles. Pulling slightly on the fabric as you cover the pot will also help keep the fabric smooth and prevent bubbles.
Also be sure to brush off any excess Mod Podge. If you see white glue spots, it is too thick and will not dry clear.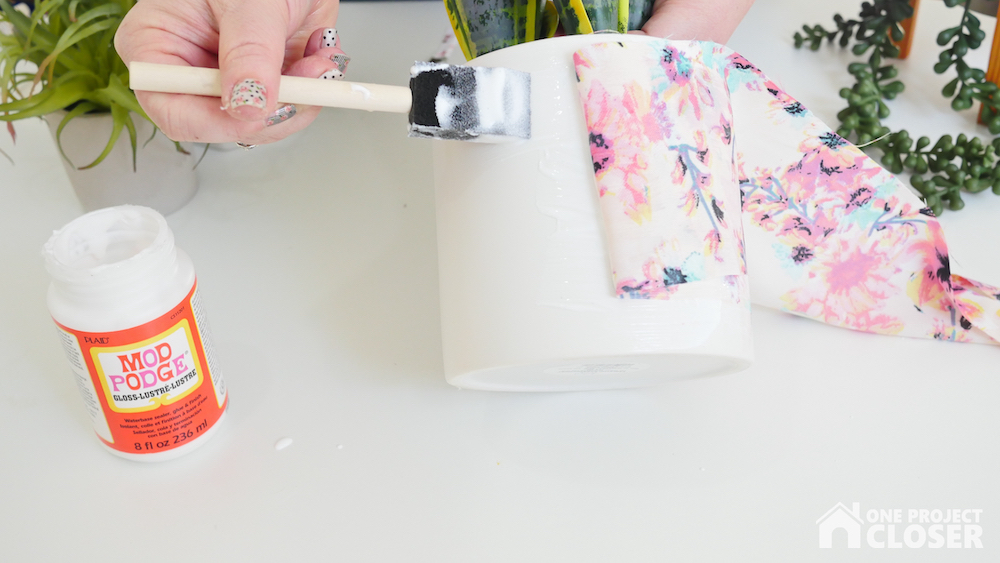 STEP FIVE
At the very end, trim the fabric to allow a small overlap of fabric. DO NOT fold the seam! It does not lay nicely and looks much better to simply glue the unfinished end flat.
STEP SIX
Allow the Mod Podge to dry for at least 30 minutes. You do not want to touch the Mod Podge when it is tacky or you will leave finger prints.
STEP SEVEN
If you have decided to cover the entire pot, you will have excess fabric at the top and bottom of your planter. Starting with the bottom of the planter, cut small slits in the fabric every inch or two. Then use Mod Podge to glue it in place.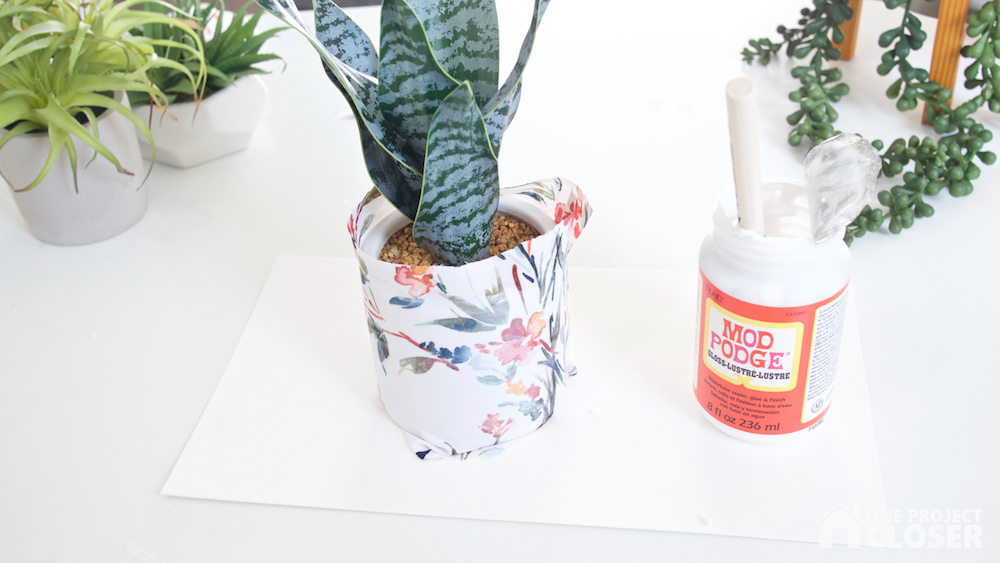 Repeat this process for the top. (TIP: if using a fake plant and you were unable to remove the plant before gluing, add a few decorative rocks on top to hide any ugly seams)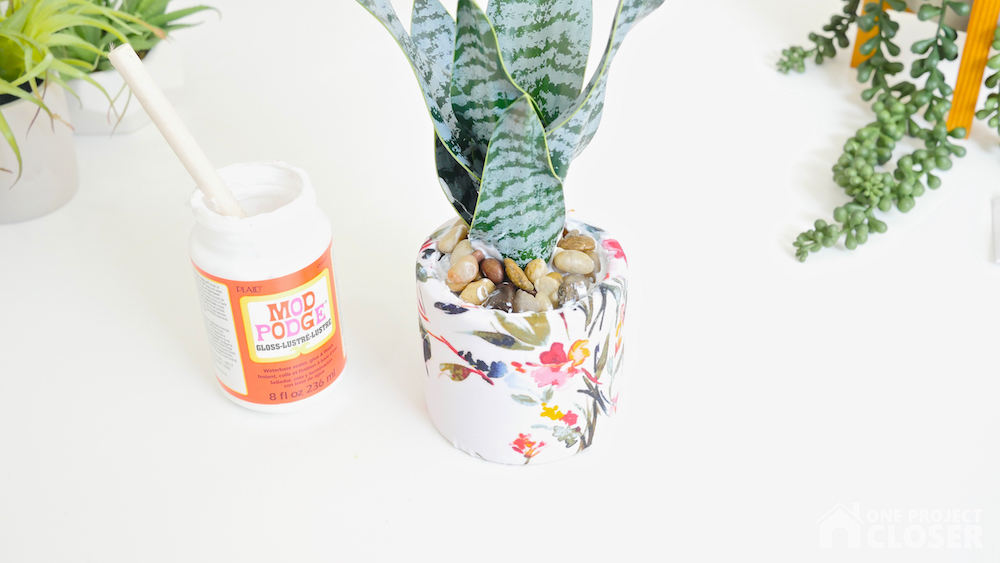 STEP EIGHT
Allow to dry for 20-30 minutes and then add 1 -2 more layers of Mod Podge, allowing for dry time between coats.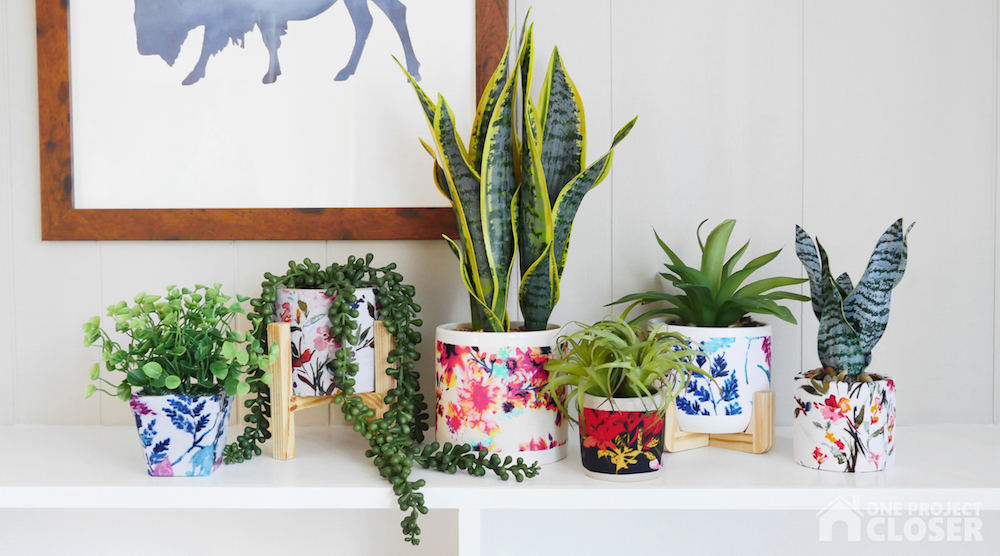 As you can see, these little planters pack a colorful punch and a personal touch to the space! They are now comfortable on the sunny shelves in my living room and look so pretty! You can tell, Chief Hopper is excited to show them off too. LOL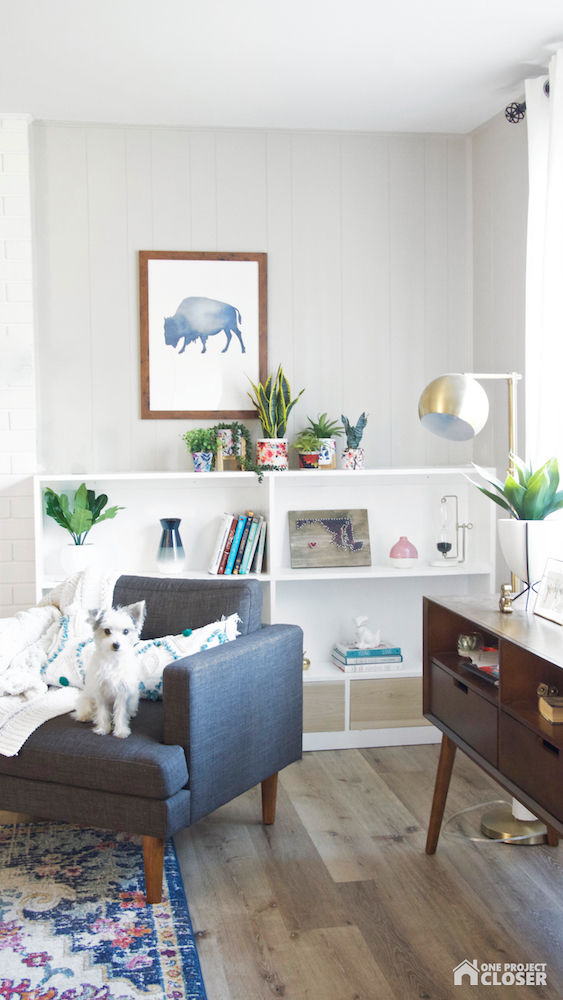 Pin For Later
Love this easy DIY Mod Podge Flower Pots with Fabric project and want to save it for later? Or even share with your friends? Pin it!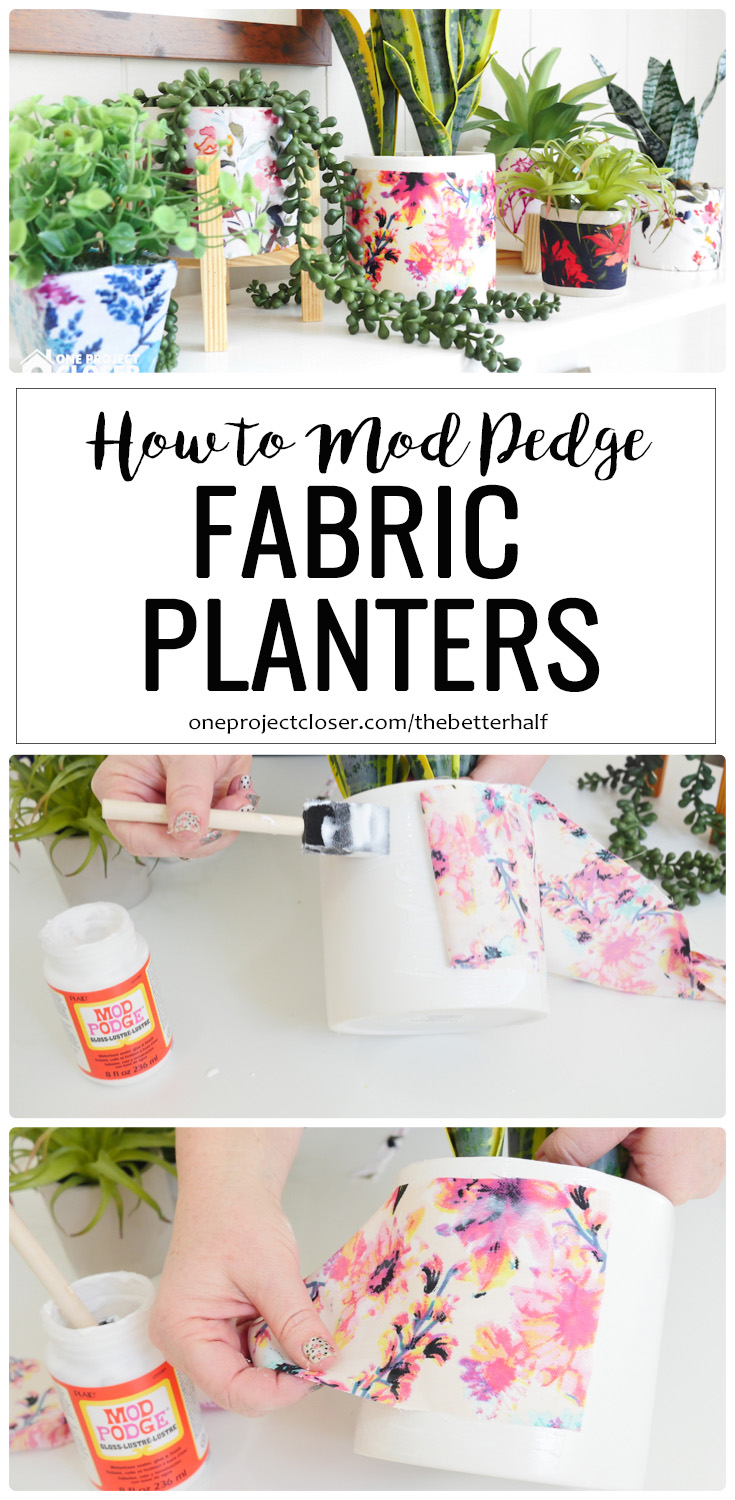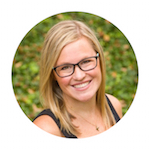 Jocie Hagan
One Project Closer
Come say hi on Facebook, Instagram, & Pinterest!
Want to learn to hand letter and make amazing, personal decor for your home?
Learn now with Busy Girl's Guide to Hand Lettering!
**Use the code HAPPY5OFF to get $5 off the course price**