One project we haven't tackled yet is building our own windows.  The windows in our homes are vinyl, which is definitely the standard in our area and looks great on our houses.  That said, solid wood windows are beautiful, and Neil (NP) over at Bytown House recently put together two great articles that walk you through all the steps to build your own wood window frames.
Neil is a DIYer who couldn't find this information anywhere on the web, so he posted the instructions on his own house blog! We find that inspiring… making the web a little better, one article at a time.
If you find yourself looking to build wooden windows, or if you just want a good read, here's the links: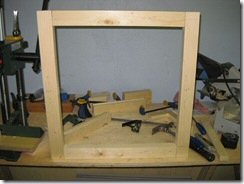 The tools you'll need for the job: a table saw, a router mounted in a router table (we just reviewed the RAS900 from SKIL), a mortiser (similar to a drill press), a tenon-jig (for the table saw), and some specialized router bits for making windows.  While these tools aren't cheap, once bought you can build all of your own custom windows, and save a bundle on labor and materials.
If you're installing windows made by someone else, definitely read our "how to" for replacement windows.
Thanks for sharing, NP!