Today we're featuring a guest article by Ken from The Joy of Moldings
Jennifer's kitchen is getting a top to bottom molding makeover. I just installed the crown molding and door trim (a Greek Revival eared architrave style), but still have the baseboard and wainscoting to go. Since I get so many questions at The Joy of Moldings.com about how to paint crown moldings, I thought I'd share my painting techniques with One Project Closer readers.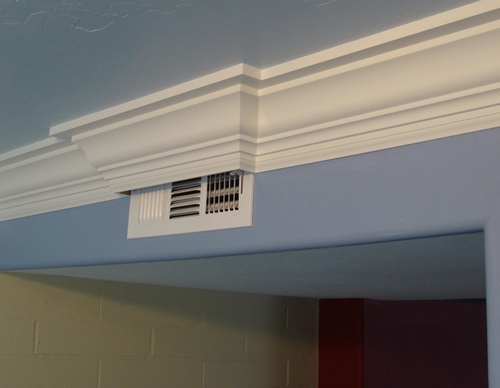 Project Price & Materials
Crown Molding Materials From Lowes: $211.75
Primer: $30.74 Sherwin Williams Wall & Wood Primer (this primer will last for most of the house)
Trim Paint: $65.99 Benjamin Moore, White Dove OC-17, Satin Finish (This will last us for most of the house as well)
Flotrol: $7.00 Paint Additive
Grand total: $315.48 + tax
High-Resolution Painting
My goal when painting moldings is to make them look like they are an integrated part of the home's architecture, and not just sticks of painted moldings nailed to the walls. To achieve that solid look on both moldings and walls, I've developed a series of preparation and painting steps that consistently give me what I call a high-resolution paint job
How to Prepare the Crown Molding for Paint
I've already spackled all the nail holes, so the spackling is dry and ready to sand. I work in small sections from top to bottom to make sure I don't miss anything. When I've finished a section I run my hand over it to feel for imperfections that I can't see. If I can feel an imperfection, then it will probably show through the finish coats of paint, so it gets sanded.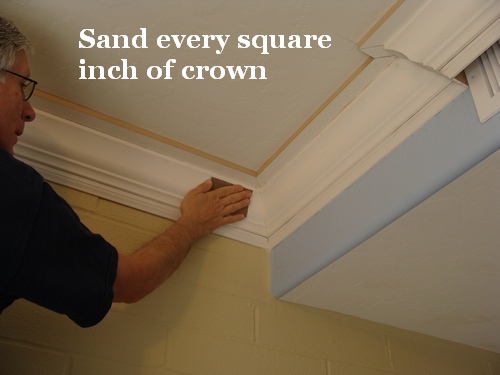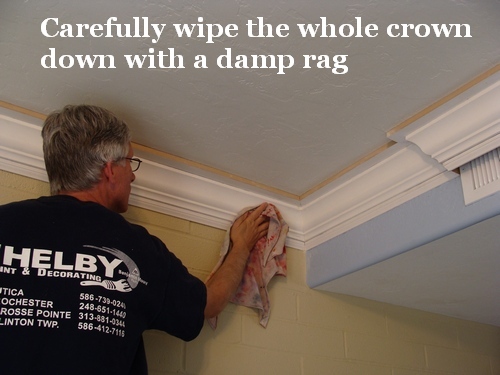 Prime the Whole Crown Molding
All of those nail holes and other places I've spackled have to be covered over with primer or else they will show up as little rough spots through the final coat of paint. So I just prime the whole crown molding.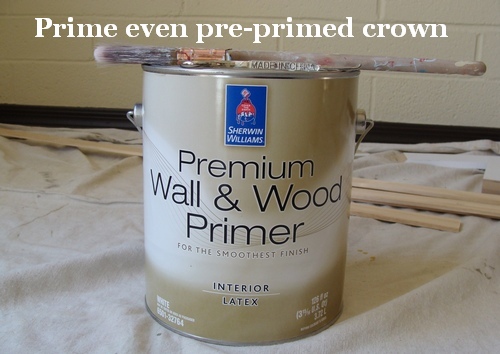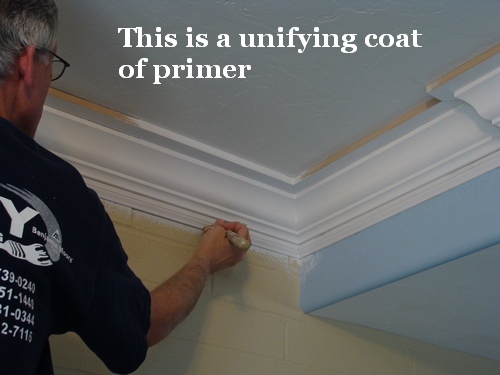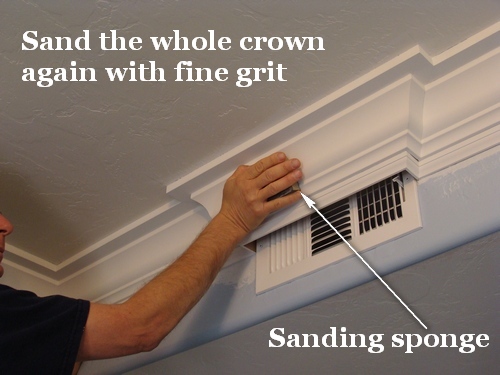 Caulk The Crown Molding
A common complaint about painting crown molding is when someone runs a fat bead of caulk across the top and bottom of their crown molding, and then wonders why they can't cut-in a straight line of wall paint against the crown.
The not-so-secret secret to painting straight lines against your crown is to do a really great job caulking it.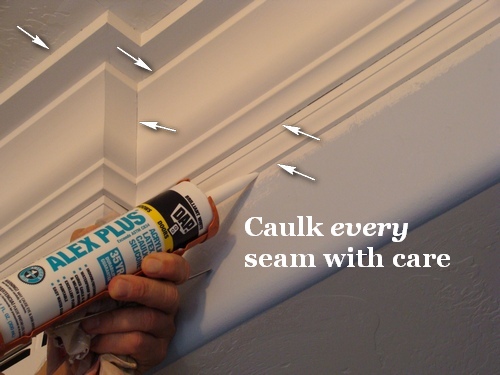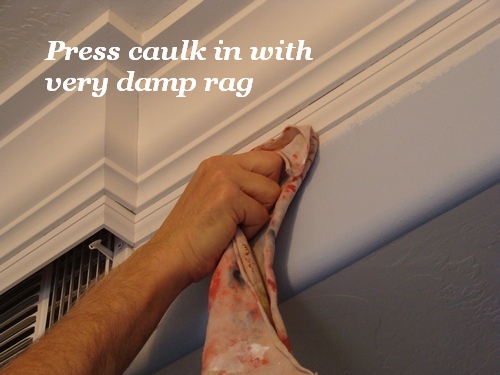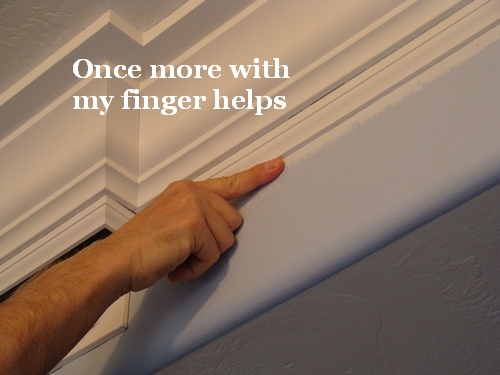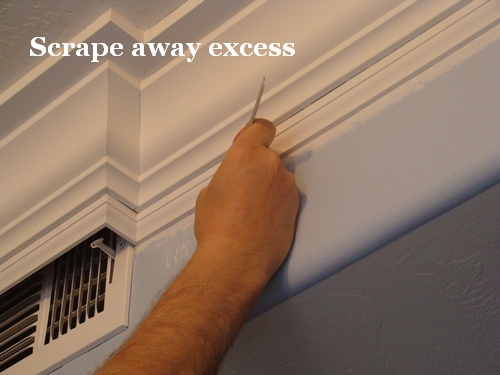 Caulking is one of the most important steps in bringing my crown to an ever-increasing state of perfection. This is a monotonous task, so I just put on some music, make sure I've got lots of Jennifer's, yummy home-made snacks at hand, and try to make it as enjoyable as possible.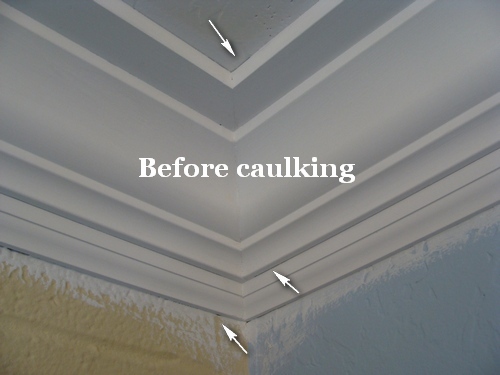 How to Paint the Crown Molding
Some folks love to paint while others would rather have a root canal without Novocaine. If you're of the later group, these tips might help ease the pain.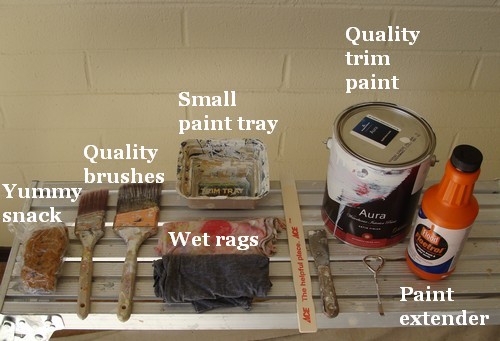 I always use a paint leveler/extender when painting moldings. Always. It extends the time you can work with the paint before it starts to tack up, and that leaves me with fewer brush strokes in the finish coat.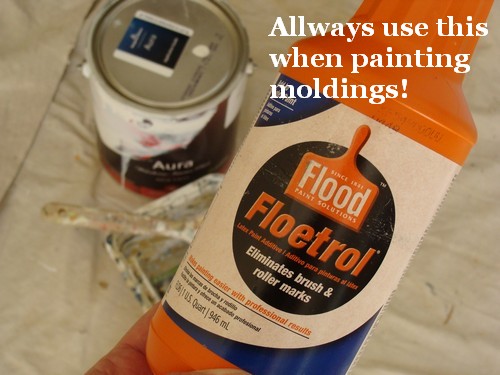 When doing brush work, I never, ever work out of the paint can or out of a large paint tray. Better to run back and add more paint to a small tray than to let the paint get sticky in a large one.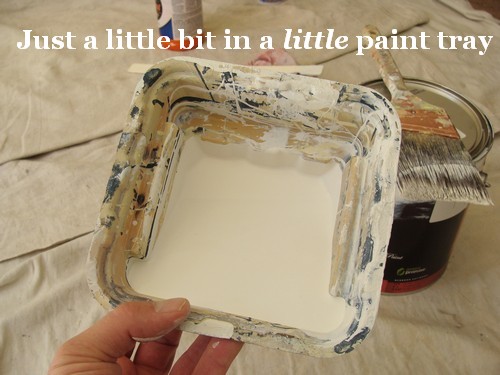 Painting Sequence
My arm just sort of goes on auto-pilot when painting crown. That's because I have a sequence I follow that ensures I paint quickly enough to maintain a wet edge to the paint, and get that give me the best finish possible.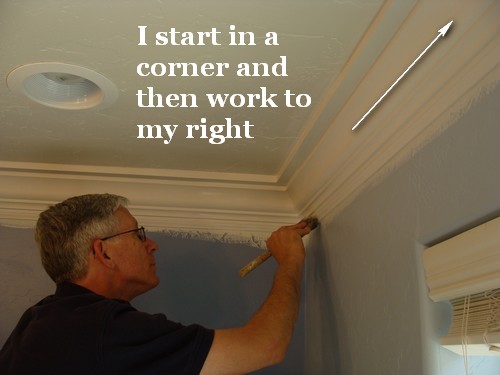 I can not maintain a good wet edge if I'm concerned about getting paint on the walls or ceiling, because it makes me paint too slowly.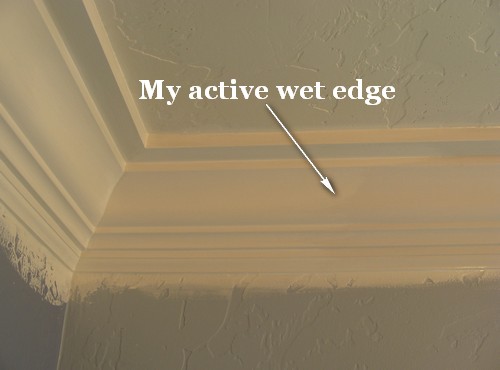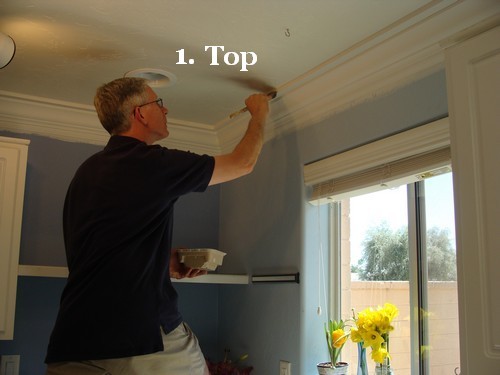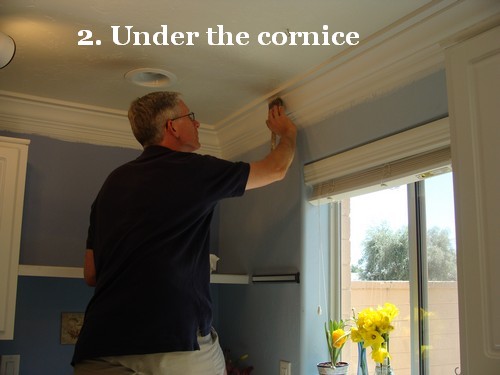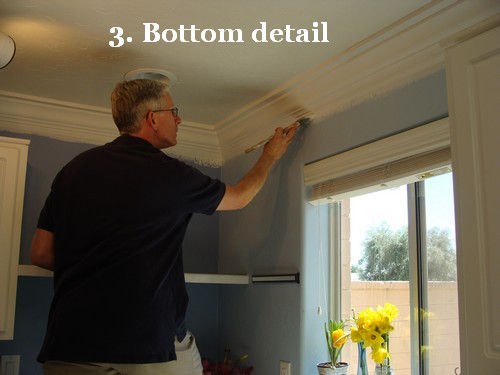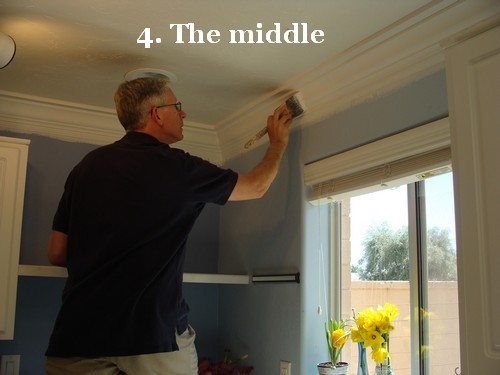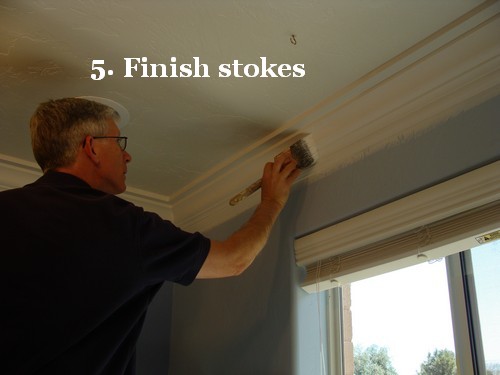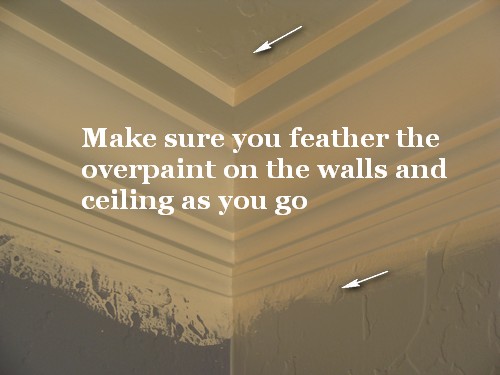 I'll put a bit of primer over the overpaint before I paint the walls.
It's a race between painting quickly yet in control to maintain a very wet edge — so the crown has a perfectly blended finish coat — and painting so slowly that I leave brush strokes and start and stop marks in the finish coat.
Two coats are better than one. I always paint two coats on my trim, ceilings and walls (even if the manufacturer says it covers in one) — it's the only way to get the true color of the paint.
Paint The Ceiling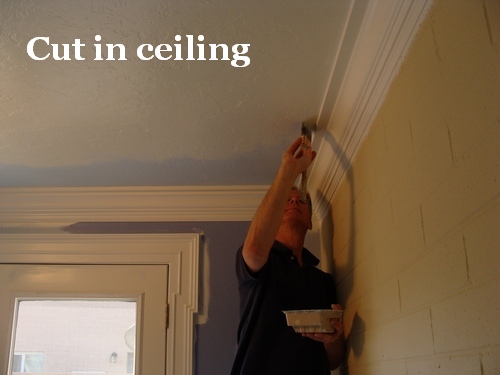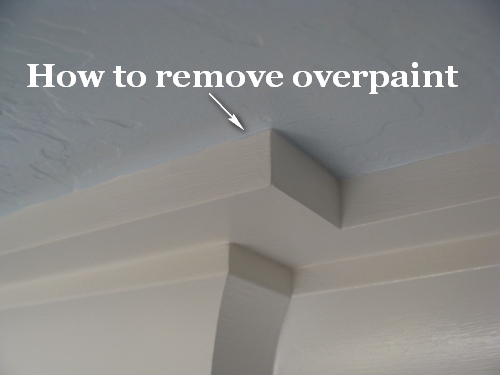 When I get just a little bit of overpaint on the crown, I use a putty knife and damp rag to remove it.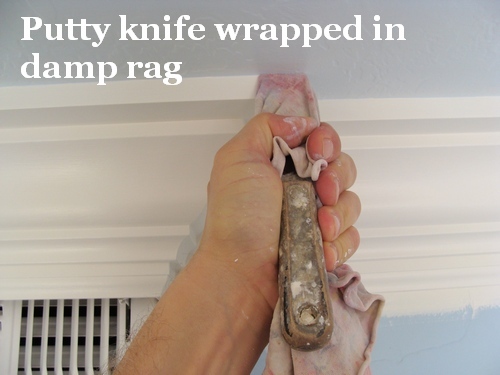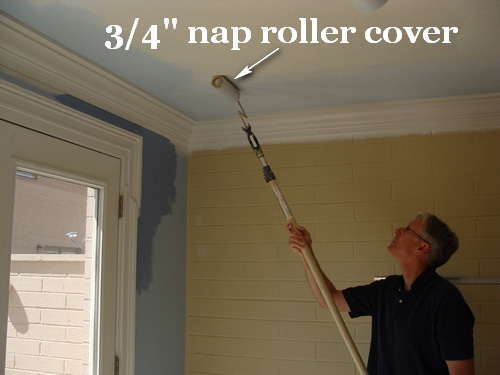 Paint the Walls
The only way to paint perfect lines up to the moldings is to paint by hand with a good brush. Masking off the moldings with tape will always end in frustration, because the paint seeps under the tape and gets all over the moldings.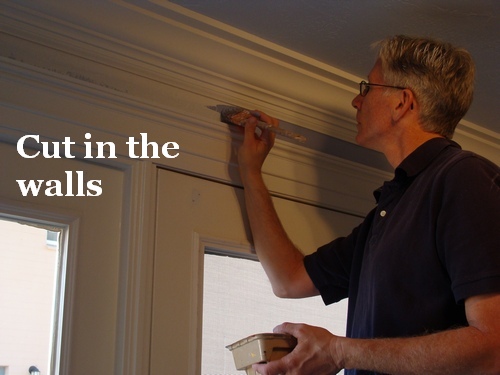 The trick is to not get too much paint on your brush. Put a bit on your brush, brush that paint onto the wall near the trim to act as a little paint reservoir, and then work the paint from the wall up against the molding. You'll develop a feel for it and get faster with practice.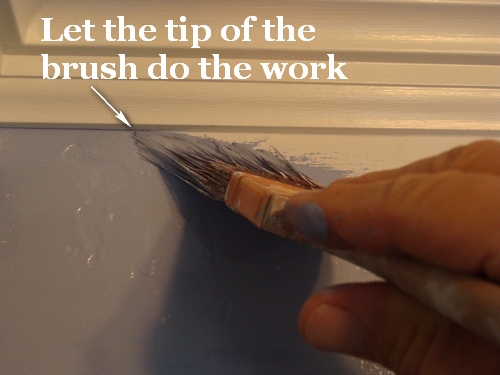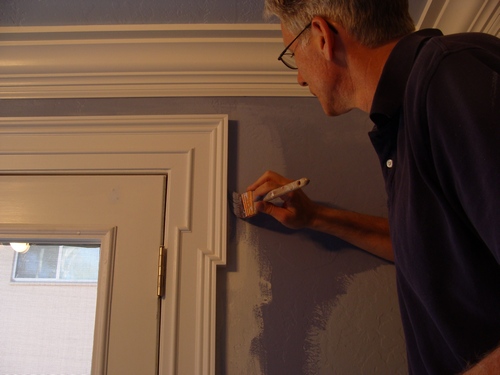 Above: This door trim style is called an eared architrave, and I built it using stock materials from Lowes Home Improvement for a grand total of $74.60.