Ever since Jocie and I purchased our home in 2006 the concrete stoop has had this long, ugly crack, and this past summer some yellow-jackets tried to take up residence within the crack. That was enough for me to bump the concrete repair to the front of my to-do list.
If you look around online, the typical repair involves filling the crack with a flexible patching compound followed by a sealant. The result is a structurally sound and visibly unattractive repair. I wanted something better because this is a repair that everyone will see when they come to our front door.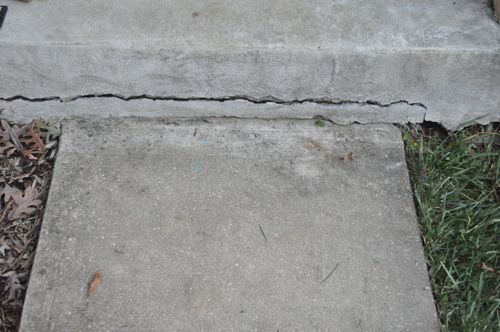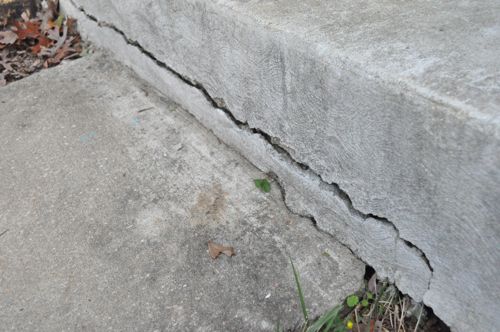 Tools & Materials
Quikrete generously sent me a bucket of FastSet Repair Mortar which is used for repairing concrete, masonry and stucco. The mortar is polymer modified, rapid setting and features a "low-sag formula" which makes it ideal for vertical and overhead repairs.
It's important to know that this crack has not moved or expanded at all for the past 6 years. If there was any chance of movement, the appropriate product for this repair would be a flexible, polyurethane concrete crack sealant.
Temperatures
Fortunately temperatures here in Maryland are still above 32° F even at night. Otherwise the water (mixed with the dry mortar) would freeze and cause the repair to crack. If the temperatures are too low, pros often use accelerant to speed up concrete set time and insulating blankets to trap heat. During the hot summer months, pros use retarder to slow the set time.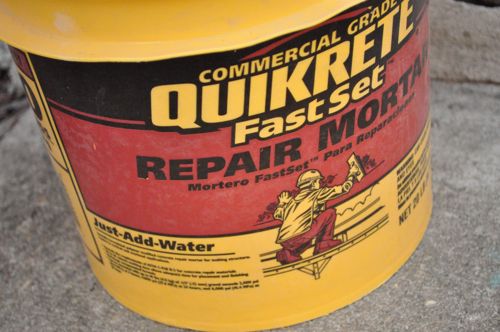 I don't own any concrete tools. Instead, I used an old drywall knife and a grout float. I also grabbed a wire bristle brush and hammer.
Step 1: Clean Crack
I started this repair by cleaning the crack with my wire brush and removing any small, broken pieces. I used a broom to clear away any leftover debris.
Step 2: Mix Repair Mortar
I combined a portion of the 20 lb. bucket with warm water (speed up set time) until it was thoroughly mixed and a stiff, gel-like consistency.
Step 3: Apply Mortar
Before starting, I sprinkled some water over the concrete to wet the surface. Using my drywall knife I applied mortar to the crack and skim coated the rest of the face of the concrete. Much like painting, it's easier to spot a partially repainted wall so I used the corners as transitions.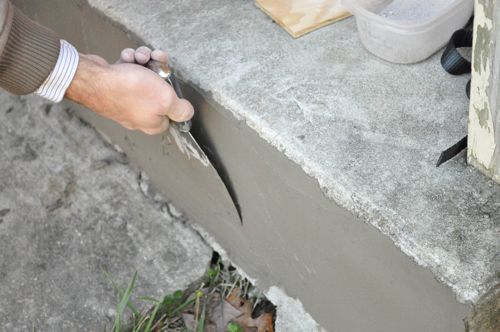 Step 4: Tool Mortar
I continued tooling the mortar after the initial set to achieve a smooth uniform look.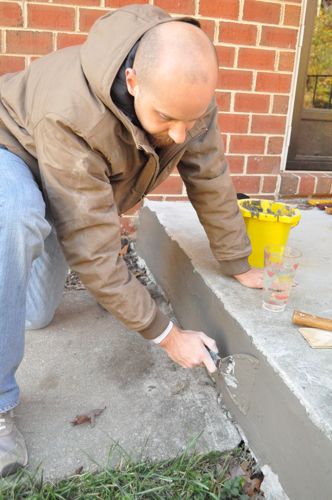 As the mortar hardened, I switched to my grout float because I could apply heavy pressure and better round the corners.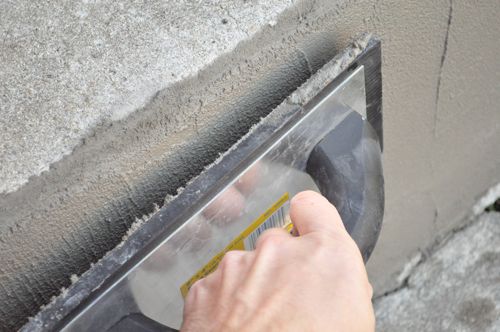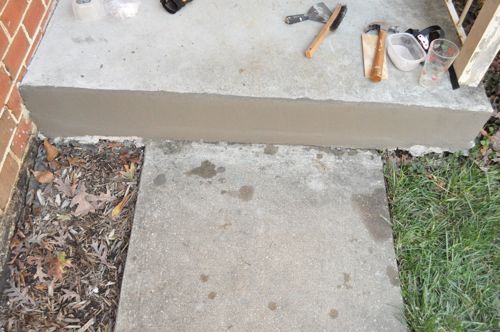 Step 5: Pulverize Old Concrete and Use on Transitions
I used a hammer to pulverize a few chunks of concrete into a fine powder, and I lightly dusted the top edge where the repair meets existing concrete. My goal was to further hide the transition from new to old.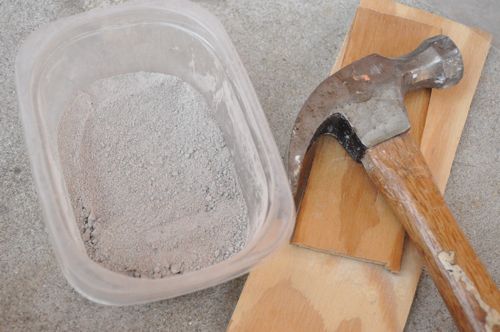 Step 6: Allow to Cure
Aside from ensuring the repair doesn't dry too quickly during the first 24 hours, there are no special procedures to cure FastSet Repair Mortar.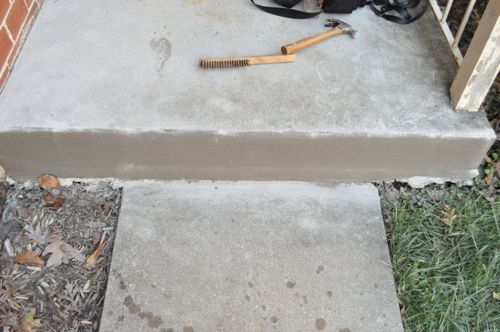 Finished
Even with the warm water, the cooler temperatures slowed cure time. After 24 hours the mortar color was much lighter and it began to blend with the existing concrete. I used the wire brush again to smooth out a few places along the corner.