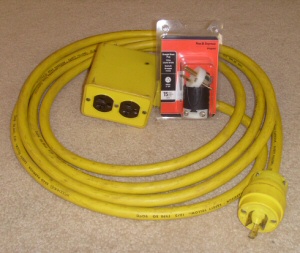 Check out the latest addition to our shop: a fantastic 20 foot, 4-plug extension cord.
Our good buddy Chuck rescued four of these heavy-duty extension cords just before they were chucked into a local dumpster. Apparently, during a remodel these cords were no longer useful because they weren't long enough for the new configuration.
The only issue with our new extension cord is the plug on the end, which is a 20-amp 3 prong locking-style plug.  If you squint on this picture, you'll notice that the brown receptacles on the other end each bear a sideways "T" for their left plug, indicating they can handle a 20-amp load.
We don't have a locking-style 20-amp receptacle anywhere, so we've decided to replace the 20-amp plug with a traditional 3-prong 15-amp plug.  The only potential danger here is that we're not going to change out the receptacles with 15-amp receptacles to save on cost.  If you were to plug in a 20-amp tool, you would blow the breaker on any 15 amp circuit you were connected to.  This isn't really a danger for us since (a) we don't own any 20-amp tools, (b) we'll tell people when we loan them the cord, and (c) it doesn't pose a significantly greater risk than the existing risk of plugging in two 10-amp tools and using them simultaneously.
This type of plug replacement is quick and easy and can be done with a simple screwdriver and a replacement plug that can be purchased from any of the big box improvement stores.  Here's the steps we followed:
Steps to Replace a Plug on an Extension Cord
Step 1:  Remove the screws holding on the original plug end, and pull away the cover.

Step 2: Loosen the screws holding the wires and pull off the plug so that only the insulation and bare wires remain.

Step 3: Put the new plug housing on the existing wire and tighten the wires into the new terminals. Note the convention:  Black wire -> Gold terminal;  White wire -> Silver Terminal;  Green Wire -> Green Terminal.  (great tip 1shotrising).

Step 4: Pull the plug housing toward the front of the plug and tighten everything in place.  You're done!

One Additional Tip
Make sure you use a plug appropriate for the wire.  In this case, we're moving to a lower-amp plug, which is safe.  You wouldn't want to take an extension cord rated for 15-amps and put a 20-amp locking plug on it.  The cord might overheat during us, posing a fire hazard.
What do you think? What's the latest thing you've rescued from the dumpster?