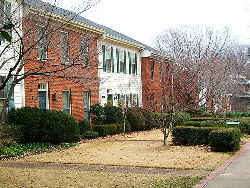 Our community recently voted in a new HOA board of directors and architectural committee.  The new committee is taking a more active role in enforcing the community's covenants than previous committees have, creating some anxiety, disagreement and resentment among homeowners.
Without getting into specifics, some of the community's covenants have not been enforced for years–one home was in violation for more than 10 years–and homeowners feel rather blindsided by the the committee's recent hard line stance.  Since some of the folks in our community read this blog, I don't want to get into the actual issues. Instead, I thought I'd write some key thoughts on the essential elements of running a successful HOA architectural committee.
This list is based on years of experience working on non-profit boards and committees, and years of living within the confines of an HOA.
Know the Community's Rules
An architectural committee is charged with reviewing and approving changes to the exterior of a home and enforcing the rules for unreviewed exterior changes or run-down exteriors that violate the community's rules.  In order to know whether or not to approve a project, or whether a home is in violation of the rules, committee members must know the rules.  Each member of the committee should have a thorough understand of what is and is not allowed in the community.
Enforce the Rules Consistently
Since many architectural committees are staffed by unpaid volunteers, it is easy for these groups to slack on their responsibility for covenant enforcement.  Worse yet, committee members may only enforce the rules for homes that are within site of their property, ignoring other properties in violation throughout the community.  Some committee members might want to give friends special breaks.  Consistent application of the rules is paramount.  Committee members should be able to clearly rationalize each decision the committee makes, and that decision should map back to a rule or bylaw.
Make Sure Everything Is in Writing
When a committee charges a community member with a violation, it is imperative that the committee notifies the member in writing and clearly describes the violation, refering the guideline or bylaw the member has violated.  It is not acceptable to remain silent, as that Washington Post article describes.
All official correspondence should be in writing, and minutes should be taken at each meeting to record the activities of the committee.  Since most architectural committees rotate members each year, the written record serves to inform new members of previous actions.  Some committees (such as the Vieux Carre Commission) have begun to store this information online for residents to gain easy access. The committee should also encourage alleged violaters to correspond in writing and keep copies of their mailings.  This ensures everyone remains on the same page and can be a great help if legal action results.
Always Be Gracious
Many residents in a community will make an honest mistake in not notifying the committee of a change to their property.  These people may have lived in the community for 20 years and honestly believed they weren't doing anything wrong.  In some cases, required repairs/changes to a home could cost many thousands of dollars.  Some members of the community will likely not be able to pay that up front.  The committee should make every attempt to work with a homeowner to make the change to bring a home back into the community's standards.
While patience is not legally required, it almost always results in a better outcome. The reality is if a homeowner cannot afford to change their property to get it back in conformance with HOA regulations, the committee has few options other than to pay for the changes themselves with community monies, which may never be repaid by the homeowner. While a lien can be put on a property, that lien is subordinate to a first mortgage, and with many houses underwater, there is no guarantee of repayment.
Follow Through on Actions
Being gracious does not eliminate the need for rigorous enforcement.  While the committee should make every effort to work with a homeowner, in the end, a homeowner in violation of the covenants must repair / change their property.  If a committee does not follow-through on actions, the community association will slowly disintegrate.  This could mean pursuing legal action against a community member, such as assessing a lien against their property.  Following-through will require resolve and dedication, but it's important for the future of the community.
Get Legal Counsel
When dealing with homeowners who refuse to repair or change their property after repeated notices, it is wise for the committee to engage professional legal assistance.  The law surrounding HOAs and POAs is complicated.  An attorney can help navigate these waters and ensure the HOA doesn't find itself on the wrong side of the law.
What do you think? Did I miss something in this list? Have you found yourself at odds with an HOA?