Note: This post originally appeared on our Tool Review Blog, Toolbox One.
Happiness is… a brand new Husky Heavy-Duty Deep-Drawer Tool Chest Workbench for your garage or workshop. We know, because this new tool chest put huge smiles on our faces when Ethan and I uncrated it for the OPC/TBO shop.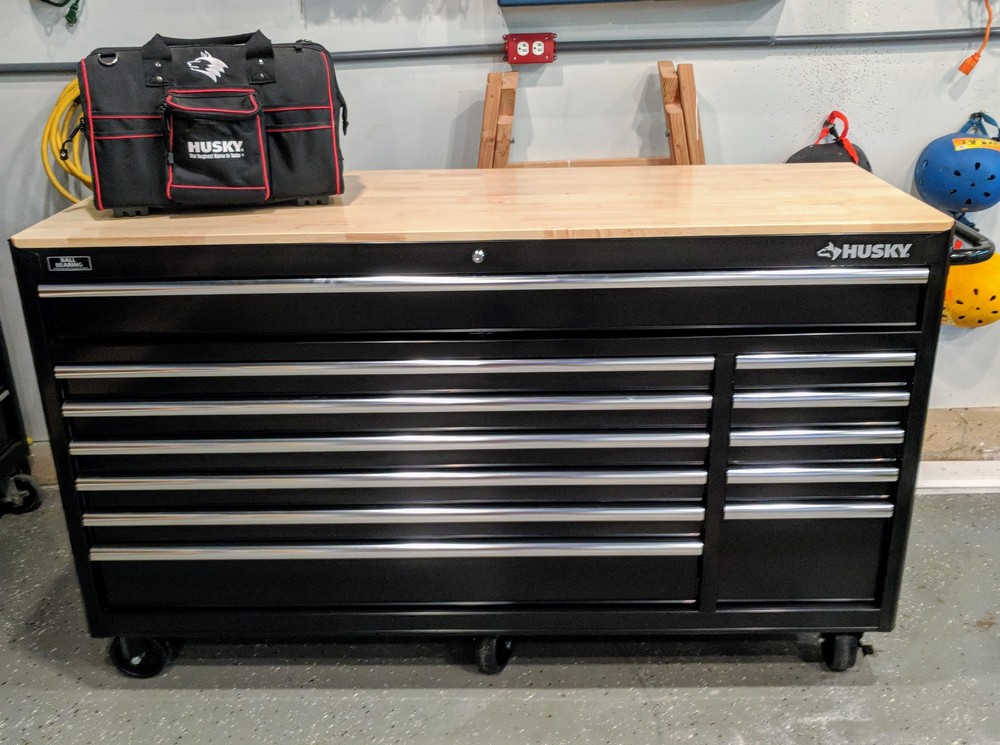 Stuff Lawyers Made Us Say: We're partnering with The Home Depot to provide candid reviews of tools from a wide variety of manufacturers. The Home Depot is both providing the tools for free and compensating us; however, the opinions we express here are our own. Remember, we'll always be up front with you when we're receiving a free product, compensation, or both. And of course we always strive for objectivity in our reviews.
First Impressions – It's Built Solid!
Normally our first impressions of a tool come when we unbox it in the workshop. But not this Husky tool chest. This chest is a special order from The Home Depot, which means it has to be delivered to the store and picked up. Our first impression: it's four hundred pounds. That's heavier than even two of us together could handle. In order to move this beast we needed Ethan, four Home Depot workers, and eventually a forklift to help us get it into our van. Here's some of The Home Depot's super helpful crew making it happen!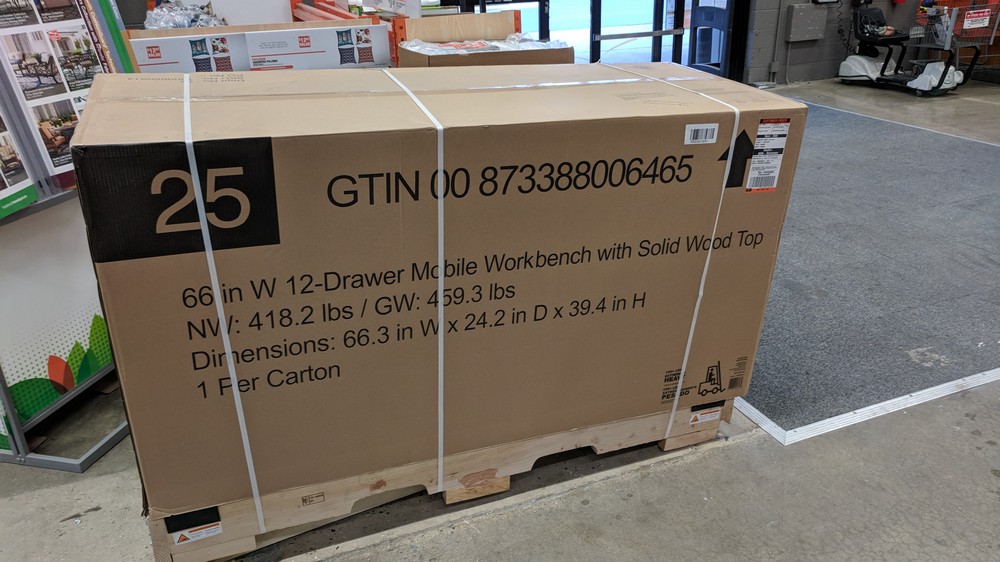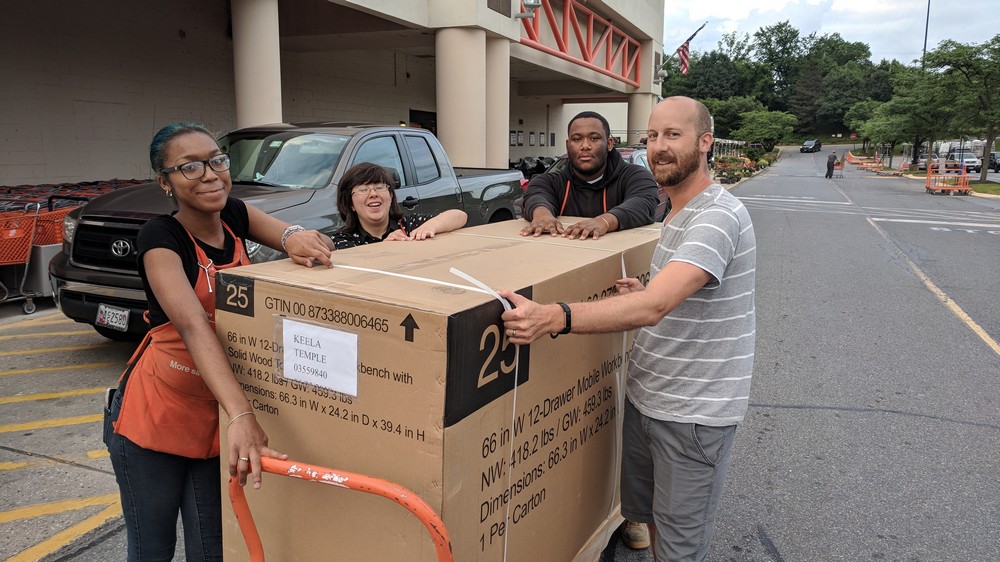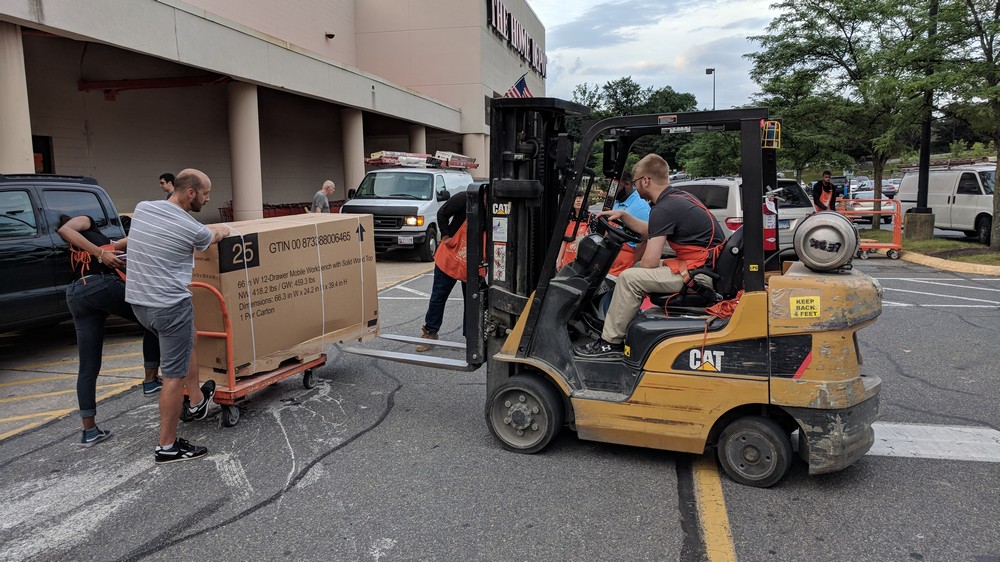 We had to remove the back two rows from our 12-passenger van to fit this bench, and negotiating it into the van without damage was a feat. (Mad props to Home Depot's forklift operator!)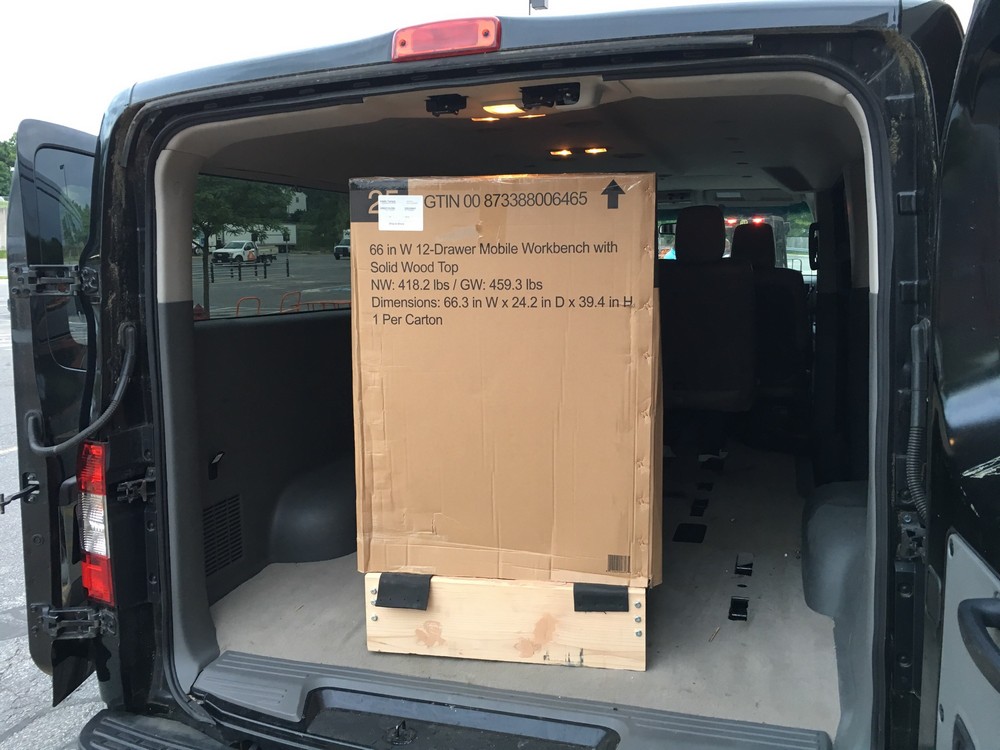 At home, we had to get creative getting it out of the van, but essentially we just slid it out. Because both Ethan and I were involved in getting it out of the van, there wasn't anyone to photo journal the spectacle for us!
First Impressions on Unboxing
There are two things we loved about unboxing this tool chest.
First, the chest is essentially fully assembled underneath all that cardboard. The only thing that has to be added is the handle on the right side of the chest, which affixes with six hex-head screws (allen wrench included). This means the chest is up and running in about 5 minutes.
The second is that Husky includes black foam pre-cut drawer liners for every drawer in the chest. Adding drawer liners is a must in any toolbox. They keep your tools in place when opening drawers or rolling the chest around, which significantly quiets operation. Liners also prevent scratching the paint on the interior of the drawers, making the tool chest look nice for years longer. I'd guess the pre-cut liners save about 30-60 minutes of set up time. It's way faster for the factory to cut perfectly sized liners en masse than it is for every individual tool chest buyer to do it themselves.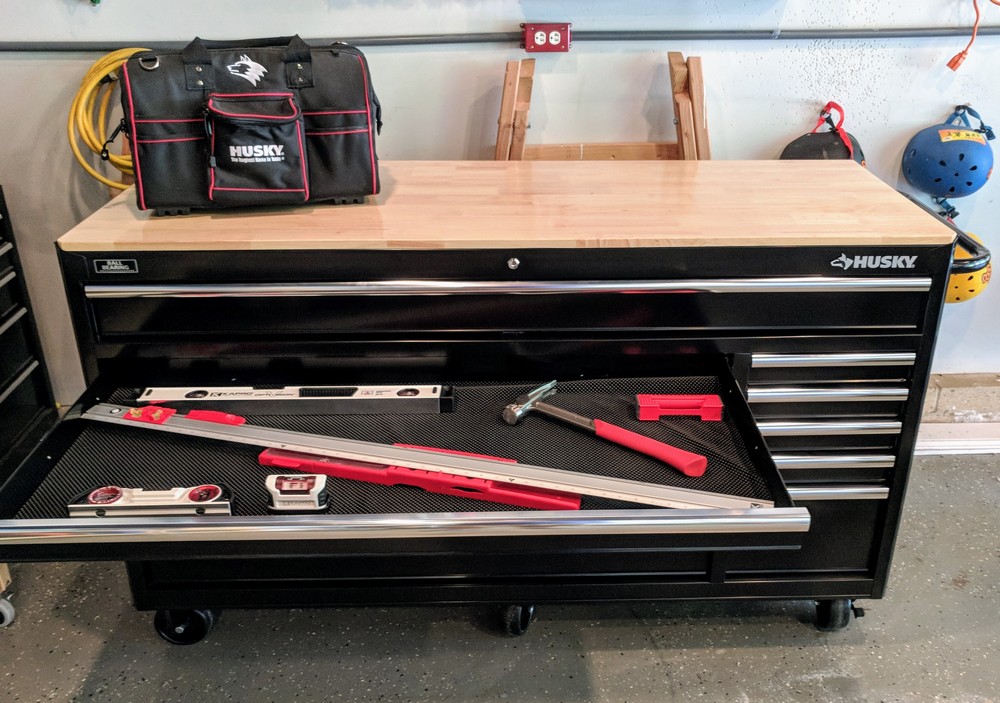 Everything Else We Love About Husky's 66″ Tool Chest Workbench
There are several really stand-out features about this particular tool chest that drove our decision-making in selecting it for review.
21.1″ Deep Drawers – Our existing tool chest of another brand sported 16″ and 12″ deep (front to back) drawers. While these are plenty functional, large tools sometimes had to be stored either at an awkward angle or not at all. The 21.4″ deep drawers on this chest feel simply massive — especially the extra large top drawer, which is next up on our list.
61.4″ Wide Top Drawer – We love that Husky elected to put one massive 61.4″ x 21.1″ top drawer on this chest, rather than dividing it into two. This extra-wide drawer means you can store all your most commonly-used tools in one easy-access location, and you can even store tools that normally have to go up on pegboard or sit upright in the corner – like a 4′ level. Even after storing several of our favorite husky hand tools, we've still got a ton of space left in this top drawer.

Extra Height Bottom Drawers – Both the left (5.8″ high) and right (9.1″ high) bottom drawers on this chest are taller than the others. This extra space means you could store your entire collection of cordless hand tools in the bottom of this chest. We were very pleased that the right bottom drawer is even tall enough for our cordless circular saw.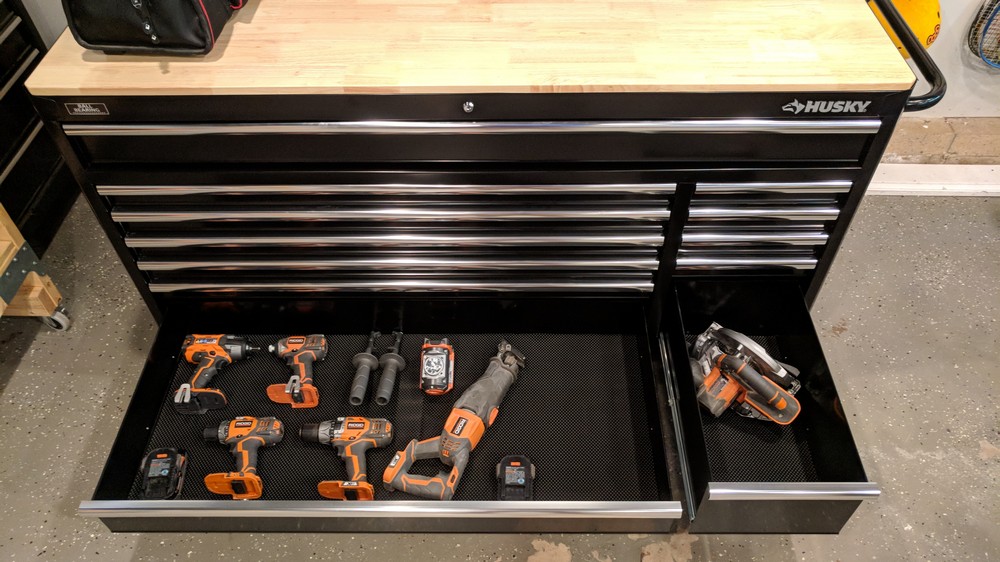 100 lb. Drawer Capacity and Tight Close Drawers – Given the width and depth of the drawers, it's good to know that Husky has rated the slides for all drawers at 100 lbs. We can't think of an everyday use application for these drawers that is likely to exceed this 100 lb. requirement. One nice thing about the slides on this chest is that when a drawer reaches about an inch from being fully closed, the slides suck in the drawer for a tight close. This also prevents accidental openings when sliding the chest around your shop.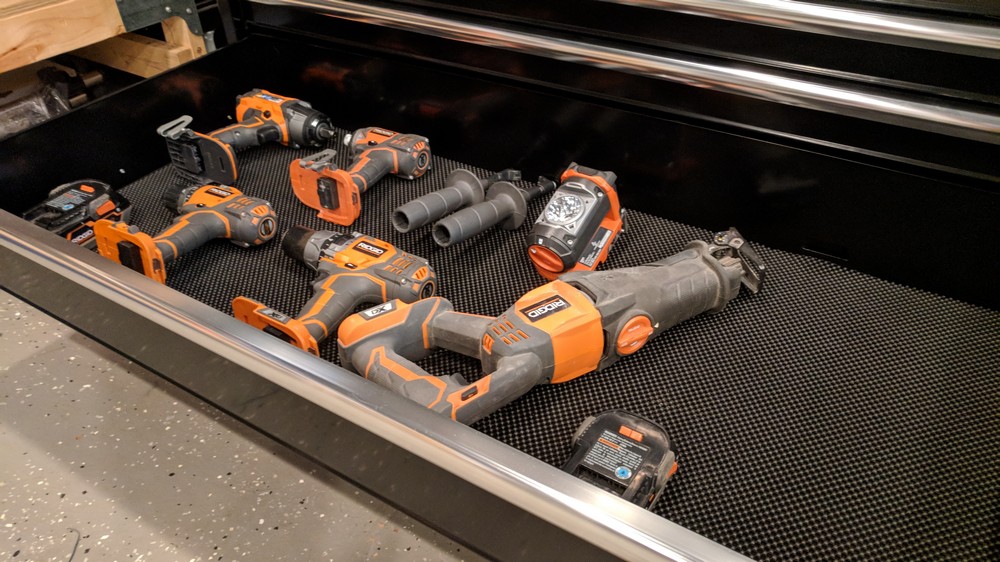 Heavy Duty 5″ Casters – Husky says this tool chest can support up to 1,800 lbs. That's very impressive and not surprising given the six large 5″ x 2″ casters that mobilize this bench. The leftmost casters are fixed-position, while the center and right set swivel 360 deg. to enable mobility. The right set of casters locks to keep the bench in-place on non-level surfaces. We've had no trouble moving this bench around our garage shop.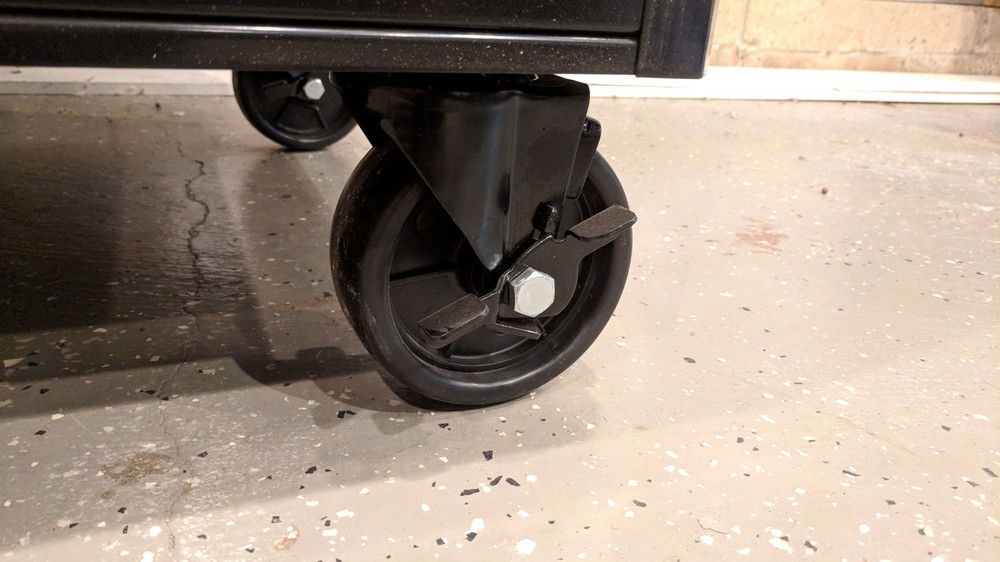 A Stunning Rubberwood Top – One of the reasons we chose this chest among other options is its 24″ x 66″ wooden work top. It's so nice looking, in fact, we're a little worried about the damage our projects might cause! (Featured below with one of our Husky tool totes – not included with this chest…).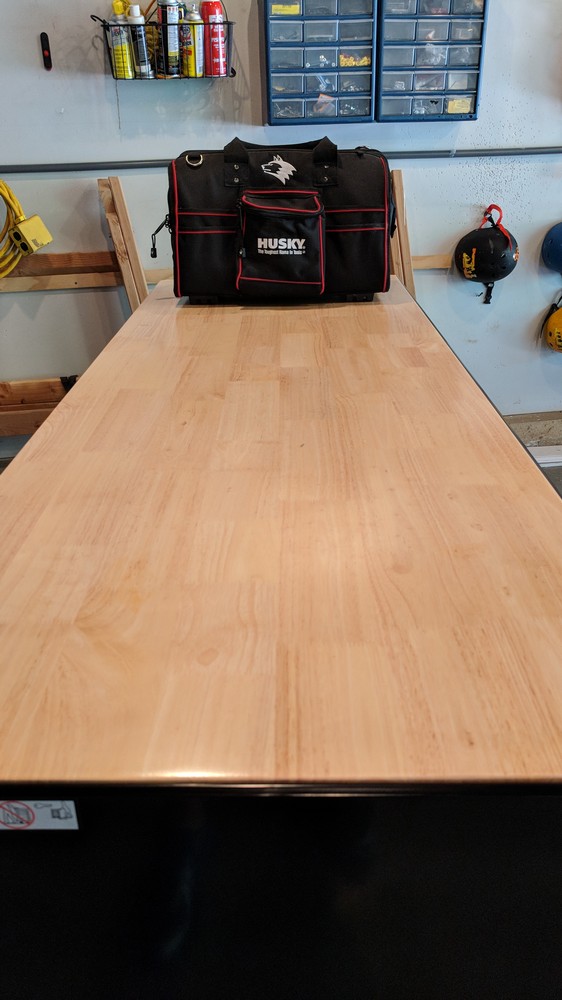 Key Lock Access (1 Lock for All Drawers) – A lockable tool chest wasn't high on our list of needs in our own home workshop. But those considering this bench for a more public location, such as an employer's shop floor, will certainly appreciate the locking capability. While the mechanism doesn't feel strong enough to deter serious criminals, it does add extra piece of mind that a less determined "borrower" won't lift your tools without you asking.
Return-ability & Warranty
This product can be returned to Home Depot within 90 days of purchase for a refund. In addition, Husky stands behind this product with a 3-year limited warranty. (Details here).
Price and Where to Buy
Like all Husky products, this Husky's Deep Drawer Tool Chest Workbench is available exclusively at The Home Depot. Currently priced at $649, we think this is a very solid buy for your shop that will last a long, long time.