Do you love a good mustache party? I do! A few weeks ago, my dad turned 60. My mom, my siblings, and I decided to throw him a surprise party. His birthday actually fell on Easter this year, so we told him that we would be celebrating his birthday on Easter, you know, lump them together. Instead, we surprised him the day before at my house. I think we got him pretty good, too!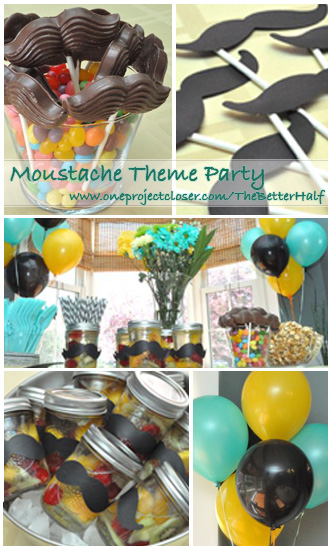 Since my mom was busy with Easter and housing out of town family for the holiday, I took over most of the party planning. Okay, so maybe I just love planning a party and took over a bit. I thought and thought and thought about what our theme should be…I thought about my best memories of my dad. Most of those good memories include a lot of laughter and my dad being his goofy self. My dad has a wonderful sense of humor and doesn't mind making a fool of himself. I may have inherited this from him. 😉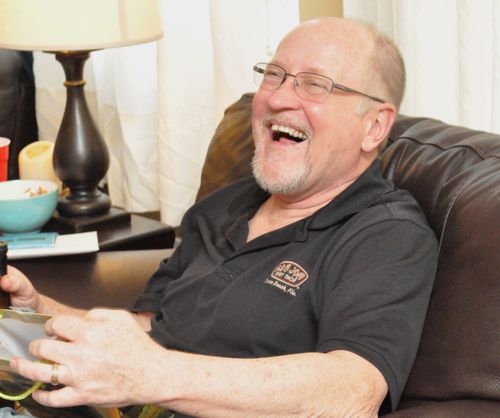 For as long as I can remember, a picture of my dad resurfaces every couple years as a joke – it is dad in his PRIME, his first year of teaching, and wow is he a good looking guy. In all fairness, at the time, he was very in-style with his long beard and hair (in the after months, it got even longer!), sporting a dashiki that my aunt made for him. So I decided we should salute his greatness of facial hair and have a mustache party. From there, it was all quite simple.
I wanted the color in the decorations to reflect the vintage look we were going for, so I used yellow, teal and black balloons, streamers, and table clothes. I had planned on doing all streamers, but I could not find teal streamers anywhere! So, I bought plastic teal table clothes and cut them in strips, hanging them just like streamers. I actually liked it way better than I expected!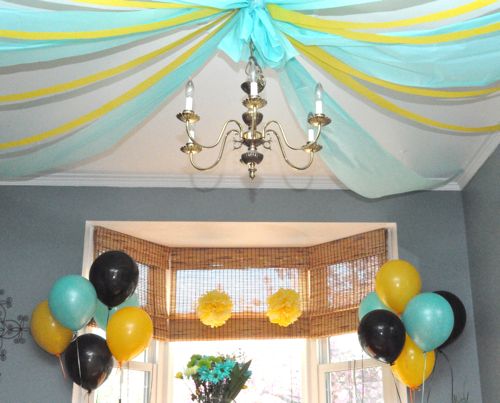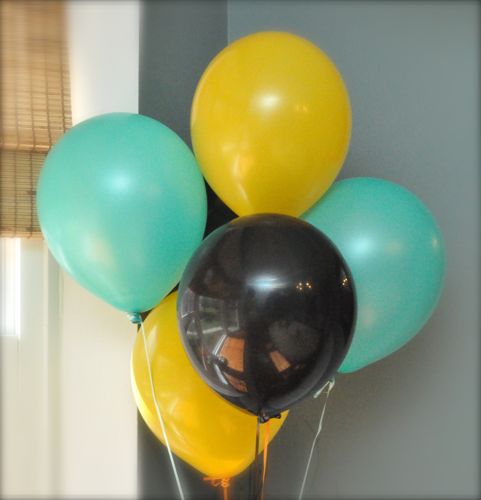 You may notice that I reused the yellow paper poms from Izzie's 3rd birthday Tangled party. Also, check out these fabulous vintage paper straws I got from amazon! Loved these, although they got a little soggy if you let your drink sit too long.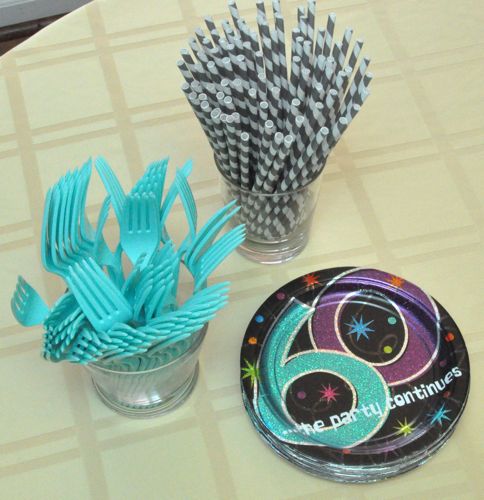 I also handed out mustaches on sticks for everyone to "wear" just to be silly and pose for pix. I had originally thought about cutting out mustaches for everyone but that is SUPER labor-intensive. Fortunately, I found cheap paper mustache cut-outs on Etsy from CMooreof10. A big shout out and thank you to Christine for shipping them extra quick and on short notice so we could have them in time for the party. THANK YOU!! In addition to mustaches, she sells a photo booth prop set (which we used her mustaches for also).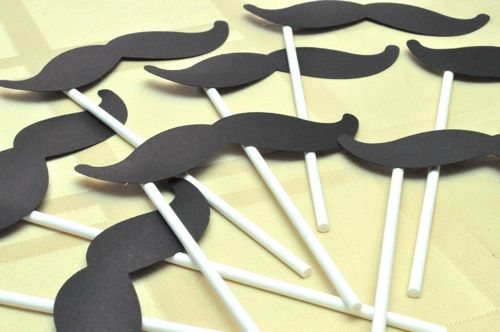 Here's one of my mom and dad – aren't they cute together? They've been married 35 years and still in love!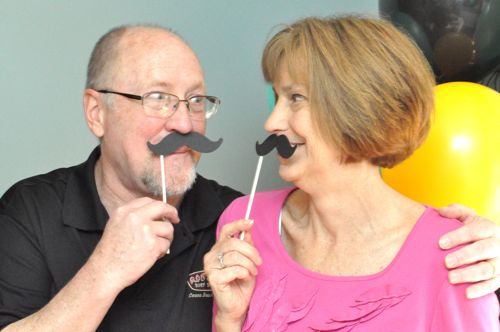 And they had three perfect, awesomely good-looking children!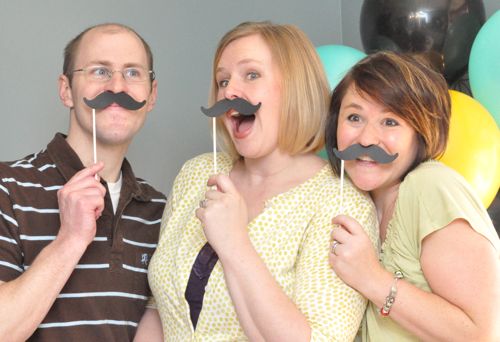 And even the youngest (my nephew, Shane) and the oldest (my young-at-heart grandmother) got into it!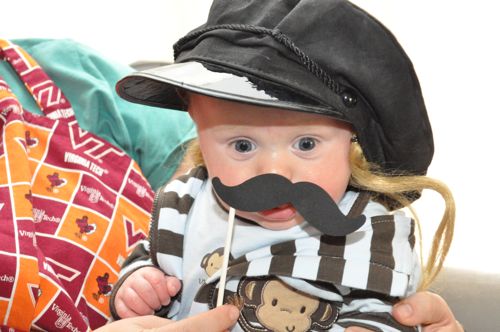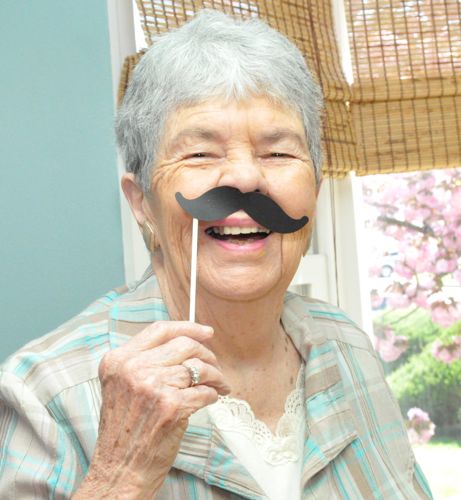 Last, but not least, is my cousin, Naomi. And get this boys – she's single…and she promises to shave the stache for dates! LOL!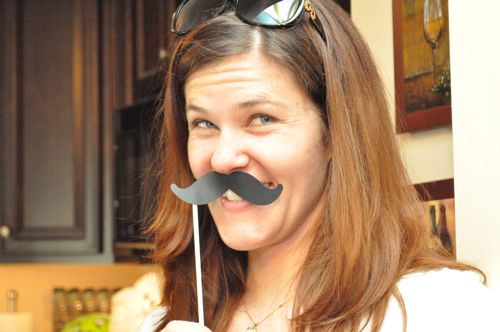 If you're not into mustaches, you can also double them up for a uni-brow, like my sister, Erin. She's pretty hot, right? 😉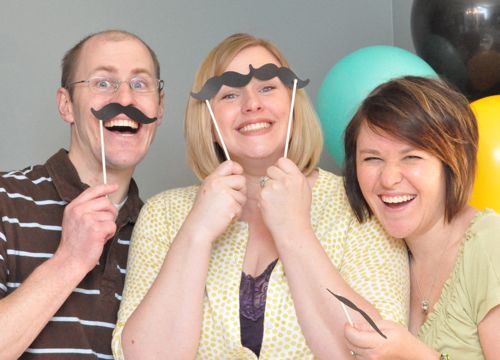 As far as food, we grilled burgers and dogs since it was a lunch-time party and more informal. With a simple main dish, we wanted to add the WOW with the sides. I made my friend, Colleen's amazing caramel popcorn since it is one of my dad's favorite's. Also, I have lots of fond memories of the family at the beach in the summer munching on some Fisher's caramel popcorn.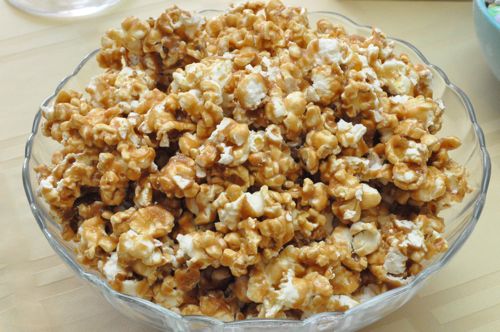 Here's a cute one of Izzie eating lunch with my two youngest nieces. Pretty stickin' cute, right?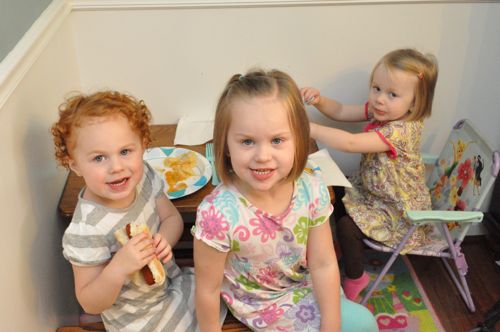 Two of my other nieces, ages 10 and 12, came the weekend before the party to help with some of the party planning. Both Jess and Cassidy LOVE mustache parties, so there was a lot of enthusiasm to help. I bought a mustache lollipop form on amazon for CHEAP, maybe a dollar or two, and we melted chocolate in them to make chocolate lollipop mustaches. For such an easy project, it made for beautiful and tasty table decor!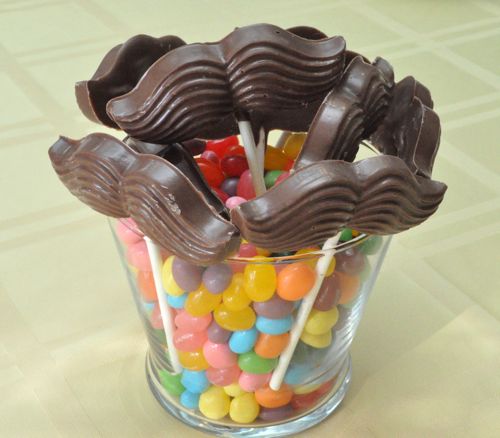 I also wanted to create a signature drink for the party and stumbled upon a great white sangria recipe from Lauren Taylor Inspiration. The morning of the party, I mixed the sangria and put it in small Ball jars. I added a touch more sugar than the recipe calls for, since it was a little more bitter than our family likes. Then, I glued a paper mustache to each jar, transforming our sangria into MANgria! LOL! We even had some leftover MANgria that stayed fresh in the ball jars for several days. WIN!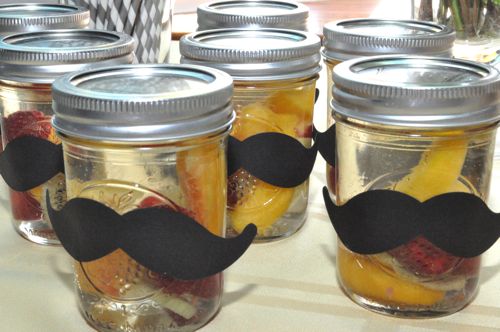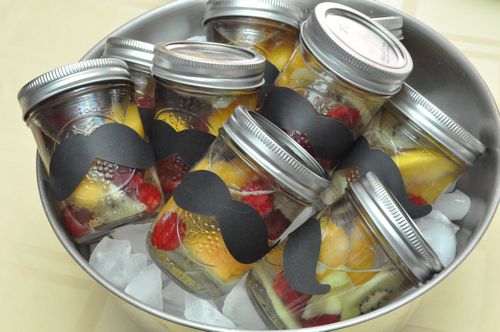 My family loves games, loving to be a silly and a little ridiculous at times, so I wanted to have a game for us to play. Yes, party games for an adult birthday party. Using my dad's fabulous picture, we played Pin-the-Stache on Dad. Even my grandmother joined in, and we all had a lot of laughs.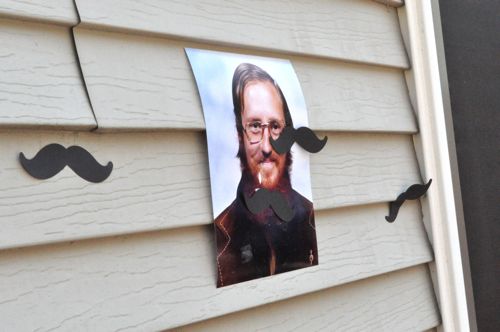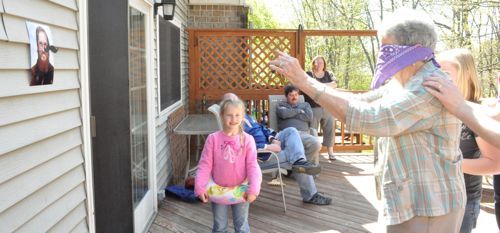 My cousin, niece, and dad got a lot of enjoyment out of spinning my brother, Scott (my twin, by the way) until he couldn't walk. So much fun!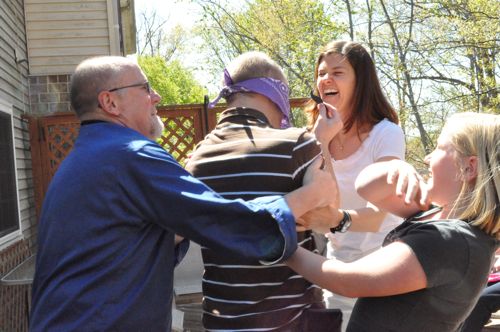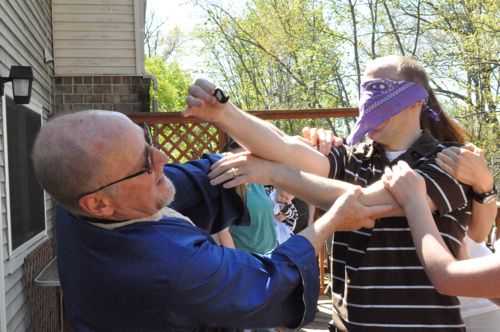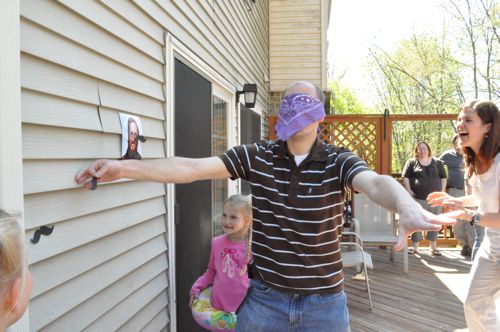 Finally, as a tribute to Dad's stunning style over the years, we did a photo booth using Dad's signature outfits through the decades. My mom did a great job of digging up these "really good looking clothes" for us all to wear. Check out the hat my dad is wearing- it is a chauffeur hat with attached long hair. No joke, my dad wore this to pick me up from school dances to embarrass me. Yes, I was mortified but secretly loved it. Also, you will see that he is wearing the dashiki his sister made him!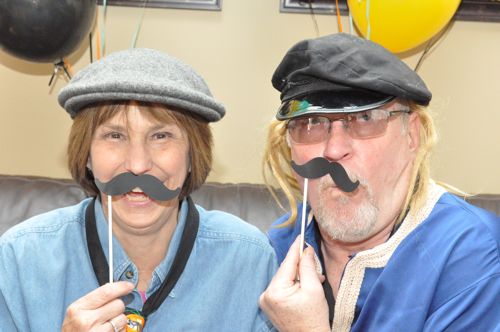 My cousin, Naomi and many of my nieces!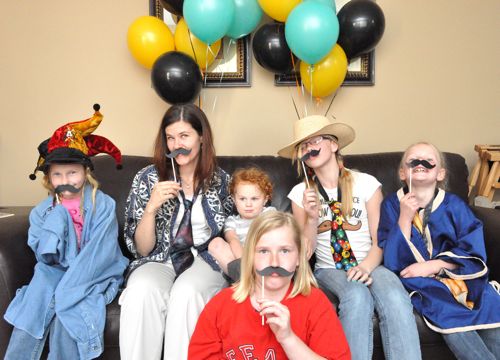 My bro, me, and Gran! Its kinda scary how much my brother looks like my dad.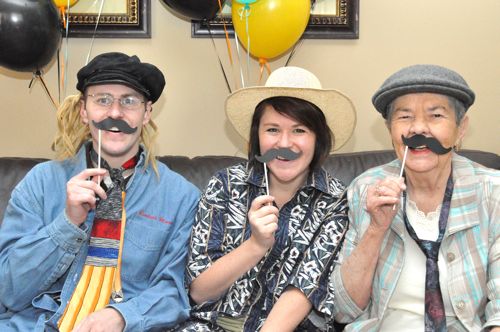 Mom, my sister, and me!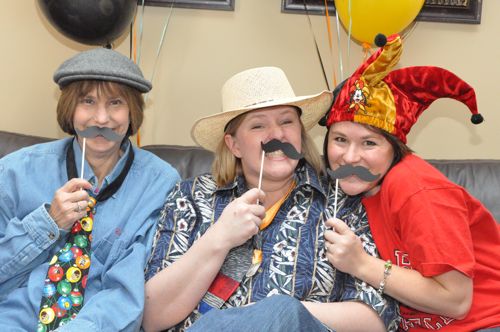 All in all, it was a pretty fabulous party and hopefully Dad felt really loved and appreciated when it was all said and done.
What do you think? Any suggestions for future mustache parties?
As Always, thanks for reading!

Don't forget to check out our weekly Link-up Parties on Fridays, where you can submit your own DIY projects and crafts!
We linked up at: Doodles and Stitches