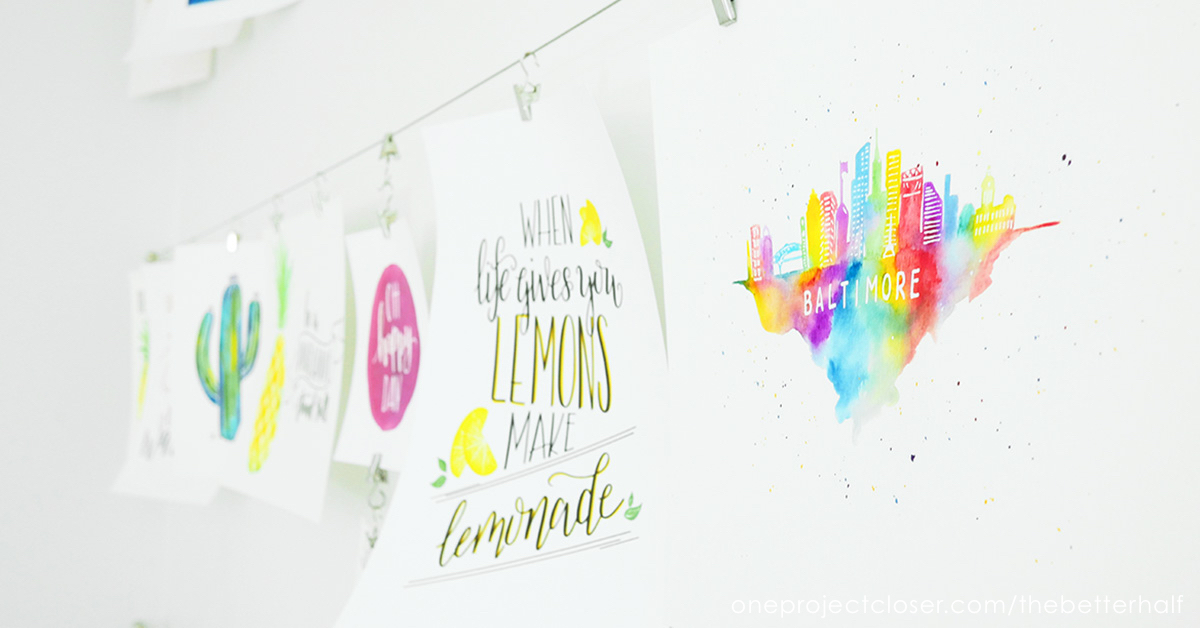 Thank you for tuning in to read about our my inexpensive craft room ideas. This post is sponsored by Home Depot. We were provided both product and money in exchange for our honest use and review of the product. We only work with brands we already use and love, so we promise to only give you our 100% honest opinions and will never recommend products we don't love! Thanks for following along!
Last year, my youngest daughter BEGGED for a loft bed. She put on her cutest puppy dog eyes and snuggled up to Ethan until he relented. The new bed started a chain reaction resulting in both girls moving bedrooms and my craft room moving upstairs, from the basement. I loved my previous craft room but there was so little natural light, I found myself continuing to craft at the dining room table.
Here's the basement craft room: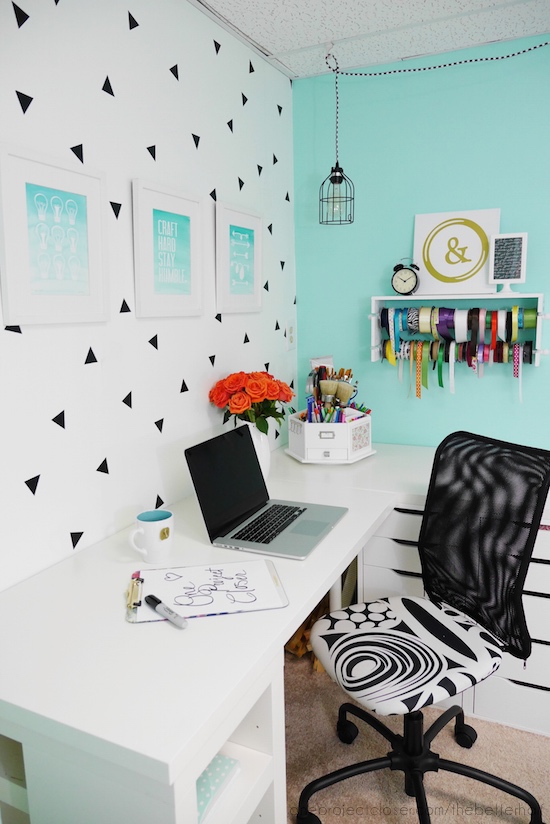 Most everything came with me in the move upstairs, but I decided to do away with the aqua walls, mostly for photography purposes. The aqua throw too much blue tone in pictures, so in the new craft room I stuck with white. The ribbon holder is still hanging in the basement, too. I haven't decided if that will come upstairs or stay where it is. I've sorta lost motivation to do anything else. LOL
The new craft space is soooo pretty and functional. I use is ALL THE TIME for painting, crafting, photography, and shooting videos. I made a quick video for you, show casing some of my favorite elements (plus a little water color hand lettering). ENJOY!
You've probably seen this corner on Insta – I love this adjustable height table from Ikea. I have two table tops, one white (attached) and one wood (unattached) for different backdrops for pictures.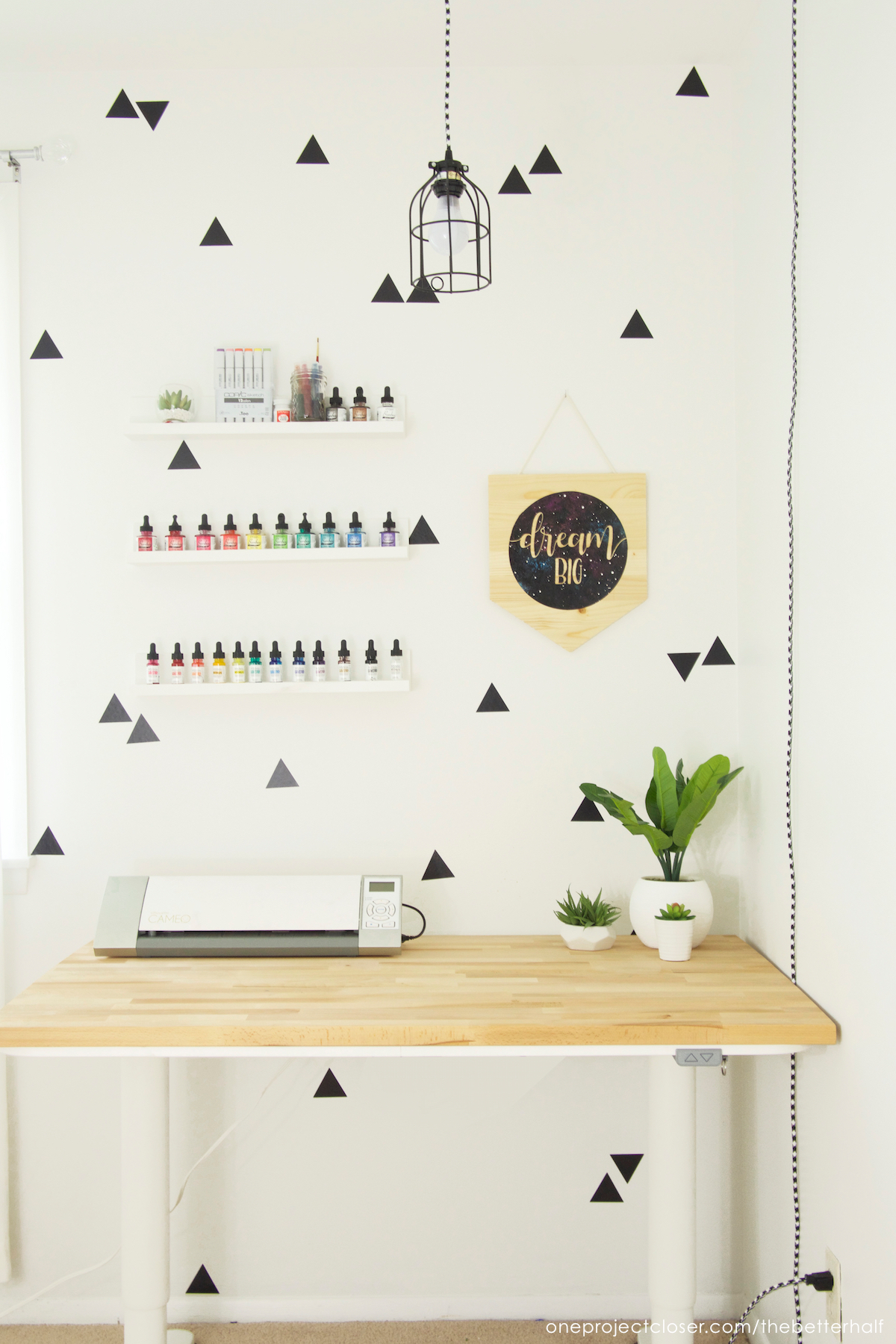 I used 3M Command Ledges for the shelving, which were the perfect size for my India Inks and Watercolors, plus, I didn't have to put holes in the wall.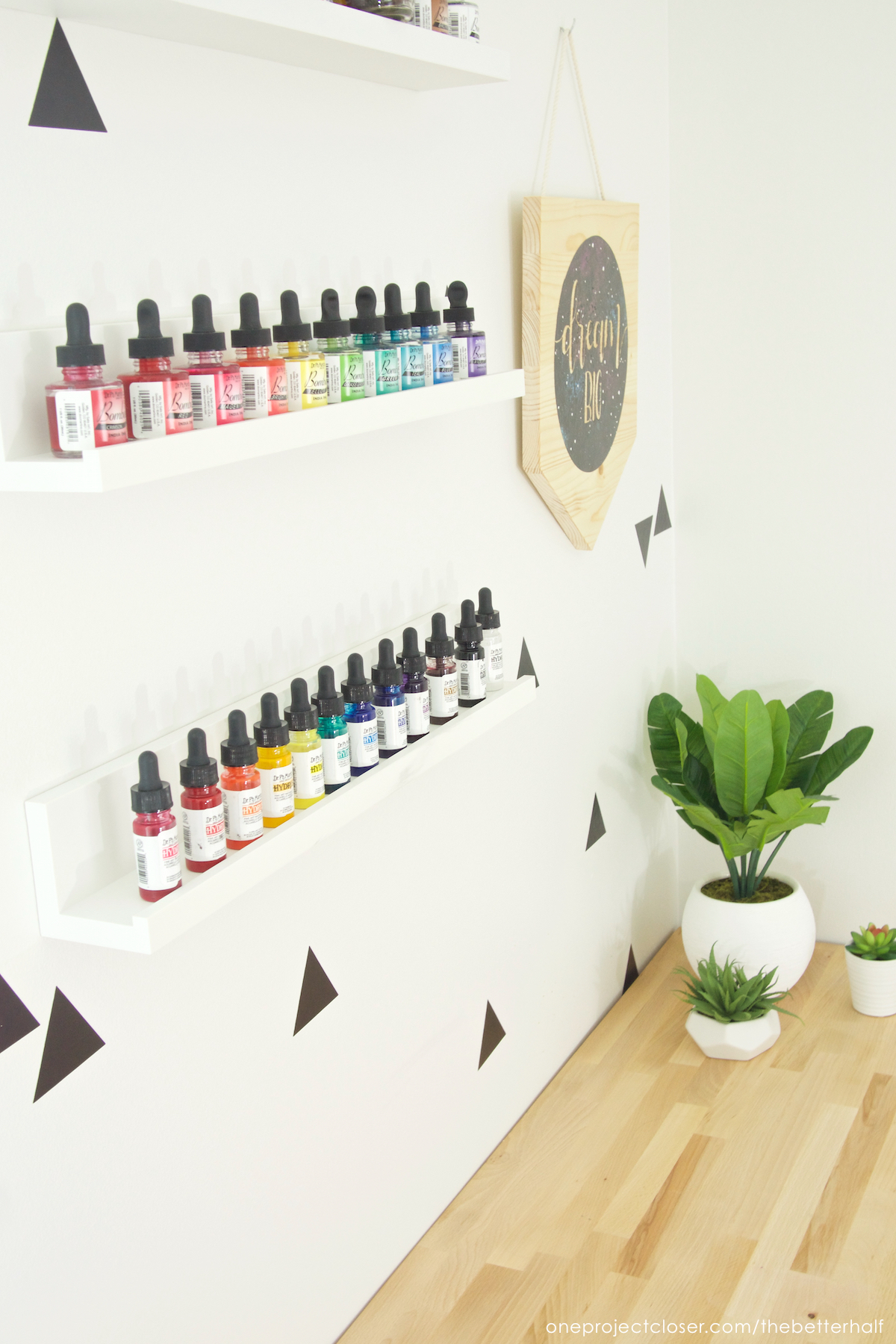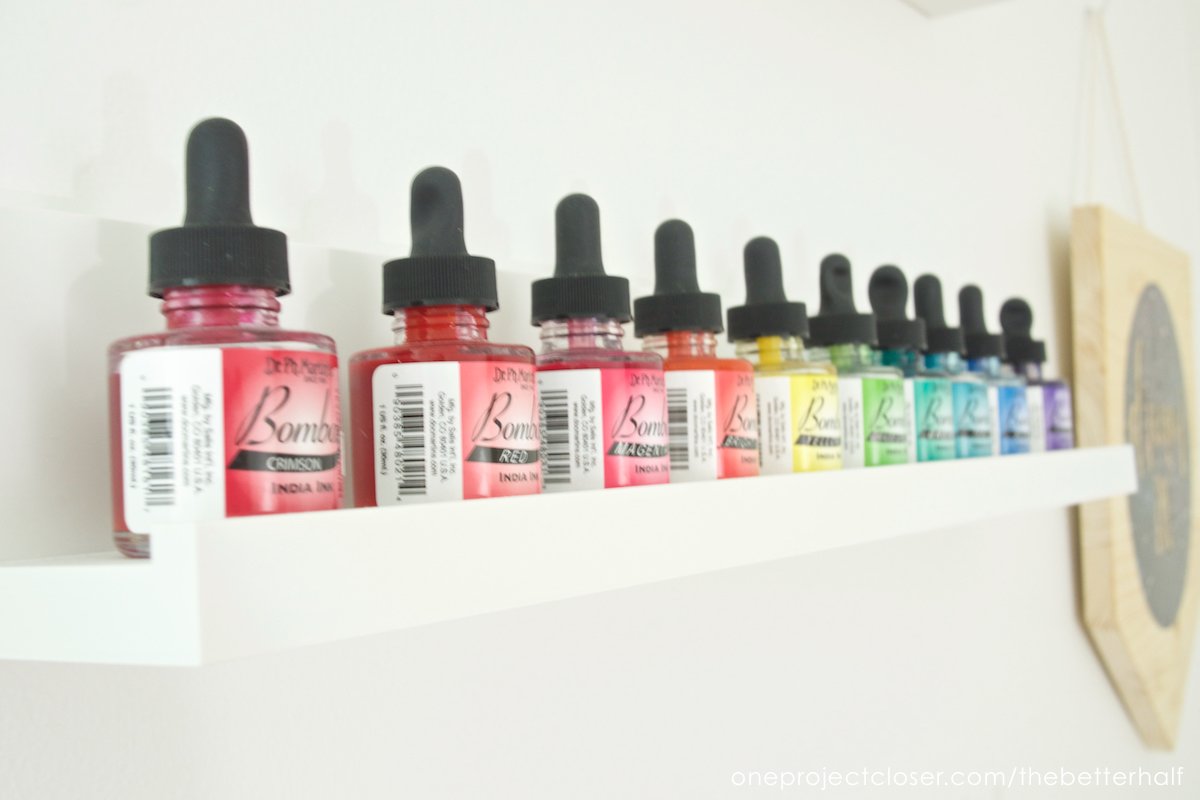 On the other side of the room, I have two IKEA desks shaped in an "L," with drawers on one side and open shelves on the other.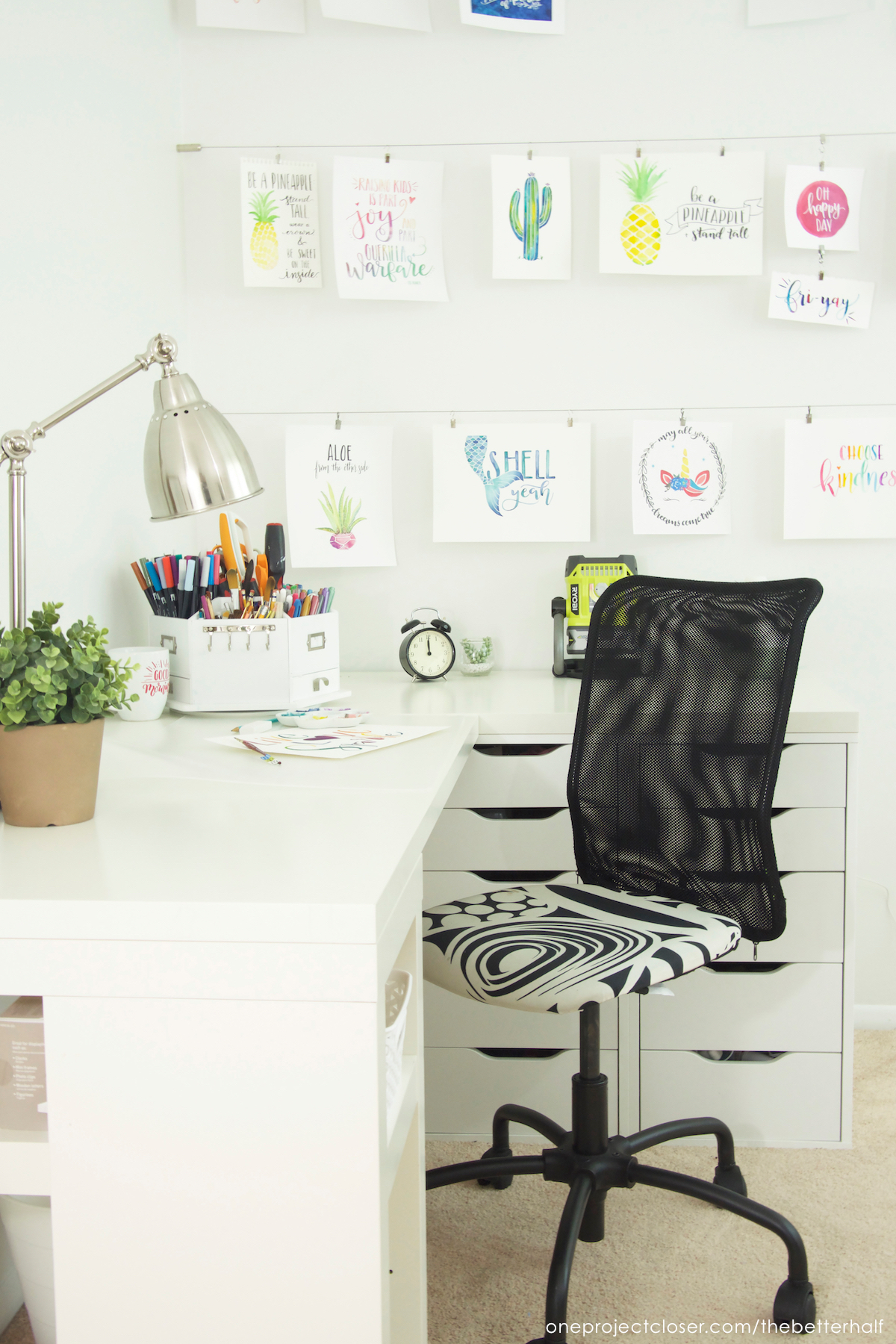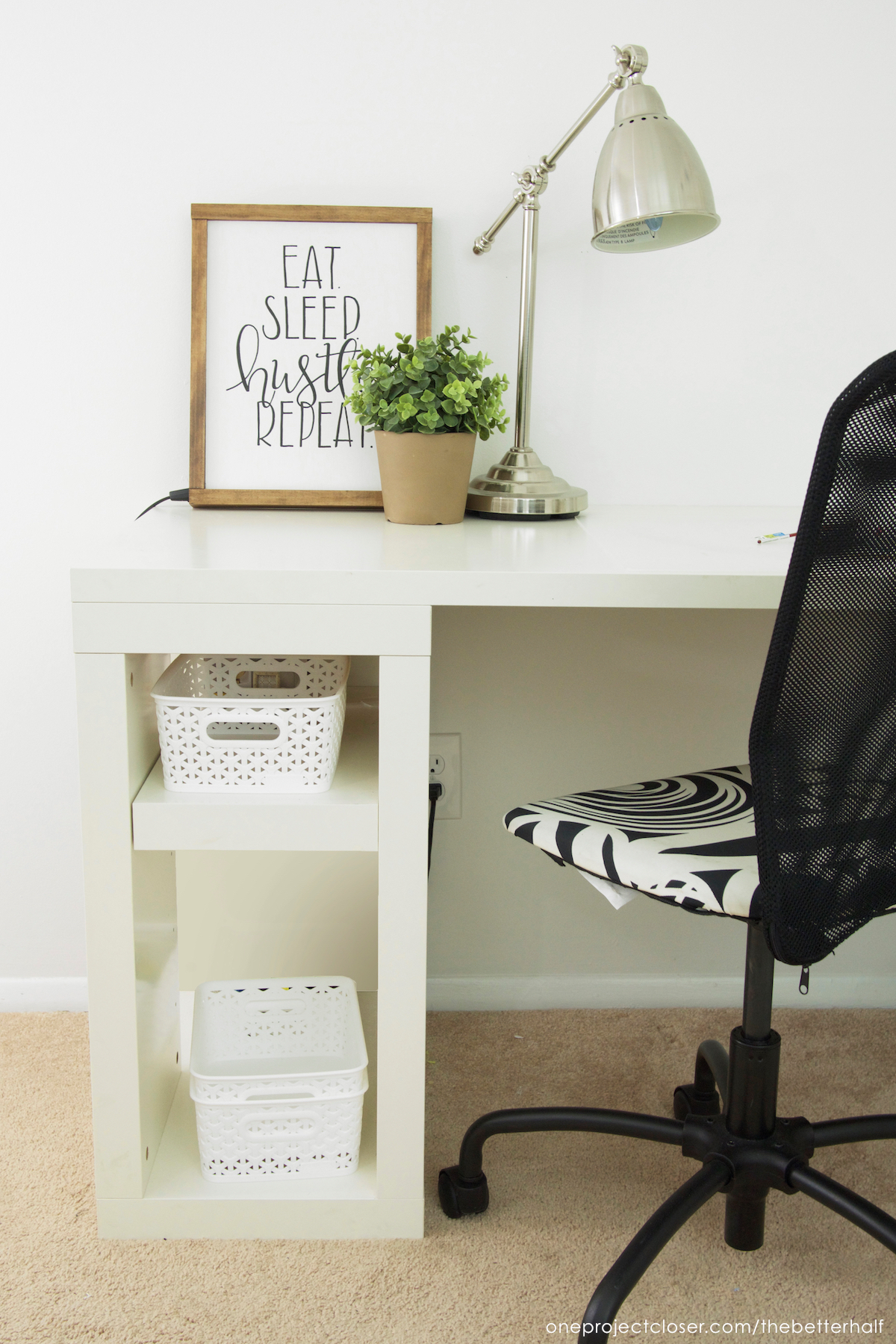 On my desk, I keep a carousel for scissors, markers, pens and other small odds and ends. Its not the prettiest but its sooooo functional.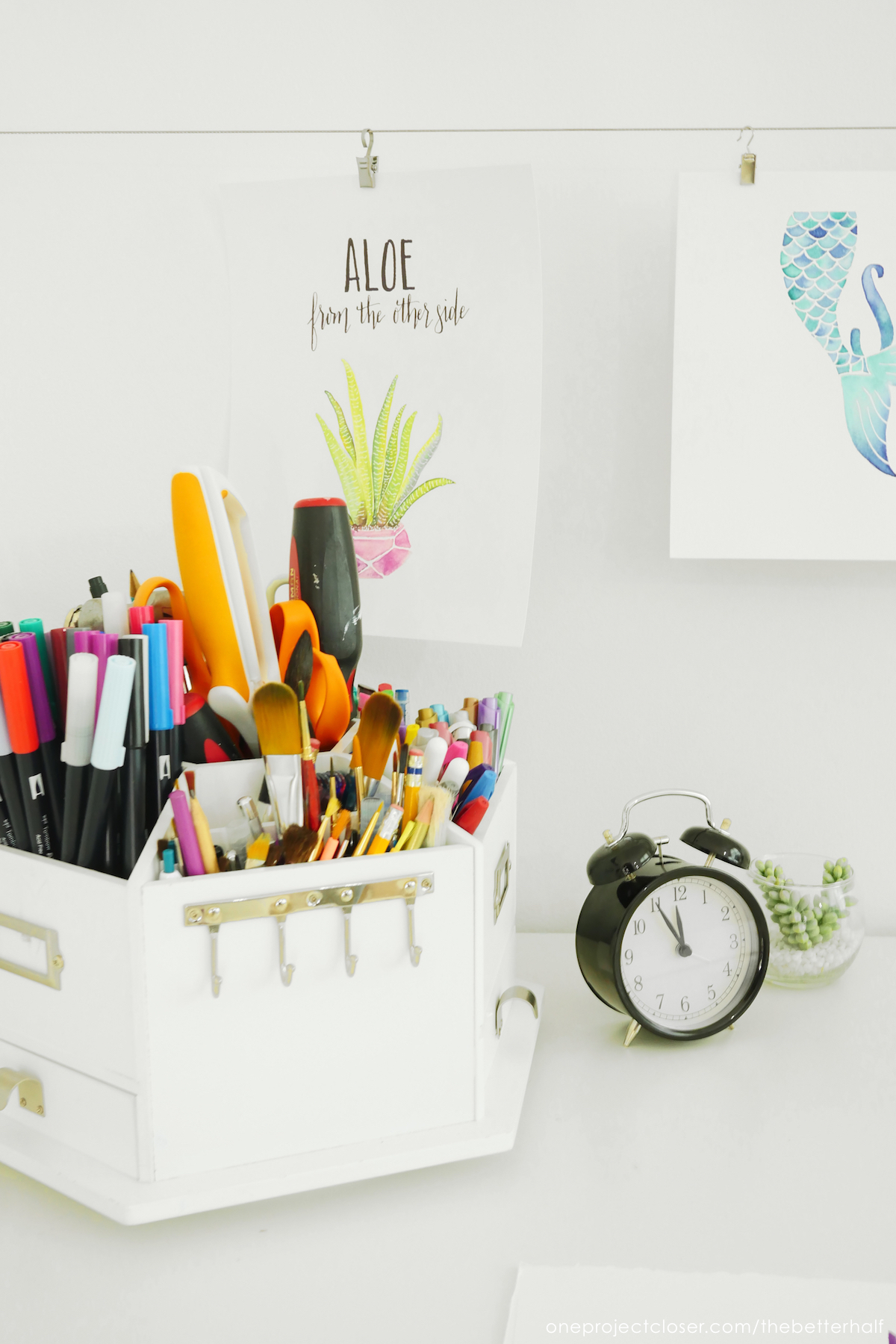 I also keep a diffuser (cause what's more relaxing than painting with a little aromatherapy?) and a work light. I just got the Ryobi Hybrid LED Color Range Work Light and its my new fave! It's so cool. You can adjust the warmth of the light!!!!! GAME CHANGER!!! Plus, its got an 18-volt battery, which lasts forever and makes it easy to move around the room (or even mount to the ceiling) without a lot of fuss. I always seem to not have an outlet nearby, so I love battery operated work lights. Be sure to watch my video and check out how the light works and how it changes the colors in the room. <3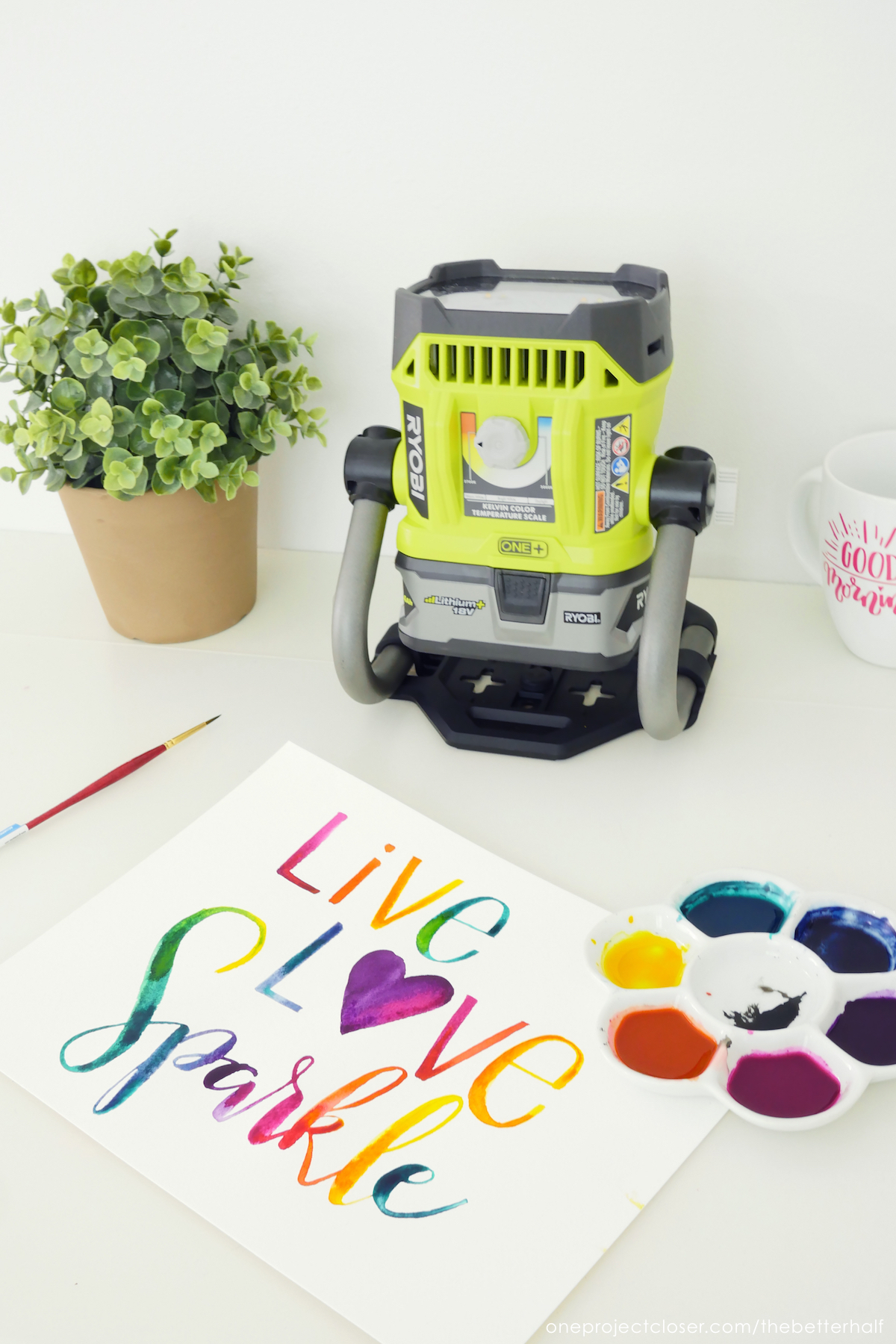 RYOBI 18-Volt ONE+ Hybrid LED Color Range Work Light
Adjustable light color temperature from 2700K to 5000K

Over 1200 lumens of light output

360° of rotation
The most dramatic element of the room is probably my gallery wall, and it was probably the cheapest! I love changing up the art I display, depending on my favorites and seasons!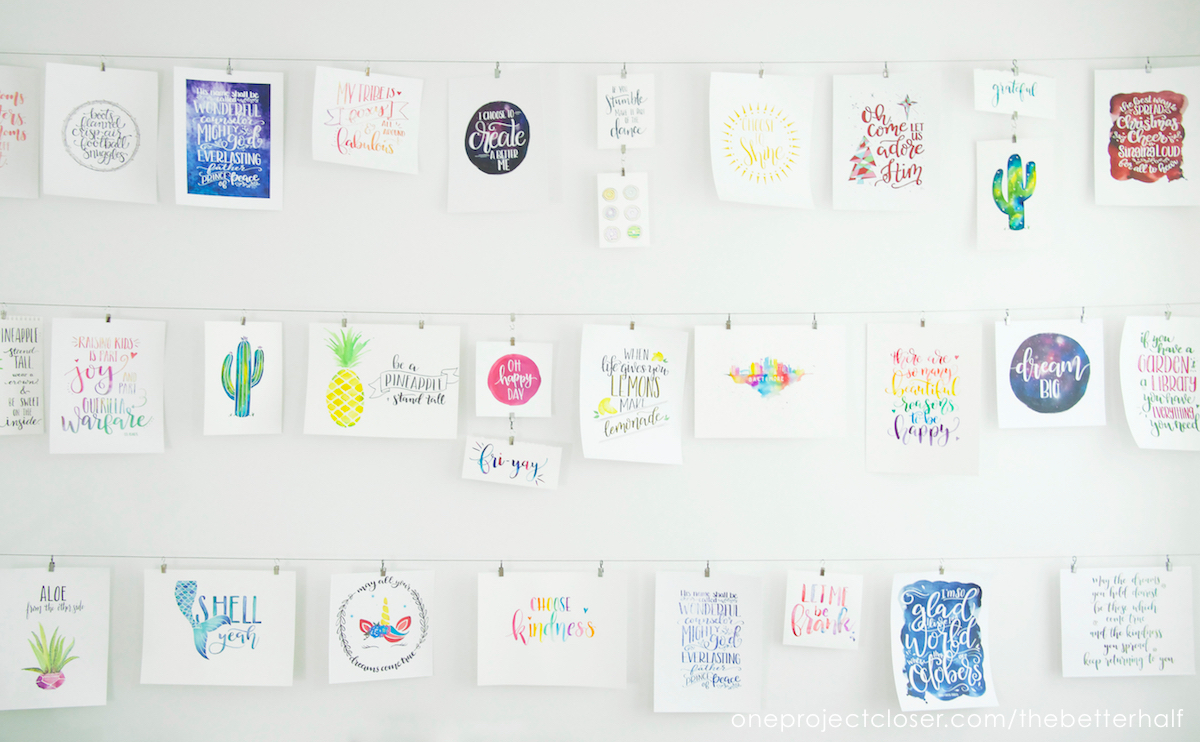 Featured in this Inexpensive Craft Room Ideas: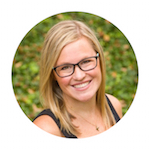 Jocie Hagan
One Project Closer
Come say hi on Facebook, Instagram, & Pinterest!

Save
Want to learn to hand letter and make amazing, personal decor for your home?
Learn now with Busy Girl's Guide to Hand Lettering!
**Use the code HAPPY5OFF to get $5 off the course price**