For the last few months, we've been contemplating how to spruce up our relatively small upstairs hallway (below). We had installed wainscoting in our prior home's living room, and thought that might add the visual interest we were looking for here. Then, inspired by Wilker Do's recent board and batten video tutorial, I started gathering ideas on Pinterest for an elegant but simple design that could take this space up a notch. We settled on a 48″ high square-over-rectangle board and batten design. We didn't find anything exactly like it on Pinterest, but many other wainscoting pins helped us come up with this design. If you're interested in our starting point, check out my board and batten pin board for some ideas to get you started!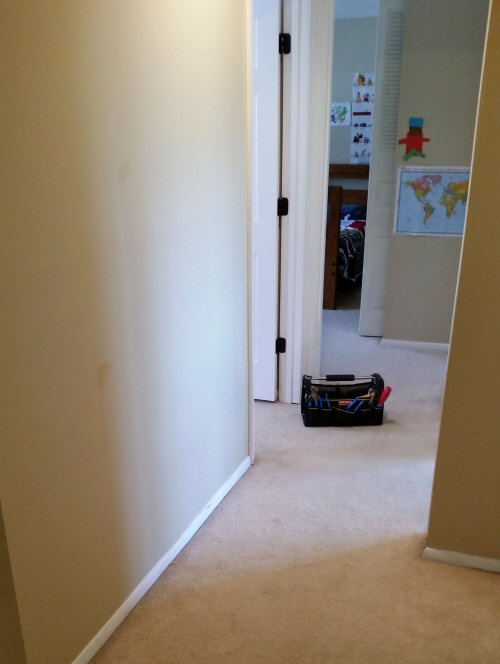 Step 1: Plan the Design on Graph Paper
Obviously, if you're really good you can skip this step, but I found it helpful to actually draw the design to scale on graph paper. Here's a graph paper site that'll let you quickly size and print paper if you don't already have some around.
Step 2: Plan and Purchase Materials & Tools (if needed)
Our design includes the following wood components:
1 x 6 – Select Pine (Base Rail). (Note: 1×6's are actually 3/4″ x 5.5″)
1 x 4 – Select Pine (Top Rail). (Note: 1×4's are actually 3/4″ x 3.5″)
1 x 3 – Select Pine (Middle Rail & Vertical Stiles). (Note: 1×3's are actually 3/4″ x 2.5″)
1 x 2 – Select Pine (Horizontal Cap). (Note: 1×2's are actually 3/4″ x 1.5″)
Inverted Quarter Round – MDF (Installed on top of Top Rail to add design between the top rail and cap)
For our room, we were able to use all 8′ lengths. For larger areas, you'll want to purchase the longest material available for the rail components to minimize cuts.
It's worth noting here that we used 1 x 4 for the top rail (as opposed to 1 x 3) because we planned on the inverted quarter round covering a small portion of the top rail, and figured that visually it would be closer to 1 x 3 when finished.
You'll also need the following finishing materials:
Finish Nails (We used two different Porter Cable finish nailers. See below.)
Wood Glue
Wood Putty
Painters' Caulk
Liquid Nails (We didn't end up using liquid nails in our install, but afterwards we think it would have made things easier).
Paint, paint brushes, mini-roller, etc.
Sand paper – 80, 150, 220 grit (we used a Milwaukee orbital sander and a Black and Decker Mouse Detail Sander)
And here's the list of tools required:
10″ Compound Miter Saw
Table Saw (Must be capable of 45 degree rips)
Sander – at a minimum you'll want some type of orbital sander.
4′ level
Tape measure
Chalk line (or you can measure and mark if you don't have one)
Hammer & nail set
Pry Bar (or, even better, a specialized moulding removal tool like we use below)
Finish Nailers – We used a 16-gauge 2″ finish nailer and an 18-gauge 1″ brad nailer.
Step 3: Remove Existing Baseboard
Do your best not to damage the drywall. We used an innovative new trim puller tool Zenith provided us and really liked it. It worked way better than the typical hammer and pry bar approach.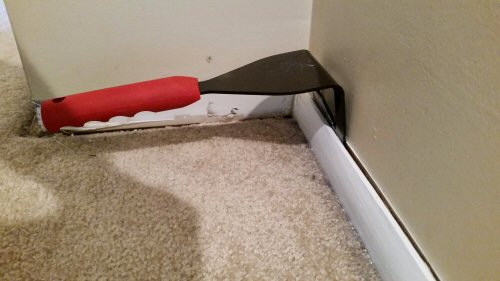 Note: If we were to do this project again, we would insert a step here to paint the wall the ultimate color of the installed board and batten before proceeding. That would have made our painting step easier.
Step 4: Measure, Cut, and Install the Top, Bottom, and Middle Rails
For this step, measure either from your ceiling or floor, but be consistent. For very tall designs, we recommend going from the ceiling. For short and mid-height designs, the floor is best.
We used the following measurements:
The baseboard (1 x 6) is installed at floor level.
The top of our top rail sits 48″ off the floor.
The top of our middle rail sits 8″ below the bottom of the top rail. By measuring and installing the middle rail last, we were able to ensure the top row of squares would be visually uniform.
Fastening: Use a stud finder to find studs on the wall and fasten with finish nails. We used 16 gauge 2″ finish nails.
Inside corners: Inside corners require no special cuts for the rails. A simple butt joint will appear to be a 45 degree cut after installation.
Outside corners: Outside corners require matching 45 degree angle cuts. Unfortunately, most drywall corners are not exactly 90 degrees. We have found that getting a corner perfect can be a bit of trial and error. One solution is to cut one rail at 45 degrees and match the second rail through a trial and error process.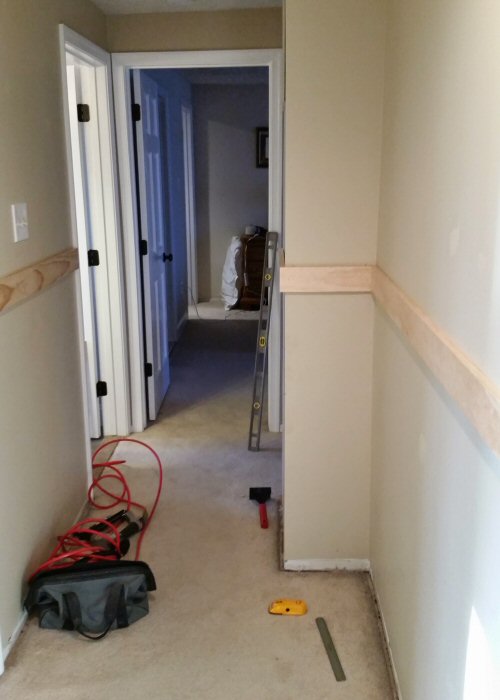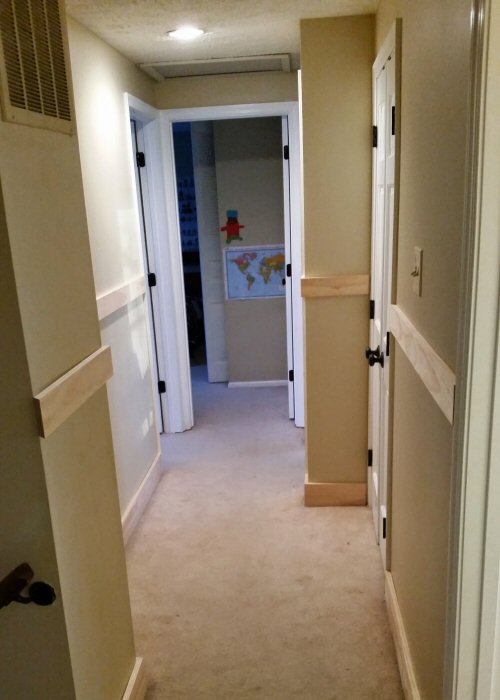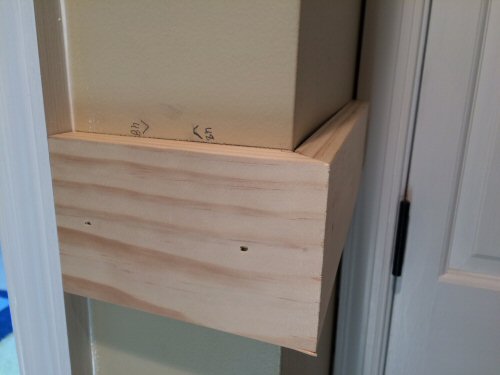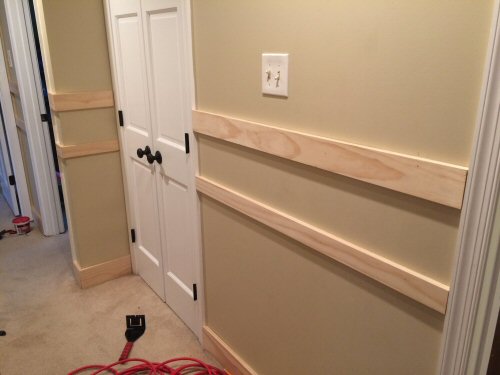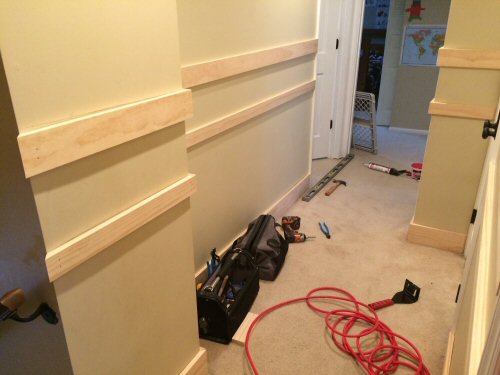 Step 5: Plan, Measure, and Install the Stiles
Stile placement is entirely up to you. We think the most visually pleasing stile configuration follows these best practices:
Don't

place stiles directly against door mouldings. Instead, allow the door moulding to serve as the visual end for the run.

Do

place stiles on all inside corners.

Do

place stiles on all outside corners.
Use consistent spacing between stiles.
Layout stiles such that end spaces are always greater than 1/2 of the width of the gap between the stiles.
Fastening: Use liquid nails to fasten stiles to the wall. (We actually used finish nails fired at 45 degree angles (think of a criss-cross pattern). This worked, but liquid nails would have been better and most other online tutorials suggest liquid nails.
Inside Corners: Just like rails, inside corners require very little work. You will need to rip 3/4″ off of one of the stiles, and butt the other stile against the wall.
Outside Corners: Outside stiles are probably the trickiest part of the installation. You will need to rip two 1 x 3 boards each with a 45 degree angle, so that they can be joined to form the outer stile. We found that the easiest approach was to build the corner stile separately (by gluing and brad nailing the corner) and then installing the finished piece on the wall. Getting the corner stile square will be a challenge, and in our installation this required a lot of sanding.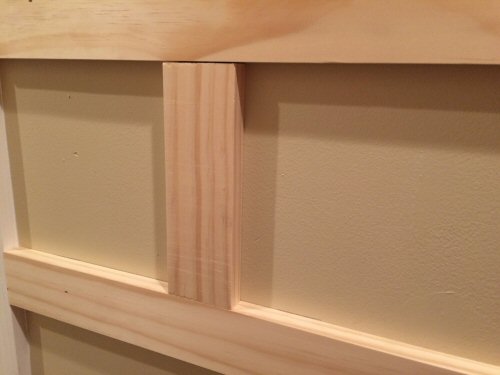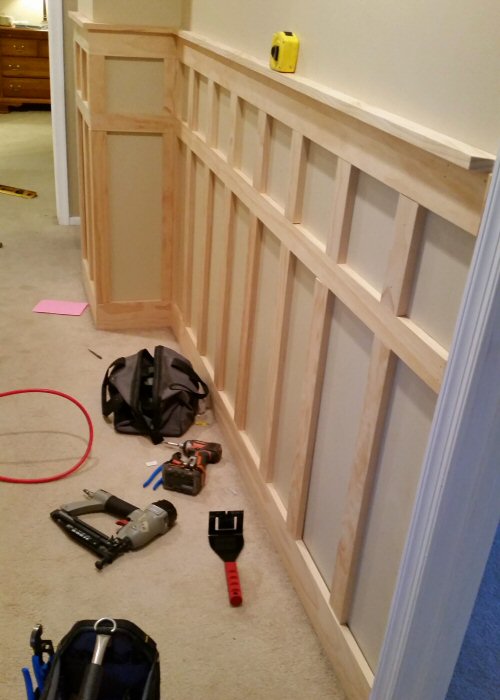 Step 6: Plan, Measure, and Install the Cap
We used 1 x 2 installed horizontally for the cap.
Fastening: We fastened the 1 x 2 downwards into the top rail using 2″ finish nails.
Inside Corners: Since the cap rail inside corners will be exposed, they should be cut and joined at 45 degrees.
Outside Corners: Just like inside corners, the outside corners should be cut and joined at 45 degrees.
Approaching Moulding: Since the 1 x 2 will be stick out further than mouldings at doors, we cut a 45 degree beveled return to merge the top rail with the door moulding.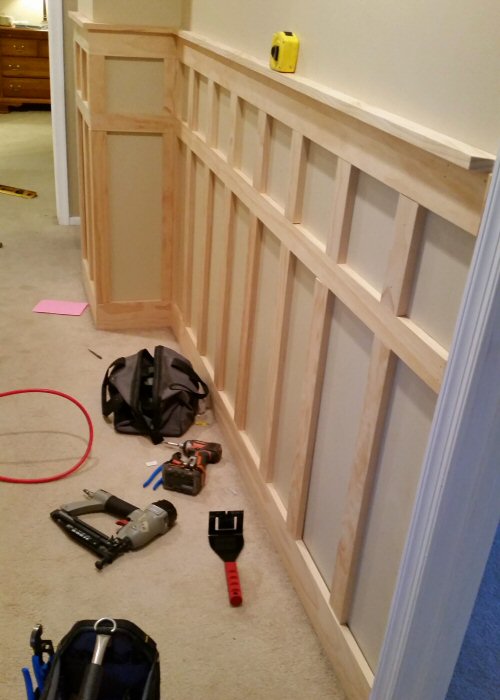 Step 7: Plan, Measure, and Install the Inverted Quarter Round
We installed an inverted quarter round to add some visual interest between the cap and the top rail. (Unfortunately, I didn't snap a picture of that… but it's a pretty simple addition and you can see the inverted quarter round in the final shots at the end of this post.)
Fastening and Filling: We fastened the quarter round using small brad nails. Then we filled them with wood putty.
Step 8: Caulk Seams Between Boards & Drywall
Use painter's caulk between any wood seams and drywall. We recommend *not* caulking wood-to-wood joints. Instead, use wood putty, per Step 9.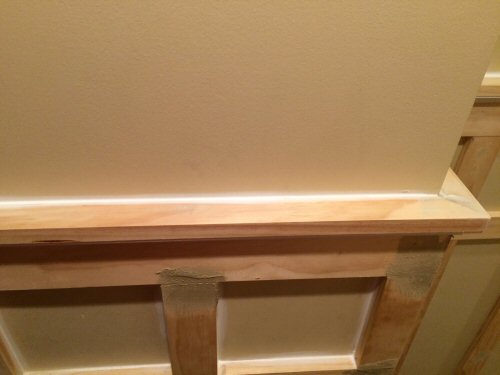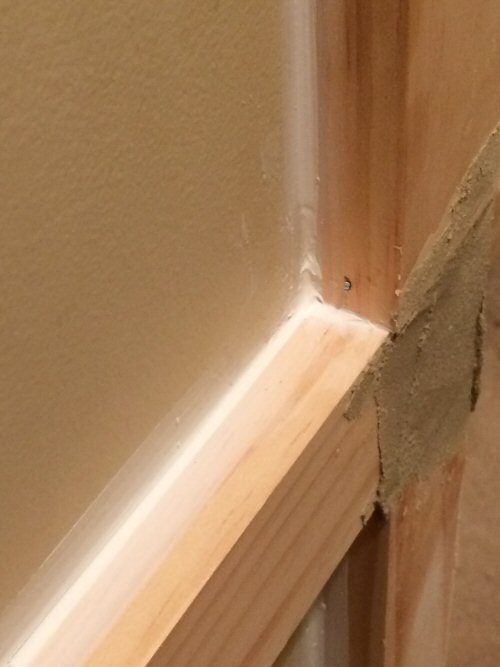 Step 9: Wood Putty All Joints
Apply wood putty to all wood joints and to fill all nail holes. You may have to apply two coats, possibly sanding between coats, depending on the amount of variance you have between your wood joints. The picture below shows a particular challenging joint that required three rounds of putty.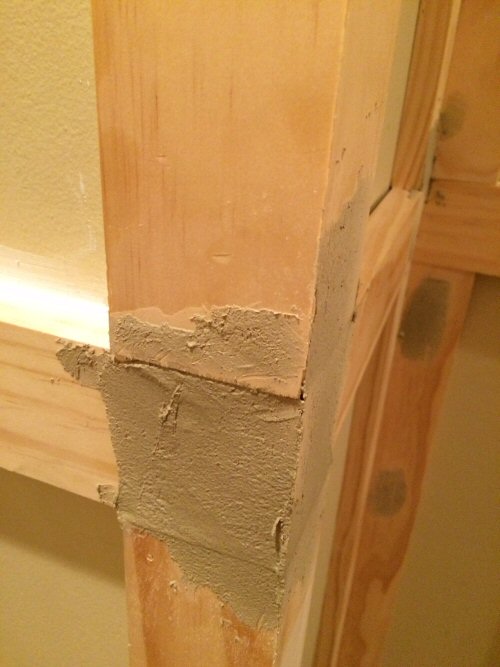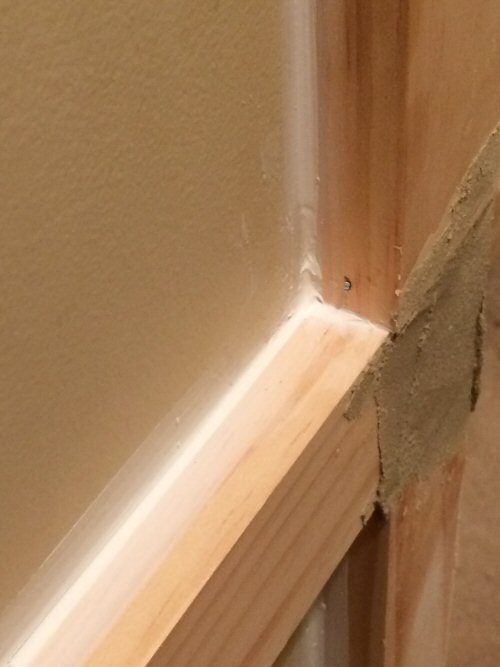 Step 10: Sand, Sand, and Sand
We used a Milwaukee random orbit sander for major areas of unevenness. This occurred primarily at joints between the wood boards and existing door mouldings. Sanding required several passes as we worked the wood into a tight joint with the nearby moulding. We used 80, 150, and 220 grit paper in succession.
For areas where the random orbit sander wouldn't fit, we used Black and Decker's Mouse Sander, which really came in handy for hard-to-work spots. The random orbit sander moves a lot more dust, but it simply can't fit in tight corners.
Tip: Don't skimp on the filling and sanding. Paint will make flaws all the more obvious if you don't get everything smooth and uniform first.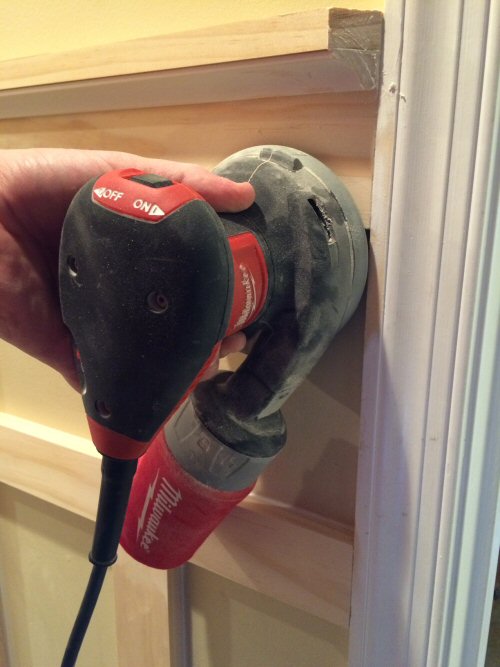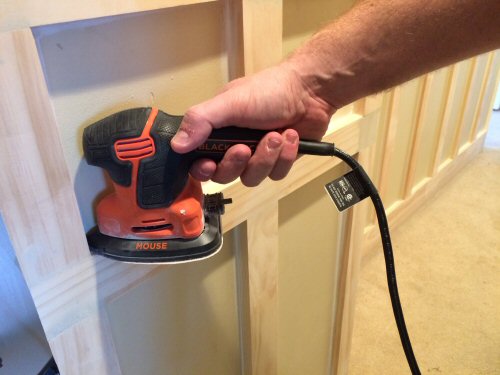 Step 11: Prime & Paint
The one thing we would have changed in our approach to this project, would have been painting behind the board and batten before we started the project. That would have allowed us to roll behind all the rails and stiles and would have made the job of painting easier. As it is, most everything has to be brushed or rolled with a mini-roller. We chose Ralph Lauren's primer+paint. It worked great on the wood elements, but actually struggled to cover the existing Ralph Lauren tan on the walls.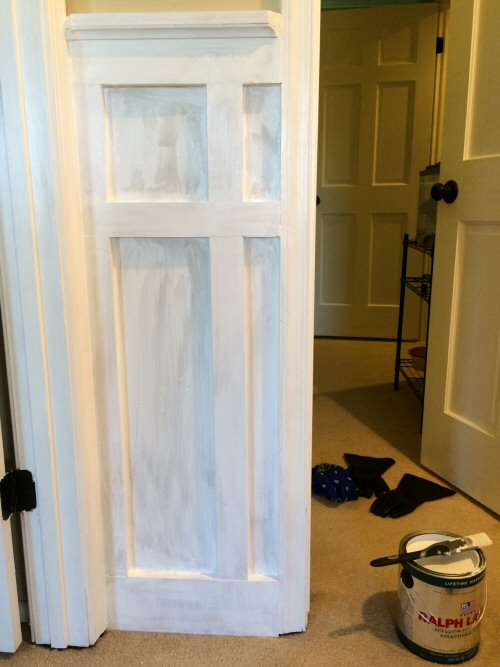 Finished Square & Rectangle Board and Batten Pictures!
We're really happy with how the board and batten turned out! Thanks for reading!